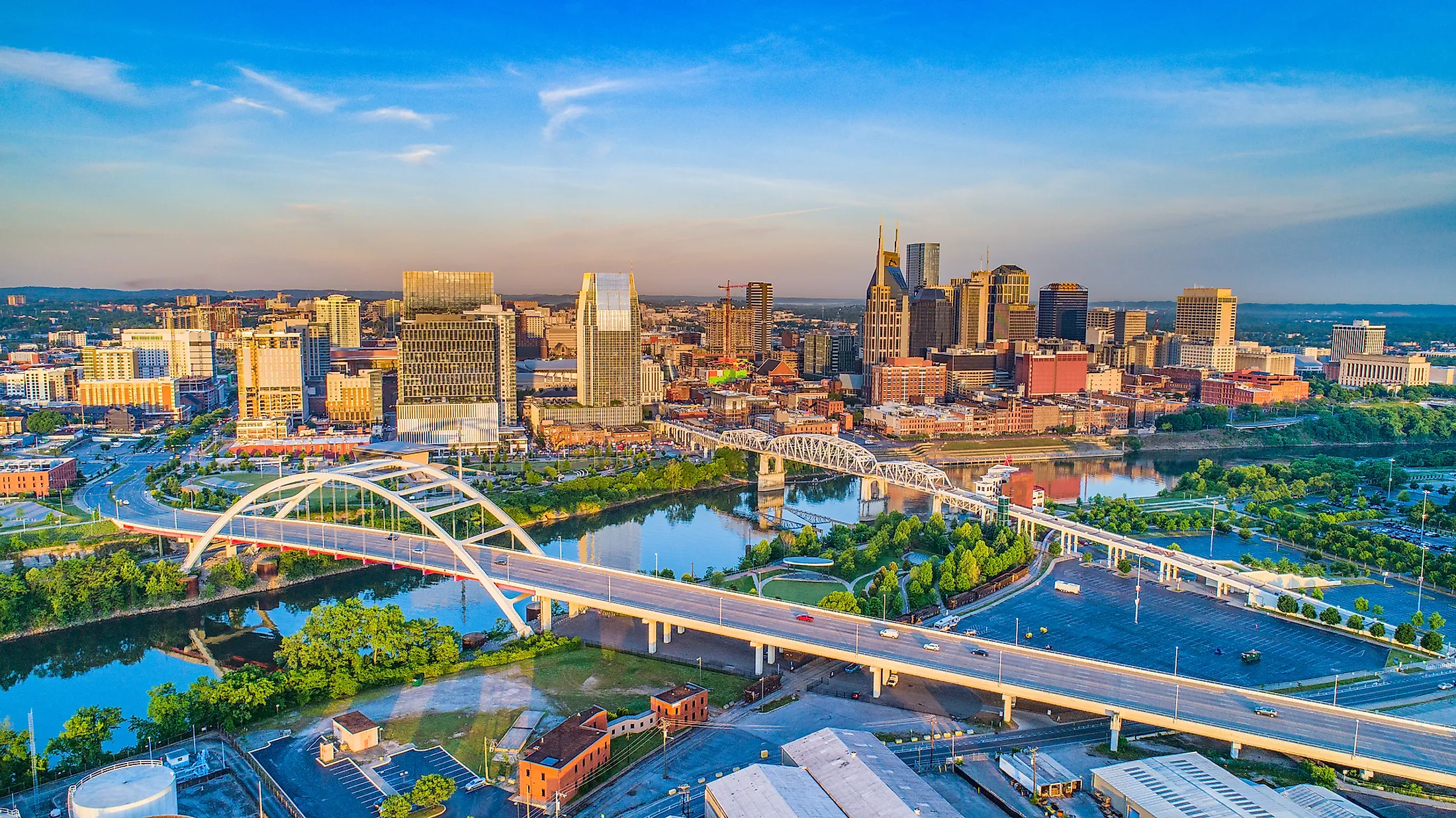 Nashville is the capital city of Tennessee, historically known for its rich musical history and culturally loved for its take on hot chicken sandwiches. The "Music City" is home to many formidable music venues that have shaped country music's scope in America. The city itself is very hilly and full of natural vegetation, allowing Nashvillians to enjoy the land in its entirety. In the future, projections show a 38% increase in population over the city's 14-county metro area by 2025. 
Geography And Climate Of Nashville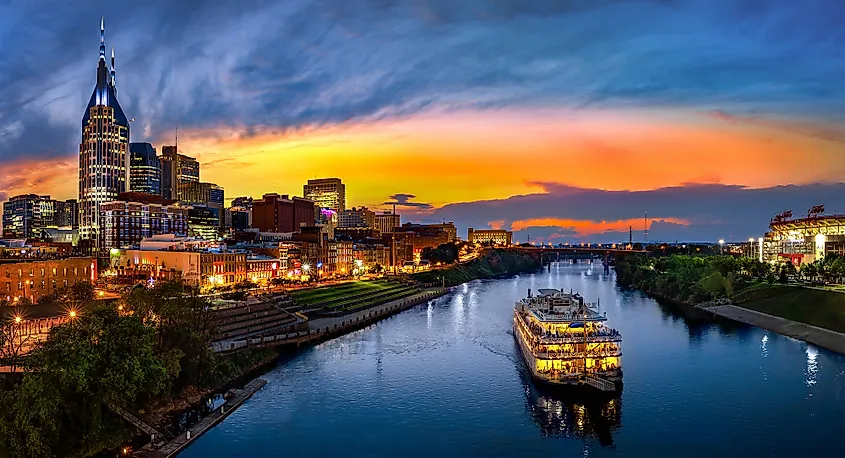 Nashville is known as Tennessee's most fertile farmlands. Located in the north-central part of the state, Nashville is one of the most prominent towns on the Cumberland River. Nashville is a part of Davidson county which is known as the heart of Tennessee. A few notable cities near Nashville are Memphis and Knoxville. Home to the Grizzlies and Collegiate Tigers, Memphis is 212 miles away from the state's capital. On the other hand, Knoxville is 180 miles away and is home to some of the state's most die-hard sports fans. 
The weather in Nashville falls on both sides of the spectrum. The weather is hot and muggy in the summer, with an average daily high temperature above 27°C. The hot season lasts for 3.8 months, from May 26 to September 20. On the other hand, Nashville's winter lasts for exactly three months, from November 28 to February 26. The average daily high temperature sits just below 13°C. Nashville's wet season lasts for around five months, usually beginning on March 19 and concluding on August 20. There is a 32% chance that any given day will be a wet day during this time. 
Brief History Of Nashville
Originally called Fort Nashborough, Nashville was founded by James Robertson and a party of Wataugans in 1779. The city was originally named after American Revolutionary War hero Francis Nash, one of ten American generals to perish from war wounds during this time. By 1806, Nashville was deemed a city and was incorporated into the county of Davidson. During this time, the city was very prosperous. Through means of river access, Nashville became the main shipping port and became an alluring prize because of this. 
However, just two years later, Nashville fell to the hands of Union troops. The Civil war left the city tarnished, although it would rebound quickly. The city would reclaim its shipping ports and begin a stable manufacturing and trading base. In 1925, the Grand Ole Opry would begin hosting artists from all walks of life. With the help of a flourishing publication industry, the city was deemed "The Music City." Nashvillians would watch as the city would produce homegrown talents who produced in Jazz, blues, and swing.  
In 1963, Nashville became the first major city to form a Metropolitan government in the United States. Since then, the city has felt significant internal and external growth. Tennessee Governor Phil Bredesen led the city as mayor during the 1990s, where he would make urban renewal a priority. The effects of this can still be seen today as the renovation and construction of now popular landmarks has put the city in high demand for tourists. 
Demographics Of Nashville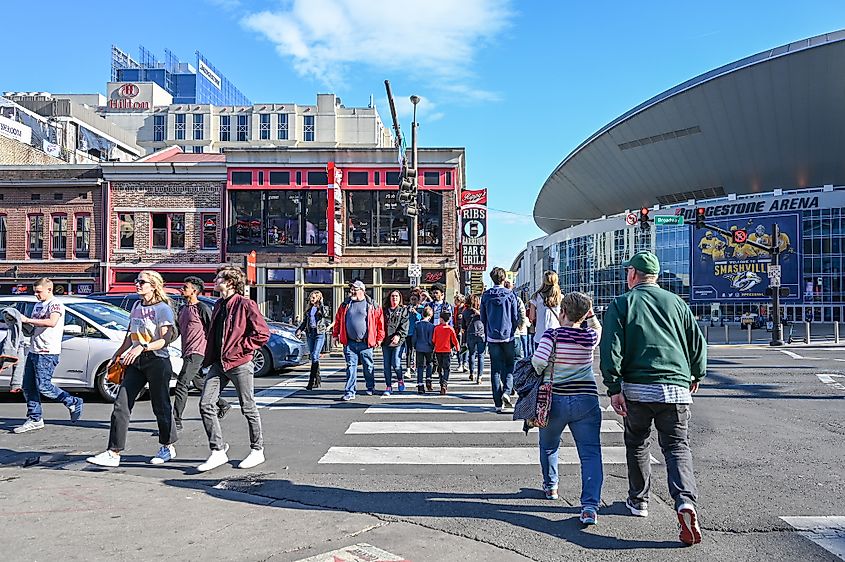 Data Commons estimates that the current population of Nashville is 694,144. This figure ranks Nashville as the most populated city in Tennessee and Davidson county, as well as 23rd in the entirety of the United States. Since its most recent census, the city has grown by 12.85% in population. According to Nashvillewas, 63.49% of Nashville's inhabitants are white. 27.58% are black or African American, 3.66% are Asian, and 2.62% are of two or more races. In Nashville, 51.81% of civilians are female and are a median age of 34.8 years old. Men in Nashville have a median age of 33.6 and make up 48.19% of the population. 
Economy Of Nashville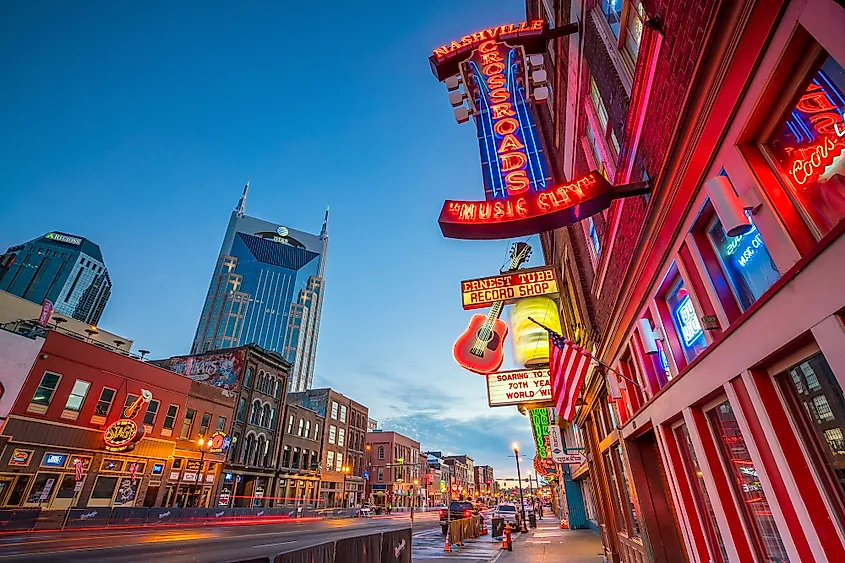 Nashville contributed 36.81% of Tennessee's GDP in 2020, which works out to around $369.57 Billion. This figure means that Nashville contributed almost three times more than Knoxville and about 1.8 times more than Memphis. The average income of a Nashville resident is $27,798 a year, which is $757 less than the country's average. The median household income of Nashville-Davidson residents is $46,758. Sales tax in Nashville is currently 9.3%, and the government issues a 0% income tax. Health care and social assistance are the most popular employment categories, coming in at a whopping 14.9% of the population. Close behind is retail trade at 10.9% and educational services at 9.6%. About 4.5% of Nashvillians are unemployed. However, the current future job growth is projected at 48.3%, which is just under 15% higher than the national average. 
Attractions In And Around Nashville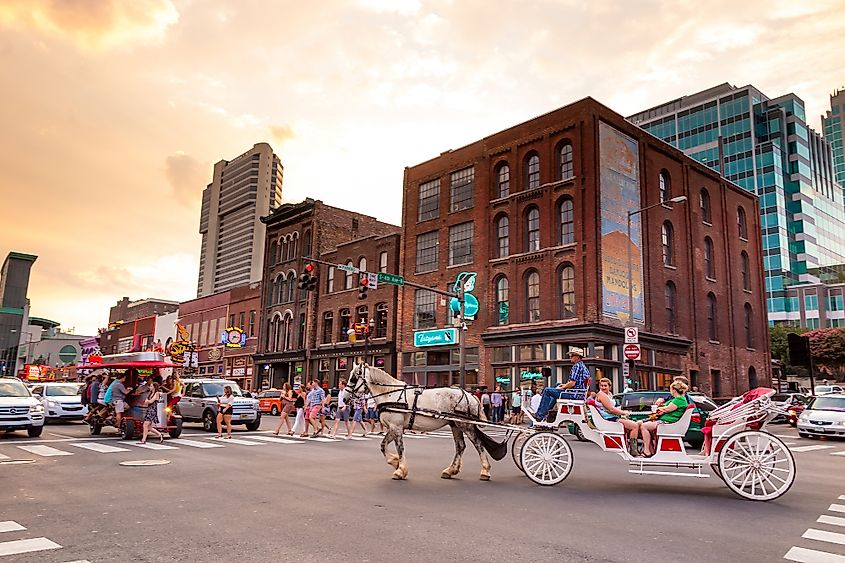 Guided backstage tour of the Grand Opry: Take a backstage trip to Nashville's premier country music stage. This tour gives you the opportunity to hear never before told tales backstage, as well as walk on the same stage as Carrie Underwood and Minnie Pearl. 
Take a trip to the Jack Daniels distillery: This 7-hour excursion takes you from Central Nashville, all the way to Lynchburg, VA. the tour includes a tasting along with an abundance of historical information about the distillery. Jack Daniels is the most popular whiskey in the United States, raking in $318 Million in sales in 2019. 
Nashville hop-on hop-off city tour: This 90-minute trolley tour takes you all across the city of Nashville, showing you over 100 points of interest in such a short time span. The tour takes a quick stop at the farmer's market, giving you the chance to enjoy locally sourced and grown goods. 
The city of Nashville has done a tremendous job of incorporating vintage heritage with modern changes. It has become the mecca of country music and a must-visit city for all jazz lovers. The future of the city is in the hands of its leaders. However, they've done a very good job thus far.