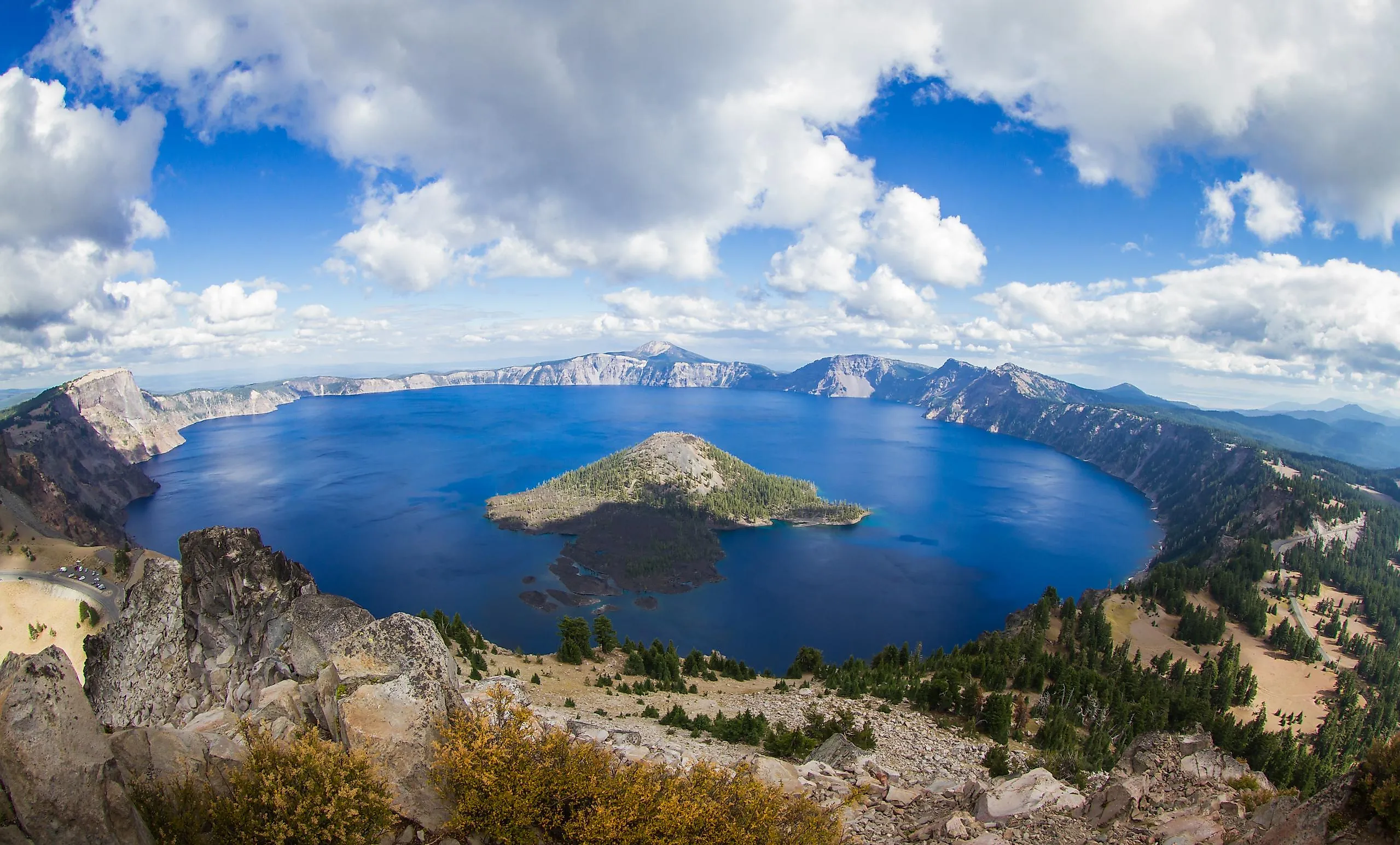 15 Most Beautiful Lakes In America
America is known as the "Land of the Beautiful" because of its picturesque, idyllic valleys, majestic, towering mountain ridges, splendid lakes and rivers, and more. From western Alaska to eastern Maine, from the northern side of Dakota to south Texas, the ability to reflect on nature's tranquil, peaceful charm when visiting some of America's most beautiful bodies of water has left many awestruck. Here are some incredible lakes that America has to offer, from Lake Champlain and Lake Eklutna in the north to Lake Ouachita and Lake Pontchartrain in the south.         
Lake Champlain, New York/Vermont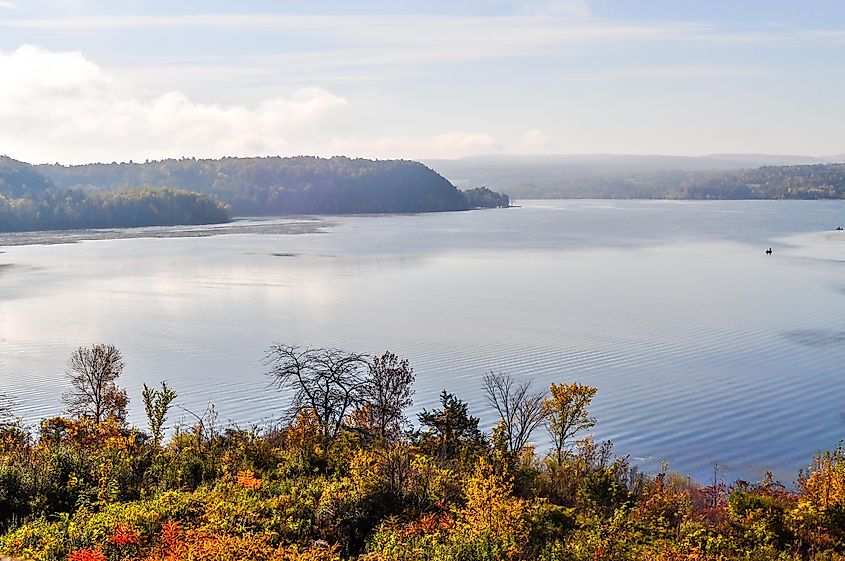 Lake Champlain occupies just under five hundred square miles of land between Vermont and New York, extending to cover just a slight bit of the Canadian province of Quebec. This natural freshwater lake is home to over twenty different species of amphibians and reptiles, some of which are now on the endangered or threatened list. Receiving its name from the French explorer Samuel D. Champlain in 1609, this beautiful Lake is a sight to behold. Lake Champlain offers visitors numerous outdoor opportunities, including fishing, swimming, boating, canoeing, and kayaking. There are also several parks nearby, including Burton Island State Park and Sand Bar State Park on the Vermont side and Macomb Reservation State Park in New York. 
Lake Eklutna, Alaska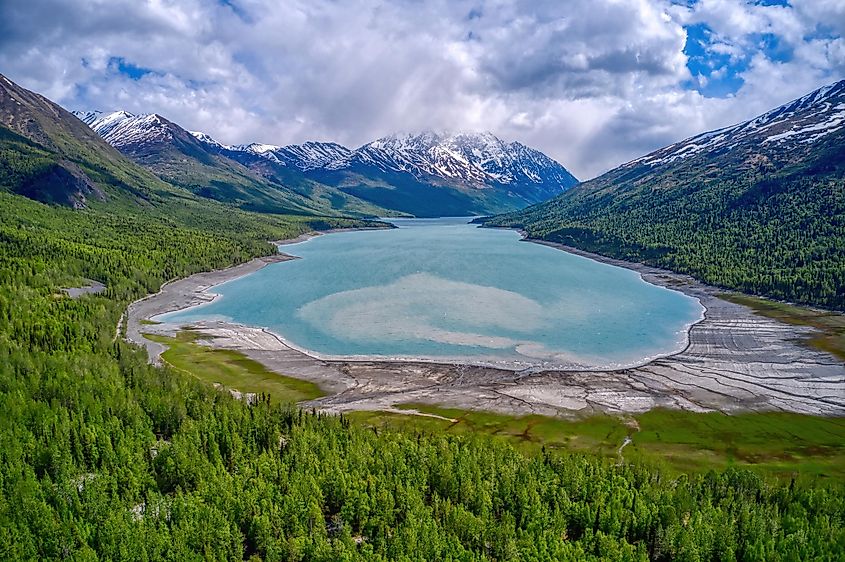 Lake Eklutna is a long, freshwater lake that offers visitors over fifteen miles of shoreline to enjoy. Fed by a glacier that goes by the same name, astride a town by the same name, and near a river by the same name. Lake Eklutna has had a connection with the Dena'ina Athabascan people for several centuries, and currently has a connection to Thunder Bird Falls, a two-mile-long hike that ends with scenic views of a breathtaking series of small and large waterfalls. Lake Eklutna offers opportunities for fishing, boating, and dog sledding (in the winter). Photographic opportunities of capturing the Aurora Borealis, or the Northern Lights, are also available to tourists from late August to the middle of April each year.
Crater Lake, Oregon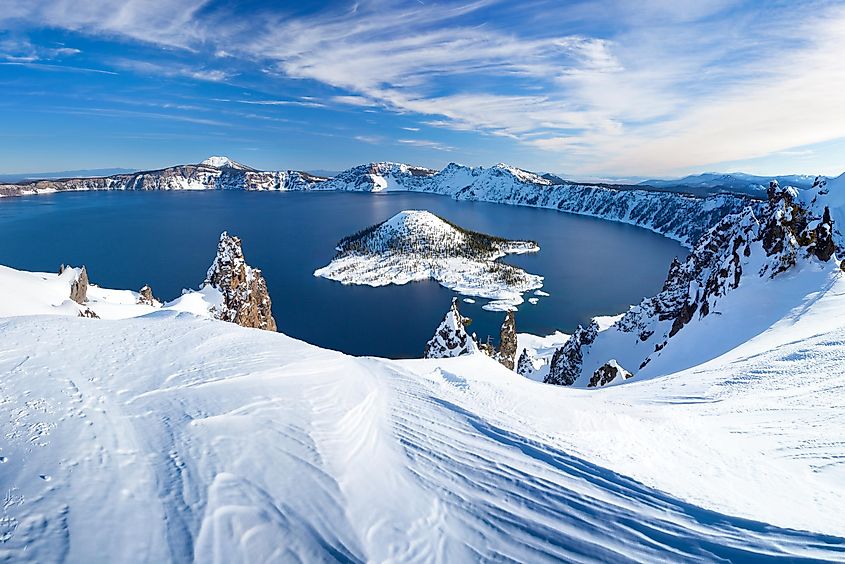 Crater Lake is situated about fifty miles north of the small town of Klamath Falls, surrounded by the Crater Lake National Park. The result of Mount Mazama's climatic eruptions many years ago, Crater Lake offers visitors opportunities for all the normal outdoor activities, like swimming, boating, hiking, and camping, as well as some more energetic opportunities, like exploring Wizard Island and Garfield Peak, two of the better-known attractions available to visitors and residents alike. There are also several campgrounds in the national park that are near the Lake, including the Lost Creek Campground, which offers easy access to the Ramona Falls Trailhead, the Crater Lake RV Park, and Crater Lake Resort.
Lake Ouachita, Arkansas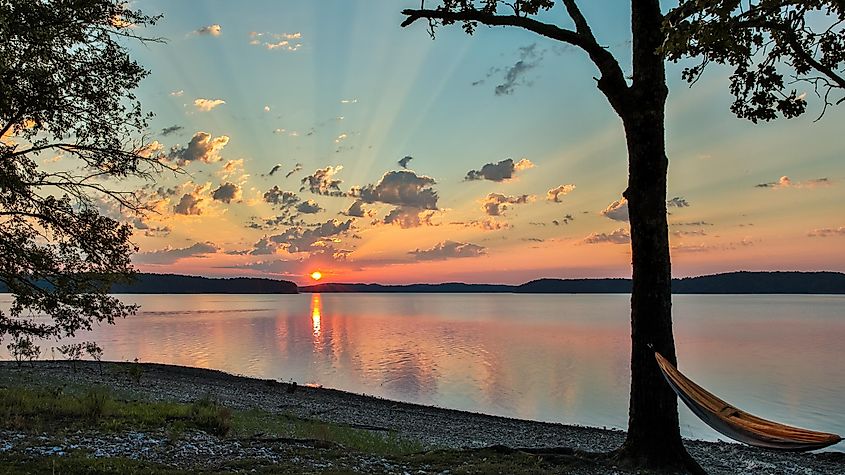 Lake Ouachita (pronounced WASH-ah-taw), Arkansas' largest Lake, averages about fifty feet deep, with its deepest part reaching the two-hundred-foot mark. Located in Garland County, between Little Rock and the western border of Arkansas, and completely surrounded by Ouachita National Forest, Lake Ouachita has offered outdoor opportunities to adventurists since the U.S. Army constructed Blakeley Mountain Dam between 1948 and 1953. Visitors can fish for Bass, Bream, Catfish, or Walleye or even take a boat and follow the Geo-Float Trail, a marked water trail displaying different prominent geological features of the area. An interesting piece of knowledge about Lake Ouachita is that it was not clear-cut before it was filled. 
Lake Winnipesaukee, New Hampshire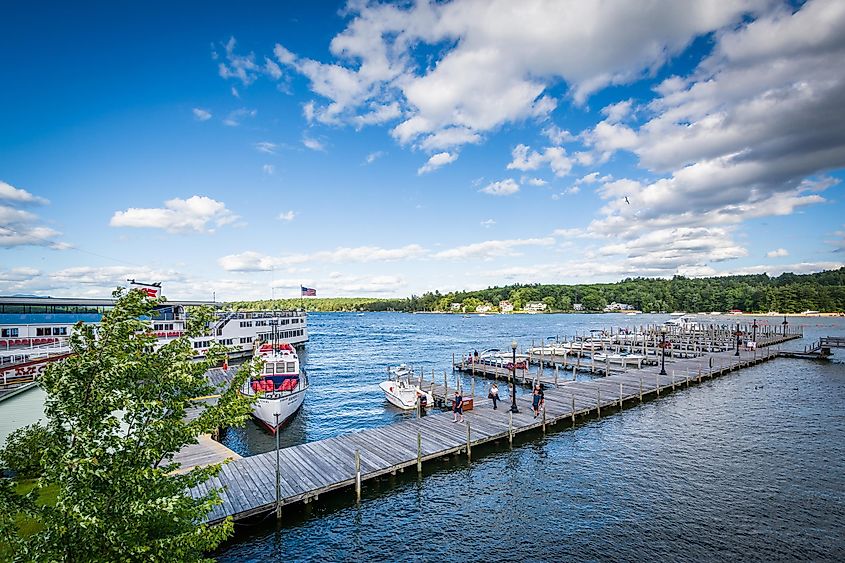 Lake Winnipesaukee, considered the oldest summer resort in America, was a vacation destination before America was even a country. This third largest Lake in New England, following only Lake Champlain and Moosehead Lake, is located in the foothills of the White Mountains. Lake Winnipesaukee has 365 islands, of which 274 are habitable, and three are named "Loon Island." As for outdoor activities offered to visitors, the list is almost endless. Fishing, swimming, kayaking, boating, hiking, and camping opportunities are always available. Plus, guests of the Lake and the surrounding area can visit Castle in the Clouds in Moultonborough or even stop at the boardwalk on Weirs Beach and enjoy all the amenities it offers visitors. 
Lake Pontchartrain, Louisiana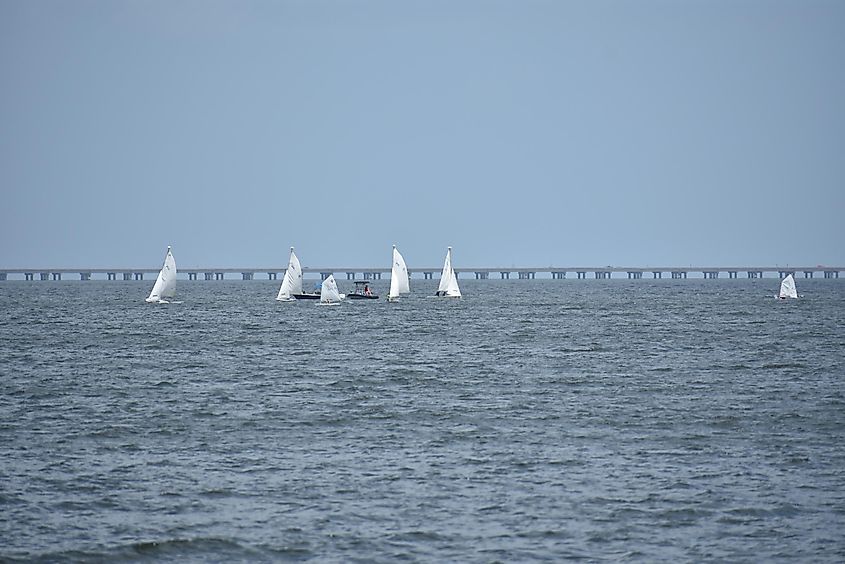 Named after Louis Phélypeaux, Comte of Pontchartrain, Lake Pontchartrain touches six Louisiana parishes – St. Tammany, Orleans, Jefferson, St. John the Baptist, St. Charles, and Tangipahoa - covering 630 square miles and making it the largest inland body of water in Louisiana. Lake Pontchartrain Causeway, known simply as "The Causeway," is the longest continuous bridge over water, twenty-three miles long, and runs from Metairie to Mandeville, two different New Orleans suburbs. Along with fishing, boating, and kayaking, Lake Pontchartrain is also known for its quaint mom-and-pop stores, its great seafood and local restaurants, and excellent bicycle and walking trails. Tourists can also visit the New Canal Lighthouse Museum, which was built originally in 1850 and then restored after Hurricane Katrina hit in 2005.
Lake Chelan, Washington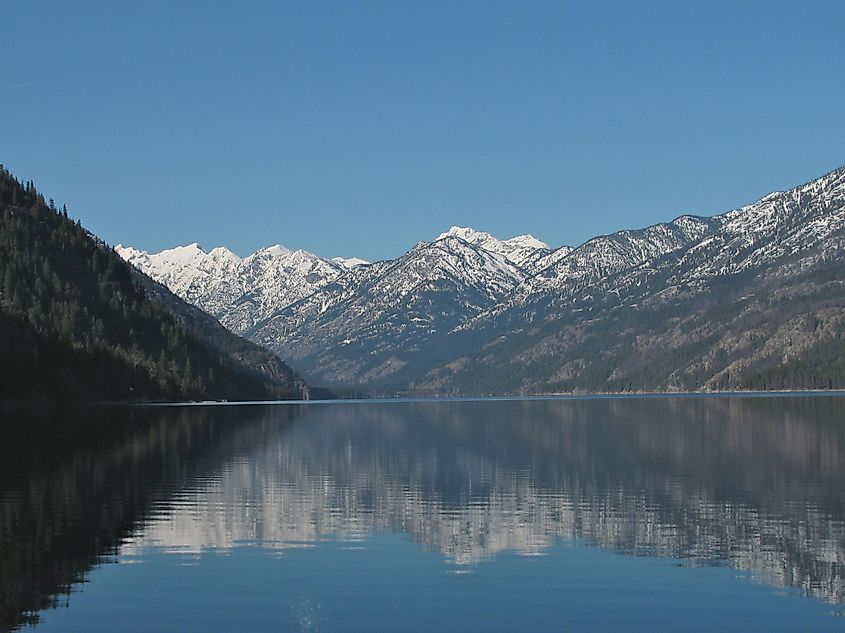 Lake Chelan, situated in the center of Washington state, is one of the longest lakes in America. With a length of over fifty miles and an average width of just over a mile, it resembles more a fjord than a lake. Running through the Wenatchee National Forest, with the unincorporated community of Stehekin to the northwest and the towns of Chelan and Manson to the south-east, Lake Chelan offers visitors more mountains and trees than towns and villages, preserving that touch of nature most people crave in their get-away vacation. Lake Chelan offers opportunities for experiencing Washington Pass and Rainy Pass as well, two mountains in Washington that are well known for premier downhill skiing. These two passes are also well-known for avalanches, so be careful. 
Flathead Lake, Montana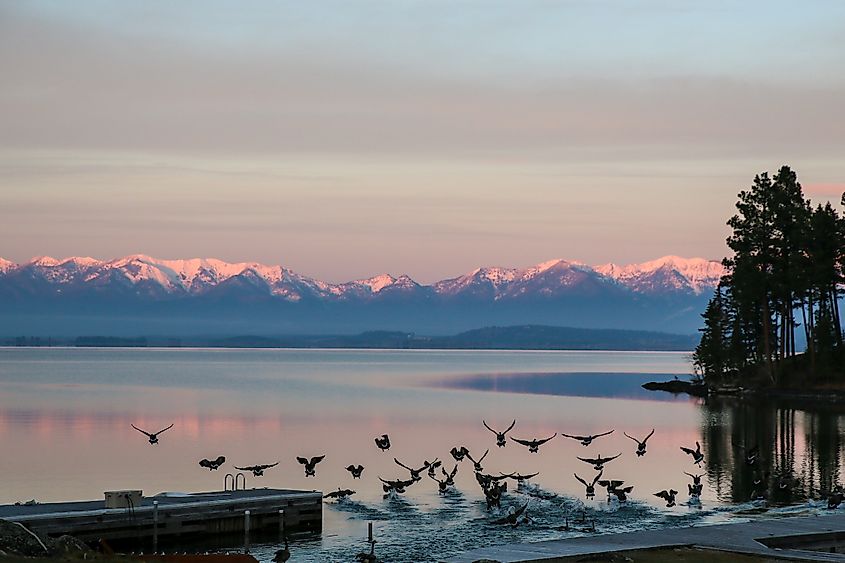 While Montana is well-known for several stunning bodies of water, Flathead Lake might be considered to be the most beautiful Lake in the entire state. Situated in the northwest, up near Glacier National Park, this freshwater lake is one of the cleanest lakes in the world, offering its scenic beauty to everyone who visits, with its backdrop of mountains and that "big Montana sky," some country/western singers mention in their lyrics. Flathead Lake offers great fishing for several species of trout, Mountain Whitefish, and Northern Pikeminnow, a fish known for having a taste similar to Atlantic Cod. There are also several state parks near Flathead Lake, including Big Arm State Park and Lake Mary Ronan State Park to the west and Wild Horse Island State Park in the east. 
Lake Allatoona, Georgia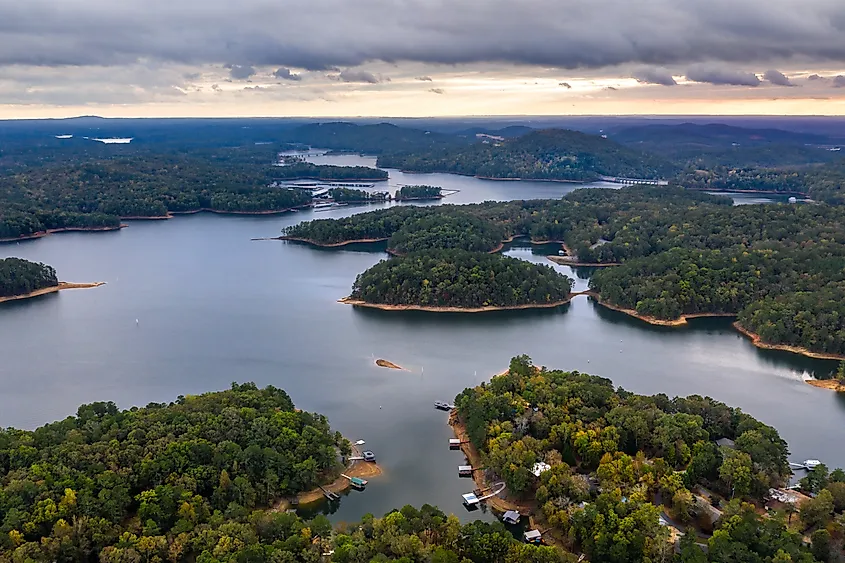 Lake Allatoona, situated on the Etowah River just northwest of the city of Atlanta, is possibly the prettiest and cleanest Lake in the state of Georgia. Covering over twelve thousand acres of land and having a shoreline of nearly 270 miles, Lake Allatoona also supplies fresh drinking water to several of the towns nearby, including parts of Atlanta, Acworth, and Woodstock. This human-made Lake offers all the common amenities, like fishing, boating, and swimming, while also offering many activities known only in the north-western part of Georgia, including renting a cabin right on the Lake, hiking along the Cooper Furnace Nature Trail, and visiting several nearby parks, such as Cauble Park, Bartow Carver Park, and Bartow Gatewood Park.
Lake Marion, South Carolina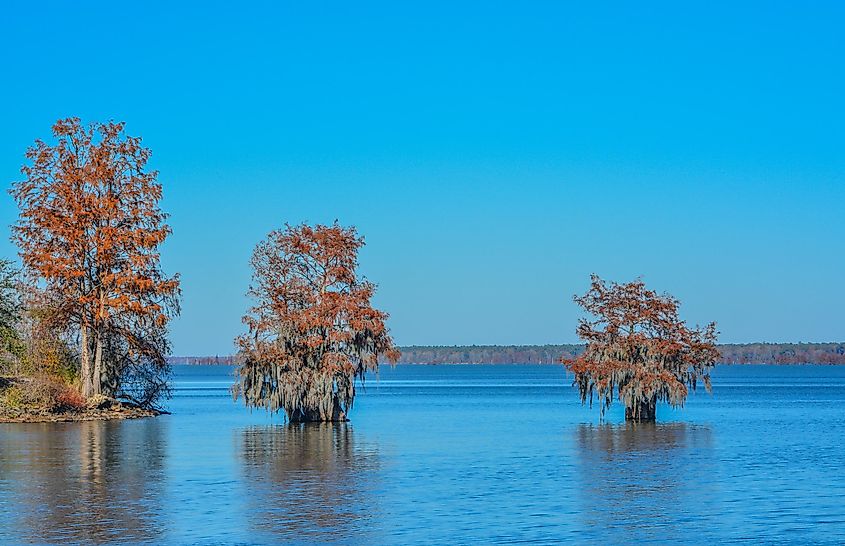 Lake Marion covers over a hundred thousand acres of land and is situated near Santee, a town in South Carolina boasting a population of just over a thousand people. Famous for its excellent fishing, as well as chances for boating, swimming, and sun-tanning, Lake Marion is also home of the Lakeside Marina and Resort, which is also located in the town of Santee. This largest Lake in South Carolina allows an opportunity to commune with nature in its purest form. You can even rent pontoons, houseboats, fishing boats, canoes, kayaks, jet skis, and runabouts. There are also opportunities while visiting this Lake, which was named after Revolutionary War hero General Francis Marion, to take photographs of several different species of wildlife, including hawks, eagles, egrets, deer, foxes, osprey, and alligator.         
Lake Tahoe, California/Nevada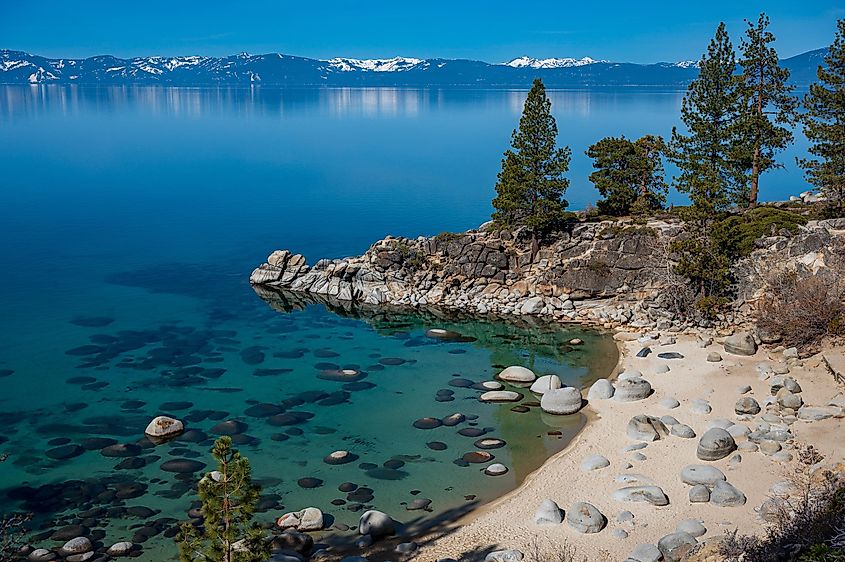 Lake Tahoe, situated between Nevada and California, is perhaps the most famous Lake in the United States and possibly the most beautiful Lake as well, offers all the amenities most lakes offer, like swimming, fishing, sun-tanning, jet-skiing, canoeing, and boating. Plus, if you stop to visit Lake Tahoe National Park, Lake Tahoe State Park, or Sand Harbor State Park, there are opportunities to book weddings, camp, and hike several nature trails near the Lake, or even join one of several tours, including mountain-bike tours, boating, and fishing tours, and even photography tours. This freshwater lake, located in the Sierra Nevada mountains, also borders the Incline Village, the closest town to Lake Tahoe State Park and home to some of the most beautiful mountain retreats in the world.
Lake Okeechobee, Florida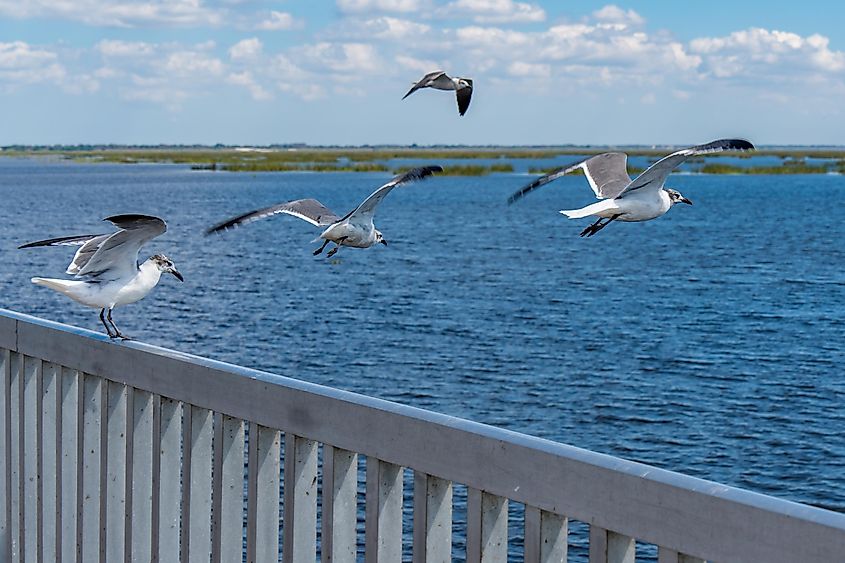 Lake Okeechobee, located near Orlando (home of Walt Disney World) and the center of Florida, was formed nearly six thousand years ago when the salt water returned to the ocean, leaving behind a shallow depression that eventually became the lakebed. In the present time, Lake Okeechobee offers visitors to central Florida a variety of different outdoor activities, including visiting Kissimmee Prairie Preserve State Park, Okeechobee Battlefield Historical State Park, and Arnold's Wildlife Rehab Center. This beautiful Lake also offers tourists opportunities to swim, get tanned on the beach, and fish for bass. An interesting fact about Lake Okeechobee is that its name means "big water" in the Seminole Indian language, an apt name for a lake that is so big that you cannot see one shore while standing on the opposite shore. 
Lake Willoughby, Vermont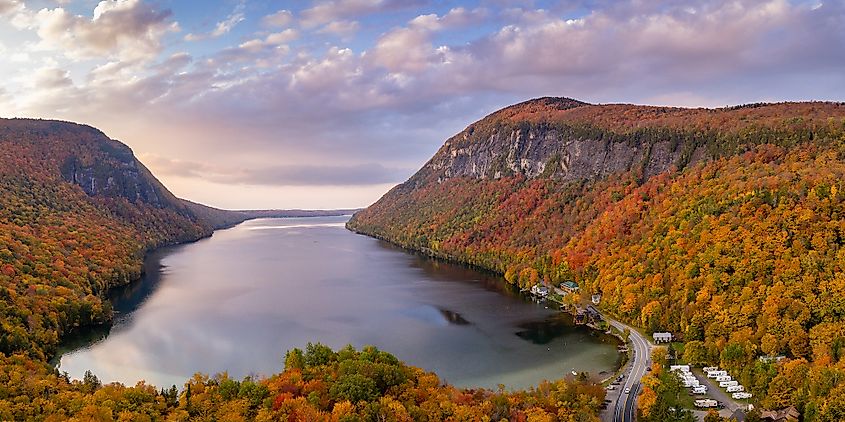 Lake Willoughby, with the southern half of its surface encased in the Willoughby State Forest, is located in the northeastern part of the state, near the quaint town of Westmore, Vermont. This beautiful, scenic Lake is situated just a few miles north of the small town of East Burke as well. It offers visitors ample opportunity to enjoy nature in a variety of different ways, like hiking through the Sentinel Rock State Park, which grants viewers awe-inspiring vistas of the setting sun each night, or up Mount Pisgah, which passes Pulpit Rock, a known nesting place for the peregrine falcon. Other varieties of wildlife that can be seen, and possibly even photographed, when visiting Lake Willoughby would include bald eagles, moose, and black bears. 
Skaneateles Lake, New York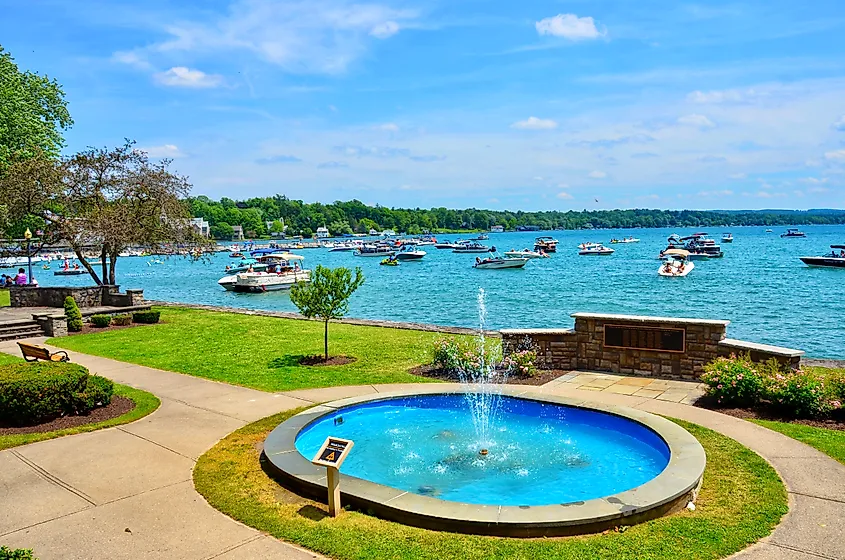 Though it may be difficult to pronounce, Skaneateles (skih-nee-AET-ileas) Lake is located a few miles southwest of the city of Syracuse. This Lake, known as one of the Finger Lakes and referred to as "The Roof Garden of the Lakes" by some people due to its high altitude, offers visitors the opportunity to visit several state parks, including the Green Lakes State Park in Fayetteville, Chimney Bluffs State Park in Wolcott, and Pratts Falls Park in Manlius. Other outdoor water activities that can be enjoyed at Skaneateles Lake are swimming, boating, surfing, windsurfing, and kitesurfing, not to mention taking part in the many tours and enjoying the beauty of the scenic vista across the Lake at sunrise and sunset. 
Lake Geneva, Wisconsin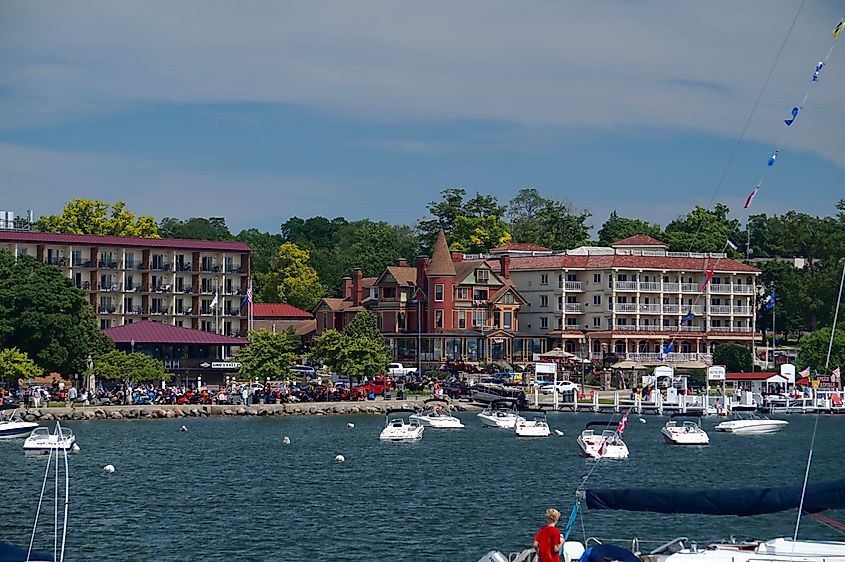 When someone mentions a clean lake in Wisconsin, the Lake that always seems to be named first is Lake Geneva. Located in Walworth County in the southeastern part of the state, Lake Geneva offers a beauty that stuns visitors with its great sense of awe and wonder. This freshwater lake area offers visitors chances to go zip-lining, mountain biking, hiking, camping, skiing, and snowboarding (the last two obviously during the winter), as well as stopping off at the Timber Ridge Lodge and Waterpark, visiting the Walworth County Fairgrounds, and even take a scooter tour. There are also several places for staying the night outside, including the Big Foot Beach State Park, the Lake Geneva Youth Camp, and Elkhorn Campground.
So, if you are looking for a quiet, out-of-the-way destination or a wild, in-your-face destination, whether taking your kids on the yearly vacation or just getting away for the weekend with the love of your life, these lakes might just be what you are looking for. From Skaneateles Lake in New York to Lake Pontchartrain in Louisiana, from Lake Tahoe in Nevada to Lake Marion in South Carolina, there is absolute splendor all across this "Land of the Beautiful."