Vermont is a tranquil and unassuming state in the Northeast corner of the US. Though it is the only New England entity to be blocked off from the North Atlantic Ocean, it is full of gorgeous glacial and artificial lakes. Oftentimes around their shores, immaculate expanses of forests radiate vibrant green in the spring/summer and erupt soon after with fall colors. To add just a bit of ease-of-access and broad-appeal recreation into the mix, these cool blue waterways are typically complimented by state parks, campgrounds, and tiny lake-life towns. Here are eight of the most beautiful options that will greatly enhance one's weekend, regardless of the season.
Lake Champlain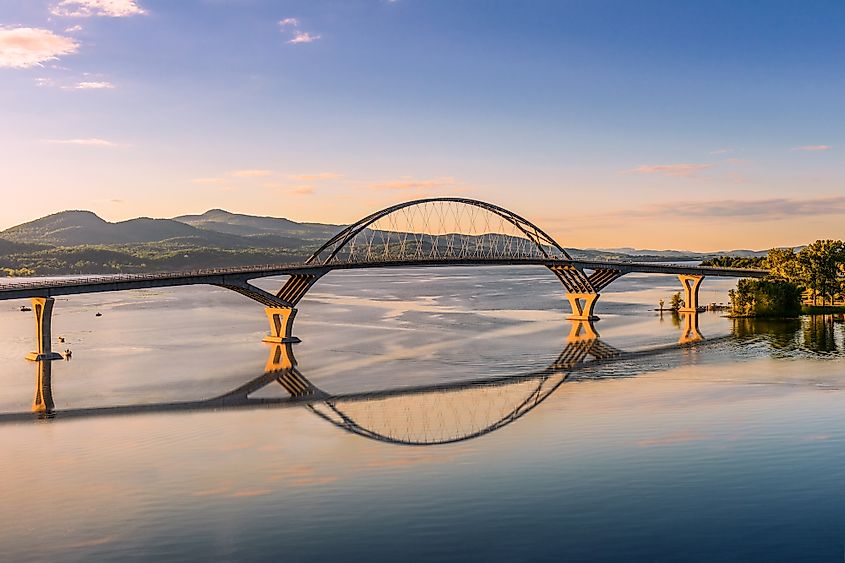 Lake Champlain graces not only Northwestern Vermont with its presence but also Northeastern New York and a Southern sliver of the French-Canadian province of Quebec. At 120 miles in length, 12 miles across, a maximum depth of 400 feet, and with a scenic perimeter of 587 miles, Lake Champlain is large enough to have been once recognized by the United States government as the sixth Great Lake. It is also substantial enough for imaginations to maintain the lore of "Champ," essentially America's version of the Loch Ness Monster. Whether or not the elusive prehistoric creature really lurks somewhere in the 6.8 trillion gallons of water, legitimate state laws are in place to protect it. Not only is Lake Champlain beautiful in terms of its blue magnitude, but below it houses a 480-million-year-old fossil reef (for all you divers out there), and above it is peppered with 70+ islands and backdropped by the Adirondack Mountains. 
Lake Elmore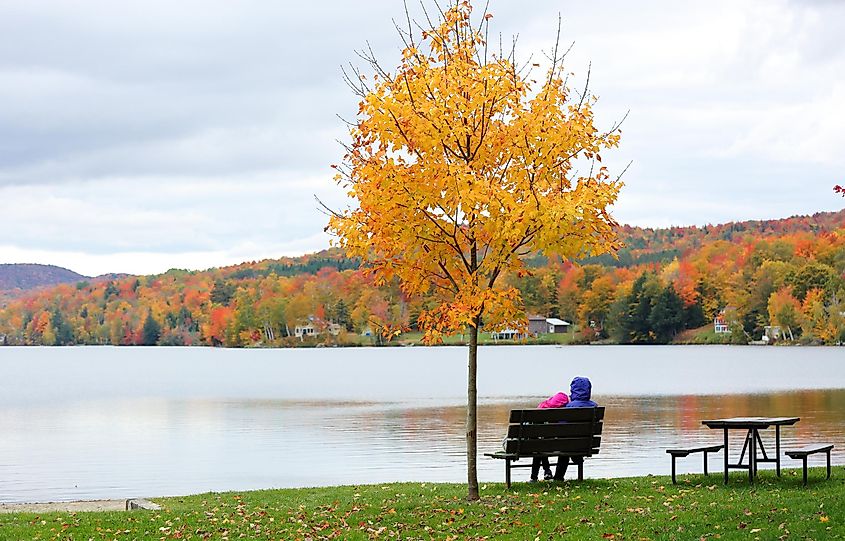 "The Beauty Spot of Vermont" can be found within Lamoille County, of the state's North-Central region. Lake Elmore packs a picturesque punch into its 219-acre frame. On its Northern Shore, Elmore State Park offers visitors a cute little beach from which to paddle, fish, and swim, as well as campsites, picnic areas, and a historic beach house/cafe to seal in the soothing aesthetic. There are also rewarding hiking trails, including the vista-rewarding grunt up the prominent Elmore Mountain (to the West). The fire lookout tower at the top is listed on the National Historic Lookout Registry. And to the South, the humble New England town of Elmore will keep you refreshed for whatever lakeside adventure calls to you. 
Lake Willoughby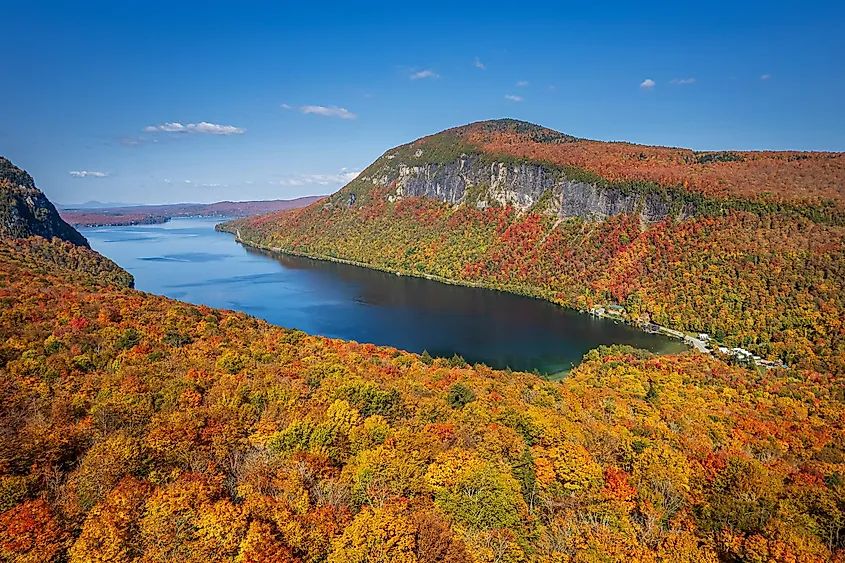 Cradled by Willoughby State Forest to the South and populated by the small town of Westmore to the North, Northeastern Vermont's Lake Willoughby is a pretty and peaceful place to explore for a weekend. Rent a classic cottage for a couple of nights and venture out to the different aspects of the lake by day. Mount Pisgah Trail heads up the surrounding slopes for an elegant view of the waters below, while the Peter Gilman Waterfall can be visited directly from the road on the Eastern side of the lake. At the Southern tip, Lake Willoughby South Beach, which is connected to White Caps Campground, offers a sheltered place to swim or launch a paddle craft of your choosing to get a better view at Vermont's deepest (entirely within the state) and clearest lake. 
Waterbury Reservoir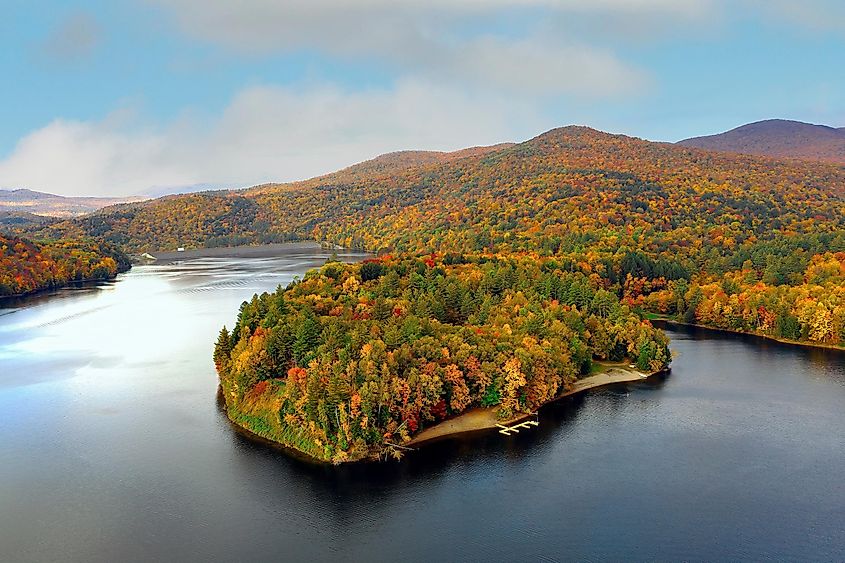 This human-made lake was built for practical purposes (i.e., to protect towns along the Winooski River from flooding), but the Civilian Conservation Corps (CCC) could not have picked a better location or outcome in terms of raw beauty. This 6.5-mile-long, 860-acre lake is surrounded by the 37,000 acres of Mount Mansfield State Forest to the Northwest, is only slightly removed from the CC Putnam State Forest to the East, has two State Parks on its Southern wings (Little River State Park to the West, and Waterbury State Park to the East), and the Northern Green Mountains are in plain view from the shore. The Northern end of the reservoir offers plenty of hiking trails and even some paddle-in-only campsites. A good base of operations while exploring this lake is the village of Waterbury Center, which sprawls along the Southeastern shore. 
Lake Memphremagog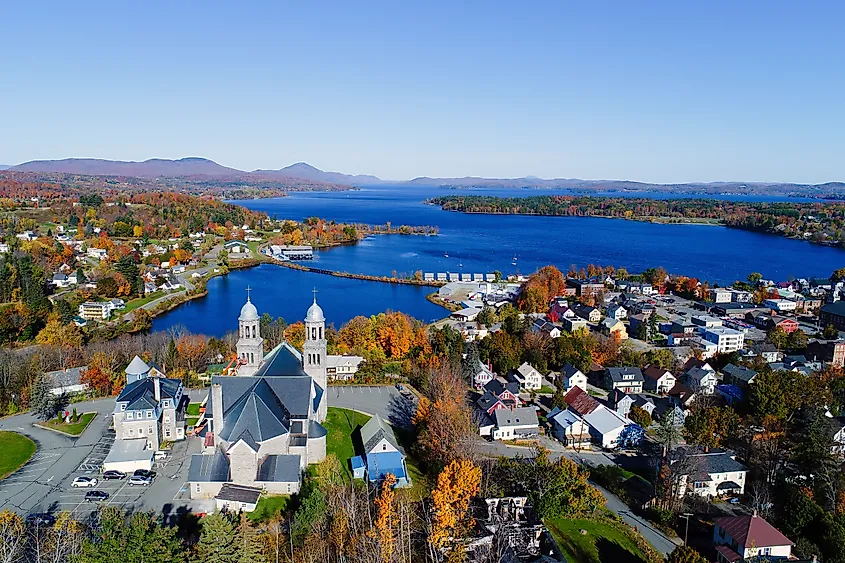 Lake Memphremagog stretches for 687 miles, mostly into Quebec, Canada, but the Southern portion, in Orleans County, is an international gem. The small but happening city of Newport welcomes summer tourists to its premier waterfront, offering a range of accommodations and activities. The marina is stocked with sailboats, assuming they are not out roaming the gentle waters, of course. Just outside of downtown, Prouty Beach gives folks a 36-acre day-use area, complete with boat and bike rentals, athletic facilities, and a small sandy shore. There are 75 tent and RV campsites for longer-term stays. And just a little further up the Eastern shore are the Memphremagog Trails – a series of hiking, biking, and in the winter time, groomed cross-country ski paths. 
Lake Bomoseen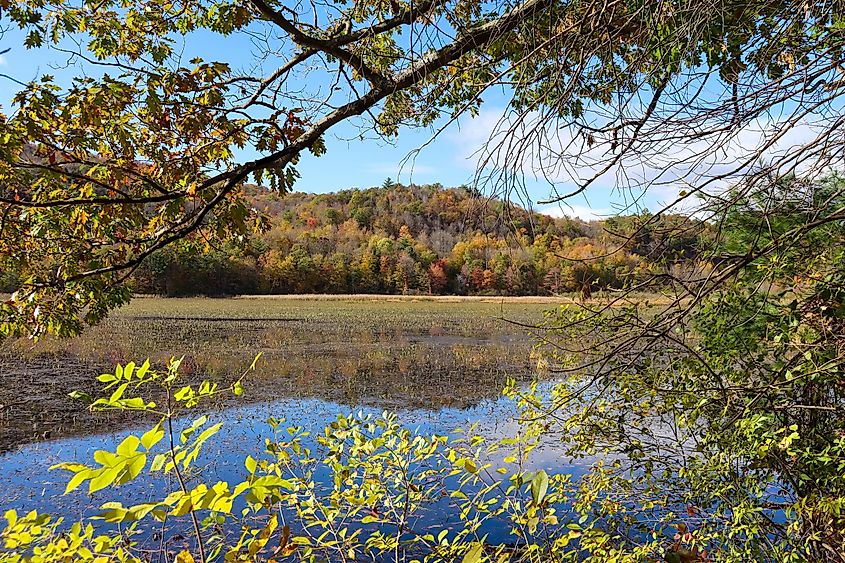 The largest lake located solely within Vermont's domain is Lake Bomoseen, in Rutland County, near the New York border, and in the arboreal foothills of the Taconic Mountains. Two small but elegant state parks linger near the Western shores: Bomoseen and Half Moon (both of which offer camping options). Over on the Eastern shore, Crystal Beach provides a simple, family-friendly spot with playgrounds and shallow swimming. There are two main towns to base out of while perusing the region: Hubbarton, at the Northern tip of the Lake, and Castleton, just a smidge East of the Southern reach. Given the expansive footprint, Lake Bomoseen is another entry that favors boaters. 
Lake Dunmore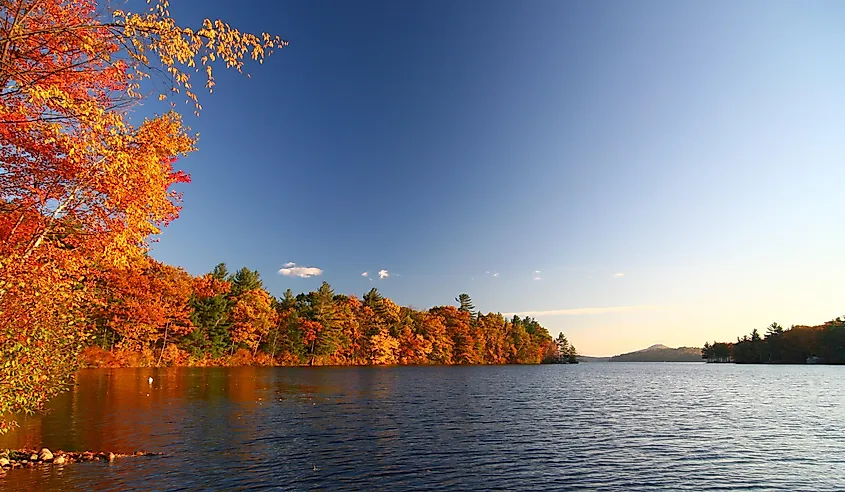 Also, in the West-Central region of the state, Addison County's Lake Dunmore is a hit amongst fans of both the water and the mountains. This 985-acre lake sits at the base of Mt. Moosalamoo and acts as a gateway to the Moosalamoo National Recreation Area, Joseph Battell Wilderness, and the 400,000-acre Green Mountain National Forest that grows strong into the East and far to the South. Closer to Dunmore's shore, the 69-acre Branbury State Park provides a welcoming green space, and a small sandy one, for visitors to enjoy. As a bonus, just off the Eastern shore-paralleling Dunmore Road, a hiking trail and side road both connect to a smaller body of water called Silver Lake, only a few miles from Branbury. 
Somerset Reservoir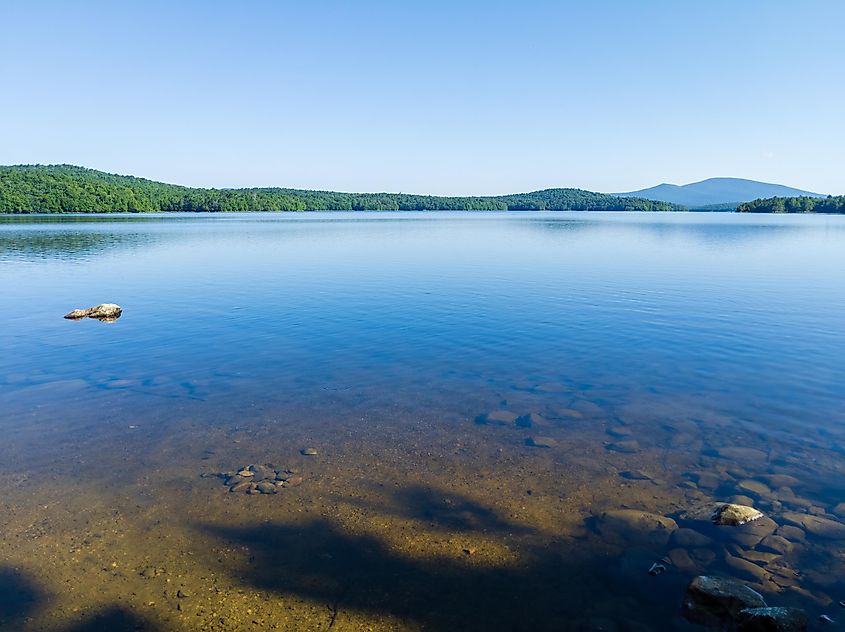 Down in the state's southeast corner, this hidden gem of Windham County is only for committed travelers. Seekers of solitude should wade deep into the Green Mountain National Forest to Somerset Reservoir, a sprawling, man-made waterway free of any developments, save a small boat launch, parking lot, picnic tables, and outhouses (and the dam, of course). Dirt road access encourages many adventurers to hike or bike the 10 miles in, only adding to the immersive experience in nature. The 6.5-mile-long, 1,568-acre reservoir sits at nearly 2,300 feet above sea level, bringing out a bit of that harsher weather that dyed-in-the-wool outdoors people secretly get a kick out of. Because of the isolated setting, this is a great place to observe some New England wildlife, including loons, ducks, moose, deer, and black bears. 
The Green Mountain State is also quite rich in little blue lakes. The two dominant colors create a calming aesthetic blend that connotes a healthy environment and a healthy soul. There are many naturally occurring or constructed lakes that pop with an impactful beauty, but these eight deliver a balanced spectrum, ranging from summer-loving, fun-in-the-sun to isolated bodies that inspire introspection. So if you are touring through the Adirondacks of New York or the oceanfront of other New England States, do not forget to float into the unspoiled country that Vermont offers.