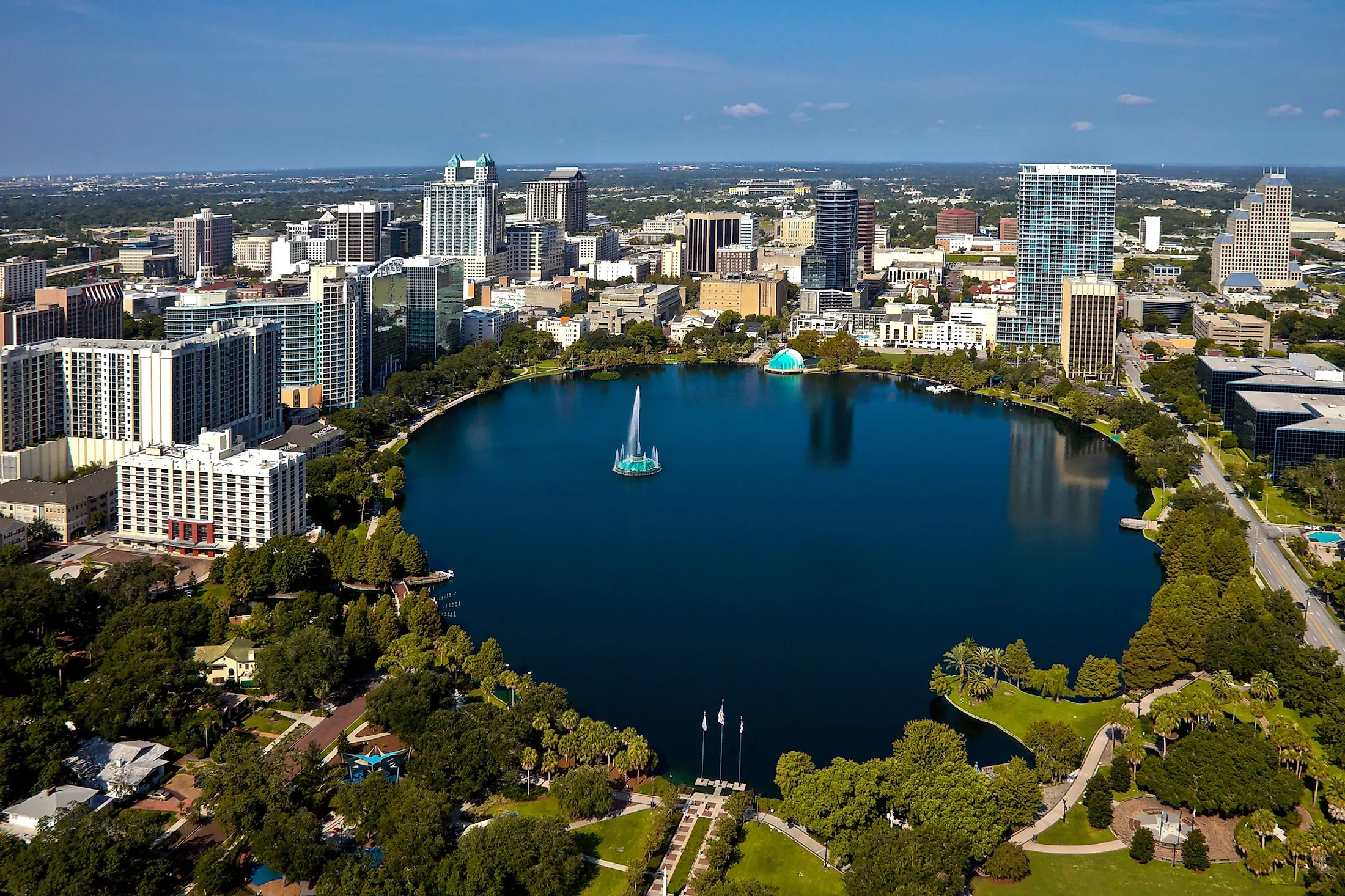 Nicknamed "The City Beautiful," Orlando is the county seat of Orange County, Central Florida. With a population of 2.5 million, the Orlando metropolitan area is the 23rd largest urban center in the United States and the third-largest in Florida, behind only Tampa and Miami. One of the most visited cities in America, and by extension the world, Orlando typically draws up to 75 million visitors a year. Thanks to its favorable climate and popular tourist attractions (namely Walt Disney World and Universal Orlando Resort), this city has become a steady source of income for the Sunshine State. 
Geography And Climate Of Orlando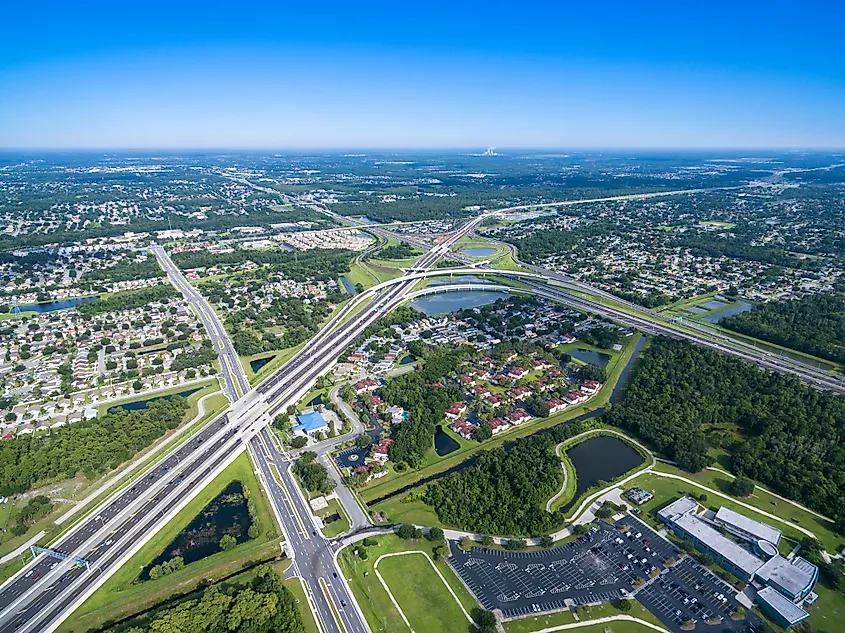 Consisting of many swamps and lakes, the geography of Orlando is largely wetlands. Flat terrain makes the land fairly low and wet, and the area is dotted with hundreds of lakes, including Lake Apopka. Due to a porous bedrock consisting mostly of limestone, Orlando and its metropolitan area are susceptible to sinkholes.
Orlando has a humid subtropical climate typical of the southern United States. Hot and rainy seasons are the two basic periods lasting from May until October and November to April, respectively. In peak humid summertime, temperatures can reach a high of 34 C (93 F), but the area's humidity also acts as a buffer of sorts, preventing the mercury from exceeding 38 C (100 F). However, the high humidity does cause the heat index to rise, and temperatures can feel like 43 C (110 F). During these summer months, very strong afternoon thunderstorms occur almost daily.
With some spectacular lightning displays, heavy rain, and powerful winds, these storms can be very damaging and act almost as previews of the much more devastating hurricane season.
Humidity is much lower, and temperatures are more moderate during winter, with daily highs in January of 15 C (60 F), making snow extremely rare. Orlando's warm climate is attributed to its low elevation, its proximity to the Tropic of Cancer, and its location in the center of the Florida peninsula. The average annual rainfall is 51 inches (1,307 mm) and falls mostly from June to September, while October through May, may be considered a dry season. Wildfire hazards exist during this time and can create air quality advisories that affect tourists' and residents' daily lives.
Although not as high as South Florida, Orlando still has a considerable hurricane risk. Luckily for the city, its location some 124 km from the Gulf of Mexico, dampens the effect of many hurricanes hitting the area.Despite this, hurricanes that hit Orlando can still pack a punch and lead to serious damage and casualties. Among the most notable storms to strike Orlando were Hurricane Charley (2004) and Hurricane Donna (1960) 
History Of Orlando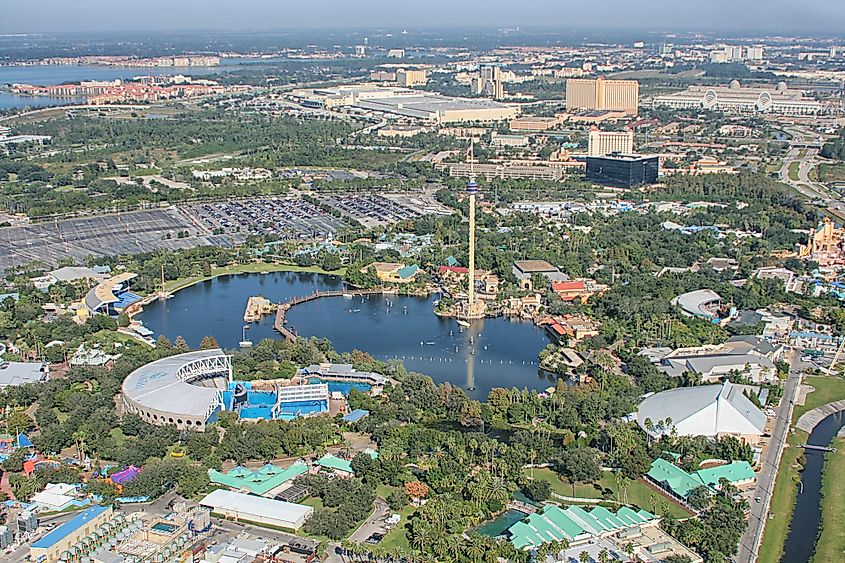 The history of Orlando can be dated back to 1838, during the Seminole Wars (1816-1858), a series of conflicts between the United States government and the Seminole Native American people. Immediately south of the area now known as Orlando was the site of Fort Gatlin, built by the US Army to protect from attacks by the Seminole.
A small community eventually formed around the Fort and its surrounding area, and by 1850 the first permanent settlement was formally established. Initially named Jernigan, after the prominent family of the same name who were amongst the first to settle the land, the name was changed to Orlando in 1857 and incorporated as a town in 1875 as its borders expanded northward.
However, there is no historical consensus on the origin of Orlando's name, and several theories have emerged. One involves a local judge, James Speer, who petitioned to have the town named after his favorite character from the Shakespeare play "As You Like It." Another theory claims the town was named in honor of Orlando Reeves, a soldier in the Seminole Wars who died during an ambush of Fort Gatlin. Buried on the modern-day site of Lake Eola Park, the popular phrase of remembrance, "Here lies Orlando," is said to have inspired the change of name. 
Economy Of Orlando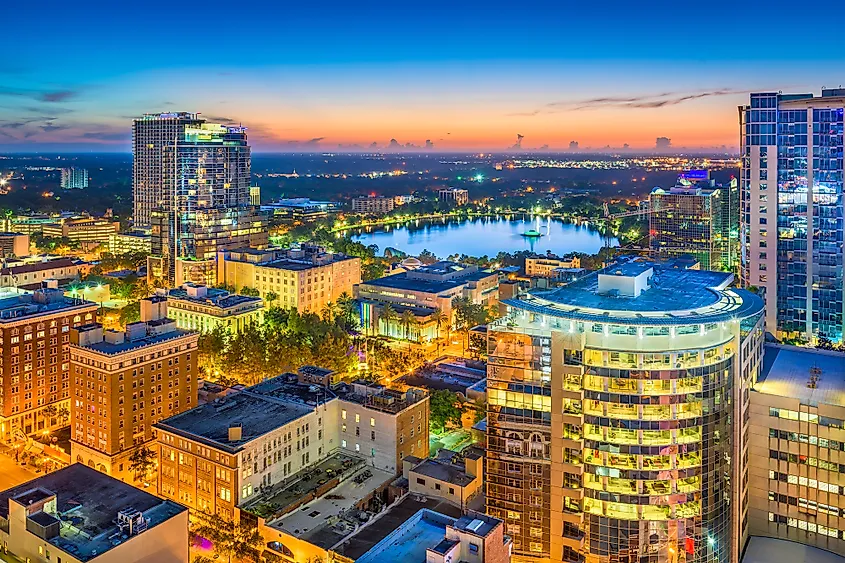 Besides its mainly tourist economy, Orlando is also a center for Florida's citrus industry. Developments in new high-tech cultivation methods have modernized both the planting and collection of oranges and related fruits, and the city grew rapidly from the 1970s in conjunction with tourism. Orlando is home to the University of Central Florida, the second-largest campus with enrolled students in the United States. According to the Globalization and World Cities Research Network, it is also considered a "Gamma" level global city. Offering its residents opportunities for high quality careers in digital media and life sciences, the city has consistently been named amongst the top 100 places to live in America. It is amongst the nation's leaders in technology development in fields like biotech, aerospace, and simulation.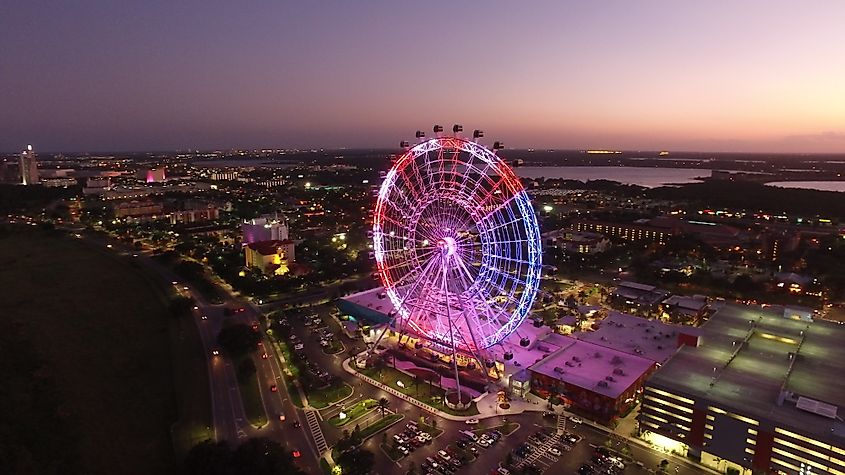 Famous for its hot and humid weather and numerous tourist attractions and resorts, Orlando is a bustling city and metropolis. It will undoubtedly have something for tourists and residents of any kind. Whether to visit the Magic Kingdom of Disney, study and conduct research as a student and worker, or just to soak up the beloved Florida sun, being in Orlando is surely a rich experience. A perfect example of the endless possibilities of the so-called "American Dream," Orlando is indeed a land of imagination and constant potential.
Attractions In Orlando
Amongst the most visited cities in America, Orlando is home to millions of tourists each year and hosts numerous major events and resorts. The most renowned attractions are undoubtedly the Walt Disney World Resort (first opened in 1971) and the Universal Orlando Resort (first opened in 1990).
Disney World is located some 34 km south of downtown Orlando near Bay Lake and covers a total area of 25,000 acres. With an average annual attendance of 58 million (pre the Covid 19 pandemic), the Resort boasts several golf courses, entertainment venues, 31 themed on-site hotels, and its theme park rides and attractions.
The Universal Orlando Resort is just a short drive away. Visitors can explore two unique theme parks within the resort, Universal's Islands of Adventure and Universal Studios Florida, and stay at a selection of eight on-site hotels. Some 21 million tourists a year pass through the Resort's gate and can enjoy the very popular Wizarding World of Harry Potter and Volcano Bay, etc.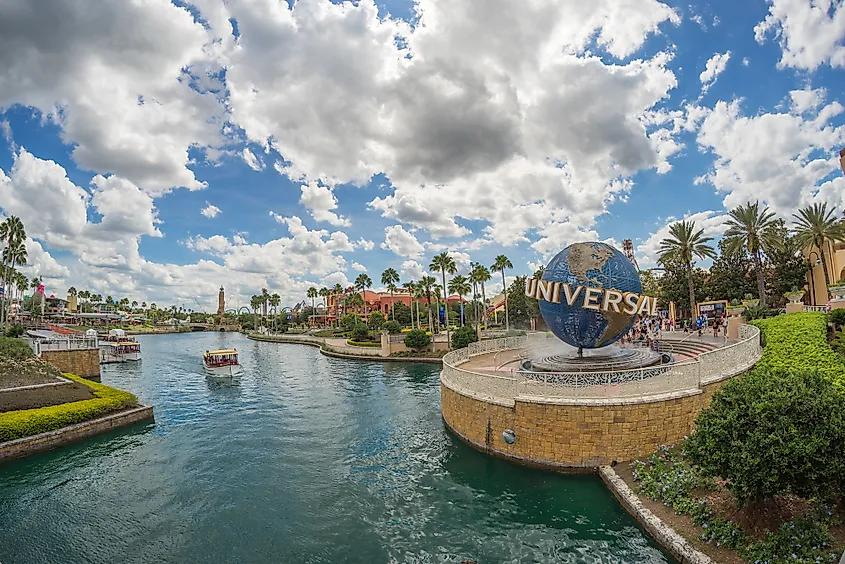 But besides these major theme parks, Orlando also houses many other cultural and entertainment sites of renown. These include the Dr. Phillips Center for the Performing Arts, the Orlando Museum of Art (built in 1924), and the International Drive tourist strip. On this strip, visitors can expect to find many notable landmarks on an 18 km stretch. First, there is The Wheel at ICON Park Orlando (a 400 feet tall Ferris wheel), Madame Tussaud's Wax Museum, SeaWorld Orlando, the Orange County Convention Centre, and even the world's largest McDonald's restaurant with 19,000 square feet of space.
Orlando's International Airport handles over 50 million passengers, making it the 13th busiest airport in the United States and the 29th most frequented globally.