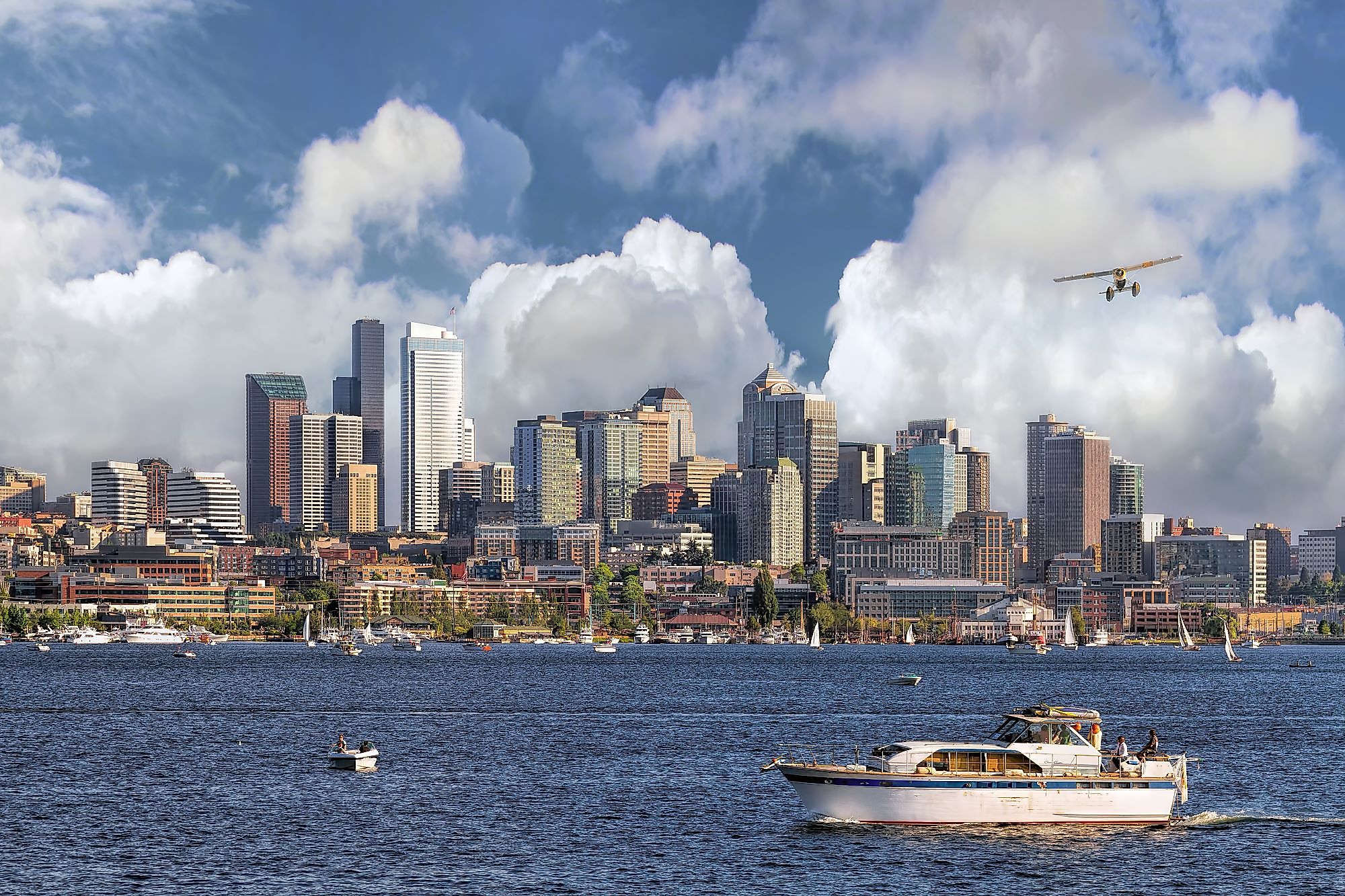 8 Most Beautiful Lakes In Washington
Placed in the Western United States' Pacific Northwest region, the state of Washington is full of natural splendors. With majestic snow-capped mountains, dense temperate rainforests, wide valleys, and numerous water bodies, Washington is a perfect place to enjoy the wonders of Mother Nature. Moreover, the Evergreen State is home to some of the country's most spectacular lakes. Besides being surrounded by breathtaking natural views, these lakes also offer ample recreational opportunities, attracting hordes of vacationers throughout the year.
Lake Washington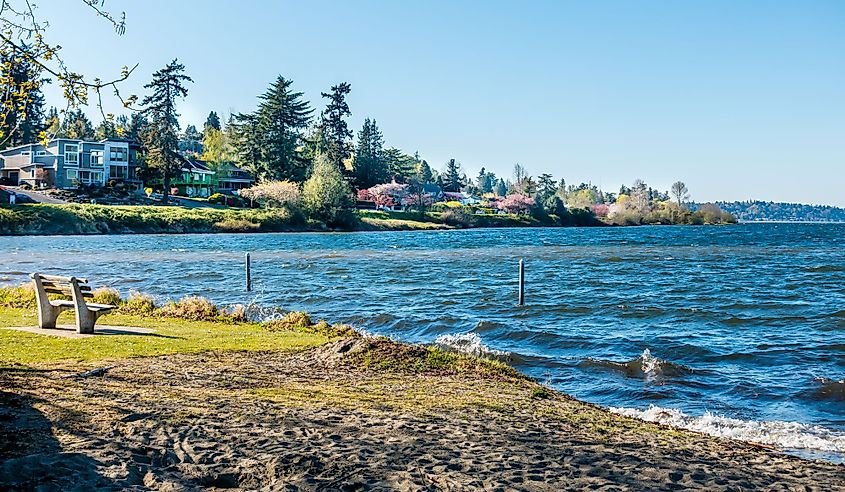 Named after George Washington, this beautiful freshwater lake covering a surface area of 33.8 square miles is Washington's second-largest natural lake as well as the biggest lake in King County. The lake is surrounded by the cities of Kenmore on the north, Renton on the south, Kirkland and Bellevue on the east, and Seattle on the west. Lake Washington receives its primary inflows from several rivers and small creeks, including the Sammamish River, Cedar River, Coal creek, Juanita Creek, Kelsey Creek, Ravenna Creek, Thornton Creek, and many more. The Lake Washington Ship Canal links the freshwaters of the lake with the saline waters of Puget Sound.
Created by the Vashon Glaciation, this long, narrow, finger-shaped lake has a maximum length of 22 miles and holds a water volume of 2,842,069 acre-ft. The lake reaches an average depth of 108 ft and a maximum depth of 214 ft. Many fish species are found in the lake, such as coastal cutthroat trout, largemouth bass, yellow perch, black crappie, and rainbow trout. Lake Washington offers various watersport opportunities and is an excellent recreational destination to visit and enjoy with family and friends.
Colchuck Lake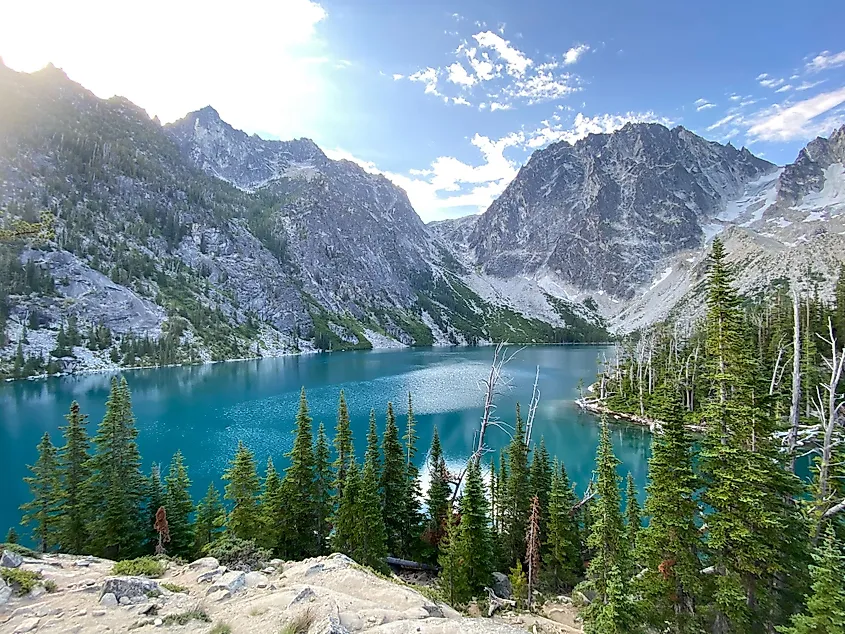 Nestled on the western slopes of The Enchantments in Washington's Chelan County is one of the most beautiful alpine lakes in the state. This freshwater reservoir lake is located on the Icicle Creek subbasin's southeastern corner, about 15 miles from Leavenworth. Depending on the fluctuation of its depth, Colchuck lake covers a surface area of 87.8 acres and reaches a maximum surface elevation of 5,570 ft. The lake's tributary basin covers 941 acres and has an average storage capacity of 1,570 acre-ft.
In the late 1930s, a masonry dam with a central spillway opening was built to enclose Colchuck Lake and manage the overflow. The dam's low-level outlet pipeline and slide gate allows controlled release of stored water into an unnamed brook and finally into Mountaineer Creek. This beautiful turquoise-blue lake can be accessed by the Colchuck Lake Trail, which is one of the Pacific Northwest's most iconic hikes.
Diablo Lake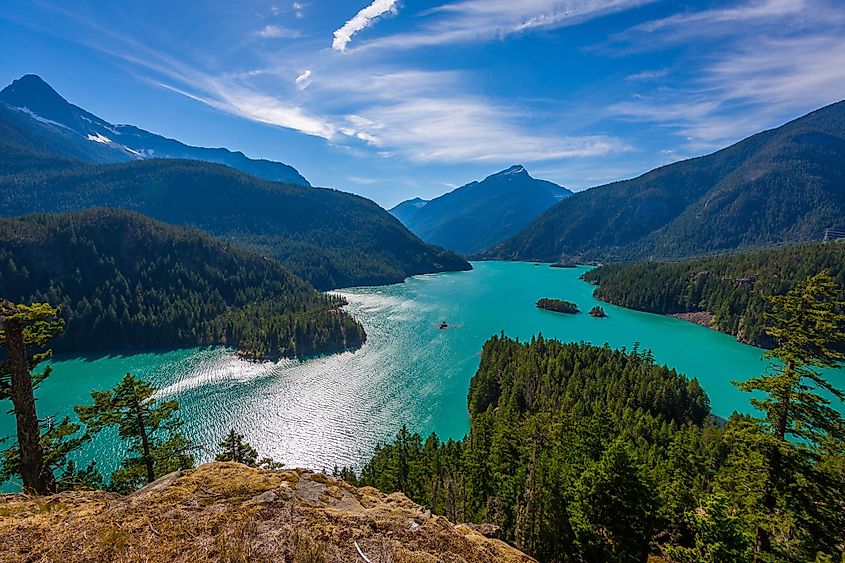 Created by the construction of the Diablo Dam on the Skagit River as a part of the Skagit River Hydroelectric Project, Diablo Lake is a popular reservoir lake. This artificial lake is placed at an elevation of 1,201 ft between Ross Lake and George Lake in the Ross Lake Recreation Area within the North Cascades National Park. The distinctive turquoise color of the lake's water is due to the surrounding glaciers that have grinded rocks into fine rock particles called glacial flour, which reach the lake via creeks. The glacial flour remains suspended and refracts sunlight, giving the lake waters its brilliant hue that looks stunning against the background of magnificent snow-capped mountains.
The Diablo Lake is home to several fish species, including bull trout, brook trout, rainbow trout, and coastal cutthroat trout. The Diablo Lake Trail is a moderate-level hike surrounding the Diablo Lake, and provides hikers with a 7.2 mile round trip experience that gains 1,512 ft in elevation. During the hike to the trailhead, visitors can get amazing views of many minor North Cascades peaks, such as Jack Mountain, Davis Peak, and Pyramid Peak.
Lake Chelan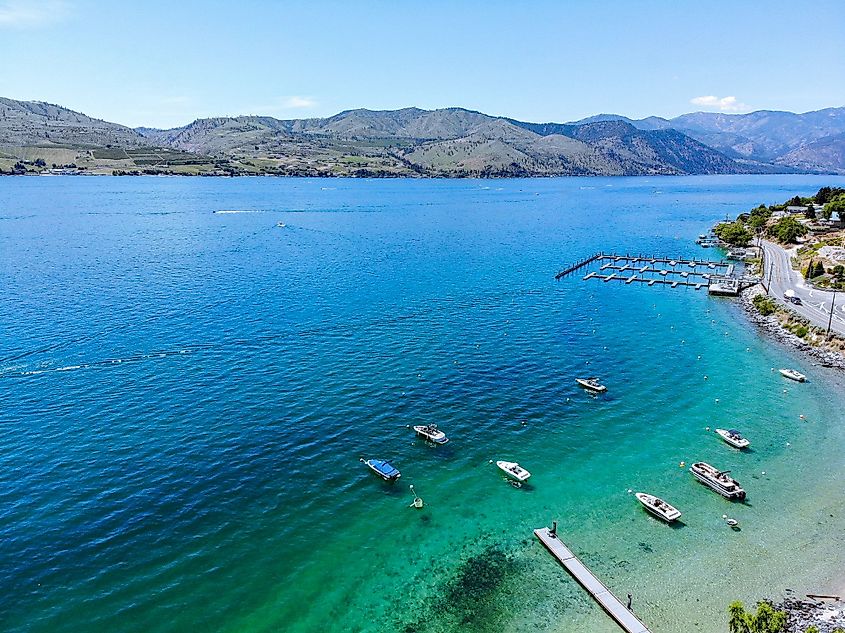 This 50.5-mile-long, narrow fjord-like lake is situated in Chelan County in the state's north-central portion. Covering a surface area of 52.1 square miles, this over-deepened lake has an average width of 1.3 miles and is placed at an elevation of 1,100 ft. Lake Chelan is North America's third-deepest lake having an average depth of 474 ft and reaching a maximum depth of 1,486 ft. The lake comprises two basins: the lower Wapato Basin and the upper Lucerne Basin. The shallower Wapato Basin covers approximately one-fourth of the total length of the lake, while the much deeper Lucerne Basin occupies the remaining portion. A sill separates the two basins at the narrows, where the lake is only 0.35 miles wide.
The Stehekin River feeds the lake at its northwestern end, while a low dam impounds the lake on its southeastern end, from where a short channel leads to the Columbia River. Several fish species are found in Lake Chelan, including bull trout, longnose sucker, northern pikeminnow, mountain whitefish, Yellowstone cutthroat trout, lake trout, brook trout, chinook salmon, and many more. A significant portion of the lake is situated within the Wenatchee National Forest. In contrast, the lake's northern end surrounding the town of Stehekin is a part of the Lake Chelan National Recreation Area.
Lake Crescent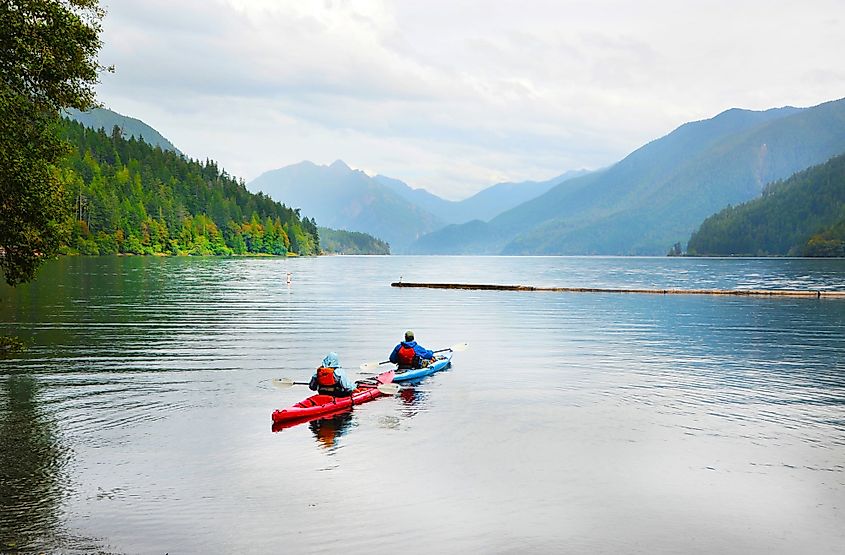 This deep, glacially-carved lake is one of Olympic National Park's most scenic destinations. The 5,127-acre lake is located close to the small unincorporated community of Piedmont, approximately 17 miles west of Port Angeles on U.S. Route 101 Highway. Lake Crescent is Washington's second-deepest lake having an average depth of 300 ft and a maximum depth of 624 ft.
The lake is well-known for its crystal-clear blue waters, which is mainly attributed to the absence of nitrogen in the water body that inhibits algal growth. Small creeks like Barnes Creek, Aurora Creek, Smith Creek, and Eagle Creek flow into Lake Crescent. The Lyre River flows out of Lake Crescent and finally empties into Strait of Juan de Fuca. Two endemic fish species are found in Lake Crescent: Beardslee trout and Crescenti Cutthroat Trout. The lake is located in a notable recreation area that serves as a trailhead for many popular hiking trails, such as Pyramid Mountain Trail, Spruce Railroad Trail, and Barnes Creek Trail.
Lake Wenatchee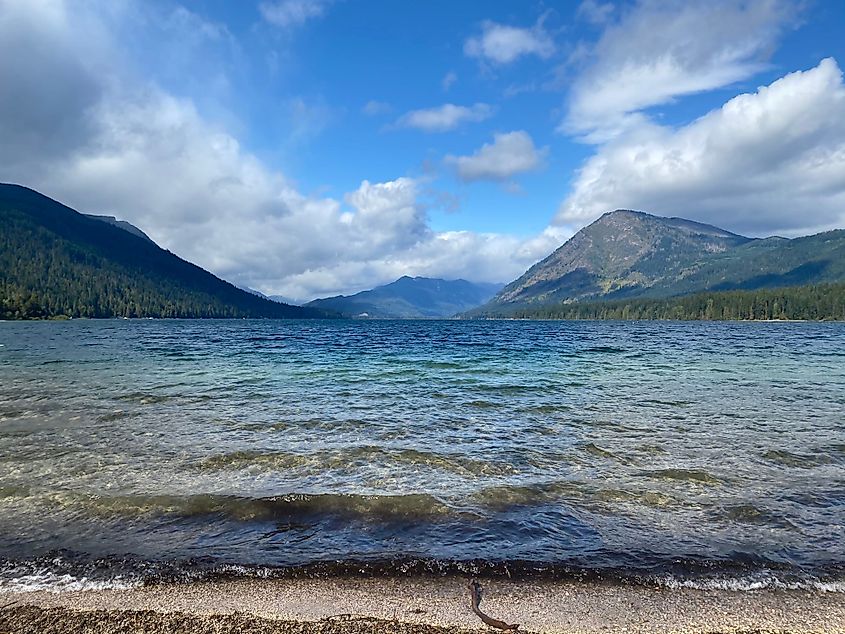 This 2, 480-acre glacier-fed lake is situated on the eastern slopes of the Cascades Mountain Range in Washington's Wenatchee National Forest. Lake Wenatchee has a length of 5 miles and a maximum depth of 244 ft. The lake receives its primary inflows from White River and the Little Wenatchee River. Lake Wenatchee is a popular destination for boaters, kayakers, and windsurfers. Beginner standup paddlers can rent boats and navigate the calm waters close to the lake's shores.
The 492-acre Lake Wenatchee State Park occupies the eastern end of the lake. The park offers various water-based recreational activities such as fishing, white-water kayaking, swimming, water skiing, windsurfing, boating, etc. Camping facilities and trails are also available for hikers, bikers, and horseback riders. During winter season, the park is used for ice climbing, snowmobiling, cross-country skiing, and dog sledding.
Summit Lake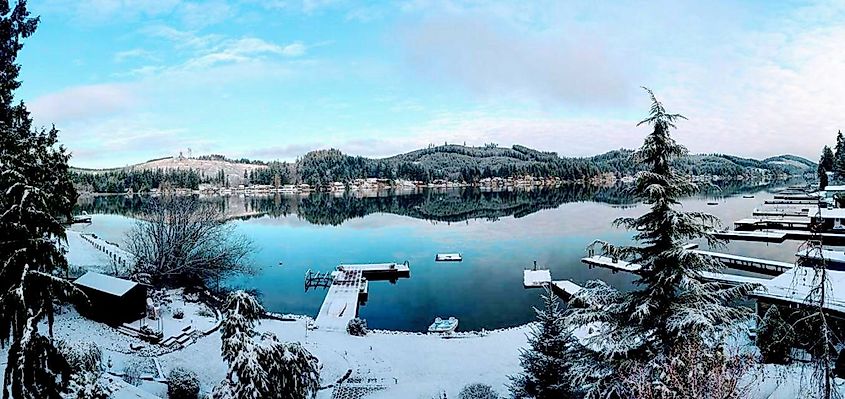 Formerly referred by different names like Crooked Lake and Prays Lake, this freshwater lake is situated in the northwestern corner of Washington's Thurston County. Covering a surface area of 511.2 acres, the lake is placed approximately 7.6 miles east of McCleary, 9.7 miles from the state capital Olympia, and 9.8 miles west-northwest of Tumwater. The Summit Lake is only accessible by a state-owned boat launch at the lake's southwestern end. The lake is a popular fishing destination in South Puget Sound and is home to a wide variety of fish species like rainbow trout, smallmouth bass, coastal cutthroat, pumpkinseed sunfish, kokanee, yellow perch, brown bullhead, and largemouth bass.
Lake Union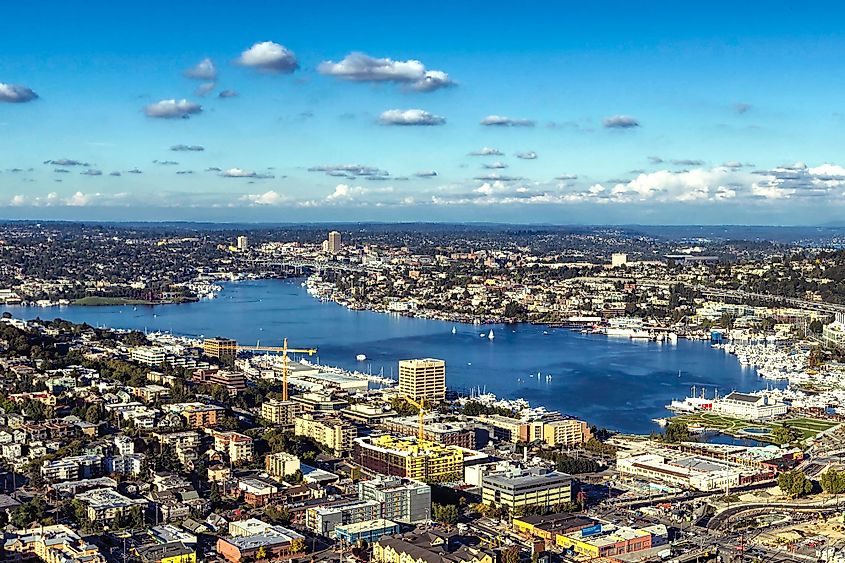 Lake Union is a freshwater lake situated right at the heart of Seattle's downtown. Created by the retreating Vashon Glacier about 12,000 years ago, this lake forms a significant portion of the Lake Washington Ship Canal. Lake Union is separated from Portage Bay by the Ship Canal Bridge, which carries the Interstate 5 Highway over the lake's eastern arm. The Pacific Highway is carried over the lake's western arm by the Aurora Bridge. The Fremont Cut links Lake Union with Salmon Bay.
Covering a surface area of 580 acres, Lake Union has an average depth of 34 ft and reaches a maximum depth of 50 ft. Various fish species, like black crappie, yellow perch, largemouth bass, etc, are found in the lake. Lake Union is a popular recreational destination, offering scenic views of Seattle, along with an array of water-based activities like kayaking, paddleboarding, boating, and rowing. Some well-known parks located along the lake include Gas Works Park, South Lake Union Park, Fairview Park, North Passage Point Park, Terry Pettus Park, and South Passage Point Park.
The above-mentioned eight lakes are among the several beautiful water bodies found in the Evergreen State. With scenic hiking trails, crystal-clear shorelines, picturesque vistas and ample recreational activities, these lakes have something for everyone. So, what are you waiting for? Pack your bags, and visit these spectacular lakes to spend a memorable time with your near and dear ones.