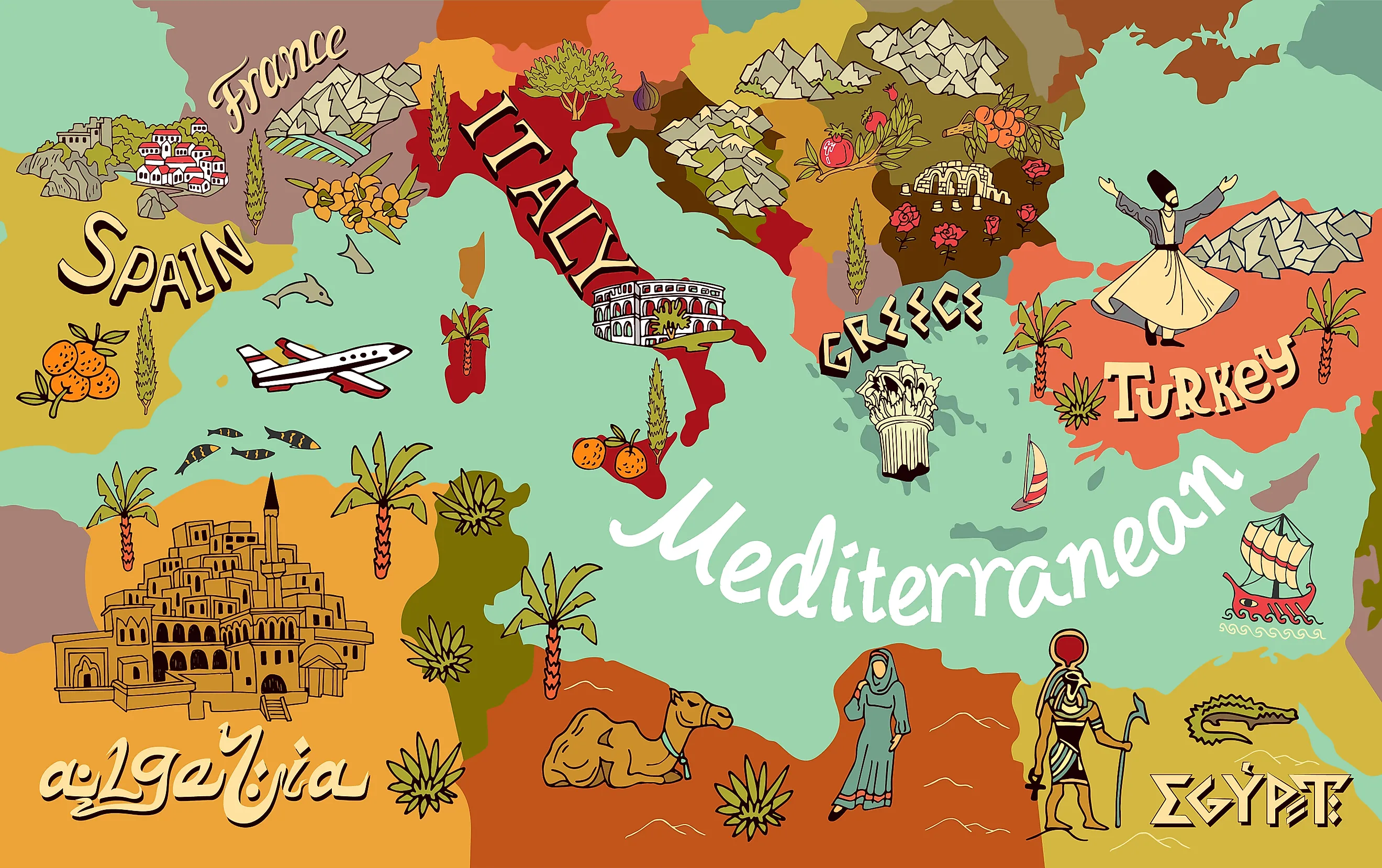 The Mediterranean region is a geographical area encompassing countries located around the Mediterranean Sea. It is home to some of the world's oldest civilizations, including Egypt, Greece, and Rome. This area has been a cradle of culture and progress since ancient times, with diverse landscapes and rich cultural heritage, as well as bustling cities. The Mediterranean's varied landscapes include mountains, beaches, and islands that offer stunning natural beauty and unique experiences. Twenty-two countries currently call the Mediterranean Coast home, making it all the more impressive that each nation has cultivated distinctive personalities and histories.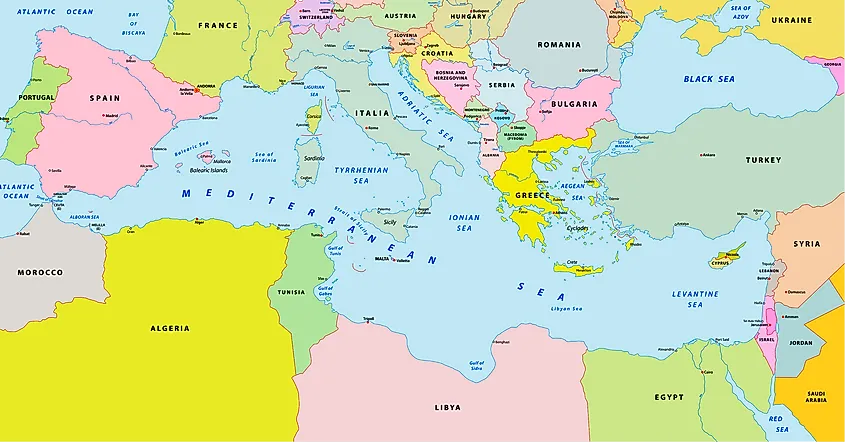 European Mediterranean Countries 
From west to east, the Mediterranean countries that line the southern European coast possess a healthy mix of fascinating cultures and religions. To the west lies Spain, a geographically diverse nation where languages like Castilian Spanish are standard, along with regional dialects of Spanish, French, and others. Spanish culture is rich in traditions, from music and art to gastronomy and festivities. 
France follows Spain to the east with a landscape ranging from coastal plains to mountain heights in the Alps. Modern French culture is known for its sophistication, style, artistry, and gastronomy. Adjacent Monaco is a bustling city-state with an impressive skyline that stands out against a backdrop of strong influences from Italian culture and traditional Catholicism.
Italy is home to some of the most iconic European cities, including Rome, Florence, and Venice, which are renowned for their unique architecture and rich histories. Next is Malta, an archipelago in the middle of the Mediterranean Sea known for its rich Catholic faith and mixture of Arabic and Italian heritage blended by centuries of foreign rule.
The geographical terrain ranging from the Adriatic Sea to the Aegean Sea includes the remaining nations. Slovenia and Croatia are popular tourist destinations due to their varied landscapes riddled with tranquil bays, lively forests, and popular cities. 
Bosnia and Herzegovina's unique climate of mountains and valleys allows for year-round activities such as skiing in winter and rafting in summer. Montenegro is famed for its picturesque cliffside views, while the sandy beaches of Albania create an idyllic setting coupled with jagged hillsides. 
Lastly, Greece is well-known for its temperate Mediterranean climate throughout its mainland and surrounding islands, where visitors can experience Greek culture through its language, the commonplace Orthodox religion, and warm-hearted people. Overall, Visitors to the Mediterranean coast of southern Europe can experience various cultures connected by the sea.
Asian Mediterranean Countries 
With their diverse geography and culture, Western Asian coast countries offer various attractions and activities. Turkey is known for its bustling cities and stunning landscape that stretches from the Black Sea to the Mediterranean. The Republic of Cyprus is an island country in the eastern Mediterranean Sea, with its economy based mainly on tourism and services.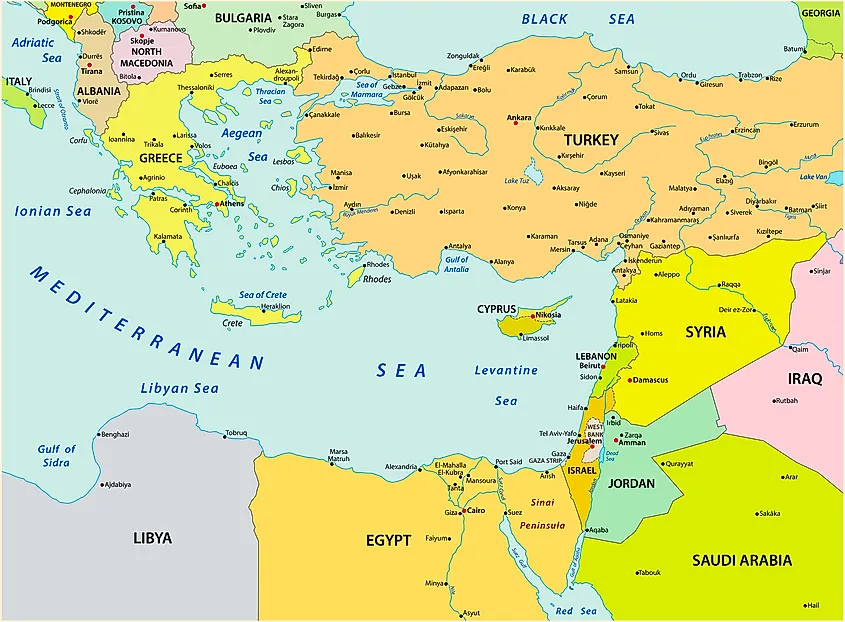 Syria is home to ancient ruins like Palmyra and the Umayyad Mosque in Damascus and natural wonders such as mountain ranges, deserts, caves, and valleys. Lebanon boasts a rich cultural heritage dating back to antiquity and a diverse population of many different religions and ethnicities. Israel is known for being one of the world's most important religious centers, and its vibrant art scene attracts visitors from across the globe.
Lastly, Palestine has some of the oldest archaeological sites on earth, including Jericho, Hebron, Bethlehem, and Jerusalem – all sacred places revered by billions worldwide. Together these six countries have much to offer those looking to explore everything the Eastern Mediterranean region provides. 
African Mediterranean Countries
Often referred to as the "Northern African Rim," the Mediterranean countries of Egypt, Libya, Tunisia, Algeria, and Morocco offer an array of fascinating cultures and treasures. While each has a unique culture and history, they share similarities, such as a long coastline on the Mediterranean Sea and Sahara Desert crossings. Religion-wise, these countries are majority Muslim, with a small minority Christian - although religious diversity is often present within urban centers. These coastal cities experience a mild Mediterranean climate with hot, dry summers and mild to cool winters; however, there are semi-desert environments in Morocco and much of Algeria. The topography is highly varied; Egypt belongs to the desert region with dunes in Central Sahara where tourists can explore ancient ruins, while next door Libya has mountain ranges that stretch into Saharan highlands.
Egypt is one of the oldest civilizations in the world, with landmarks like the Giza Necropolis, the Temple of Karnak, and the Valley of the Kings. Libya is a significant oil producer, and its culture amalgamates the region's Phoenician, Ottoman, and Arab influences blended with Bedouin customs. Tunisia is known for its ancient Roman ruins at Carthage and vibrant cities like Tunis and Sousse. Algeria's diversity comes from its mix of French colonial architecture with traditional Berber settlements in the Sahara Desert. At the same time, Morocco offers breathtaking day trips through snow-capped mountains to sweeping coastlines. All five countries present unique experiences for travelers interested in exploring a rich cultural heritage and a varied geography, from deserts to coastlines. 
The countries bordering the Mediterranean Sea have a long and dramatic history. However, ongoing politics surrounding several nations mean that travel is only sometimes permitted or advised due to active conflict zones. However, from the stunning architecture and vibrant culture of Southern Europe to the exotic markets and ancient ruins of Western Asia, there will always be a reason to maintain and preserve these places for future posterity. And with its sunny climate and sandy beaches, Northern Africa is a perfect place to relax and escape the hustle and bustle of everyday life. Moreover, with its outstanding historical significance and abundance of natural resources, the Mediterranean region has played an invaluable role in shaping the development of our world today. 
The 22 Mediterranean Countries
| # | Country | Capital | Area (mi2) | Population |
| --- | --- | --- | --- | --- |
| 1 | Albania | Tirana | 11,100 | 2,836,003 |
| 2 | Algeria | Algiers | 919,595 | 45,347,511 |
| 3 | Bosnia and Herzegovina | Sarajevo | 19,772 | 3,217,975 |
| 4 | Croatia | Zagreb | 21,851 | 4,016,933 |
| 5 | Cyprus | Nikosia | 3,572 | 1,256,574 |
| 6 | Egypt | Cairo | 387,050 | 112,062,046 |
| 7 | France | Paris | 7,172 | 64,709,065 |
| 8 | Greece | Athens | 50,949 | 10,355,532 |
| 9 | Israel | Jerusalem | 8,020 | 9,123,439 |
| 10 | Italy | Rome | 116,348 | 58,934,913 |
| 11 | Lebanon | Beirut | 4,036 | 5,407,387 |
| 12 | Libya | Tripoli | 679,360 | 6,859,878 |
| 13 | Malta | Valletta | 122 | 533,876 |
| 14 | Monaco | Monaco | 0.78 | 36,297 |
| 15 | Montenegro | Podgorica | 5,333 | 626,485 |
| 16 | Morocco | Rabat | 172,410 | 37,697,492 |
| 17 | Palestine | - | 2,320 | 5,324,901 |
| 18 | Slovenia | Ljubljana  | 7,827 | 2,119,675 |
| 19 | Spain | Madrid | 195,365 | 47,536,260 |
| 20 | Syria | Damascus | 71,500 | 22,800,544 |
| 21 | Tunisia | Tunis | 63,170 | 12,416,645 |
| 22 | Turkey | Ankara | 302,535 | 85,646,323 |