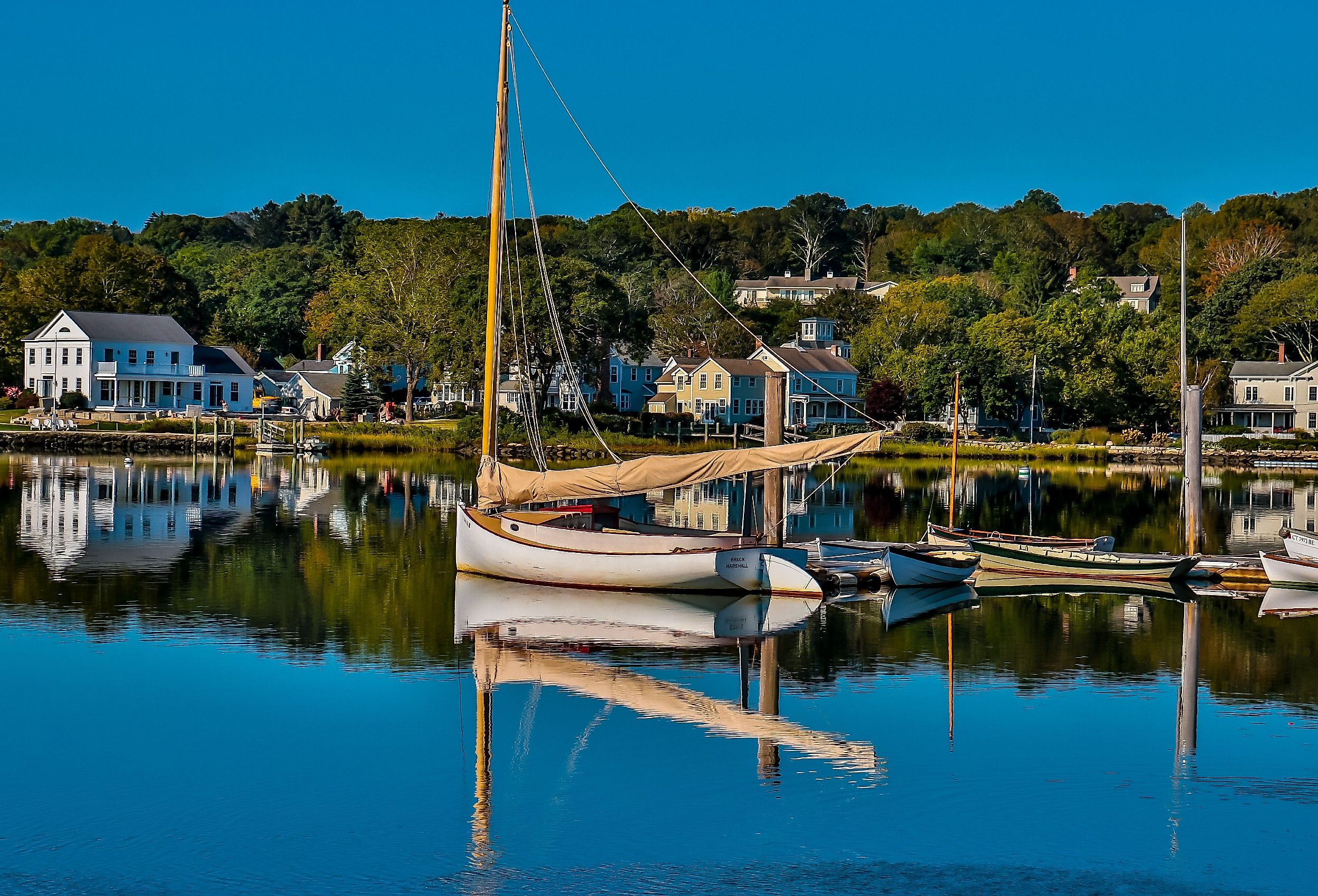 13 Cutest Small Towns in the Northern United States
The states in the Northern United States, or The North, are known for commercial vigor and agricultural diversity. These states experience humidity in the summer and large amounts of snow in the winter. With a vast change in weather, there are opportunities for seasonal outdoor activities year around. Across The North, tourists return to small towns to revisit lakes, historic main streets, picturesque landscapes, architectural wonders, and beaches. From Alaska to Pennsylvania, there are many cute small towns in the northern United States waiting to explore.
Stowe, Vermont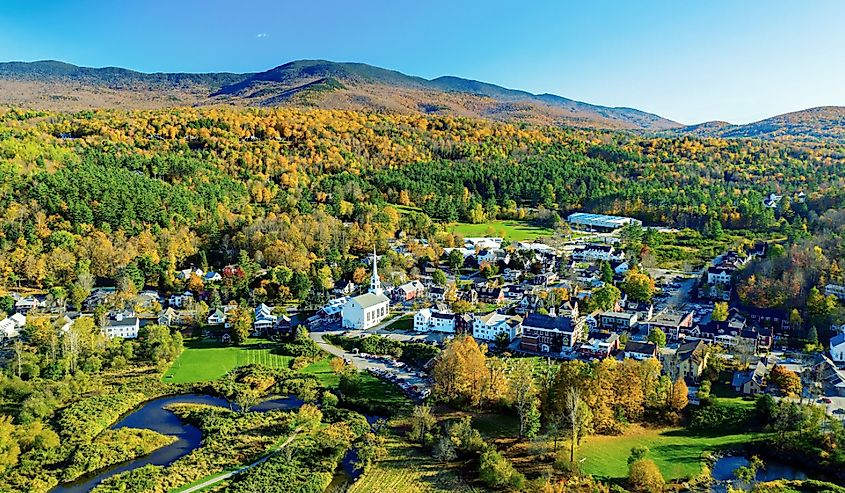 Located in north central Vermont, the small town of Stowe welcome visitors with activities throughout the year. Stowe was officially chartered in 1763 and is a small town surrounded by land. With a resident population of 5,156, Stowe is a resort destination. In the winter, the small town is the "Ski Capital of the East" and offers skiing, dog sledding, snowmobiling, and sleigh rides. Visitors to Stowe in the spring will find a scenic green landscape and the air sweet with the start of maple sugar season. As the weather warms, an abundance of outdoor activities are available.
Local fare mixed with hiking, paddling, or biking rewards visitors with stunning views of Mount Mansfield and Spruce Peak. Visitors can hike to Moss Glen Falls or Bingham Falls to marvel at cascading waterfalls. Autumn in Stowe offers vibrant foliage of red, orange, and yellow. Visitors can hike trails or kayak along Little River, a river that runs through town. For the adventurous, visitors can soar through the trees while zip-lining with ArbortTrek Canopy Adventures in Smuggler's Notch. As a vacation hub, Stowe offers many culinary cuisines. Patrons can enjoy casual dining or a more sophisticated atmosphere. From zipping through the trees to quiet walks, visitors to Stowe, Vermont, will find something to occupy their time in any season.
Sitka, Alaska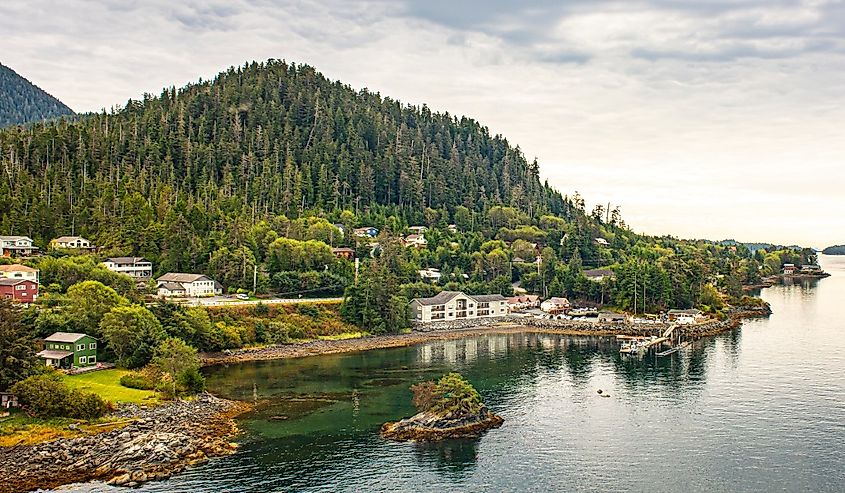 The town of Sitka, Alaska, is on Baranof Island, facing the Pacific Ocean, and is only accessible by plane or boat. Sitka is a blend of Tlingit native culture and Russian history, with a population of under 9,000 residents. In the early 1800s, Russians overtook Sitka and sold it to the United States in 1867, becoming Alaska's first capital. The town's unique history is on display through local museums.
With an appointment, visitors to Sitka can visit the oldest Russian building built in 1842 for the Bishop of the Orthodox Church to reside. The building is a National Historic Landmark. Sitka National Historical Park is listed on the National Register of Historic Places and educates visitors about the town's Russian and Tlingit history. Visitors can view a collection of totem poles and artifacts in the park's museum. The Tlingit arts program and studio welcome visitors to interact and observe local Alaskan Native artists. Local Totem Square is home to a totem pole showcasing the double-headed eagle of Sitka's Russian heritage.
The Sitka Aquarium invites visitors to experience the wonder of sea life. Touch tanks and guided tours encourage visitors to actively participate in learning about the local ecosystem. Sitka offers outdoor activities such as a ride in a seaplane to observe Mt. Edgecumbe Volcano, the many forests of local mountains, and glaciers from the sky. Visitors should dress in layers for an outdoor adventure because Sitka's weather is unpredictable. Sitka, Alaska, offers visitors possibilities to engage in the town's surrounding beauty.
Geneva-on-the-Lake, Ohio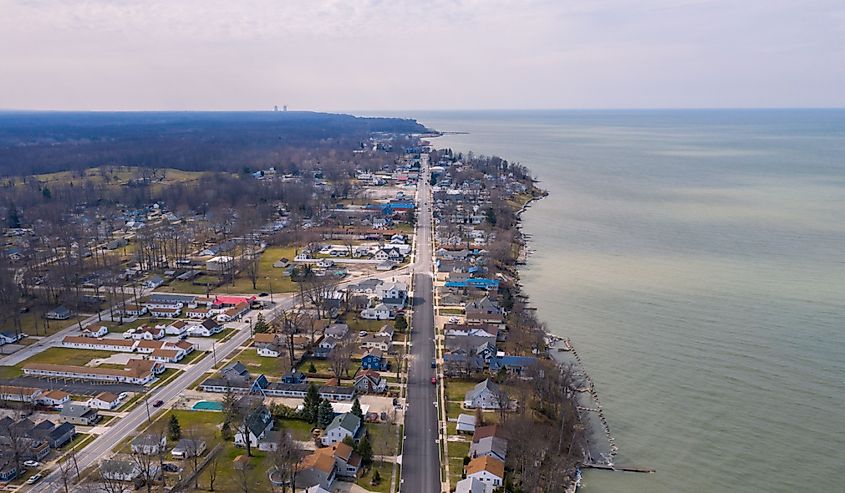 Located on the south shores of Lake Erie, Geneva-on-the-Lake began when Cullen Spencer and Edwin Pratt opened public picnic grounds in July 1869. Since then, the town has become a resort community. Although the town has less than 1,000 residents, there is plenty to do at Geneva-on-the-Lake. Visitors can enjoy hiking and biking along trails adjacent to Lake Erie. Visitors can jet ski, kayak, or swim for physically challenging water activities. Geneva State Park's Breakwater Beach is ideal for a promenade along the beach to search for sea glass. Along Geneva-on-the-Lake's boardwalk, The Strip, climbing walls, water slides, miniature golf, and ice cream shops await visitors.
At night, Geneva-on-the-Lake hosts nightclubs, including Adventure Zone, a place for the whole family! Adventure Zone is open until 11:00 pm in the summer, offering bumper boats, go-karts, and arcade games. Noble Art Entertainment provides weekend dinner theatre from October to May. Each performance includes a multi-course-themed dinner along with the interactive show. For a bird's eye view of Lake Erie in the summer, visitors can arrange a zip line tour with Lake Erie Canopy Tours at The Lodge at Geneva-on-the-Lake. At Adventure Courses, visitors strap in to test balance and endurance on rope courses high above the ground. Two courses are available, one for adults and one for children 4 to 10 years old.
Wine enthusiasts can enjoy wine from local wineries in and around Geneva-on-the-Lake. Local wine ranges from very dry to semi-sweet and has earned a position on the Vines and Wines Trail in Ohio. Visitors to Geneva-on-the-Lake can spend the day basking in the sun, participating in water activities, or relaxing with a glass of wine. As a small town with small beginnings, Geneva-on-the-Lake has taken advantage of its surroundings to provide a welcoming atmosphere. 
Lititz, Pennsylvania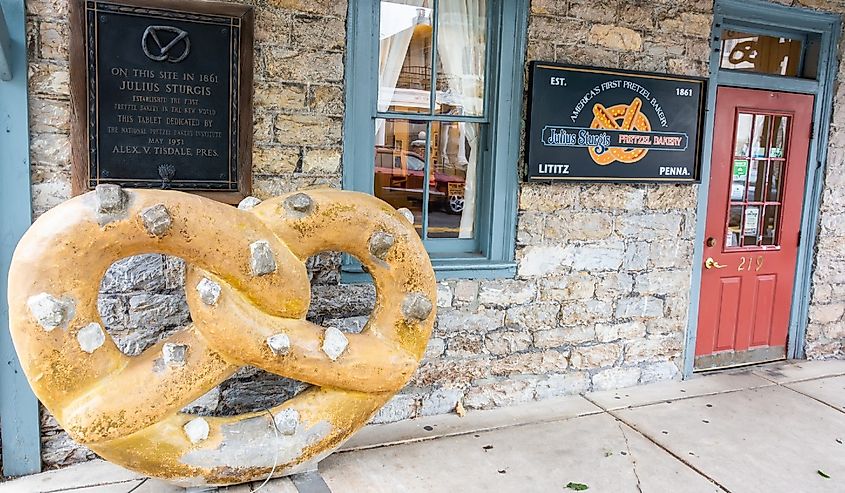 The history of Lititz, Pennsylvania, began centuries ago with the indigenous people of the Nanticoke tribe. In the years following, many cultures left their mark on the historic town. Buildings in Lititz are constructed of log, brick, and stone depicting English, German, and Victorian architectural design. Present-day Lititz is home to just under 10,000 residents who welcome visitors to ease into the quiet of a small town. Flowing from the springs of Lititz Springs Park, Lititz Run is a 7.2-mile-long tributary of the Conestoga River in Lancaster County. The park is privately owned by the Lititz Moravian Congregation, maintained by the Churches of Lititz, and funded by donations.
Visitors to Lititz can visit the Julius Sturgis Pretzel Bakery, founded in 1861. You can tour the bakery and get a hands-on lesson in the art of pretzel twisting. Afterward, visitors can shop for treats and souvenirs in the bakery store. The local Darlington Family owns and operates the Wolf Sanctuary of Pennsylvania, located just north of Lititz. Visitors are encouraged to reserve a guided private or public tour of the educational facility. The Lititz Museum and Johannes Mueller House offer visitors 45-minute guided tours. The museum and house educate visitors on the history of Lititz's people and showcases family heirlooms dating back to the 1700s.
Winter in Lititz welcomes visitors to participate in the Winter FUNderland event. The event offers kid-focused activities, scavenger hunts, and a maker's market. This event coincides with the town's 10-day Fire and Ice Festival celebration featuring ice sculptures and delicious delectables from local restaurants.
Auburn, Indiana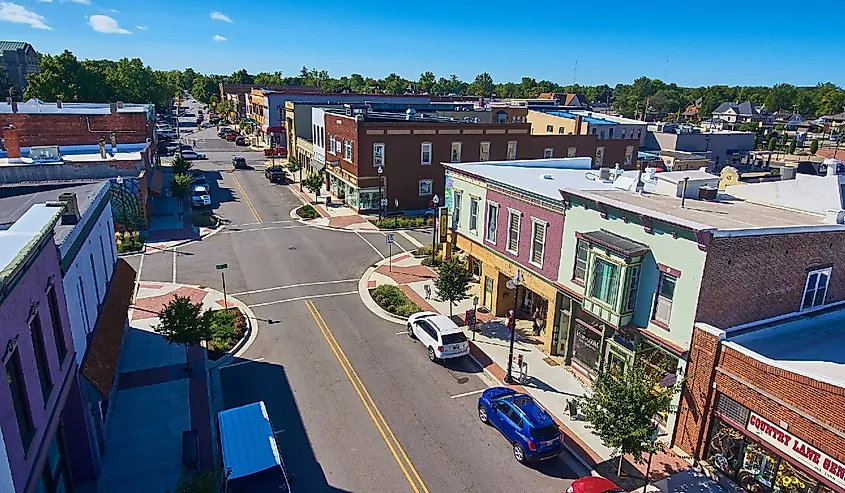 The small town of Auburn, founded in 1836 by Westly Park, sits in northern Indiana in Dekalb County. The town is currently home to a population under 13,000. Cedar Creek and Metcalf Ditch Canal flow through the center of town. Bikers can ride along Cedar Creek on the Rieke Park Trail. The trail offers shade and emerges into an open field in the north, with Reike Park located in the middle of the trail. Visitors can enjoy picnic pavilions, soccer fields, horseshoe courts, a playground, and public restrooms.
The town of Auburn hosts the Auburn Cord Duesenberg Festival over Labor Day weekend. Automotive enthusiasts flock to Auburn to collectively marvel at classic antique cars from the 1920s and 1930s. The Auburn Cord Duesenberg Automobile Museum is a beautiful art deco showroom listed as a National Historic Landmark. The National Auto and Truck Museum offers visitors two floors of one-of-a-kind vehicles. These vehicles are used in occasional parades and shows across the country. The Early Ford V-8 Foundation Museum features industrial and farming vehicles spanning the 1930s to 1950s.
Auburn's food scene offers casual dining. Visitors to Cricket's 7th Street Bar and Grille and Deano's Diner will find fried food, sandwiches, and salads. Blue Moon welcomes patrons to indulge in specialty sundaes. For local lodging, Auburn offers hotels and local rentals. Auburn, Indiana, "Home of the Classic," welcomes visitors to marvel at the history of cars while enjoying the surrounding scenery. 
Rockport, Massachusetts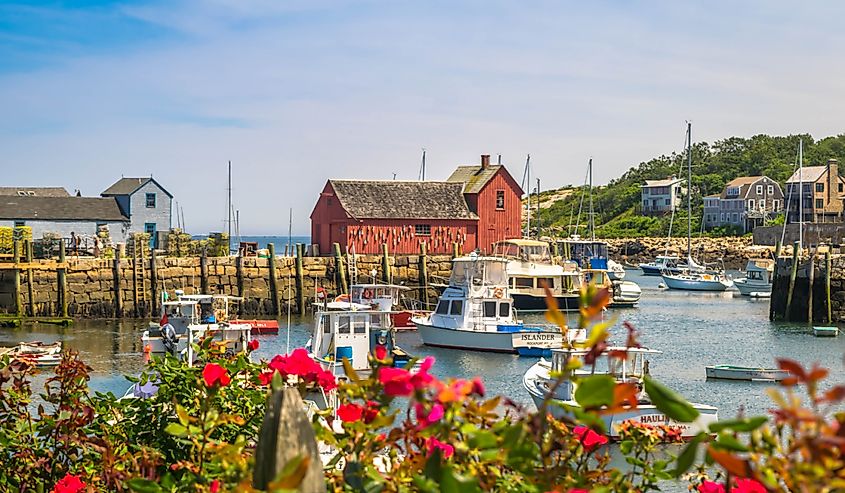 Located in Massachusetts, north of Boston, is the town of Rockport. Pawtucket People originally inhabited the land. Rockport sits on the shores of the Cape Ann Peninsula and is easily reached by car, train, or sea. With a current population of less than 7,000, Rockport invites visitors to slow down and relax. The town is a famous art colony hosting 30 galleries that feature over 400 artists. Painters have used local landscapes as inspiration for over 150 years. The Rockport Art Association and Museum house many of these paintings. Visitors to the museum are welcome to enhance their skills with art classes teaching drawing and painting techniques.  Art enthusiasts can enjoy various art exhibitions throughout the year. The Shalin Liu Performance Center and the Windhover Center for the Performing Arts encourage visitors to enjoy music and dance with shows hosted year-round.
Visitors can take a dip in the cool water of the Atlantic Ocean with a swim or stroll along sandy beaches. Weather permitting, a visit to Thacher Island's Twin Lighthouses will reward visitors with stunning sunrises and sunsets. The island is reachable by boat or by an experienced kayaker. Local dining specializes in fresh seafood. Quaint cottages or Hotels such as The Cove at Rockport are some of the accommodations available in Rockport. Jutting out from downtown Rockport is Bearskin Neck, a hotspot for eclectic shopping. Check out the handcrafted jewelry, locally made crafts, and mouthwatering chocolates. A visit to Rockport welcomes visitors to relax by the water, appreciate works of art, and dine on locally caught seafood.
Cottonwood Falls, Kansas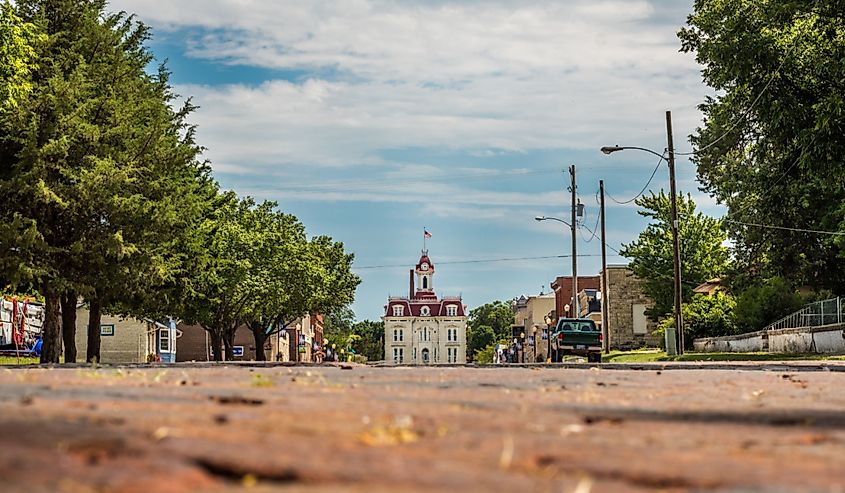 Along the stunning Flint Hills National Scenic Byway lies Cottonwood Falls. With a population of less than 900, the town is the largest in Chase County, Kansas. Visitors to Cottonwood Falls can immerse themselves in history with unchanged scenery since the 1800s. Broadway Street contains art galleries, antique stores, and boutiques. The Chase County Courthouse was completed in 1873 and is the oldest courthouse still utilized. Architectural features include designs in the French Renaissance style by John G. Haskell. The building is made from walnut and limestone locally quarried. Visitors are welcome to enjoy self-guided tours on weekdays during business hours.
Cottonwood River, a principal tributary of the Neosho River, flows along the south side of town under the historic Clements Stone Arch Bridge. The bridge was built from locally quarried stone, completed in 1888, and added to the National Register of Historic Places in 1976. The bridge has two arches, once providing a path for ranchers to get to market; the bridge is now hidden between trees. Visitors can view the bridge just 0.5 miles south of town.
To the north is the Cottonwood Falls bridge and dam. The dam was constructed in 1860 and utilized water to operate a saw and grist mill. The dam was expanded to generate electricity in 1906. The dam is on the National Register of Historic Places and is a relaxing place to take in the sounds of the flowing water. Local Bates Grove Park allows visitors to tent camp free of charge. Chase State Fishing Lake and Wildlife Area is just west of Cottonwood Falls. Eight fishing piers offer opportunities to catch catfish, black bass, and bluegill fish. Wildflowers on the property add to the serene atmosphere and are a perfect backdrop for photos. Cottonwood Falls encourages visitors and residents to take advantage of small-town living.
Ogunquit, Maine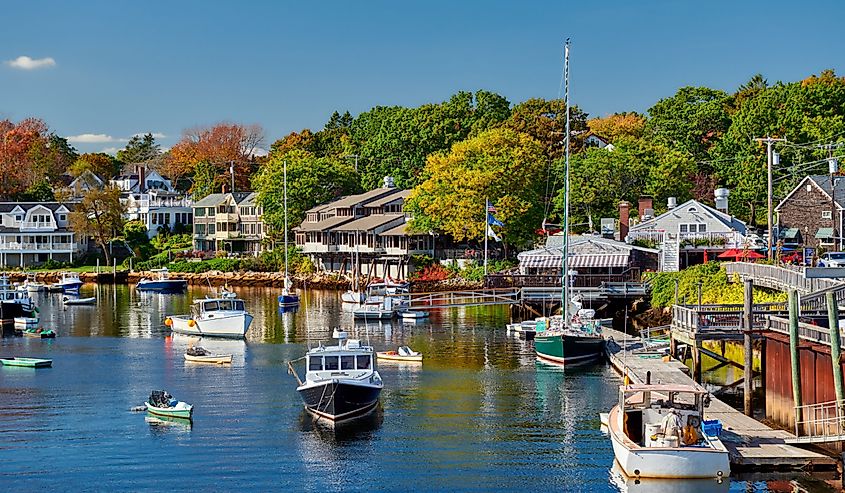 In Maine, between the Atlantic Ocean and the Ogunquit River is the small town of Ogunquit. The town's name means "Beautiful Place by the Sea" in the native language of the Algonquin Tribe. Ogunquit has a population of fewer than 2,000 residents and is buzzing with tourists in the summer. A stroll along the famous Marginal Way rewards walkers with 1.25 miles of breathtaking views of the Ogunquit River and the Atlantic Ocean.
To one end of Marginal Way are the dunes of Ogunquit Beach. The beach is home to miles of soft sand that welcomes visitors to build sand castles, collect sea shells, or fly a kite. At the other end of Marginal Way is Perkins Cove. Visitors can shop in local boutiques, dine on local seafood, visit art galleries, and observe a working fishing dock. A visit to Perkins Cove Candies will delight visitors with freshly made saltwater taffy. For a different perspective of the town, visitors can reserve a kayak for a tour along the Ogunquit River.
In addition to fresh seafood, the town offers vegetarian options at The Greenery Cafe, Greek cuisine at Nikanos Mediterranean Bar & Grille, and an upscale Italian eatery at Five-O Shore Road. Accommodations such as the Footbridge Beach Motel welcome visitors to make themselves at home. Containing miles of sandy beaches, art galleries, an assortment of dining options, and impressive coastal views, Ogunquit, Maine, holds up to its name as a beautiful place by the sea.
Red Wing, Minnesota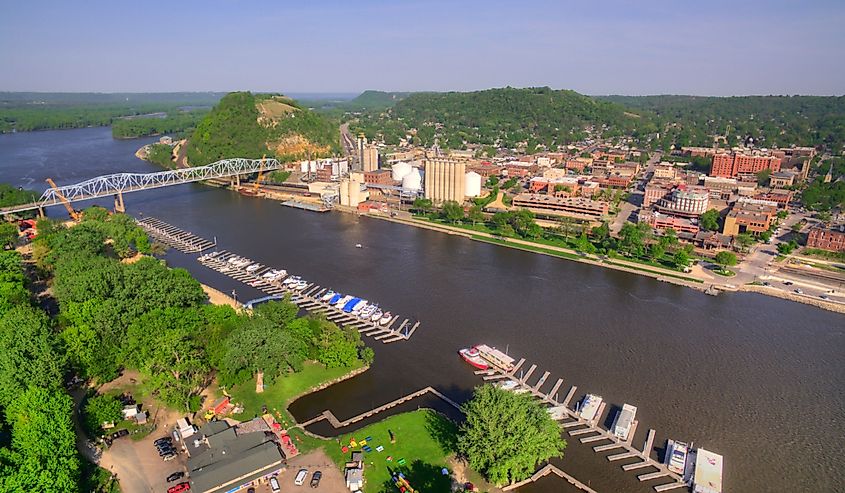 Spring and summer are the best times to visit Red Wing, Minnesota, as the snow has melted and the weather is warmer. With a population of 16,000, Red Wing offers visitors quaint shops and multiple museums to explore. Visitors can learn about pottery at the local Pottery Museum. The Red Wing Marine Museum educates visitors about the town's boat and motor manufacturing. Located on the upper Mississippi River, Red Wing welcomes boats of all kinds. Visitors wanting to explore the water can reserve a river cruise. Red Wing offers many outdoor activities, such as hiking, biking, rock climbing, and camping.
While shopping downtown, visitors can check out The Red Wing Shoe Store, which holds the world's largest boot. Mississippi National Golf Links is a public golf course in Red Wing, greeting golfers with two 18-hole courses. For under $10.00, visitors can enjoy a relaxing day at Red Wing Water Park. The outdoor water park is next to the Mississippi River. Inside the park, there are two water slides, an interactive play area, a diving board, and a sand area. Lounge chairs, large sun umbrellas, and a concession stand are available for patrons.
The Canyon Valley Trail is adjacent to the Cannon River and is open year around for biking, skateboarding, and hiking. Visitors can utilize the trail From April to November to view stunning views of wetlands as the seasons change. Red Wing, Minnesota, is a cute small town sprinkled with history and adventure.
Mystic, Connecticut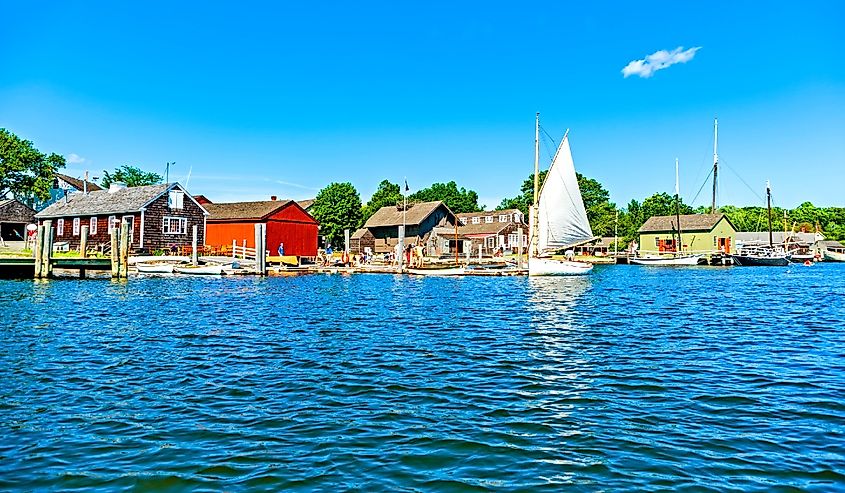 Mystic, Connecticut, founded in 1654, was a notable shipbuilding center. Small fishing and massive trans-oceanic merchant ships were made in Mystic. Present-day Mystic is home to just under 5,000 residents and welcomes visitors to enjoy the waters of Mystic River. Adventure Mystic offers lessons on the water with paddle boarding and kayaking. Patrons can rent bikes from Adventure Mystic for a ride through the town. At Mystic Boat Adventures, patrons will receive a personal view of local historical landmarks while driving the boat on a guided tour along the river. Workshops and classes are available at the Mystic Seaport Museum. Visitors can learn about blacksmithing, ship carving, printing, and coopering or participate in the complexities of open hearth cooking.
Mystic has over 30 outdoor dining options of many culinary styles. Young Buns Doughnuts in downtown Mystic offers fun donut flavors, including Mystic Cream, Piña Colada, S'mores, and Key Lime. The film Mystic Pizza starring Julia Roberts, was filmed in downtown Mystic. Patrons can enjoy a "slice of heaven" at the actual Mystic Pizza location in downtown Mystic. The restaurant's pizza is famous, and you can even purchase it in stores in the New England and Midwest areas. Mystic is a seaport town with ship-building roots and New England charm that combines urban living with the quiet ease of life on the river.
Valentine, Nebraska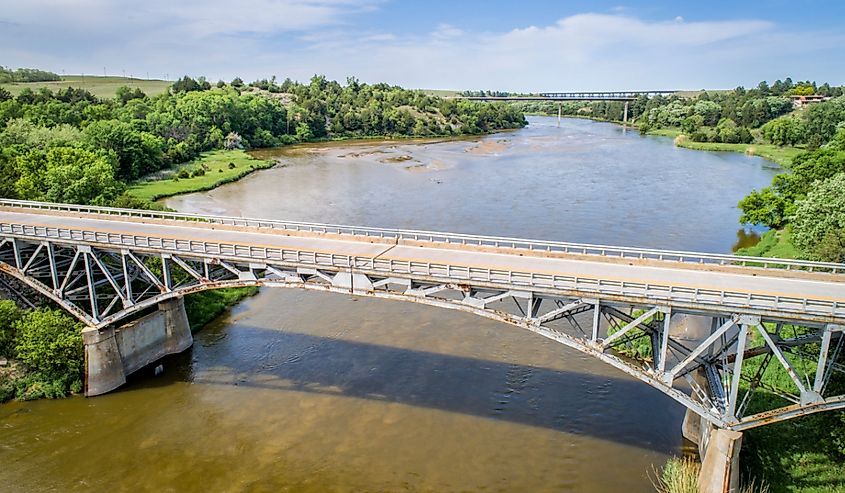 Valentine, Nebraska, established in 1884, takes its name from the town's popular congressman, EK Valentine. Located in northern Nebraska near the border with South Dakota, Valentine is an outdoor enthusiast's dream. North of the Niobrara River is the Niobrara River Ranch. The ranch is an operating beef cattle ranch that offers camping, hiking, and horseback riding. Visitors can reserve a cabin for local access to the ranch's amenities.
Niobrara National Scenic River provides river recreation, including floating in a canoe, inner tube, or kayak. In Smith Falls State Park, hikers flock for the reward of astounding crashing waterfalls up to 70 feet high! The Valentine National Wildlife Refuge is home to native habitats for wildlife. Visitors to the refuge may spy on a variety of birds, mammals, reptiles, and amphibians while hiking. The Cowboy Trail is one of the longest rail-to-trail stretching 187 miles between Valentine and Norfolk, Nebraska. The trail is a National Recreation Trail and welcomes visitors to bike, walk, or jog with serene scenery.
Summer in Valentine, is a time for the inaugural Niobrara River Festival. Participants can race canoes and kayaks, enjoy local food and beer, and listen to local music. Chaduza Cook-Off is an annual food competition for burgers, chicken, and ribs. Valentine's accommodations include bed and breakfasts, lodges, cabins, and campgrounds. Nebraska is famous for its thriving outdoor activities, vast prairies, and spacious farmland. Visitors will leave Valentine, Nebraska, energized from an invigorating experience.
Galena, Illinois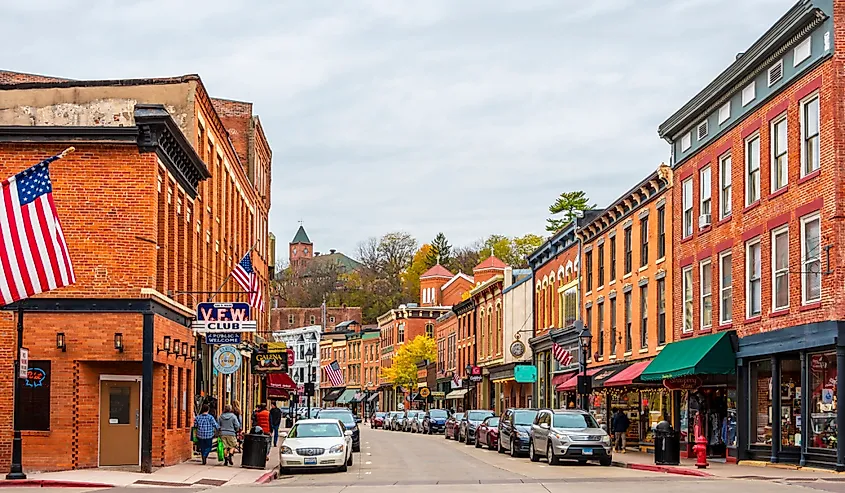 Sac and Fox Natives mined lead deposits in what is now known as Galena, Illinois. By the 1800s, the area was established by the US Congress as a Lead Mine District. The start of California's Gold Rush began the decline of lead mining. Many people left Galena in search of gold. The current population of Galena is approximately 3,600.
Lake Galena is a man-made lake southeast of Galena. The lake is privately owned but governed by the state of Illinois. Association members and their guests can enjoy a day fishing on the water. The lake is fed by Smallpox Creek and spills into Thunder Bay Falls. Visitors can view the falls from nearby Thunder Bay Road for spectacular photos.
Lake Galena and the surrounding land are home to birds, including eagles, owls, ospreys, ducks, and wild turkeys. Turtles, whitetail deer, beavers, and muskrats also inhabit the area. Flowing through Galena's historic downtown is the Galena River. Many of Galena's sites are on the National Register of Historic Places, including the Old Blacksmith Shop. The shop is an authentic 1897 blacksmith shop with working forges inviting visitors to watch a blacksmith at work.
The Galena River Trail is an 8.0 miles one-way scenic trail along the river, with the option to walk, hike, or bike free of charge. In town, visitors can also take a culinary trip around the world. Savory and sweet cuisine from Italy, Japan, Greece, and France welcome foodies to indulge. From a historic hotel, a luxury resort, or a private vacation home, Galena offers many lodging options. Galena, Illinois, has embraced history and blended modern cuisine with the surrounding nature for an easygoing atmosphere.
Fort Atkinson, Wisconsin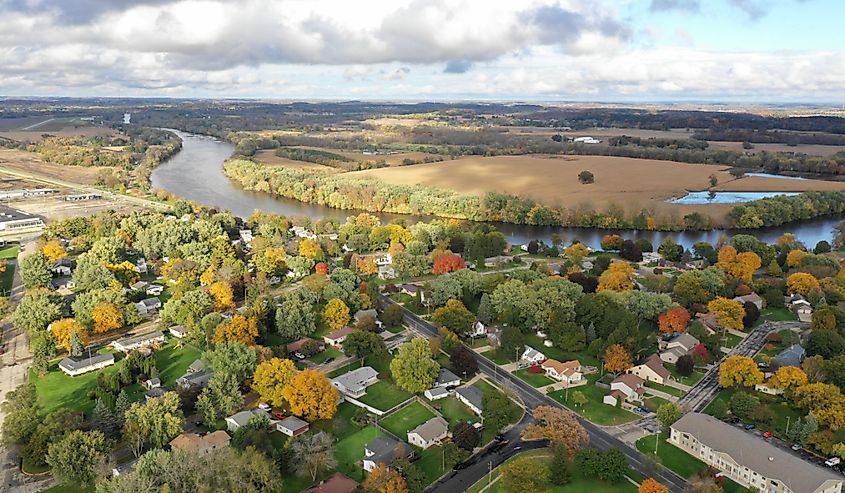 In the south of Wisconsin, on the Rock River, lies Fort Atkinson. With a population of 12,000, Fort Atkinson has a lively community with museums, local restaurants, and even a dinner theatre! Established in 1820 by the recommendation of explorers Lewis and Clark, the fort served as a trading post between settlers and natives.
Visitors to Fort Atkinson can enjoy outdoor activities such as biking along the Glacial River Bike Trail. The bike trail is 31.5 miles and passes by prairie flowers, over streams, and through a red-covered bridge. Located along the trail is Jones Dairy Farm, a family-owned working farm producing pork sausages along with dairy products. Visitors can reserve a tour of the farm. The Jones Market encourages visitors to sample and purchase new products, enjoy the Dairy Bar, and dine on local Wisconsin favorites.
Down the road is the Fireside Dinner Theatre. Patrons to the theatre will enjoy year-round professional Broadway musicals, delicious food, and boutique shops. When the weather is unpredictable, visitors can retreat to local Rock River Lanes to practice their bowling skills. Hotels and personal rentals welcome visitors to make themselves at home during their stay. What started as a trading post now welcomes visitors to dine while enjoying a professional show! Fort Atkinson provides a place to revisit to participate in modern activities while savoring Wisconsin's dairy products.
The Northern United States is home to cute coastal towns, scenic river views, and thriving prairies. Northern small towns are full of natural beauty, wildlife, and history, offering visitors historic sites and many seasonal outdoor activities. Vendors in small towns educate and encourage visitors to enjoy local delicacies, participate in classes, or appreciate art. From relaxing on the water to engaging in a hike, small towns offer an inviting getaway from everyday life.