Time zones help us maintain a sense of the passing of time in different parts of the world, giving us a uniform standard time. There are 24 time zones on our planet, and we use them for commercial, social, and legal purposes.
Most time zones follow the boundaries of countries and do not go strictly along the longitude, but several countries fall in multiple time zones. Still, most countries avoid this by keeping an entire country in a single time zone. It makes things more convenient when it comes to commercial or other types of communication. In this article, we will take a look at what countries fall into more than one time zone.
Countries With The Most Time Zones
Every country on Earth has a unique shape. Many countries are larger than a single time zone, so they stretch through multiple, although the majority fits inside of a single one. However, the number of time zones a country passes through is not only determined by its size but also its offshore territories and colonies that might be a part of different time zones. 
France is a country that has the largest number of time zones. It spreads across 12 different time zones that range from UTC-10 to UTC+12. France has a large number of national territories scattered all over the world, which is the main reason for this. French Polynesia in the Pacific Ocean is mostly to blame for this phenomenon. The United States of America also spreads through a large number of time zones - 11, to be exact. This comes as no surprise since the country spreads across an entire continent. Still, only six of those eleven time zones are actually on the mainland.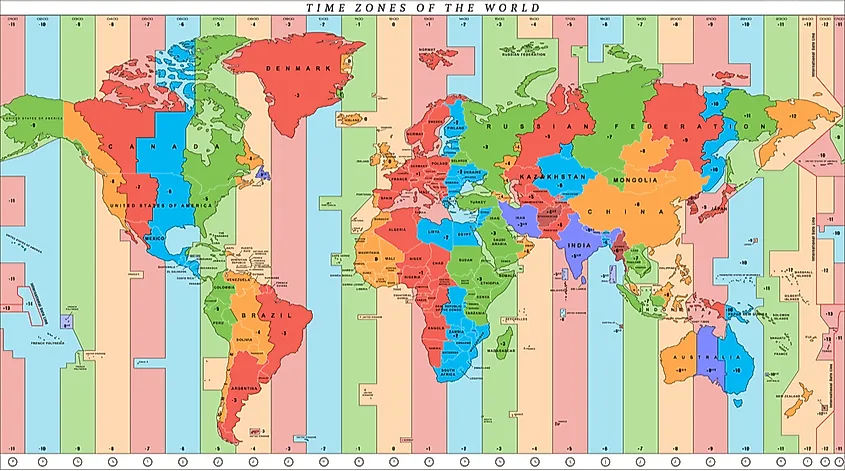 The next country that goes through a large number of time zones is another big one. Russia goes through 11 different time zones, just like the United States. It is also the country that has the highest number of consecutive time zones. The United Kingdom is next on our list with nine time zones under its belt.
The country itself is located on a single island that is not that big, so one must wonder how it manages to spread across such a large number of time zones? Well, the country managed to spread colonies all over the planet, which means that we can find parts of it in different time zones. Australia is the final country that deserves to be mentioned, and it proudly sits at the fifth place of the countries with the highest number of time zones. The exact number of time zones of Australia is eight, which makes sense since it is an entire continent.
Coordinated Universal Time
Most time zones on our planet are defined as an offset of the Coordinated Universal Time (UTC), which is the standard time of our planet. Most time zones are offset by whole hours from the UTC, but there are several that are offset by 30 or 45 minutes. Several important things should be noted about the Coordinated Universal Time, first of which is that it is just a close variant of the Greenwich Mean Time (GMT), which is the mean solar time measured at the Royal Observatory in Greenwich, London. 
Coordinated Universal Time dictates that leap seconds get added to days following regular intervals, thus compensating the slowing rotation of our planet. The UTC is used as the median to point time zones as positive and negative offsets from it. Following this rule, we can conclude that the easternmost time zone falls twelve hours behind the Coordinated Universal Time, so we write its tag as UTC-12. On the other hand, the westernmost time zone is twelve hours in front of the UTC, so we use UTC+12 to mark it.