Canada's Information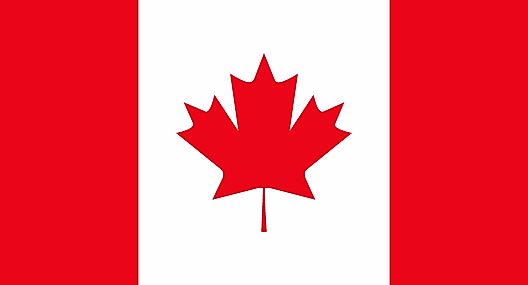 | | |
| --- | --- |
| Land Area | 9,093,507 km2 |
| Water Area | 891,163 km2 |
| Total Area | 9,984,670km2 (#2) |
| Population | 35,362,905 (#38) |
| Population Density | 3.89/km2 |
| Government Type | Federal Parliamentary Democracy (Parliament Of Canada) Under A Constitutional Monarchy; A Commonwealth Realm |
| GDP (PPP) | $1,670.00 Billion |
| GDP Per Capita | $46,200 |
| Currency | Dollar (CAD) |
| More Information | Canada |
| Largest Cities | |
1000's - 1400's
(1000) Leif Ericson and crew (Vikings) visited the coastline of Newfoundland and Labrador
(1497) Giovanni Caboto (John Cabot) claimed Newfoundland for England
(1497-1498) Sebastian and John Cabot explored east coast of North America for England
(1498) John Cabot traveled coast of Labrador, New Brunswick; traded furs with Micmac Indians
1500's
(1506) First known fishing voyage to Newfoundland made by Normans
(1521 - 1526) João Álvares Fagundes established first European colony in North America at Cape Breton Island (later abandoned)
(1534) Jacques Cartier explored St. Lawrence River, claimed shores of Gulf of St. Lawrence for France
(1535) Name of Canada originated from Jacques Cartier; he misunderstood Aboriginal word Kannata, which meant collection of huts
(1540) Jean-Francois de la Rocque de Roberval appointed viceroy of Canada, Newfoundland, Labrador
(1541) Jacques Cartier, Sieur de Roberval founded first French settlement in North America in Quebec - Charlesbourg-Royal
(1542) Charlesbourg-Royal was abandoned
(1576) Martin Frobisher of England made first attempt to find Northwest Passage
(1583) Sir Humphrey Gilbert claimed Newfoundland as England's first overseas colony
(1598) Roberval received fur-trading monopoly to New France; led party of 40 colonists
1600's
(1600) King Henry IV of France granted fur trading rights to group of merchants for Gulf of St. Lawrence
(1605) Samuel de Champlain founded Port Royal in present day Nova Scotia
(1608) First permanent European settlement (Quebec City) founded by Champlain
(1609) Champlain and French forces battled Iroquois on Lake Champlain
(1610) Henry Hudson explored Hudson Bay; Manhattan Indians attacked his ship
(1612) Champlain named Governor of New France
(1613) Beothuk of Newfoundland killed 37 French fisherman, French armed Micmac in retaliation, Beothuk exterminated; Port Royal sacked; St. John's, Newfoundland founded
(1621) James I of England granted Acadia to Sir William Alexander, renamed it New Scotland
(1628) Eight-year old Olivier Le Jeune of Madagascar arrived in Quebec; he was the first recorded slave purchase in the vast New France area
(1629) English, led by David Kirke, captured Quebec City; Champlain taken to England as prisoner
(1632) Treaty of Saint-Germain-en-Laye with England returned Quebec to France
(1639) Smallpox epidemic killed half of Huron Indians; coal discovered at Grand Lake
(1640) Lake Erie discovered
(1642) Montreal founded by Sieur de Maisonneuve
(1663) Louis XIV assumed control of New France; Quebec became royal province
(1670) Hudson Bay Company chartered by Charles II of England
(1689) Iroquois killed scores of French settlers
(1690) Sir William Phips captured most of French possessions in Acadia
(1697) Acadia returned to France in Treaty of Ryswick between France and England
1700's
(1701) Iroquois, French, English signed peace treaty
(1702 - 1713) Queen Anne's War, France and England
(1704) English settlement of Bonavista, Newfoundland, destroyed by French forces
(1707) English from Massachusetts attacked Port Royal
(1709) Slavery made legal in New France
(1710) English captured Port Royal, renamed it Annapolis Royal
(1713) French Acadia, Newfoundland and Hudson Bay lands ceded to England by Treaty of Utrecht; Queen Anne's War ended
(1734) Marie-Joseph Angelique set fire to mistress' home to avoid being sold; half of Montreal is damaged; she was later tortured, then hung
(1736) 19 French voyageurs, including Father Jean-Pierre Aulneau and Jean Baptiste de La Verendrye massacred by Sioux warriors at Lake of the Woods
(1744) France declared war on England
(1745) After six-week siege, Louisbourg surrendered to English
(1748) Peace of Aix-la-Chapelle returned Louisbourg, Ile Royale and Ile Saint-Jean to France
(1749) Halifax founded by British
(1752 - 1759) Seven Years' War (King George's War)
(1755) The Great Expulsion - French Acadians forced onto ships and deposited along southern coasts, hundreds died
(1759) British troops led by Wolfe defeated French led by Montcalm at Quebec, both generals killed; British took possession of Quebec
(1760) British destroyed Louisbourg
(1763) In Treaty of Paris, France ceded most of its North American possessions to Britain
(1774) Quebec Act passed, established French civil law, British criminal law, freedom of worship for Roman Catholics, government by appointed council
(1776) American Revolution began; Quebec withstood American attack
(1783) Americans given fishing rights off Newfoundland; border between Canada and United States established
(1785) New Brunswick separated from Nova Scotia
(1791) Constitutional Act of 1791 divided Quebec into Lower Canada (mostly French) and Upper Canada (mostly English)
(1793) Upper Canada passed Act Against Slavery, stopped slaves being brought in, freed slaves 25-years and older
1800's
(1812) War of 1812 between British and U.S.; General William Hull led American forces in invasion of Canada; General Isaac Brock and 200 soldiers defeated American force at Queenston Heights; Red River settlement founded by Hudson Bay Company
(1817) Poor post-war economy caused famine in Newfoundland
(1818) 49th parallel accepted as border between United States and Canada from Lake of the Woods to Rocky Mountains
(1821) Hudson Bay Company merged with North West Company
(1825) Parliament House at Toronto burned; fire destroyed over 80 buildings in Montreal
(1830) Canada divided into counties
(1832) 7,800 French-Canadians killed by cholera epidemic
(1836) Canada's first rail line opened from St. Johns to La Prairie
(1837) Rebellions against ruling elites, poverty, social divisions held in Upper and Lower Canada
1800's cont.
(1841) Act of Union united Upper and Lower Canada
(1847) Telegraph line from London to Canada West completed; 65 immigrants died in Montreal; St. Lawrence canal system completed; typhus outbreak occurred as immigrants arrived in Ottawa
(1849) Fire engulfed downtown Toronto, destroyed numerous buildings, including St. James Cathedral; 49th parallel boundary extended to Pacific Ocean
(1850) Gold discovered in British Columbia; coal discovered on Vancouver Island
(1852) Fire destroyed 11,000 homes in Montreal
(1854) Great Western Railway opened, linked Toronto, Hamilton, Windsor; passenger train collided with gravel train at Baptiste Creek, killed 52
(1857) Queen Victoria named Ottawa capital of Province of Canada; bridge over Desjardins Canal collapsed under passenger train, 60 killed
(1858) Toronto Islands created after storm detached them from mainland
(1862) Smallpox epidemic killed approximately 200,000 Indians
(1867) Canada became sovereign nation by passage of British North America Act, colonies of Canada, Nova Scotia, New Brunswick became one federal union
(1868) Hudson Bay Company turned Rupert's Land and North-Western Territory over to Canada; Federal Militia passed, Canadian army created
(1869) Newfoundland rejected Confederation with Canada; Red River Rebellion began; smallpox epidemic struck Canadian Plains tribes
(1871) Treaty of Washington established fishing rights, Great Lakes trade between Canada, U.S.; last of British army left Canada; metric system legalized by Parliament
(1873) Pacific Scandal occurred, Prime Minister Sir John Macdonald resigned; 60 killed in coal mine explosion in Nova Scotia; cyclone struck Cape Breton Island, killed 500; Canadian Labour Union founded
(1881) Victoria steamer capsized on Thames River, killed 182 people
(1883) Nickel-copper ore discovered at Murray Mine
(1885) North-West Rebellion occurred; transcontinental railway completed; head tax on Chinese immigrants imposed; Banff National Park established
(1887) U. S. imposed Fisheries Retaliation Act, created limits on Canadian fishermen and traders; 148 coal miners killed in mine explosion near Nanaimo, B.C.
(1892) Fire destroyed two-thirds of St. Johns, Newfoundland
(1896) Bridge collapse in Victoria, B.C. killed 55; gold discovered in Yukon, Klondike gold rush began
(1899) First Canadian troops sent to overseas war (Boer War); rock slide in Quebec City killed 45
1900's
(1903) U.S. side of Niagara Falls ran short of water due to drought; Alaska Boundary Dispute settled in favor of U.S.; Frank Slide (landslide) killed 70; Raymond Stampede rodeo arena, grandstands built in Raymond, Alberta - first in the world
(1904) Much of Toronto's downtown destroyed by fire; American, Bill Miner, staged Canada's first train robbery: Henry Ford opened auto manufacturing plant in Windsor
(1907) Anti-Asian riots attacked Vancouver's Chinatown; Quebec Bridge collapsed during construction, 75 workers killed, 11 injured
(1908) Royal Canadian Mint opened
(1912) Amherst automobile manufactured in Calgary; Circular No. 17 banned teaching French language in Ontario schools; first Calgary Stampede held
(1914) Oil discovered in western Canada; Ocean liner, Empress of Ireland, sunk in Gulf of St. Lawrence, 1024 killed; 189 miners killed in coal mine explosion in Hillcrest, Alberta; World War I - 33,000 troops departed for Europe
1900's cont.
(1916) Anti-German riot occurred in Calgary; Canadian forces forced to retreat in Battle of Messines due to intensive German onslaught; Order-in-Council authorized increasing troops to 500,000 in World War I; 25,000 Canadians, Newfoundlanders killed at Battle of the Somme; Montreal Canadiens won first Stanley Cup
(1917) Temporary income tax introduced to cover wartime expenses; Halifax Explosion killed 1,900, injured 9,000
(1918) Famed Red Baron shot down by Canadian, Roy Brown; Canadian forces arrived in northern Russia to assist with White Russians battle against Bolsheviks; Canadian forces sent to Siberia; World War I ended, over 600,000 Canadians fought, 60,000 killed, 173,000 wounded; Canada received right to participate in League of Nations and Versailles Peace Conference
(1920) Canada founding member of League of Nations; Ottawa Senators won Stanley Cup; women became eligible to sit in House of Commons
(1922) World's first insulin treatment made at Toronto General Hospital; France gave land around Vimy Ridge to Canada as thank you for support of Canadian troops during World War I
(1929) Series of explosions in Ottawa's sewer system; women became eligible to be senators; New York Stock Exchange crashed, Great Depression began
(1932) Seven-month miners strike occurred at Crowsnest Pass; Toronto Maple Leafs won Stanley Cup
(1933) Race riot at Christie Pits, Toronto; earthquake at Baffin Bay, Nunavut; due to financial difficulties, Newfoundland's independence revoked
(1939) World War II began; Canada followed England and declared war on Germany
(1940) Canada declared war on Italy; 80 Canadian pilots participated in Battle of Britain
(1941) Canada declared war on Japan due to Pearl Harbor Attack; Canada declared war on Romania, Hungary, Finland; Canadian government impounded all fishing boats owned by Japanese-Canadians; all Japanese language schools, newspapers shut down
(1942) Estevan Point in B.C. shelled by Japanese Submarine; Ferry SS Caribou sunk by German U-boat, 137 killed; fire at Knights of Columbus Hall in St. John's Newfoundland killed 99
(1945) World War II ended; one million Canadians fought, 48,000 killed; Soviet spy ring discovered in Canada; Ford Motor employees on strike
(1949) Canada joined North Atlantic Treaty Organization (NATO)
(1950) Canada joined United Nations force to fight in Korean War; railworkers strike shut down much of Canadian economy
(1951) Canadians held off Chinese at Battle of Kapyong during Korean War; formal peace agreement between Germany and Canada signed
(1953) Korean War ended, 314 Canadians killed, 1,211 injured
(1957) Canadian peacekeepers go to Egypt after Suez Crisis; lengthy Murdochville strike began
(1959) St. Lawrence Seaway opened
(1960) Montreal Canadiens won Stanley Cup; seven-year-old, Roger Woodward, first person to accidentally fall over Horseshoe Falls and survive
(1962) Trans-Canada Highway opened; last three hangings in Canada occurred
(1963) Good Friday Earthquake in Alaska caused tsunamis in British Columbia, over $10 million in damages; Toronto Maple Leafs won Stanley Cup
(1965) Trans-Canada Airlines renamed Air Canada; Maple leaf became National Flag of Canada; failure at Ontario power station caused blackout from Florida to Chicago, and all of southern Ontario
(1967) International Expo held in Montreal
(1968) Separatists rioted in Montreal; Canada postal workers went on strike
(1969) Students at Sir George Williams University staged computer riot to protest racism on campus; terrorists bombed Montreal Stock Exchange; Quebec teachers ended 18-month strike; French and English became equal languages in Canada
(1970) Major oil spill when oil tanker ran aground at Chedabucto Bay, Nova Scotia; phosphates in laundry detergent banned; federal voting age lowered to 18 from 21; tornado struck Sudbury, Ontario, killed six, injured 200, caused $17 million in damages - all in less than five minutes; Quebec Minister of Labour, Pierre Laporte, kidnapped, killed by FLQ; FLQ kidnappers caught
(1971) Prisoners at Kingston Penitentiary seized control, four-day riot occurred; sinkhole destroyed most of Saint-Jean-Vianney, Quebec; Air Canada plane hijacked, flown to Cuba
(1974) Mikhail Baryshnikov, Soviet ballet dancer, defected in Toronto
(1976) Summer Olympics held in Montreal; over one million workers staged one-day strike, protested wage and price controls
(1979) Nine-month strike at Inco mining plant ended; train carrying explosives and poisonous chemicals derailed in Mississauga, Ontario - over 200,000 people evacuated; Montreal Canadiens won Stanley Cup
(1985) Armenian terrorists stormed Turkish Embassy in Ottawa, killed one, held dozen people hostage; Air India flight exploded en route from Toronto to London; wreck of the Titanic found off coast of Newfoundland
(1986) World Expo held in Vancouver; Montreal Canadiens won Stanley Cup
(1987) Quebec City first city in North America to become UNESCO World Heritage Site; tornado in Edmonton, Alberta killed 27; Canadian-American Free Trade Agreement is negotiated
(1989) Canadian-American Free Trade Agreement went into effect; Calgary Flames won Stanley Cup; 14 women murdered at Universite de Montreal
(1990) Fishery Products International closed three plants, 1300 jobs lost; Sault St. Marie city council declared city "English-only"; tire fire near Hagersville took 15 days to extinguish; Edmonton Oilers won Stanley Cup
(1991) Canadian forces initiated their participation in the Persian Gulf War
(1992) Dr. Roberta Bondar became first Canadian woman in space; Toronto Blue Jays won World Series
(1993) Kim Campbell became prime minister, first woman to be Canada's government head; Toronto Blue Jays won World Series
(1996) Serious riots in Quebec City
(1998) Three avalanches in B.C. killed nine; El Nino caused ice storm in southern Ontario and Quebec, widespread power failures, several deaths and severe damage to forests; federal government issued formal apology for past mistreatment of First Nations; forest fires in Salmon Arm, B.C. forced 8,000 to evacuate; Supreme Court of Canada ruled Quebec could not secede from Canada without federal government approval; Air Canada pilots launched strike; first diamond mine opened in Northwest Territories
2000's
(2001) Canada became first country in world to legalize medical marijuana; Canada's border with U.S. on high alert after September 11 terrorist attacks
(2002) Ford Motor Co. closed truck assembly plan in Oakville, Ontario; federal government allowed stem cell research using human embryos
(2003) Avalanches in British Columbia killed eight skiers and seven children; Scarborough's Grace Hospital closed as a result of SARS; Ontario declared public health emergency as a result of SARS
(2004) 19 million British Columbia poultry slaughtered due to avian influenza; women's ice hockey team won World Ice Hockey Championships
(2005) Education strike in British Columbia closed down 40,000 schools for two weeks
(2006) 400 police officers raided homes in Toronto and Mississauga, Ontario, arrested 15 people who were part of terrorist cell
(2008) Industrial plant explosions in Toronto killed two, forced thousands to evacuate homes; parliamentary dispute resulted in delay of change of government until new session in 2009
About the Author
John Moen is a cartographer who along with his wife are the orignal founders of worldatlas.com. He and his wife, Chris Woolwine-Moen, produced thousands of award-winning maps that are used all over the world and content that aids students, teachers, travelers and parents with their geography and map questions. Today, it's one of the most popular educational sites on the web.
Canada provinces, territories & their capitals
Provinces & Territories Of Canada