Sandbanks Provincial Park, Canada - Unique Places around the World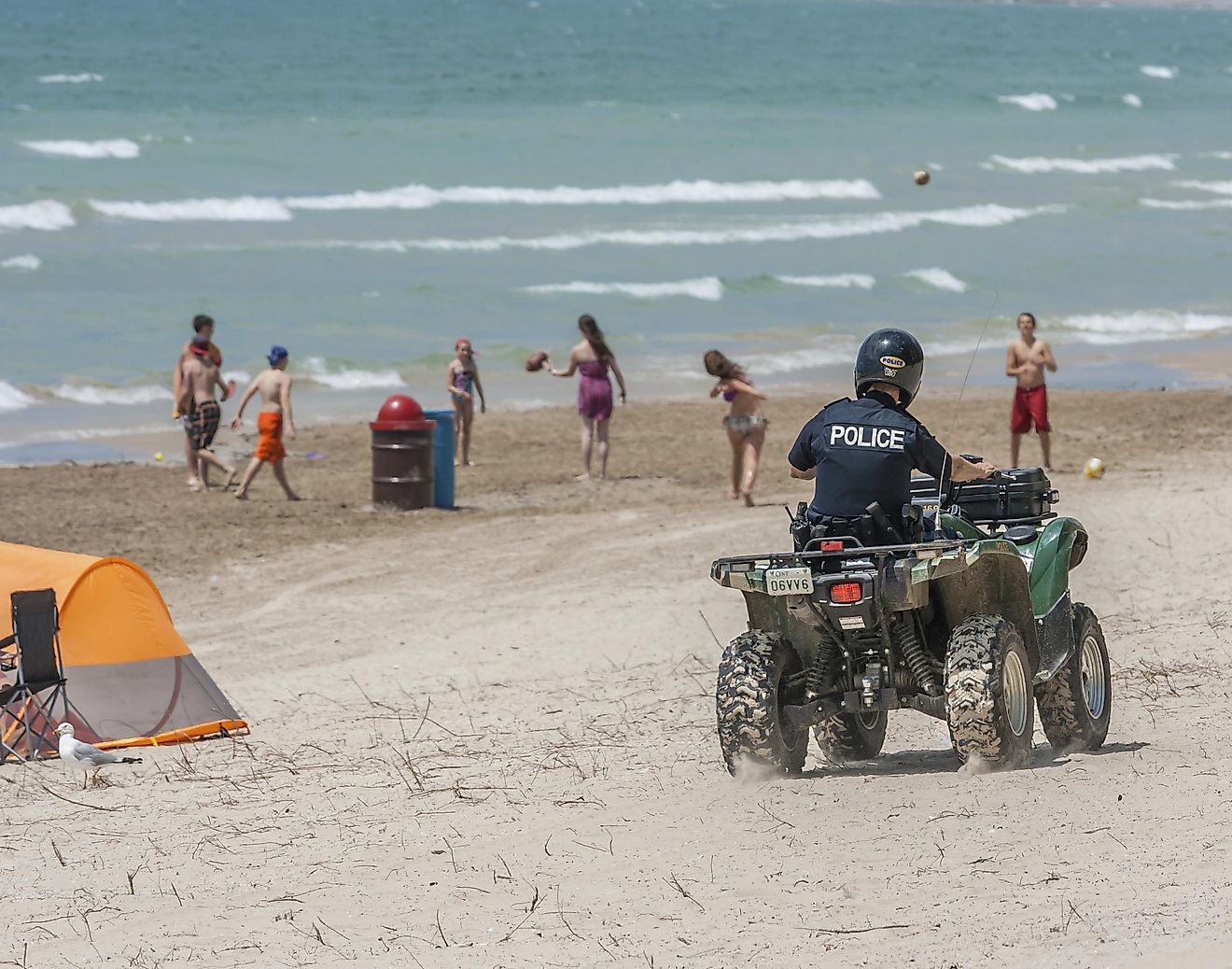 5. Description
The name of Sandbanks Provincial Park was taken from its undulating sand dunes that stretch along the beach for miles in both directions. The sandbar barrier and dune formation in its freshwater bay mouth is considered to be the largest of its kind in the world. It has three sandy beaches which, according to the boasts of locals, are the best in Canada. One of these is characterized by clean, shallow water, and is especially good for family swimming. Visitors can also access trails that lead to wetland habitats home to a variety Canadian wildlife. The park's location is closest to the towns of Picton and Wellington in Ontario's Prince Edward County. The best months to visit or camp there is said to be in the summertime, though the weather is generally fine year-round.
4. Tourism
Sandbanks serves as the ultimate destination for vacationers. It is to the west of Picton on Quinte Isle, and the attractions in and around there include quaint villages, antique stores, and outdoor recreational opportunities for the whole family. Many come to camp in the summertime and observe the area's wildlife, which includes birdwatching. It is also fairly easy for the average tourist to access and visit the park. The Toronto visitor can easily drive down on Highway 401 east to Trenton, then go south on Highway 33, then past Wellington to get on Highway 12, which runs straight to the park. The visitor from Ottawa is about 3 hours of driving away, while the park is 4 hours from Montreal and 2 hours from Toronto.
3. Uniqueness
The park offers activities for families and tourists throughout the whole year. There are four campgrounds with car parking access, and 500 campsites, 140 of which have electricity access. The park's facilities also include a park store, boat launches, showers, flushable toilets, and a trailer dump station. Due to the business at that time of year, Labor Day stays there will likely require a reservation to guarantee a camping spot. Other accommodations include a cottage, and the heritage house has guest rooms as well. In warm weather, tourists can enjoy such physically active recreation as hiking, scuba diving, sea kayaking, canoeing, cycling, and mountain biking. In winter, visitors can go snowshoeing and cross-country skiing. Another great reason to come is the birdwatching. While the park itself doesn't have any backcountry areas or camping, there are nearby parks that have true wilderness areas.
2. Habitat
Sandbanks has excellent wildlife viewing areas which permit visitors opportunities to see native animals exhibiting their natural behaviors. Birdwatching is a popular activity here, with about 240 bird species making the park their home. Such avian species to be found in Sandbanks include geese, ducks, sandpipers, plovers, orioles, pileated woodpeckers, kinglets, and jays. Migratory birds, such as the least bitterns, redheaded woodpeckers, and black terns, also make the park their temporary homes throughout parts of the year. Among the most notable reptiles to be found in the park are the rare musk turtles, while several non-venomous snakes also live here. The aquatic plants here are suited for the brackish environ, as they are species that can tolerate either saltwater or freshwater conditions. Beach flora species range from sand spurges to sea rockets to the hoary puccoons. Inland, common trees seen in Sandbanks include maple, pine, juniper and hemlock.
1. Threats
The park does not pose any major dangers to its visitors, though when swimming on the beach they are asked to take caution, as swimmers there are not supervised. The sandbanks have deep sand areas with fragile vegetation cover, which is easily blown out and should be avoided when walking at all times, and visitors should use the designated established trails instead. Some portions of the trails may be slippery depending on the weather conditions. Conversely, visitors are not allowed to take any natural objects from the park, which includes deadfalls from trees. Vegetation is part of the natural environment, and taking it away is prohibited. Pets should be restrained by leashes for safety, and littering is not tolerated.