Travel
Athabasca Falls, Canada - Unique Places around the World
This site of immense natural Canadian beauty is home to a plethora of wildlife and a great place for adventurous travelers.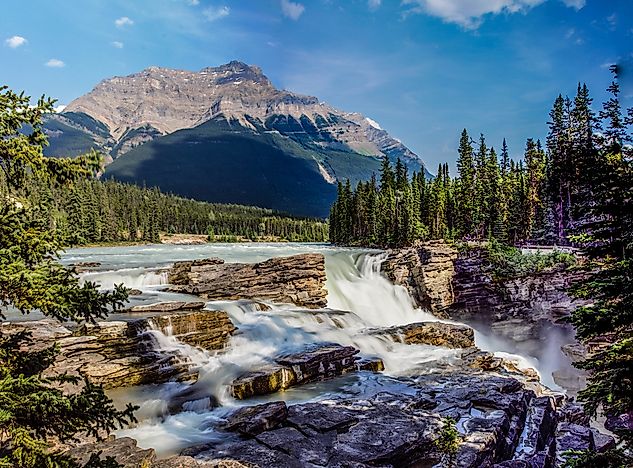 Description
Athabasca Falls is a waterfall in Jasper National Park, near Jasper, Alberta, Canada. The falls are located on the high cliffs of the Athabasca River. Athabasca Falls is not as well known for its height (the falls are around 23 meters high) as they are for producing the extremely powerful water currents that pass through its narrow gorge. It has been observed that, even during cold mornings, the river's water flows at a relentlessly rapid pace. The fast-moving tides have created the narrow gorge and many potholes that characterize this stretch of Athabasca River. There are numerous trails that lead to the waterfall, making it an easily accessible tourist spot. The nearest trail is accessed through a nearby parking lot off of Highway 93A. The best time to visit the falls are said to be during the summer season.
Tourism
Athabasca Falls attracts considerable numbers of visitors, due to its concurrent beauty and accessibility. Athabasca Falls attracts tourists during the summer months, mainly from June through August. To avoid a large crowd, tourists are recommended to either arrive there at early morning or early evening. Parking and toilet facilities are also available, in addition to the location being a wheelchair-friendly place. In addition, there are several neighbouring spots that tourists can visit, some of which include excellent nearby campground sites, such as those at Mount Kerkeslin, Snaring River, Wapiti, and Whistlers. Opal Hills, Bald Hills, and Miette Hot Springs are each known for having incredible hiking trails. The closest international airports to the location are to be found in Edmonton and Calgary (350 kilometers apiece, east and south of the Jasper National Park, respectively). While the drive from Edmonton to the park is faster, the trip from Calgary provides for a more scenic route, and the Clagary Airport also proffers a wider selection of international flight connections.
Uniqueness
Mount Athabasca serves the picturesque backdrop against which the image of Athabasca Falls is imposed upon, greatly enhancing the aesthetics of the location. The inimitable falls are characterized by their relatively short height (23 meters) and through their extremely rapid currents. These currents are responsible for carving out the gorge immediately downstream of the falls around the river. The gorge becomes deeper as the Athabasca River descends lower into the canyon. Tourists are afforded vantage multiple points from which to view the waterfall from the extensive networks of walkways and bridges that are provided. Thus, one can easily view the falls' brink from either side, as well as peek into the falls' front from other spots. A bulging inshore island in the middle of Athabasca River splits the falls, only for them to be rejoined towards its downstream path, wherein is created the massive force that cuts through to the gorge below. Every globetrotting tourist is encouraged to visit Athabasca Falls and its surrounding places at least once in their lifetime.
Habitat
Athabasca Falls is located in Jasper National Park, in Jasper, Alberta. With its habitat spanning 10,878 square kilometers, the park was named as a UNESCO World Heritage Site, and is the biggest National Park in the Canadian Rockies. Owing to its vast expanse, the park is comprised by mountains, hot springs, lakes and waterfalls (of which Athabasca is one) alike. The wildlife that calls it home includes a wide range animals, including elks, moose, mule deer, grizzly bears, coyotes, beavers, cougars and mountain goats, among others.
Threats
While Athabasca Falls is accessible and tourist friendly, tourists are cautioned not to leave the designated paths or climb over the guard rails, as doing so entails putting oneself in grave danger. While trying to take better pictures, several tourists have reportedly fallen to their deaths as they have underestimated how slippery the rock ledges are. As part of the Jasper National Park, the habitat and wildlife surrounding the falls are protected from human developmental activities as much as possible.
This page was last updated on May 28, 2019.
Citations
Your MLA Citation
Your APA Citation
Your Chicago Citation
Your Harvard Citation
Remember to italicize the title of this article in your Harvard citation.