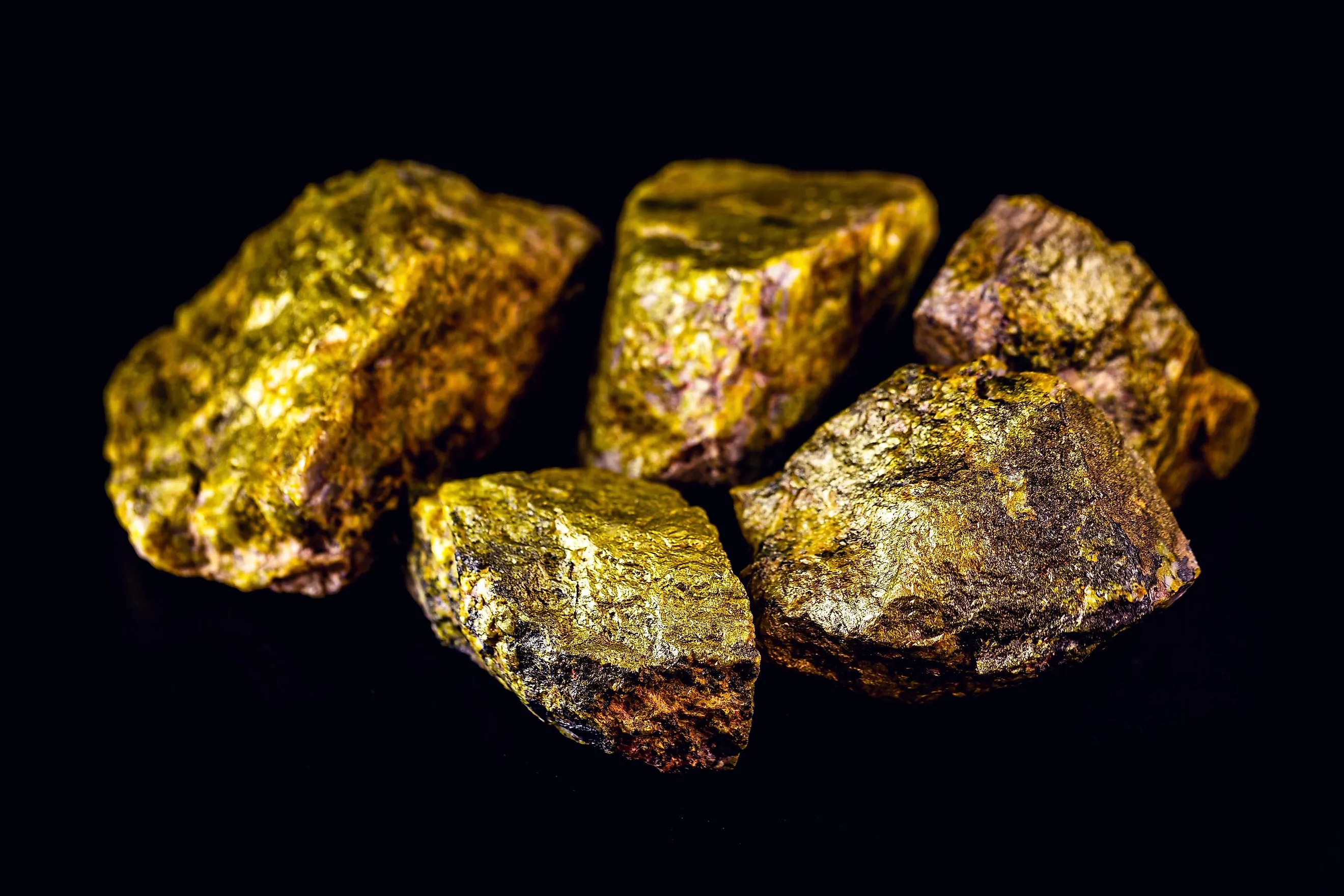 The 10 Largest Uranium Mines In The World
If one were to ask an average person the question, "What do you know about uranium?", their response would probably be, "It is a mineral used for fuel in nuclear power plants." While this statement is technically true, the role of uranium in global power generation is somewhat more complex than that. So, what precisely is uranium? And beyond that, where does it come from?
To begin with, uranium is a mildly radioactive, metallic chemical element. It is represented by the symbol "U on the periodic table and listed as atomic number 92. Silver-white or silver-grey in color, uranium is what is known as a primordial element, meaning that it has been present since the Earth was formed nearly 4.5 billion years ago. The mineral is widely distributed in the planet's solid crust, as well as in its oceans and rivers. Contrary to popular belief, uranium is not exceptionally rare. In fact, it is approximately as common as tin.
The unique properties of one of its forms, known as uranium-235, makes it the only naturally occurring fissile material, and as such, highly prized in the realm of nuclear energy generation. Some of the countries that most heavily depend on nuclear power to meet their domestic electricity needs are the United States, China, France, Russia, South Korea, Japan, Canada, India, Sweden, Ukraine, Germany, and the United Kingdom.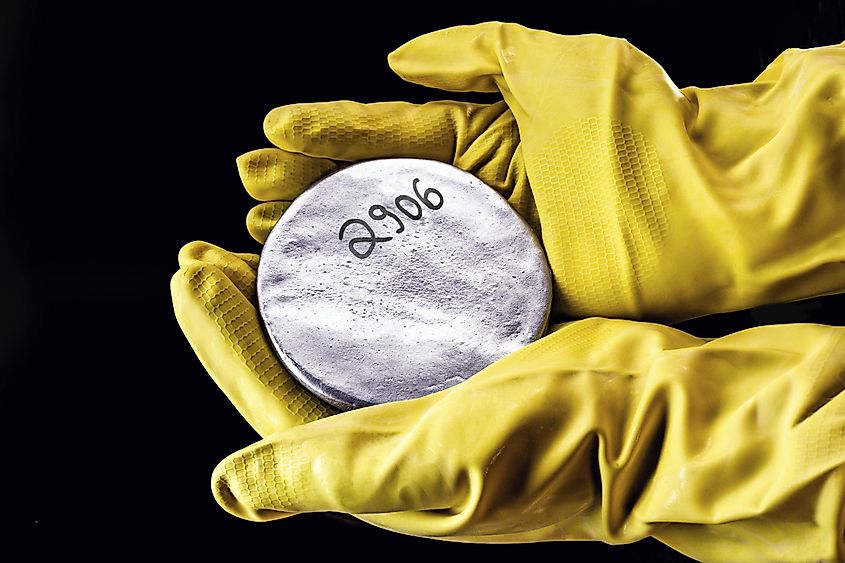 In recent years, many of these nations have declared their intent to substantially reduce consumption of non-renewable fossil fuels, such as coal, oil, and natural gas. But because other so-called "green" methods of producing renewable energy, such as solar, wind, and geothermal, have not yet demonstrated the ability to generate the raw amounts of power needed to fuel entire national infrastructures, the reliance these nations (and to a lesser extent, some underdeveloped and developing nations) have on nuclear power is projected to rise steadily.
As global demand for renewable energy continues to increase, so does the demand for more uranium. However, considering that it is a such a relatively common mineral, the world's uranium supply comes from surprisingly few places. This is due to certain concerns and challenges associated with uranium mining, of which worker safety and the cost of extraction are the most prominent. The truth is most of the uranium used in the world's nuclear power plants originates from only a handful of large-scale mines. For all those who wonder where exactly uranium comes from, the following is a concise summary of the ten largest uranium mines on Earth according to the most up-to-date information available.
The 10 Largest Uranium Mines
1. Cigar Lake Project, Canada - 6.8 thousand tonnes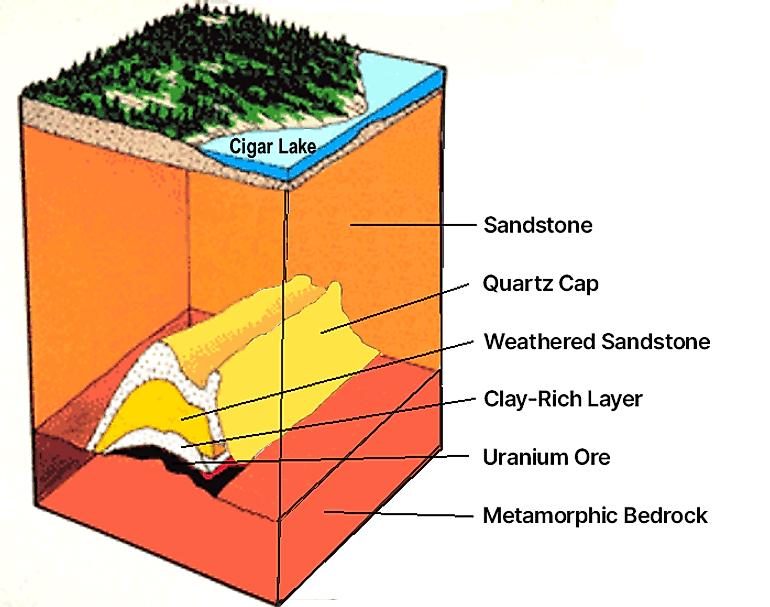 The largest uranium mine in the world is found in Canada, specifically in the extreme north of the province of Saskatchewan. Situated in the uranium-rich Athabasca Basin on the southwest edge of Waterbury Lake, the Cigar Lake Project is something of a mining monolith. It produced 6.8 thousand tonnes of uranium in 2022 and has proven reserves of 75 thousand tonnes. The mine is operated by Cameco Corporation, with ownership divided between that company and Areva Resources Canada Inc. (since rebranded to Orano Resources Canada Inc.), Idemitsu Canada Resources Ltd., and TEPCO Resources Inc. The Cigar Lake Project is scheduled to operate until 2032.
Due to its location in Canada's rural northern land, wolf attacks have been a problem at the Cigar Lake Project in the past. In 2005, a worker was killed by a pack of wolves at Points North Landing, near a Cameco operational site. In 2016, another worker was mauled by a lone timber wolf but survived. In the aftermath of that attack, authorities mandated local wolves destroyed, on-site food disposal systems refined, and fencing around the area reinforced. Additionally, all mine staff were provided with wildlife safety education.
2. Husab Uranium Project, Namibia - 4.23 thousand tonnes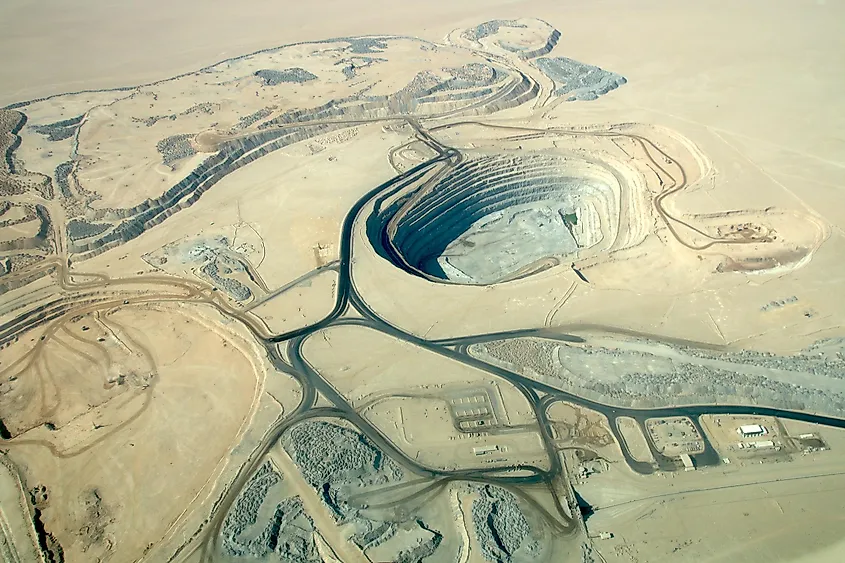 The African nation of Namibia hosts the second-largest uranium mine on Earth, the Husab Uranium Project. Located in the Namib Desert in the region of Erongo, Husab is an open-pit uranium mine that harvested 4.23 thousand tonnes of the mineral in 2022. Its projected reserves are on the order of 58.9 thousand tonnes.
The venture is ultimately owned by two entities forming a company called Swakop Uranium, which oversees the site. Taurus Minerals, a joint subsidiary of China General Nuclear Power Group and the China Africa Development Fund, has a 90% ownership stake in Swakop, while Epangelo Mining Company, a Namibian state-owned concern, owns the remaining 10%. The Husab Uranium Project is currently the largest single African-based investment made by China. It will maintain operations until 2040.
3. Muyunkum Uranium Mine, Kazakhstan - 3.67 thousand tonnes
The first of Kazakhstan's multiple entries on this list, Muyunkum Uranium Mine is a "greenfield" mine, meaning there was little to no development of the site before its current incarnation, and a great deal of recent geological exploration was required for the enterprise to begin production. It is also an "in situ leaching" mine, which is industry jargon for a style of mine wherein the ore is left in the ground and dissolved using sulphuric acid, with the resulting solution being pumped up to the surface for mineral recovery.
Situated on the Steppes of Kazakhstan in the west of Muyunkum Desert, Muyunkum Uranium Mine is administered by KATCO, which is a partnership between Orano, a multinational nuclear fuel company headquartered in France, and Kazatomprom, Kazakhstan's government-owned uranium production concern. Orano holds a 51% stake in KATCO (and thus, the mine), while Kazatomprom owns a 49% stake. Muyunkum produced 3.67 thousand tonnes of uranium in 2022.
4. Inkai Uranium Project, Kazakhstan - 3.65 thousand tonnes
Another important uranium mine found in Kazakhstan, the Inkai Uranium Project, is what is referred to as a "brownfield mine," which means the mine sits on land where mineral deposits had been discovered previously. Inkai is located in the Sozak District, which is in the northeastern section of the region of Turkistan Oblys (formerly known as the region of South Kazakhstan). Jointly owned by Cameco Corporation with a 40% stake and Kazatomprom with a 60% stake, Inkai's 2022 output of uranium totalled 3.65 thousand tonnes.
Unfortunately, recent events have disrupted operations at the mine, including the COVID-19 pandemic in 2020, which caused it to scale back production for several months, and political unrest within Kazakhstan in 2021, which caused a further reduction in output. The Inkai Uranium Project is slated to shut down in 2045.
5. Rössing Mine, Namibia - 3.59 thousand tonnes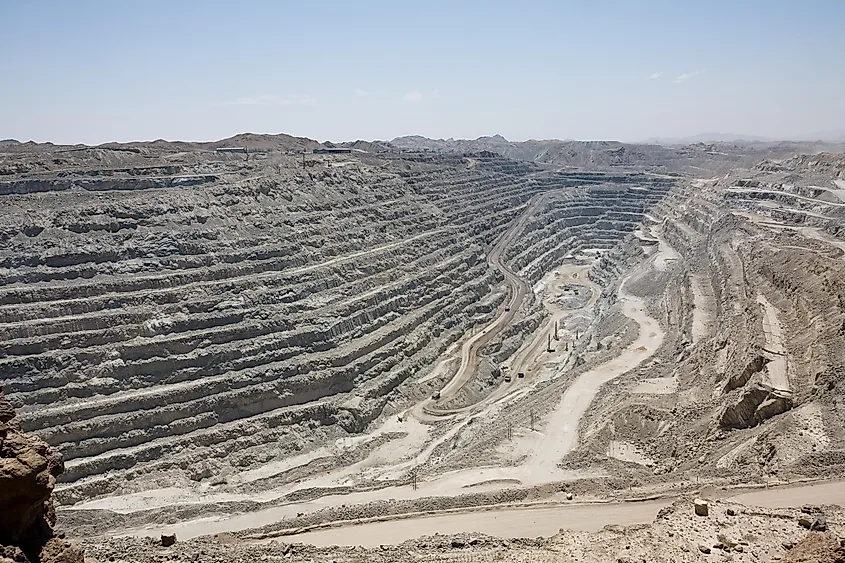 Rössing Mine is the fifth-largest uranium mine in the world and the second-largest in Namibia. Established in 1976, it is the nation's oldest uranium mine still in operation. Rössing is reported to have reserves of 23.9 thousand tonnes of uranium.
Initially developed by British mining concern Rio Tinto, the company sold its holdings (which amounted to nearly 69%) in the Rössing Mine in 2018 to China National Uranium. Other entities that possess a stake in the enterprise include the Iranian Foreign Investment Company (which has a 15% stake), the Industrial Development Company of South Africa (which has a 10% stake), and the Namibian government itself (which has a 3% stake). The remaining shares are held by private individuals. Situated in the Namib Desert near the town of Arandis, the Rössing Mine is expected to cease production in 2045.
6. Tortkuduk Uranium Mine, Kazakhstan - 3.27 thousand tonnes
Owned by Orano and Kazatomprom but overseen by their joint venture, KATCO, Tortkuduk Uranium Mine falls under a very similar administrative structure as Muyunkum Uranium Mine, the third enterprise profiled in this article. Much like the fourth enterprise profiled in this article, Inkai Uranium Project, it is found in the Sozak District in the region of Turkistan Oblys in Kazakhstan.
Formerly the top-producing uranium mine in the country, Tortkuduk has slipped a few places in recent years as other sites have ramped up output. That being said, the mine is still credited with annual shipments on the order of 3.27 thousand tonnes. Tortkuduk Uranium Mine is projected to operate until 2033.
7. Budenovskoye 2 Operation, Kazakhstan - 2.54 thousand tonnes
Sometimes referred to as the Karatau Project, the Budenovskoye 2 Operation is Kazakhstan's final entry on this list. Budenovskoye 2 is another example of an in situ leaching mine. The enterprise boasts 19.59 thousand tonnes in proven uranium reserves. The Budenovskoye 2 Operation is a joint venture between Kazatomprom and Uranium One, which is a subsidiary of ROSATOM, Russia's state-run nuclear energy company and the manager of all non-domestic Russian uranium interests. Production at the mine is scheduled to cease in 2032.
8. Olympic Dam Mine, Australia - 2.38 thousand tonnes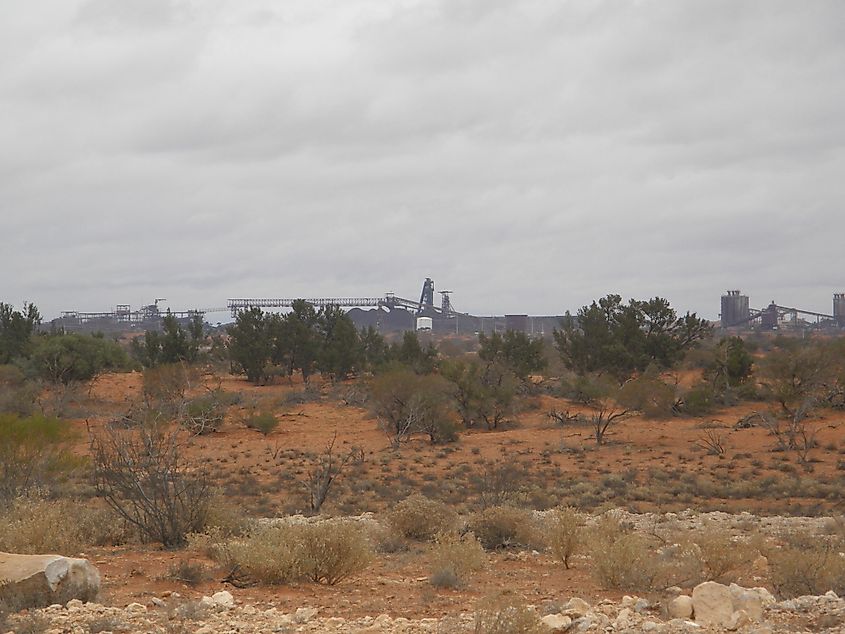 Olympic Dam Mine is something of an outlier compared with the other mines listed in this article, as it produces large amounts of copper, gold, and silver in addition to uranium. Situated in the state of South Australia some 340 miles north of the city of Adelaide, Olympic Dam Mine conducts both underground and surface mining. Because it is quite isolated geographically, the mine features its own fully integrated on-site processing facility, as well as its own airport, which provides daily flights to Adelaide. Boasting the world's largest proven reserve of 261 thousand tonnes, Olympic Dam Mine is generally thought by industry insiders to have the greatest potential of any uranium mine anywhere in the world. It had an output of 2.38 thousand tonnes of the mineral in 2022.
The enterprise was founded in 1988 by a joint venture between the Australian-based Western Mining Corporation and the British-based BP Minerals; however, the enormous poly-metallic mine was acquired by another Australian company, BHP Billiton, in 2005. It is still run by that company today. Olympic Dam Mine has a distant closure date of 2079.
9. Moab Khotsong Mine, South Africa - 2.31 thousand tonnes
South Africa's lone representative in this article is Moab Khotsong Mine. A brownfield mine located in the South African province of North West on the western section of Witwatersrand Basin, Moab Khotsong began life as a gold mine before deposits of uranium were discovered at the site in the 1990s. The mine now extracts both valuable minerals simultaneously.
Presently, Moab Khotsong Mine is wholly owned and operated by Harmony Gold Mining, the largest gold mining firm in South Africa. The company bought the mine outright from AngloGold Ashanti Ltd. (AGA) in 2018. Both companies are South African in origin. Moab Khotsong Mine is slated to continue operating until 2039.
10. SOMAIR Uranium Project, Niger - 1.99 thousand tonnes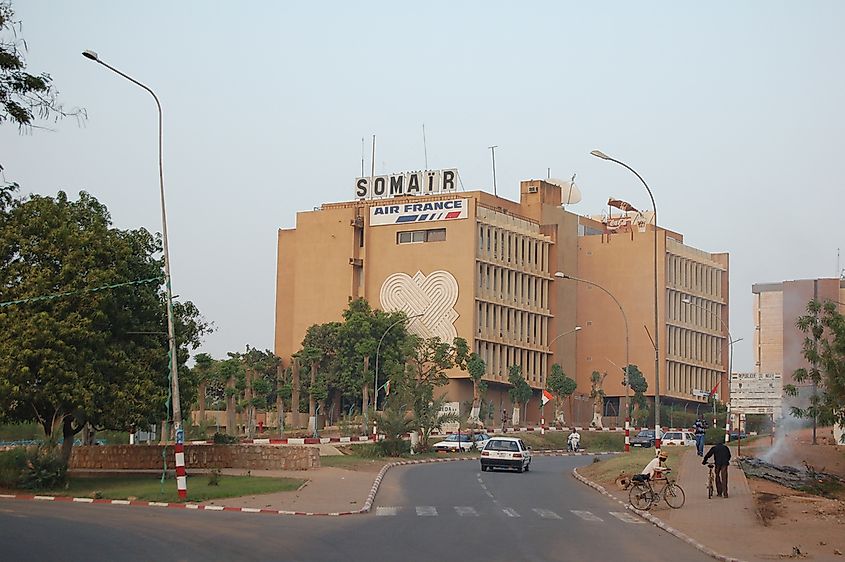 SOMAÏR Uranium Project is named after the official acronym of the organization that supervises uranium mining throughout the whole of northern Niger, the full name of which is Société des Mines de l'Air. Established in 1968, SOMAÏR is 63.4% owned by Orano and 36.6% by Office National des Ressources Minières du Niger (ONAREM) through Sopamin, the national mining assets management company of Niger. The mine's practical operations are overseen by Orano.
SOMAÏR first began open-pit digging for uranium in 1971 at a site called Arlit, which is in the Agadez Region of north-central Niger. Four years later, the organization undertook uranium extraction at a site called Akokan, a mere 3 miles away from Arlit. Both mines sit at the foot of the Aïr Mountains, and for all intents and purposes, the two are considered a single administrative entity. Estimates put the collective inferred reserve of the mineral at around 20 thousand tonnes in the mine.
SOMAÏR, in general, and the Arlit site, in particular, have been the target of terrorist activity in the recent past. In 2010, a group of seven people were kidnapped from Arlit, only four of which, each French national, were released in 2013. In May 2013, an attack taking the form of a car bomb damaged the Arlit mine, killing one person, injuring fourteen others, and halting operations at the site. By August of that year, production had fully resumed.
10 Largest Uranium Mines In The World
| Rank | Name  | Location | Production (2022) in thousand tonnes |
| --- | --- | --- | --- |
| 1 | Cigar Lake Project | Canada | 6.8 |
| 2 | Husab Uranium Project | Namibia | 4.23 |
| 3 | Muyunkum Uranium Mine | Kazakhstan | 3.67 |
| 4 | Inkai Uranium Project | Kazakhstan | 3.65 |
| 5 | Rössing Mine | Namibia | 3.59 |
| 6 | Tortkuduk Uranium Mine | Kazakhstan | 3.27 |
| 7 | Budenovskoye 2 Operation | Kazakhstan | 2.54 |
| 8 | Olympic Dam Mine | Australia | 2.38 |
| 9 | Moab Khotsong Mine | South Africa | 2.31 |
| 10 | SOMAIR Uranium Project | Niger | 1.99 |
While the debate over the merits and risks of nuclear power has been raging since it was first introduced in the 1950s, enough time has now passed, and data has been collected that two crucial facts about it can be stated definitively: First, nuclear is a plentiful source of renewable energy with an established track record of effectively augmenting more traditional forms of power generation, such as coal, oil, and natural gas. Second, making exceptions for natural disasters (i.e., Fukushima in 2011, which was prompted by an earthquake and subsequent tsunami) and human error (i.e., Chernobyl in 1986, which was prompted by a poorly conceived experiment spearheaded by on-site technicians), there have been remarkably few safety incidents attributed to nuclear power plants in their seventy-plus years of use.
Until green energy options like solar, wind, and geothermal begin to yield more efficient and consistent results, nuclear power is likely the single best option for nations with a desire to wean themselves off dependence on fossil fuels. It stands to reason then that uranium production will remain as important—if not more important—in the near future as it has been in the recent past. By extension, the ten large-scale uranium mines profiled in this article will continue to play a pivotal role in the field of global energy production for quite some time to come.