In terms of land mass, Oklahoma expands over an impressive 68,594.92 square miles, making it the 19th largest state by area. Yet, the populace places Oklahoma as the 28th most populated state with 3,751,616 residents. On a map, Oklahoma is found in the southern United States and shares a border with Texas, Kansas, Missouri, Arkansas, New Mexico, and Colorado. With a rich history etched by the great migration, it is known as the "Sooner State," an homage to the first homesteaders. Despite the low population density, Oklahoma showcases 12 ecoregions that draw many for their ruggedness and wild west feel. Yet through various sports teams, festivals, and vibrant displays of art and culture, here are some fun facts about the largest cities in Oklahoma!
1. Oklahoma City – 681,054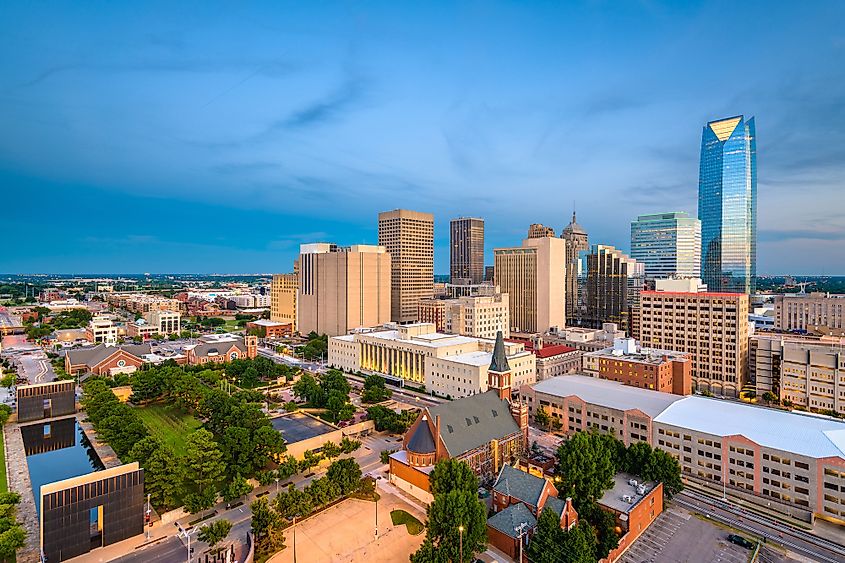 Officially named the City of Oklahoma City or OKC so as not to confuse it with the state name, it is the capital and most metropolis area. On a national scale, Oklahoma City is the 20th largest city in the US. It's so vast it protrudes into three counties, and it sits in two ecoregions known as the Cross timbers and Sandhill Stones, but to many, it's simply Frontier Country. Due to its location on I-35, Oklahoma City is a central economic hub and welcomes commerce from Kansas City, Wichita, Texas, and even down to Mexico. Here is a fun fact! The World's largest livestock market in the world can be found at the Oklahoma National Stockyard. The city is home to many accredited post-secondary institutions, including Oklahoma City University, the University of Oklahoma and University of Oklahoma Medical Sciences, and Oklahoma City College. But Oklahoma City is not all work and no play and has a few sports teams to flaunt, where the city comes to lie. Check out the Oklahoma City Thunder (NBA) and wear some blue and orange to cheer on the team alongside Rumble the Bison.
2. Tulsa – 413,066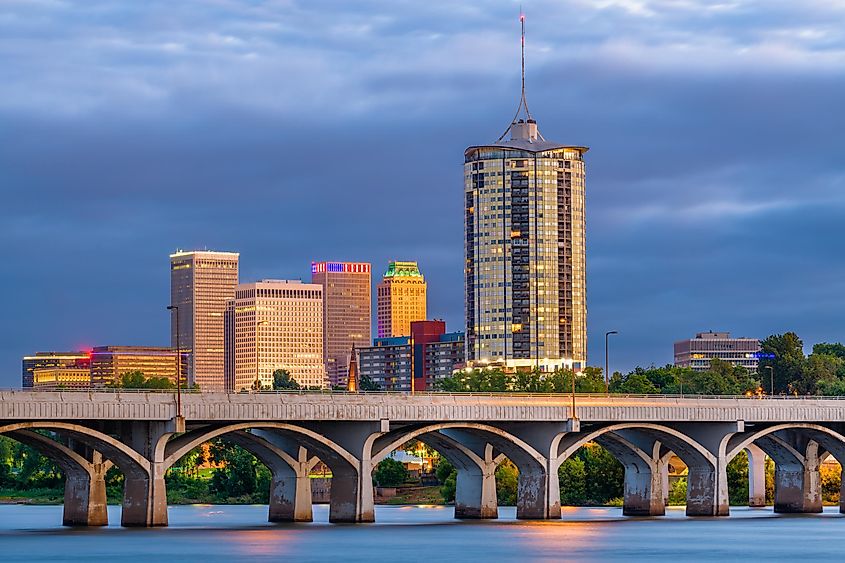 Tulsa is the second-largest city in Oklahoma, but nationally it is the 47th most populous city in the US. Before the bustling metropolis of Tulsa existed, the land belonged to the Lochapoka Band of Creek Native Americans. Officially recognized, Tulsa is considered a part of the Muscogee Nation. Coined as the gateway to the Green Country, Tulsa rests on the banks of the Arkansas River between the Osage Hills and foothills of the picturesque Ozark Mountains. Call them sports crazy, but Tulsa is a very sports-driven city, with some sporting events going on throughout the year. Of these teams are the FC Tulsa (USL Championship), Tulsa Oilers (ECHL), Tulsa Drillers (Double-A Central), and Tulsa Athletic (National Premiere Soccer Team – Men's), among others. Arts and culture are a large part of Tulsa's identity, with performance schools for ballet, opera, performance art, and symphony orchestras. Take up a show at the Heller Theatre or Tulsa Performing Art Center, or check out some public art displays throughout the city. But do not be taken aback by any impromptu street performances.
3. Norman – 128,026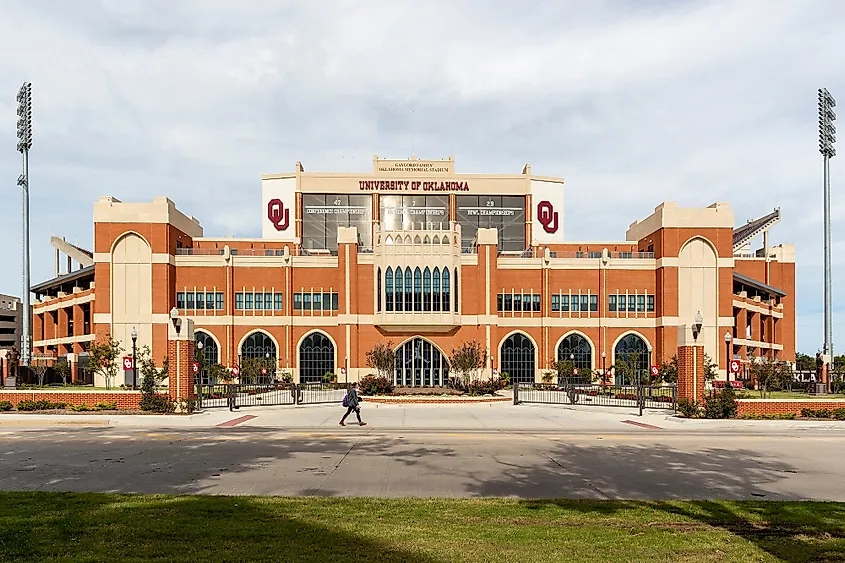 Third on this list, Norman was at the forefront of the Land Run of 1889, which saw homesteaders claim land following the Indian Removal. Why is this important? One could say Norman puts the "Sooner" in the "Sooner State." But this is not the only reason. Norman is home to the largest University in the state, the University of Oklahoma. And while this nationally revered institute welcomes 32,000 students annually, the local football team, the "Sooners," sees up to 85,000 at a home game, bringing the city to life in a spectacular show of support. One could say Norman is a tad bit more sports-crazy than Tulsa. The University also supports some museums in the community, such as the Fred Jones Jr. Museum of Art and Sam Noble Oklahoma Museum of Natural History, which attract many locals and visitors alike. 
4. Broken Arrow – 113,540
Situated outside of Tulsa as the largest suburb, Broken Arrow is the fourth-largest city. It is estimated to be the 280th largest city in the entire US. Although highly accredited to Tulsa's diverse economy, Broken Arrow gloats the third-highest concentration of manufacturers, with custom products and tech among them. The Tulsa Technology Center and Northeastern State University serve as Broken Arrow's post-secondary facilities. In the heart of Green Country, the Rose District Farmers' Markets, Thunderbird Berry Farm, and the Water Edge Winery and Bistro are much-loved locations for visitors and locals to meander about. Here, one can casually sip on some local adult beverages or nibble or sneak one too many fudge samples.
5. Edmond – 94,428
Dipping below a population of 100,000 on this list, size does not matter in Edmond, Oklahoma. It's a haven for cosmopolitan activities that will surely cater to all inquiring tastes. Cruise along iconic Route 66 and take Arcadia Lake, among other selfie-worthy roadside attractions. Back in town, wander through countless acres of green space and ogle at the more than 200 public art installations before deciding where to eat at one of the 270 restaurants. Aside from being a hidden gem for arts and cuisine, Edmond houses not one but two Rugby Clubs; the Edmond Rugby and the University of Central Oklahoma Rugby Football Club. Rugby is an up-and-coming sport not only in Edmond but also in the Oklahoma City Metropolitan Area. In addition to being home to the University of Central Oklahoma, Edmond also supports Herbert W. Armstrong College.
6. Lawton – 90,381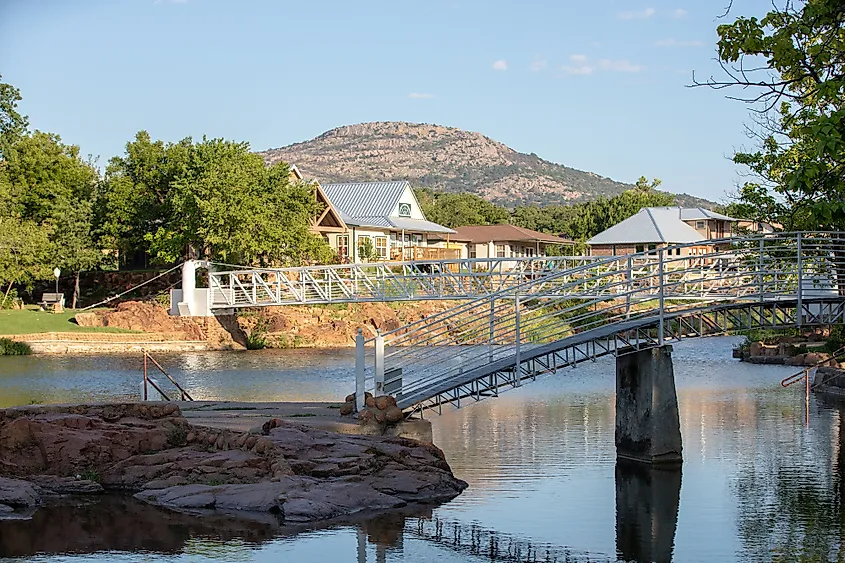 When pondering where to see the jaw-dropping scenery of the Great Plains, look no further than Lawton! The area teases the Wichita Mountains, which contain the peaks of Mount Scott and Mount Pinchot, the highest nearby. The subtle rolling hills of the prairies reveal the few sparse trees resting on an endless bed of limestone. Besides the photo-worthy scenery, Lawton is a small but lively city, with Cameron University showing off its varsity sports teams to annual festivals and museums that appeal to many for its insightful local history. Speaking of activities to do, outdoor recreation is a beloved half-time, with Lake Lawtonka, Lake Ellsworth, and Elmer Thomas Lake serving as destinations for boating, camping, and fishing, as well as other activities.
7. Moore – 62,793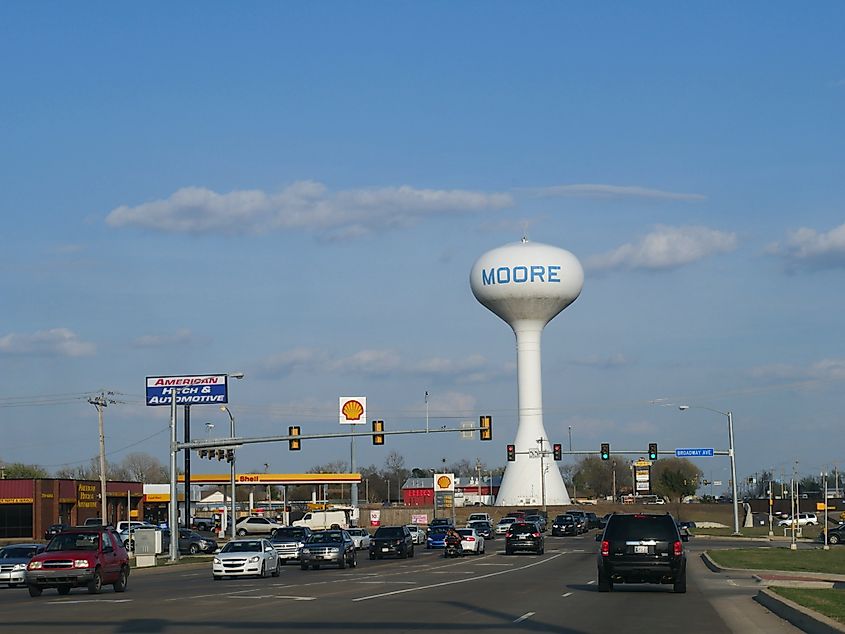 Moore made international headlines in 1999 and again in 2013 when catastrophic tornadoes devastated the city. The 1999 tornado was an F5 (Fujima Scale) and, captured on Doppler radar, was the fastest wind gust on the face of the earth at 301 MPH. More so, being in the most tornado-prone area of the Tornado Alley, Moore's identity is synonymous with these severe weather events. Luckily enough, these tornadoes do not occur all that often, with only 20 strikes since the records started in 1890.
On the other hand, Moore is a beautiful place to live and part of the Oklahoma City Metropolitan Area. For all the curious minds about anatomy out there. Come and visit the Museum of Osteology and its collection of over 300 skeletons. Being small does not mean being dull. Many families, whether visitors or locals, choose to spend time in Moore for its many family-oriented attractions. Check out the Urban Air Trampoline and Adventure Park for go-karts, battle beams, an indoor obstacle course, and much more. Have little ones that like to roam? Consider going to the Little River Park Splash Pad at the Tom Strouhal Little River. There is plenty to do for all ages in Moore, Oklahoma!
8. Midwest City – 58,409
Midwest City is one of Oklahoma's best-kept secrets regarding entertainment. One of the cities that comprise the Oklahoma City Metropolitan Area, Midwest City, all the activities of a big city plus a little more. Looking for outdoor activities? Take a look at the John Conrad Regional Golf Course, which boasts 18 holes. A relaxing afternoon at Lake Stanley Draper is perhaps to one's taste, where jet-skiing, boating, fishing, hiking, and mountain biking are everyday activities for locals and visitors. Why not visit the new million attractions, Reno Swim and Slide? Here, children 12 and older can climb an aquatic wall, go on waterslides, and float in the 500,000-gallon pool. Do not forget to pass by Tinker Air Force Base, an icon of the community and an early influence on the Midwest City's development and largest employer. 
9. Enid – 51,308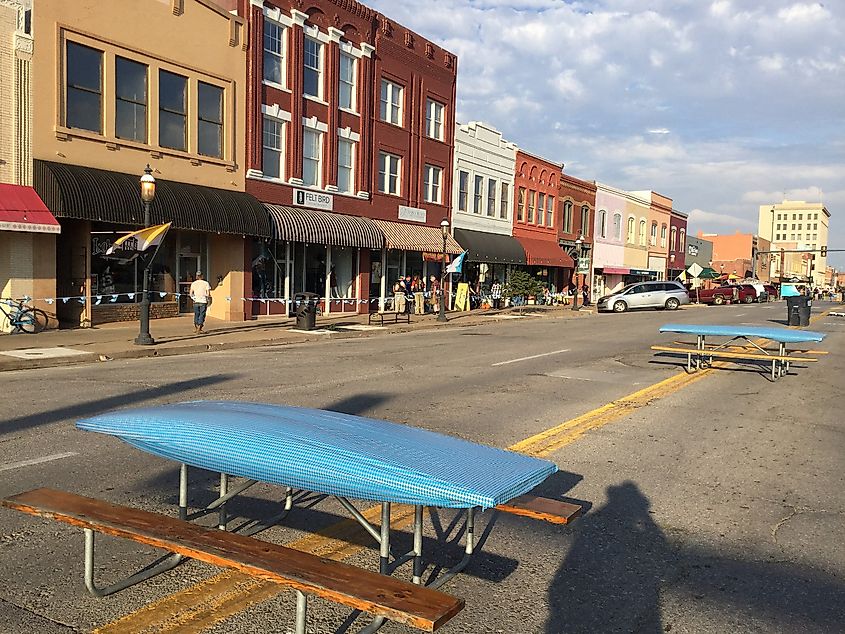 Holding nicknames like "Queen Wheat" and "Wheat Capital of the United States," one may think there is a lot of wheat or grain grown in Enid. In reality, it hosts the third-largest grain storage in the world. As well as being the ninth-largest city, of course. While Enid may seem like a strange name for a city, the inspiration came after a book character. That is Enid, from Idylls of the King by Alfred Tennyson. The name is but a tease of the more extensive arts and culture scene that flourishes in Enid. Consider visiting in spring for the Tri-State Music Festival that features various jazz performances, or while staying in summer, indulge in some Shakespeare in the Park. Maybe live music with a hint of history is preferred, with the oldest symphony in Oklahoma located at the Enid Symphony Center, which opened its doors in 1905. But before disembarking in this charming city, do not forget to look for purple martins. Yet, believe it or not, Enid is also as the "Purple Martin Capital of Oklahoma!"
10. Stillwater – 48,394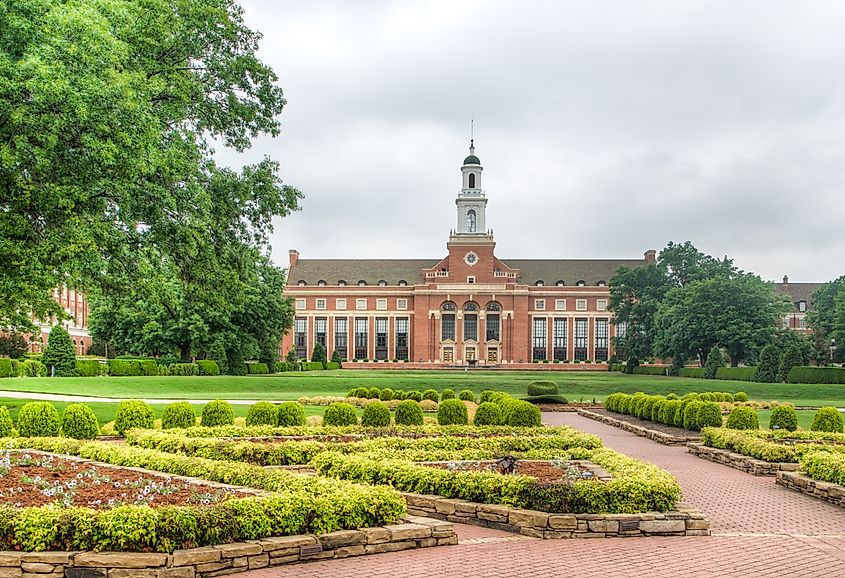 Concluding this list is the tranquil and pretty city of Stillwater. Thus, there is a lot to see and do in the smallest of the largest cities on this list. For starters, the National Wrestling Hall of Fame and Museum is in; you guessed it right; Stillwater! But, this makes sense, with Stillwater's Oklahoma State University being one of five Big 12 Conference schools that partake in this sport. Bragging rights are well-earned, with 34 national championships and 134 individuals for NCAA championships in wrestling.
Alas, as large as the wrestling culture is, so are the arts and cultures, with plenty of festivals throughout the year. Among the largest is hosted by none other than Oklahoma State University when 70,000 alumni descend upon Stillwater for the "America's Greatest Homecoming Celebration," which includes a walk around and parade. Other events include the Taste of Stillwater, OSU Jazz Festival, the Red Dirt Film Festival, and Payne County Fair, to only name a shortlist of festivities. Oklahoma State University also plays a significant role in Stillwater's economy; not only is it the largest employer, and it provides research and technology to local sectors.
Oklahoma is the 28th most populated state in the United States and averages about 55.20 people per square mile. The highest concentrations of citizens live in the Oklahoma City Metropolitan Area and Tulsa. Many of the 3,986,639 residents inhabit cities with significant water sources, such as the Arkansas and North Canadian rivers. Unlike the rest of Oklahoma, vast swaths of the Great Plains can make living difficult.
30 Biggest Cities In Oklahoma
| Rank | City | Population (2020) |
| --- | --- | --- |
| 1 | Oklahoma City | 681,054 |
| 2 | Tulsa | 413,066 |
| 3 | Norman | 128,026 |
| 4 | Broken Arrow | 113,540 |
| 5 | Edmond | 94,428 |
| 6 | Lawton | 90,381 |
| 7 | Moore | 62,793 |
| 8 | Midwest City | 58,409 |
| 9 | Enid | 51,308 |
| 10 | Stillwater | 48,394 |
| 11 | Owasso | 38,240 |
| 12 | Bartlesville | 37,290 |
| 13 | Muskogee | 36,878 |
| 14 | Shawnee | 31,377 |
| 15 | Bixby | 28,609 |
| 16 | Jenks | 25,949 |
| 17 | Ardmore | 24,725 |
| 18 | Ponca City | 24,424 |
| 19 | Yukon | 23,630 |
| 20 | Duncan | 22,692 |
| 21 | Sapulpa | 21,929 |
| 22 | Del City | 21,822 |
| 23 | Bethany | 20,831 |
| 24 | Mustang | 19,879 |
| 25 | Sand Springs | 19,874 |
| 26 | Claremore | 19,580 |
| 28 | Altus | 18,729 |
| 27 | Durant | 18,589 |
| 29 | McAlester | 18,171 |
| 30 | El Reno | 16,989 |