Moore is a moderate-sized city situated in Cleveland County of central Oklahoma in the United States. The city contains many attractions for the whole family, a rich past, and the intriguing Museum of Osteology that, when combined, make for a great destination. While comprising the Oklahoma metropolitan area, Moore maintains all of its family-focused attributes and laid-back charm that magnetizes many to its doorstep. On a national stage, Moore is home to many accredited post-secondary institutions. Of these are the Moore Norman Technology Center, and the Randall University.
Geography And Climate Of Moore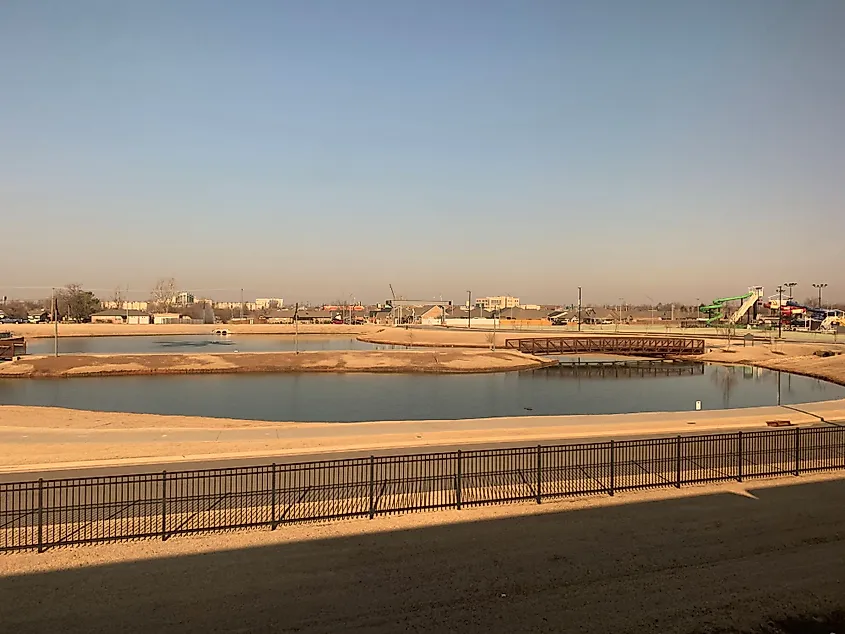 Moore resides in the ecoregion known as the Sandstone Hills, where blackjack oak and post oak forests are abundant. Moore is located close to the state capital Oklahoma City, which is only 11 miles to the north. Other nearby cities include Norman, about 10 miles south; Midwest City, about 18 miles north; and Edmond, about 24 miles north. As for day trips: Great Salt Plains State Park is about 147 miles northwest, Wichita Mountains Wildlife Refuge is about 85 miles southwest, and Alabaster Cavern State Park is about 166 miles southeast.
According to the Köppen Climate Classification, Moore has a humid subtropical climate. It experiences long, hot, muggy summers and snowy, windy winters. The average observed temperature throughout the year is 62.3°F. Moreover, the year's hottest month is July, with an average high of 93.1°F, whereas January is the year's coldest month having an average low of 27.8°F. Of the 81.9 days that produce precipitation, there is an annual rainfall of 37.6 inches and 5.4 inches snowfall. 
A Brief Overview Of Severe Weather Events In Moore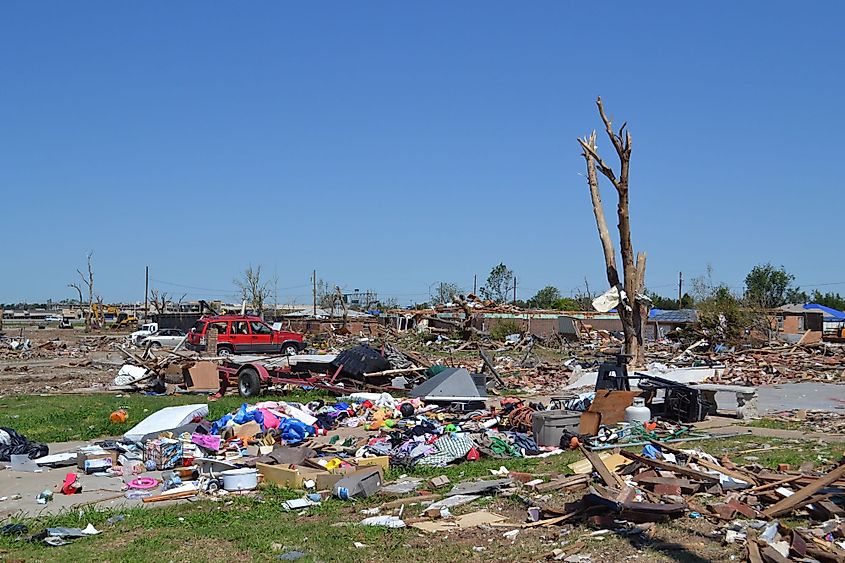 Moore is no stranger to severe weather events, with catastrophic tornadoes and intense ice storms making headlines. In addition to Moore, Norman and Oklahoma City rest in a part of Tornado Alley that is the most struck by these weather events, unlike anywhere else. In 1999, an F5 (Fujima Scale) and the most costly tornado (at the time) struck Moore. It recorded a speed of 301 MPH, the highest recorded speed captured on Earth. In 2013, an EF5 (Enhance Fujima Scale) struck Moore, Newcastle, and Southern Oklahoma City. As a result, whole subdivisions and schools were destroyed in a 17-mile-long path of destruction. Sadly, 24 people lost their lives, making the 2013 Moore Tornado the deadliest since Joplin in 2011. Both of these tornadoes made international headlines around the globe.
History Of Moore
Following the completion of the Atchison, Topeka, and Santa Fe Railway, settlers were able to move into the area, with the biggest influx coming during the Land Run of 1889. At this time, a post office was erected and named after Al Moore, a railroad employee. Although it was uncertain if Al Moore was a brakeman or a conductor, he did live in a boxcar and had difficulty receiving mail. As the story goes, he wrote "Moore" on a sign over his boxcar to rectify this issue. Thus, the postmaster continued to acknowledge the area as "Moore," which was incorporated in 1893. 
The Population And Economy Of Moore
As per the latest US Census, Moore had a population of 64,335 residents. Spanning over 57.40 sq. km, there is a population density of 1,093.36 people per sq. km. There is a median household income of $75,125, and 9.32% of the population lives below the poverty line. As for cultural/racial background: 77.81% were identified as white, 8.67% were two or more races, 4.98% were African American, 4.06% were Native American, 2.68% were Asian, 1.67% of another race, 0.01% were Native Hawaiian or Pacific Islander. 
Of the 31,600 people employed in Moore, 4,178 work in healthcare and social assistance; 4,150 work in retail trade; and 2,920 work in public administration. The top-earning jobs come from the following sectors: management of companies and enterprises made $152783; utilities made $79,429; and mining, quarrying, gas, and oil extraction made $67,045.
Attractions In And Around Moore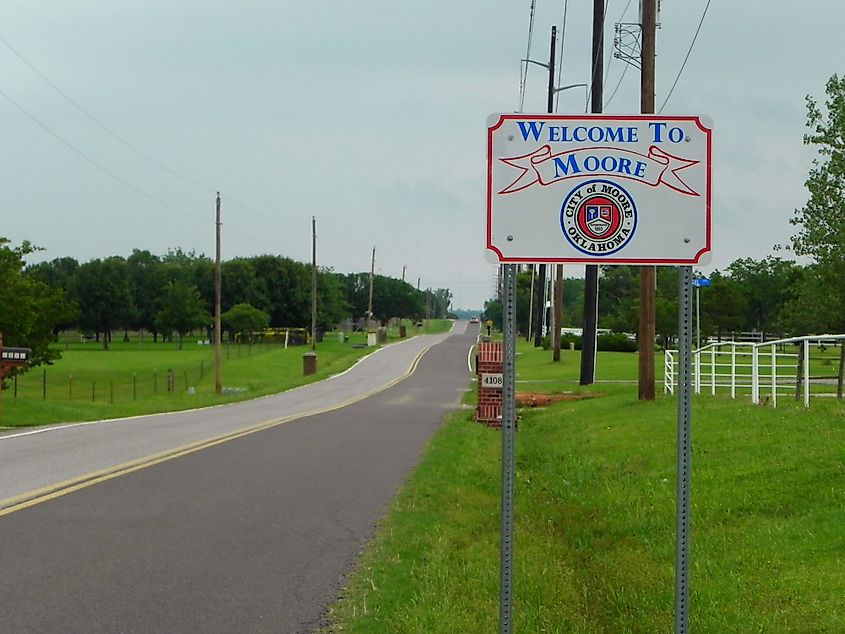 Museum Of Osteology
With more than 800 specimens and over 40 exhibits, there is much to see at the Museum of Osteology or better known as a museum of skeletons. Whether looking for a rainy day activity or an afternoon of fun, the Museum of Osteology is guaranteed to keep all family members busy and intrigued. Notable exhibits include primates, amphibians, marsupials, carnivores, flightless birds, and Oklahoma wildlife. 
Buck Thomas Park and Happy Tails Dog Park
Found in northeast Moore, this park and green space is a much-loved area for families. There are two playgrounds for children: one is dedicated to 2 to 5-year-olds and another for 5 to 12-year-olds. Other infrastructures include the Happy Tails Dog Park, washrooms, tennis courts, a skate park, a 1.3-mile walking trail, and a sand volleyball court.
Little River Park
Seeking an interesting place for an afternoon with the family? Visit the pirate-themed playground and splash pad at Little River Park. Here all tastes can be catered to with fishing allowed on two ponds, two walking trails, some pavilions, washrooms, and 52 acres to really stretch those legs and run around in. It's one of Moore's best-kept secrets.
Moore maintains a peaceful aesthetic that serves as a getaway from the hectic and busy streets of nearby Oklahoma City. Although with proximity to the state capital which shares much of the same culture and climate, Moore has risen to its own unique and different identity. One will find that all tastes are catered to with vast outdoor spaces, a head-scratching museum, and many family-oriented attractions. Plan your next trip to this quaint community today!