Just a stone's skip away from the state capital, Oklahoma City, Edmond is a big city situated in Oklahoma County in the central portion of the US State of Oklahoma. This bedroom community is a well-kept secret for tourism amidst the cross-timbers ecoregion of central Oklahoma. This quaint city boasts championship golf courses, a historic downtown, street festivals, and plenty of shopping centers. One must take a cruise of iconic Highway 66 to Arcadia Lake for outdoor recreation, take up an impromptu photo shoot at one of the 270 art installations, or grab a bite at the restaurants. There is something for all in Edmond, Oklahoma.
Geography And Climate Of Edmond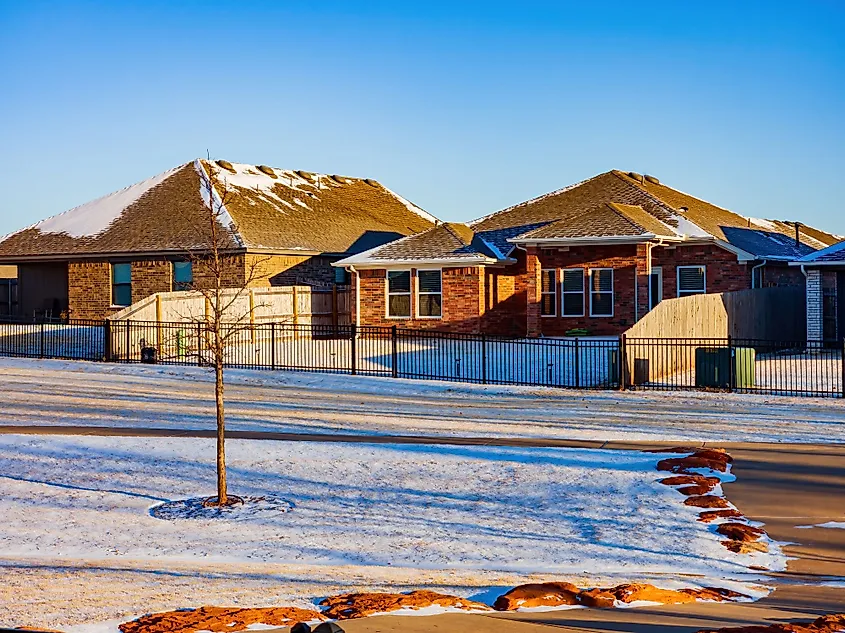 Edmond is situated in Oklahoma County and forms a part of the Oklahoma City Metropolitan Area. Arcadia Lake is Edmond's largest body of water that flows into the Deep Fork River. Edmond is located close to the state capital Oklahoma City, which is about 14 miles south. Of the other nearby substantial cities: Mustang is about 30 miles southwest, Norman is about 32 miles south, Choctaw is 23 miles southeast, and Guthrie is 19 miles north. As for day trips: Tulsa is about 100 miles northeast; the Great Salt Plains State Park is 114 miles north, and Alabaster Caverns State Park is about 169 miles northwest.
According to the Köppen Climate Classification, Edmond experiences a humid subtropical climate, with muggy summers and snowy and cold winters. July is the warmest month recorded, with an average high of 93.3°F, and January is the coldest month, with a recorded average low of 26.4°F. Of the 74.67 days that produce precipitation, there is a rainfall of 36.9 inches and snowfall of 5.2 inches. The heavy rainfall often leads to flash flooding. The city witnesses ice storms and snowstorms during the winter months. Edmond is situated in the Tornado Alley and experiences severe tornadoes and hailstorms quite frequently.  
History Of Edmond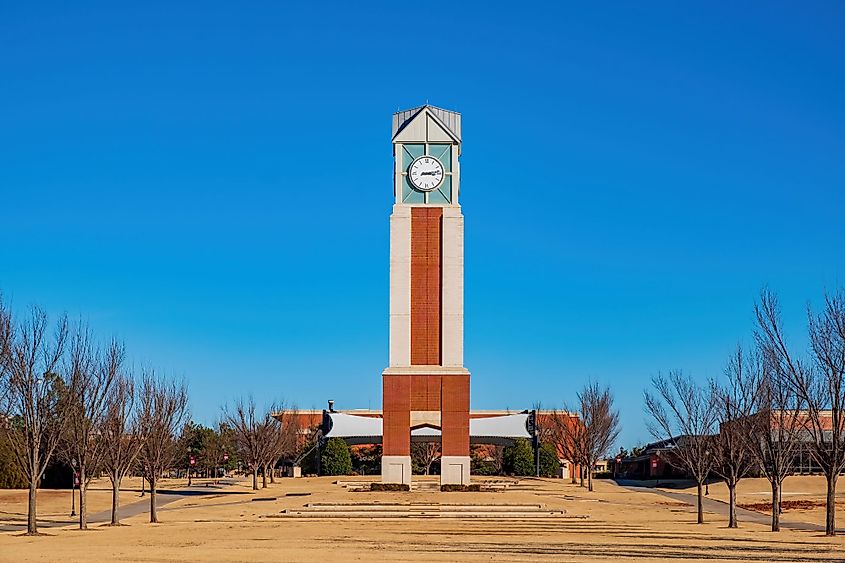 Edmond's humble beginning was influenced by the construction of the Santa Fe Railroad in the late 1880s. The site of would-be Edmond was selected for its hilly features. In all of Oklahoma County, Edmond's land had the highest elevation. This helped the coal-fueled trains of that period to rapidly leave the train station in any direction as it was all downhill. Edmond's name came from then traveling freight agent Edmond Burdick, who was the inspiration for the train station. The Land Run of 1889 saw homesteaders stake out land around the train station, and the population opted to keep the name of Edmond. By the time the 20th century rolled around, Edmond had established itself as a sundown town where whites and Native Americans could only be allowed to purchase homes in specific neighborhoods. These racist practices were dropped in 1948 following the Supreme Court's decision in the landmark Shelley v. Kraemer case.
The Population And Economy Of Edmond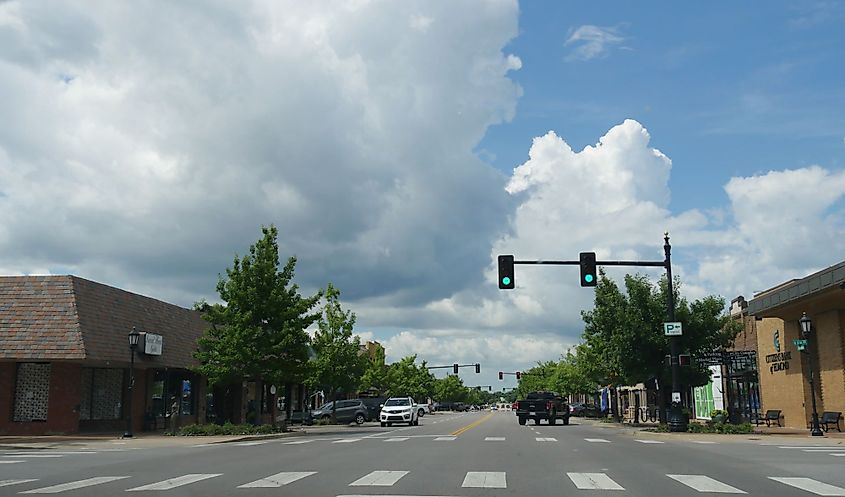 As per the latest US Census, Edmond has a population of 94,428 residents. Expanding over 227.55 sq. km, Edmond has a population density of 430.3 people per sq. km. The median household income in Edmond is $119,478, and 10.65% live below the poverty line. As for cultural/racial background: 80.52% were identified as white; 7.61% were two or more races, 5.65% were African American, 3.32% were Asian, 1.70% were Native American, 1.18%, and 0.03% were Native Hawaiian or Pacific Islander.
Of the 45,300 people employed in Edmond, 6,888 worked in healthcare and social assistance, 4,909 worked in educational services, and 4,548 worked in retail trade. As for the top-earning jobs: mining, quarrying, oil and gas extraction made $96,411; agriculture, forestry, fishing, hunting, and mining made $87,484, and utilities made $85,142.
Attractions In And Around Edmond
Arcadia Lake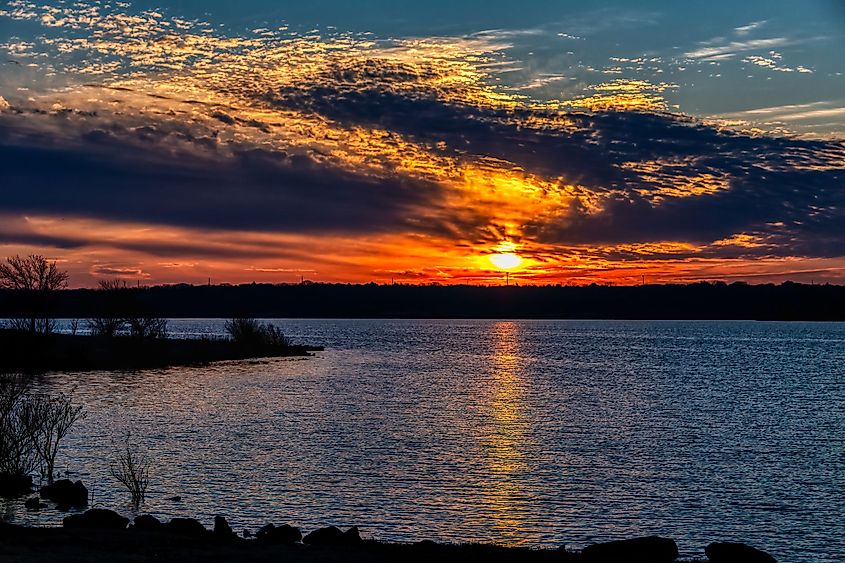 There are fewer beautiful places than Arcadia Lake, and with Route 66 being a viable means of access, one simply cannot pass up this opportunity. Arcadia is beloved by locals and tourists alike for its vast space for numerous outdoor activities. The lake covers 3,820 acres which allow for waterskiing, boating, kayaking, canoeing, and fishing. On-the-land facilities include disc golf, a picnic area, camping, hiking, biking, and horseback riding. A heated dock and a fishing pier provide opportunities for all to catch bluegill, channel catfish, blue catfish, and largemouth bass.
Arcadia Round Barn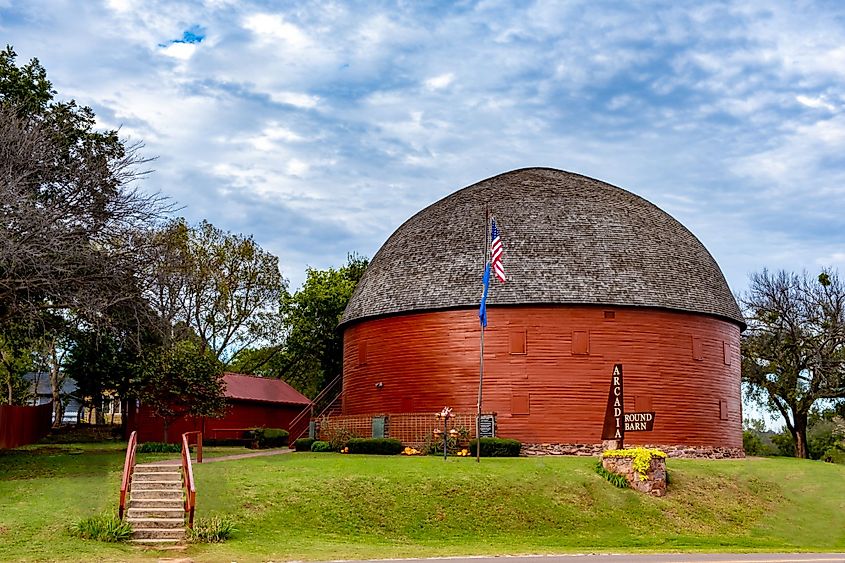 Just a bit past Arcadia Lake, one can take up the roadside attraction of the Arcadia Round Barn on Route 66. The barn was built in 1898 from bur oak that was soaked and curved to make the circular and jaw-dropping structure of the barn. The old barn is a popular stopover for family photos and selfies, so please remember to take a camera.
Edmond Historical Society And Museum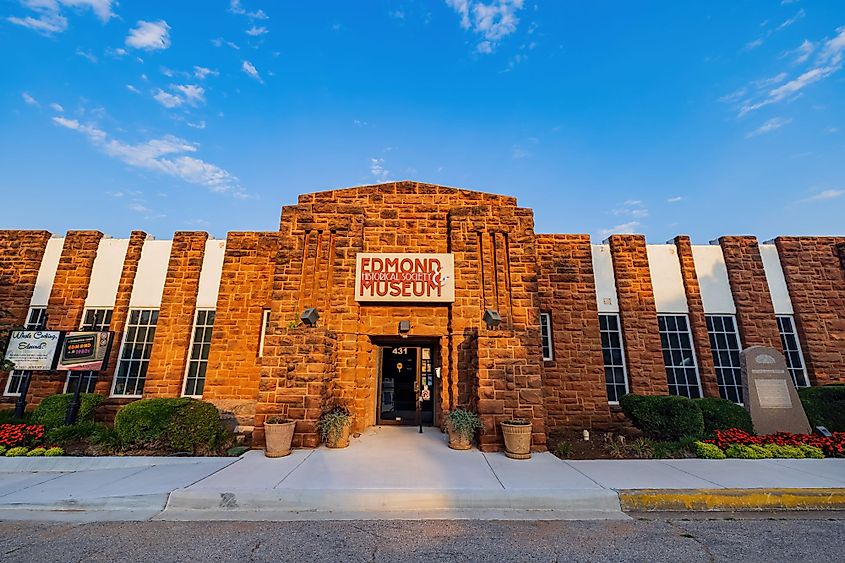 Visit the Edmond Historical Society and Museum and learn about Edmond's early history and the impact of the Land Run. New exhibits are constantly being introduced, and admission is free for all ages. As for some sights, take a look at the Edmond Armory History, Edmond's Firsts, A Letter From 1889, A Coaling and Water Station, and Kentucky Daisy. With many things to see, it would be impossible to leave without learning about Edmond's dynamic past.
Clauren Ridge Vineyard And Winery
Inspired by wineries in California and France, Clauren Ridge Vineyard offers a scenic day out located at the northwestern end of Edmond. Come and sit on the veranda or the patio and sip on the gold medal-winning Synfully Sweet Canned Wine while nibbling on cheese board or bacon-wrapped olives. Take in the views of the Oklahoma hills and the aisles of grape trees while catching up with family or friends.
It is easy to forget that Edmond shares much of the same culture and climate as nearby Oklahoma City without compromising its different image. When it comes to a scenic city with all the cosmopolitan activities and draws of a well-known tourist town but without the crowds, consider visiting Edmond. Come for an afternoon or a few days, but do not pass up a chance to see this picturesque city of Edmond.