Designated as the capital and the largest city in the US State of Oklahoma, Oklahoma City, or more formally the City of Oklahoma City (OKC), is a major metropolitan area. Furthermore, of the Southern States, it is the 8th largest and the 20th largest by population on a national scale. A booming economic center, Oklahoma is easily accessible from Texas and Mexico, which further adds to its appeal for commerce and tourism. There is something for everyone in Oklahoma City. One must consider checking out the Frontier City Amusement Park, Oklahoma City Zoo, Myriad Botanical Gardens, and countless museums, or spend a relaxing day at one of the city's lakes and parks.
Geography And Climate Of Oklahoma City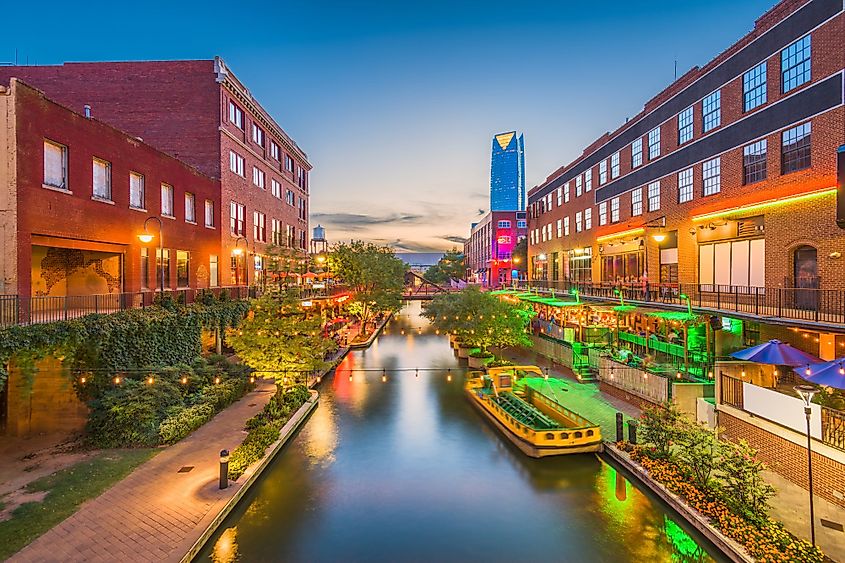 By surface area, Oklahoma City is the 8th largest city and extends into Cleveland, Oklahoma, Canadian and Pottawatomie Counties. It is so vast that it expands into two of Oklahoma's ecoregions. With keen eyes, visitors will notice the Sandhill Stones region that showcases blackjack oak and post oak among subtle hills. While in the north and northeast are features of the Cross-Timbers regions. The 440- mile long North Canadian River dissects the city into north and south. More so, several lakes serve as areas for outdoor recreation and wildlife viewing. Of these bodies of water are; Lake Hefner, Lake Overholser, and Lake Stanley Draper. Of nearby substantial cities, Edmond is about 14 miles north, Moore is about 10 miles south, and Tulsa is about 105 miles northeast. As for day trips, Great Salt Plains State Park is about 135 miles northwest, Alabaster Caverns is about 155 miles northwest, and Wichita Mountains National Wildlife Refuge is about 100 miles southwest.
According to the Köppen Climate Classification, Oklahoma City has a humid subtropical climate. It experiences hot, humid summers and cold, windy winters. There is an annual average temperature of 62.0 °F. Overall, July is the warmest month with a high of 92.9° F, and January is the coldest with a low of 27.0 °F. Of the 79.1 days that produce precipitation, there is an annual rainfall of 35.6 inches and snowfall of 5.8 inches. On average, 231 days of sunshine comprise a median UV Index of 5.1.
Brief Overview Of Severe Weather Events Around Oklahoma City
Oklahoma City is situated in an area known as Tornado Alley. Hence it is more prone than any other location to these severe weather events. Since tornado events were first recorded in the 1890s, Oklahoma City has been struck by 13 tornadoes. Of these, 11 were F4 (Fujima Scale) or higher. From May 2nd to May 8th, 1999, 60 tornadoes devastated central Oklahoma. Among these, the Bridge Creek-Moore tornado would become the highest recorded wind speed on Earth caught by Doppler. On May 3rd, an F5 tornado developed in Grady County and strengthened to an F5 before impacting Moore and southern Oklahoma City. Overall, it traveled 35 miles over 85 minutes, killed 36, and caused 1.6 billion in damages.
History Of Oklahoma City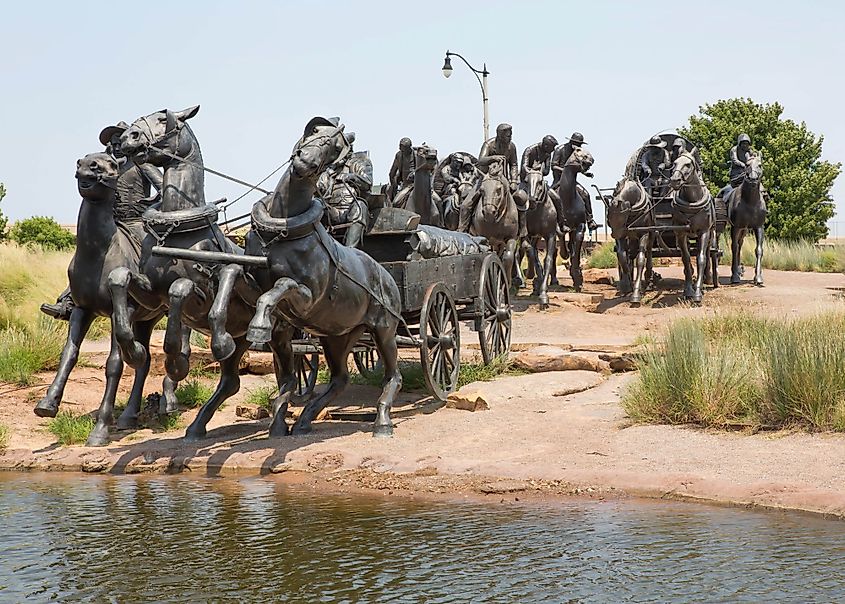 During the Land Run of 1889, settlers claimed unassigned territory that had previously belonged to the Native Americans, who had been stripped of the land after siding with the Confederacy during the Civil War. Some 10,000 settlers showed up to make land claims, and the population rapidly exploded. After Oklahoma became a state, the city surpassed the then territory capital, Guthrie. As a result, Oklahoma City became the new capital. Jumping forward to the 1930s, the discovery of oil appealed to many and attracted jobs from Chicago, Nebraska, and Omaha. After World War II, several highways were constructed, leading to a decline in the population, with former residents flocking to the newly established suburbs. The 1990s saw Oklahoma City undergo a major redevelopment, with the addition of the Chickasaw Bricktown Ballpark and home to the Oklahoma City Dodgers, a convention center, a civic center, and water canals for water taxis.
The Population And Economy Of Oklahoma City
The latest US Census reported that Oklahoma City had a population of 701,266 residents. Expanding over an area of 1,607.76 sq. km, there is a population density of 437.85 people per sq. km. Of the population, there is a median household income of $77,896, with 15.20% living below the poverty line. As for cultural or racial background: 65.89% were identified as white, 14.39% were African American, 7.91% were of two or more races, 4.41% were Asian, 4.33% were of another race, 2.94% were Native American, 0.12% were Native Hawaiian or Pacific Islander.
Of the 317,000 people employed in Oklahoma City, 42,906 work in healthcare and social assistance, 38,815 work in retail trade, and 26,830 work in accommodations and food services. The top-earning jobs come from the following sectors: mining, quarrying, oil and gas extraction made $80,641; agriculture, forestry, fishing, hunting, and mining made $69,649; and utilities made $67,976.
Attractions In And Around Oklahoma City
National Cowboy And Western Heritage Museum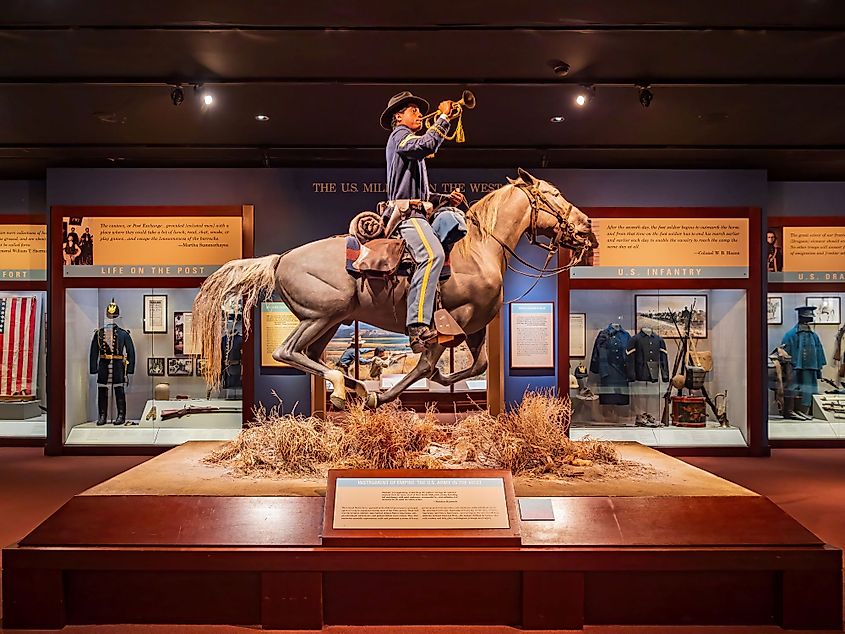 Whether you are looking for an activity indoors or something to intrigue young minds, this museum is the perfect place to visit. With 28,000 Western and Native American artifacts, the museum contains many art pieces and stills depicting local and state history. The museum also houses the biggest collection of rodeo memorabilia with barbed wire, saddles, photography, and early trophies.
Oklahoma State Capitol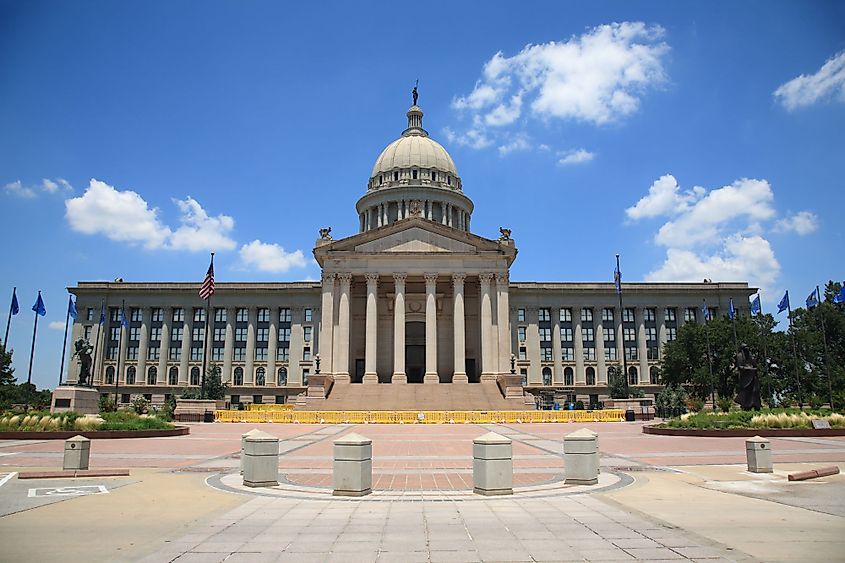 No trip to the state capital would be complete without seeing the Capitol building. Step foot into the only State Capitol building that sits on active oil rigs. Highlights include a tour of the Greco-Roman building, some of the 650 rooms, the dome, and insight into its intriguing history and pathway to becoming the capital.
The largest city in Oklahoma State has an enticing history, a bustling metropolis, and cosmopolitan culture that magnetizes many from all over. With many attractions and natural draws, there is at least one area of interest for all preferences. But enough said the best way to take Oklahoma City's offerings is to plan a trip and see it yourself.