Environment
The Highest Mountains In The Appalachians
At 6,684 feet in elevation, North Carolina's Mount Mitchell tops off the list of highest Appalachian Mountains.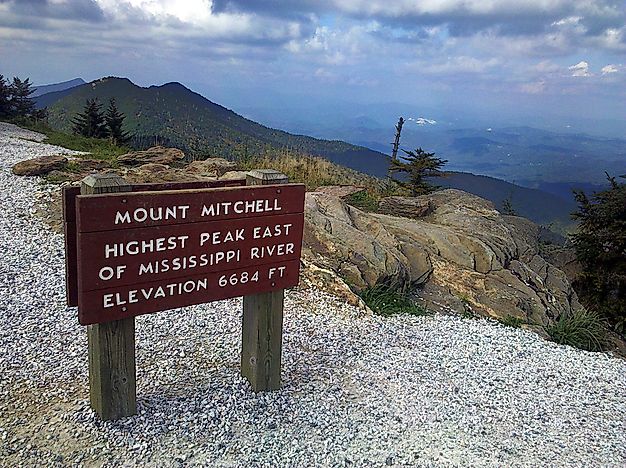 The Appalachian Mountain range in North America runs from Newfoundland, Canada to Alabama, USA, on the east coast. This range is over 1,500 miles long and 100 to 200 miles wide in some areas. These beautiful mountains are full of rivers, valleys, ridges, lakes, fertile soils, and the Blue Ridge forest. The southern portion of this chain is considered one of the most biologically diverse temperate regions in the world and more than 10,000 species make their home here. These mountains kept European settlers from moving west for nearly 100 years until the discovery of the Cumberland Gap that leads into the Ohio Valley. Although the Appalachians are not the tallest mountains in the world due to their age and exposure to erosion over time, they include some impressive peaks. This article takes a look at the highest mountains in Appalachia.
Highest Mountains in Appalachia
The highest mountain in the Appalachian Mountain range is Mount Mitchell at 6,684 feet above sea level. Located in North Carolina, the Mount Mitchell State Park surrounds it. The climate on this peak is closer to that of southeastern Canada than of southeastern US and is classified as humid continental. This mountain is covered with spruce-fir forest although the fir species has nearly been killed off by an invasive insect called the Balsam Woolly Adelgid. Another problem here is the high acid rainfall that is threatening the spruce trees.
Mount Craig

Located about a mile north of Mount Mitchell is the second highest Appalachian peak, Mount Craig. This mountain is 6,647 feet in elevation and within the boundaries of the Mount Mitchell State Park. Tourists are attracted to Mount Craig because of its easy accessibility, a 45-minute hike on the Deep Gap Trail takes visitors to the top.
Clingman's Dome

The third highest summit is Clingman's Dome located in the Great Smoky Mountains region of the Appalachians in Tennessee. This peak reaches 6,643 feet just 4 feet shy of Mount Craig and is covered in spruce-fir forests that have faced the same threats as Mount Mitchell. These forests are typically found at northern latitudes.
Mount Guyot

Next, on the list is Mount Guyot at 6,621 feet. This mountain is also located in the Great Smoky Mountains where several different climates can be found due to varying elevations. For tourists, the Appalachian Trail passes through here. The area is undeveloped and untouched as people never made permanent settlements here.
Other notable mountains within the Appalachian Mountain range include Balsam Cone (6,611 feet), Mount LeConte (6,593 feet), Mount Gibbes (6,571 feet), Potato Hill (6,475 feet), Mount Chapman (6,417 feet), and Richland Balsam (6,410 feet).
Tourism and Environmental Threats
Not only are the Appalachian Mountains a unique biodiverse region, but the culture of the area is also unlike any other. This uniqueness has attracted tourists from all over, which is particularly important to the area as its economy (primarily reliant on logging and coal mining) entered a downturn in the latter half of the 20th century. The biggest draw of the mountains is the opportunity for outdoor recreation like whitewater rafting and hiking. But both the rich biodiversity and tourism as an economic activity are threatened by mountaintop removal. This process is a relatively new method of coal mining that extracts seams of coal by blowing up the tops of mountains. The debris is then pushed into valleys (called valley fill) covering waterways. The result includes high toxins in the water, flash flooding, and deforestation which are detrimental to the mountains, the plant and animal life, and community health. More than 500 mountains (including 1 million acres) and over 2,000 miles of waterways have already been destroyed.
The Highest Mountains In The Appalachians
| Rank | Mountain | Elevation |
| --- | --- | --- |
| 1 | Mount Mitchell | 6.684 feet |
| 2 | Mount Craig | 6,647 feet |
| 3 | Clingman's Dome | 6,643 feet |
| 4 | Mount Guyot | 6.621 feet |
| 5 | Balsam Cone | 6,611 feet |
| 6 | Mount LeConte | 6,593 feet |
| 7 | Mount Gibbes | 6,571 feet |
| 8 | Potato Hill | 6,475 feet |
| 9 | Mount Chapman | 6,417 feet |
| 10 | Richland Balsam | 6,410 feet |
This page was published on July 21, 2016.

This page was last modified on April 25, 2017.