Hawaii – Big Island Map & Description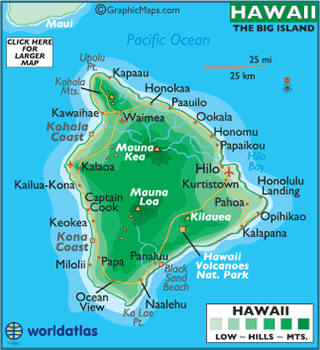 Description
People journey to this island paradise for a wide-variety of reasons, but many (above all other things) want to witness an erupting volcano up-close-and-personal. Well, the 'Big Island' is where that can happen.
Kilauea is one of the most active volcanoes on the planet and this geological wonder, along with all the volcanoes can be safely viewed at Hawaii Volcanoes National Park.
From lava fields and black sand beaches, to quaint little villages and shopping and scenery that defies description, the 'Big Island' of Hawaii is in fact true to its name - and a very Big Show.
If you travel to Hawaii (and you should) don't miss this island! And don't forget to try the Kona Coffee.
ADDITIONAL HAWAIIAN ISLAND PAGES:

BIG ISLAND RECOMMENDATIONS:

18 holes of Golf along the Kohala Coast
Fishing off the Kona Coast
Tour to the snow-capped summit of Mauna Kea
Red-hot lava flow (at night) near Kilauea
A Kona coffee plantation tour