Teddy Roosevelt – 26th President of the United States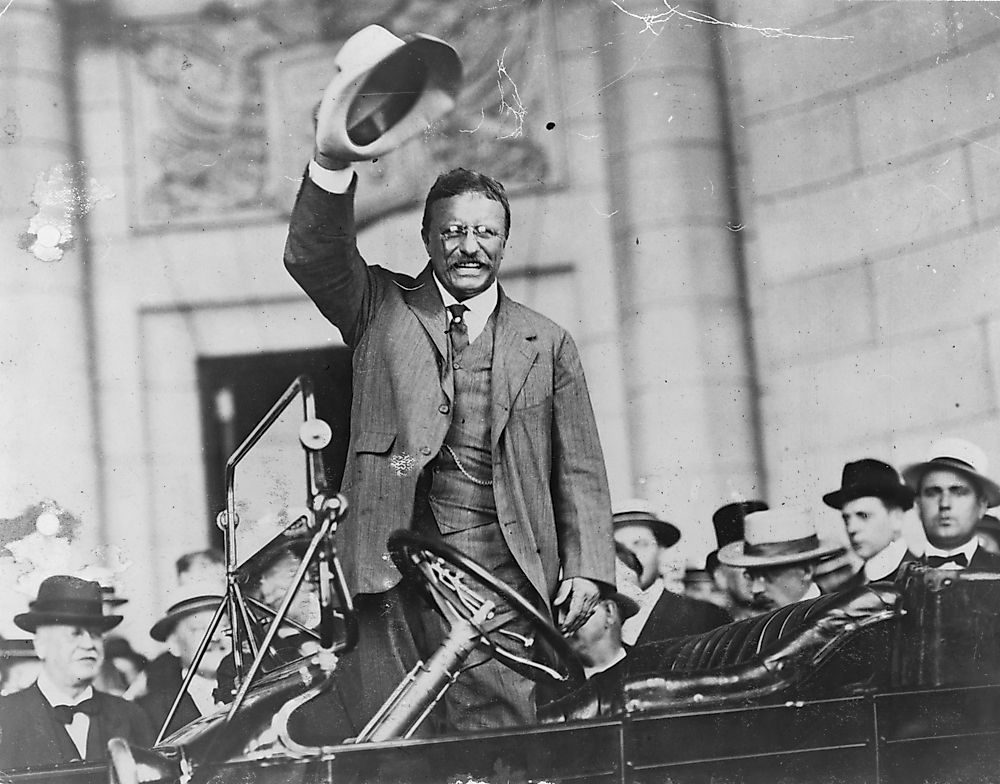 5. Where Was President Roosevelt Born?
Theodore "Teddy" Roosevelt was born into a rich family on October 27, 1858, in Manhattan, New York. Although he suffered from poor health in his youth and childhood (particularly severe asthma), he was a curious and bright child who was fascinated by zoology. He was also rigorously engaged in a variety of physical activities, including camping and boxing. Because of his health conditions, he was mostly home schooled by tutors and his parents. That did not stop him from excelling academically, however. In fact, in 1876, Roosevelt entered Harvard College, and went on to graduate with a Bachelor of Arts four years later. He then went to Columbia Law School, but soon became disillusioned with studies there, and subsequently entered politics.
4. The Beginning of a Political Career
Roosevelt was a politician as much as he was a soldier. Though he had already started his political career serving as a member of the New York State Assembly from 1882 to 1884, his keen interest in the military led him to join the fight in the Spanish-American War. He became Lieutenant Colonel of the Rough Rider Regiment, and contributed greatly to the final success of the Battle of San Juan Hill in the war. Now known as a national war hero, he was elected as Governor of New York in 1898. After the first Vice President of President William McKinley died, Roosevelt was chosen to the Vice President. Later, with the assassination of President McKinley in 1901, Roosevelt became the 26th President of the United States himself. At only 43, he was the youngest man to serve in that position. In 1904, he was popularly elected to serve as the US President once again.
3. What is President Eisenhower Known For Having Contributed?
During his presidency, Roosevelt made a series of active diplomatic measures. His aggressive foreign policies better integrated the young country into world politics. He mediated the Russo-Japanese War, which won him the Nobel Prize, and reached a Gentleman's Agreement on immigration with Japan. Domestically, he centralized the nation's economic control by establishing federal control over railroad construction and put the monopolizing power of large corporations and trusts into check, making him known as the "trust-buster". He also made remarkable contributions in conservation, adding enormous areas of national forests in the West and reserving lands for public use, as well as promoting extensive irrigation projects in the agricultural sector.
2. What Kind of Challenges Did Theodore Roosevelt Face During His Presidency?
When Roosevelt took office, there were a series of domestic issues that were causing public discontent, and required urgent government action. The slum conditions in the cities were deteriorating, the unregulated food industry was creating health issues and arousing public anger, and the rapid industrialization of the nation was causing rampant environmental hazards across the American landscape. Facing these issues, Roosevelt was firm in enforcing reforms. He addressed threats to the general welfare by putting stricter regulations on important industries. The Meat Inspection Act of 1906 and the Pure Food and Drug Act were past, setting clear standards on food processing and pharmaceutical drugs. He also extended federal protection to the natural resources of land and wildlife.
1. Theodore Roosevelt's Death and Legacy
After having suffered a coronary embolism, the 60 year-old Teddy Roosevelt died suddenly in his sleep on January 6, 1919, at his Long Island estate of Sagamore Hill. He was buried at the Youngs Memorial Cemetery in New York. He is remembered not only as a remarkable politician, but as an all-around colorful figure in general. He is celebrated by both the Liberals and Conservatives of his country, a feat few else can claim to achieve. The Liberals praise him for his accomplishments in installing modern welfare programs, and undertaking environmental conservation measures, as well as his dedication to anti-trust reform. Conservatives, on the other hand, admire his commitment to active diplomacy and military action. He is also remembered as a militant, a writer, and an explorer. Roosevelt was included in the famous Mount Rushmore Memorial in South Dakota's Black Hills, along with Presidents George Washington, Thomas Jefferson, and Abraham Lincoln.