Canada's Information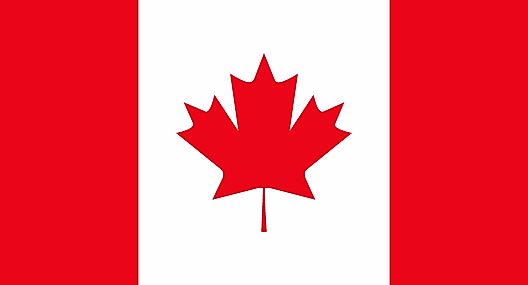 | | |
| --- | --- |
| Land Area | 9,093,507 km2 |
| Water Area | 891,163 km2 |
| Total Area | 9,984,670km2 (#2) |
| Population | 35,362,905 (#38) |
| Population Density | 3.89/km2 |
| Government Type | Federal Parliamentary Democracy (Parliament Of Canada) Under A Constitutional Monarchy; A Commonwealth Realm |
| GDP (PPP) | $1,670.00 Billion |
| GDP Per Capita | $46,200 |
| Currency | Dollar (CAD) |
| More Information | Canada |
| Largest Cities | |
As the second largest country in the world, Canada includes a wide variety of land regions, vast maritime terrains, thousands of islands, more lakes and inland waters than any other country, and the longest coastline on the planet. In essence, Canada is a smorgasbord of landforms.

Significant landforms include the Appalachian Mountains; St. Lawrence River; Canadian Shield; Canadian Arctic Archipelago; Great Lakes; Hudson Bay; Great Plains; Lake Winnipeg; Columbia, Fraser, Mackenzie and Yukon Rivers; Great Bear Lake; Great Slave Lake; Rocky Mountains; Canadian Cordillera and the dozens of volcanoes along the Pacific Ring of Fire.




Appalachian Mountains:


The Appalachians extend from the New England states in the U.S. up through parts of the Canadian provinces of New Brunswick, Newfoundland and Quebec. In Canada, they're mostly rolling hills.



Canadian Arctic Archipelago:


The Canadian Arctic Archipelago is located north of the Canadian mainland on the fringes of the Arctic Ocean. This group of some 36,000 islands is mostly part of the territory of Nunavut. Baffin, Ellesmere and Victoria islands are the largest of the group, respectfully. The climate here features long, cold winters and short, cool summers. The terrain consists of tundra except in mountainous regions of the east.



Canadian Shield:


The Canadian Shield, covering the eastern half of Canada's landmass, is an ancient bedrock base of gneiss and granite covered by a shallow layer of soil. Large areas of coniferous (evergreen) forests and hundreds of rivers and lakes spread across this mostly flat region. Its scattered low-lying mountains include the Laurentian and Torngat ranges.



Canada Cordillera:


The Canada Cordillera extends from the Rocky Mountains to the Pacific Ocean.. The Cordilleras are part of a huge mountain system extending from the Andes of South America to the tip of Alaska. The Canadian Cordillera includes ranges of the Rocky Mountains, the Coast Range and varied coastal mountains ranges and their many active volcanoes.



Great Slave Lake:


Great Slave Lake is the second-largest lake in the Northwest Territories of Canada behind Great Bear Lake. It's the deepest lake in North America at 614 m (2,015 ft), and the ninth-largest lake in the world.



Great Bear Lake:


Great Bear Lake is the largest lake entirely within Canada; the third largest in North America, and the seventh largest in the world. The lake has a surface area of 31,153 sq km (12,028 sq miles) with a maximum depth of 446 m (1,463 ft).



Great Plains:


The Great Plains slope east from the Rockies and extend to the edge of the Canadian Shield and the western edges of the Appalachians. The land is generally smooth with large treeless areas and sloping shallow river valleys. They extend across parts of Alberta, Manitoba, Northwest Territories and Saskatchewan, and vast parts of the north central U.S.
Canada provinces, territories & their capitals
Provinces & Territories Of Canada