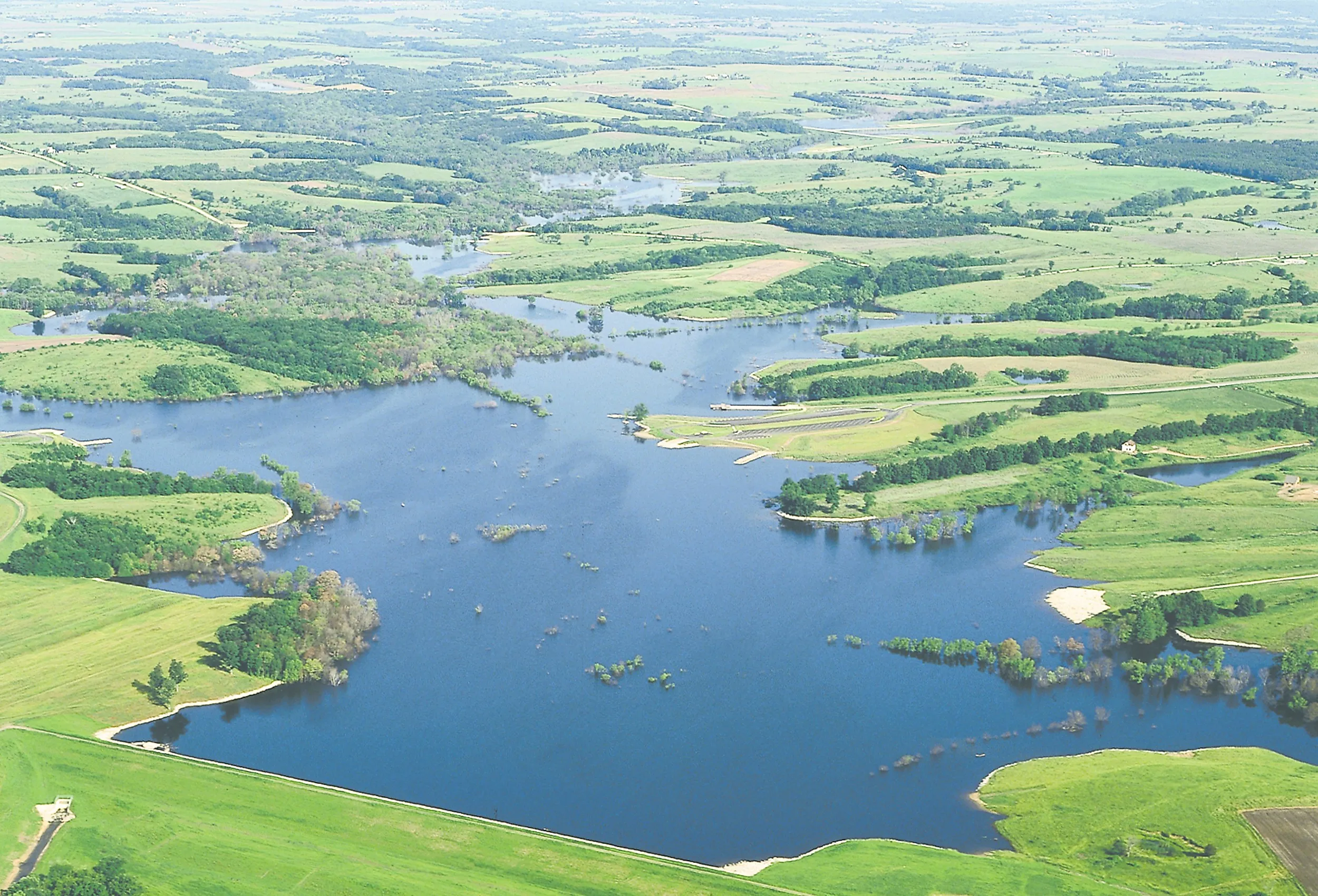 8 Most Beautiful Lakes In Iowa
Although known for its miles of farmlands and historic covered bridges, the Midwest state of Iowa is also home to several beautiful lakes. If you live in Iowa, are vacationing there or just driving through on your way to another destination, take some time to explore one or two of the state's lakes. Whether you want to spend the day on a large lake amongst wildlife and hardwood forests or relax near a smaller body of water in an urban setting, you will have no problem finding it in Iowa. For those looking to use the lake as a place to regroup and recharge during a busy vacation or as a place to try out adventurous activities, such as skiing and sailing, check out the most beautiful lakes in Iowa.
Big Spirit Lake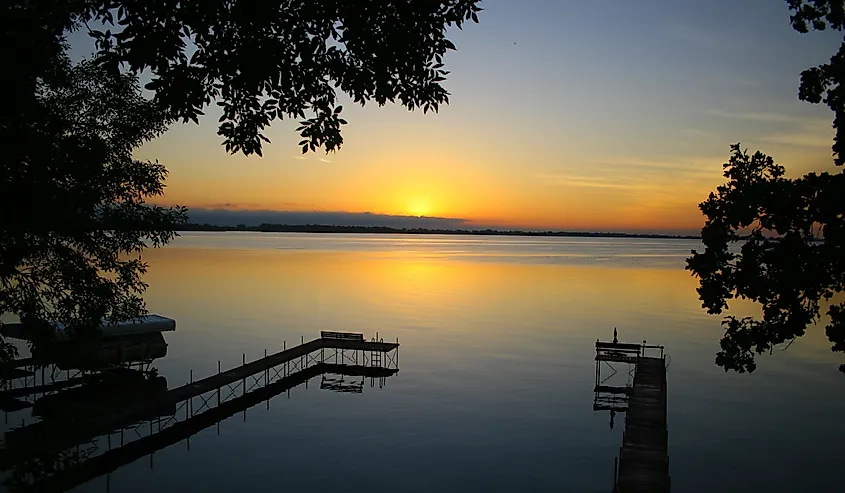 Featuring almost 6,000 acres of water, Big Spirit Lakes is one of the state's natural lakes. Located in Dickinson County, near the Minnesota border, the lake has no motoring restrictions. You can enjoy a variety of activities, such as boating, fishing, camping, and swimming on the lake during the warmer months of the year.
If you have kids, there are playgrounds available around the lake, as well as plenty of restrooms for diaper and swimsuit changes. Have a leisurely family lunch at one of the several picnic areas, or take a quiet hike on one of the trails. There are several parks near Big Spirit Lake, including Mini-Waken State Park, Marble Beach State Recreation Area, Gull Point State Park, Pikes Point State Park, Gull Point State Park, and Templar State Recreation Area.
Rathbun Lake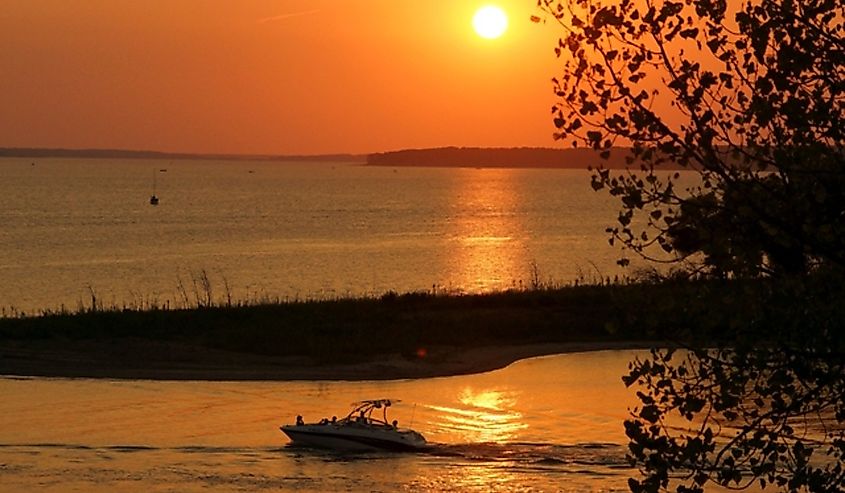 Situated in Honey Creek State Park, Rathbun Lake boasts gently rolling hills in the southern part of Iowa. The 11,000-acre lake offers visitors the opportunity to do a wide variety of activities. If you are a camper, take advantage of the park's 700 campsites, many of which are on scenic Rathbun Lake. You can also go fishing, picnicking, boating, hiking, and biking, depending on if you are in the mood for more relaxing or adventurous activities. For those who prefer to enjoy the lake from less rustic accommodations, Honey Creek Resort is available. You can also launch your watercraft of choice from its marina.
Lake Sugema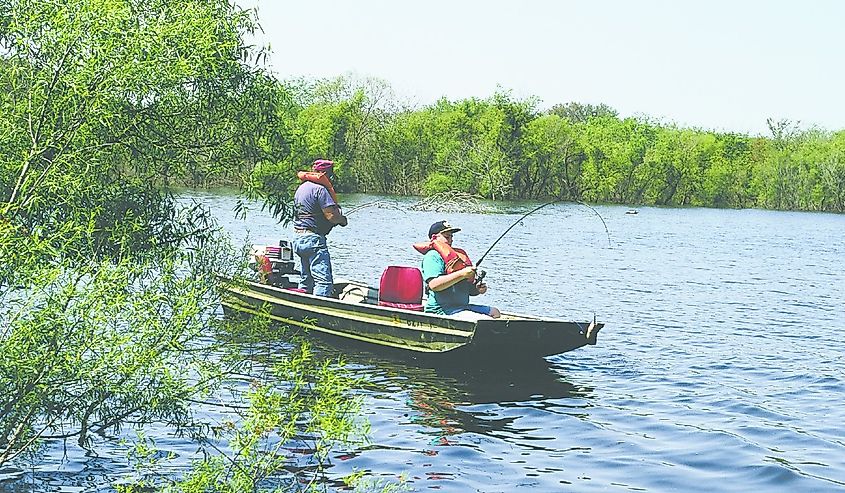 Lake Sugema is one of Iowa's scenic artificial lakes and is almost 600 acres in size. Since the body of water is next to the Lake Sugema Wildlife Management Area, visitors are often treated to bird, deer, geese, and other types of wildlife sightings.
Situated near the Lacey Keosausaqua State Park, Lake Sugema also features an accessible pier and a fishing jetty for the fisherman in your family. Other lake amenities include a picnic area, hiking trails, a hard surface boat ramp, camping spots, and plenty of opportunities for shore fishing. For your convenience, the lake has a fish cleaning station so you can cook your catch over an open fire or a grill right away. When it comes to motoring restrictions, there is no size limit, and the lake has no wake.
Lake Manawa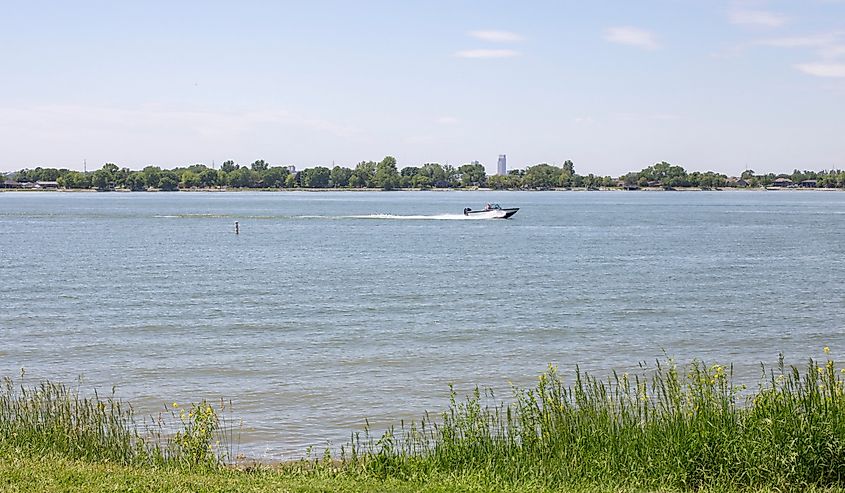 Located in the western part of Iowa, eye-catching Lake Manawa is one of the state's top bodies of water for all types of boating, hiking, outdoor activities, and relaxing among various types of wildlife. Surrounded by 1,500 acres of land, the area is an important outdoor recreation spot in the state.
Lake Manawa State park features a vast trail system, which winds through Council Bluffs. Lake Manawa is also home to the 18,000-square-foot Dream Playground, which caters to kids of all ages. If camping is your thing, you can rent a campsite on Lake Manawa. Other activity options include fishing, all types of boating, and swimming.
Black Hawk Lake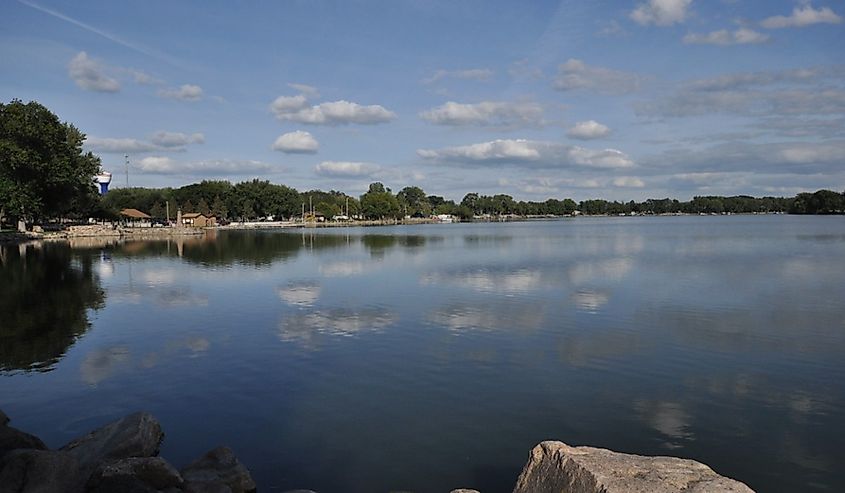 Surrounded by the scenic Stubb Severson Nature Trail and the Sauk Rail Trail, Black Hawk Lake runs through the city of Lake View in the central portion of the state. Known as the southernmost glacial lake in the US, Black Hawk Lake caters to a wide variety of outdoor activities.
For instance, you can set up camp along the lake, taking advantage of the campground's electric and non-electric sites. Sports lovers will enjoy the lake's disc golf course, while fishermen can fish for channel catfish, sunfish, and bluegill, among many other types of fish. Spend the day swimming in Black Hawk Lake, and view waterfowl, songbirds, deer, and other types of wildlife along the trails. There are no motoring restrictions on the 957-acre lake, and there are four boat ramps available for visitor use.
Lake Red Rock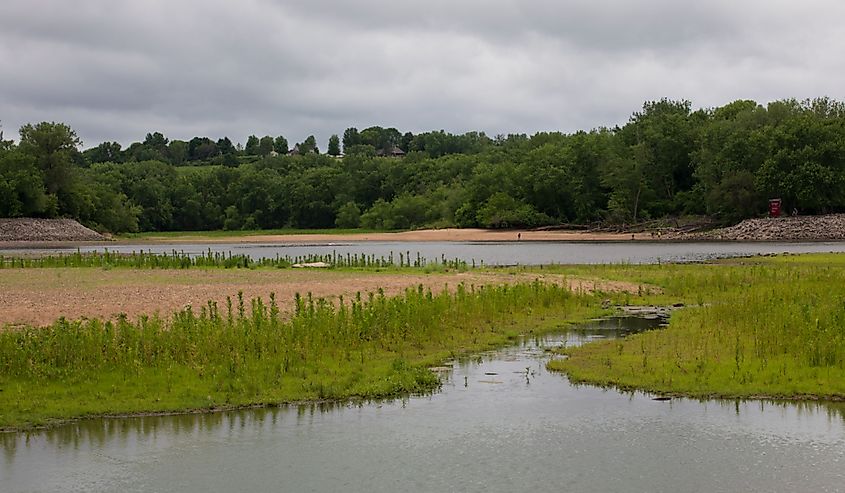 Iowa's largest lake, Lake Red Rock has more than 15,000 acres of water and over 35,000 acres of surrounding land, combining the best of both worlds for visitors of all ages. Along with endless opportunities for swimming, boating, and fishing, Lake Red Rock also features several interpretive programs and a 106-foot observation tower at Cordova Park. Visitors to the lake can also enjoy access to a paved 13-mile hiking and walking trail. View white pelicans, bald eagles, and other types of wildlife as you traverse the lakeside paths.
Lake Red Rock is ideal for kayaking, canoeing, motor boating, and water activities such as skiing and paddleboarding. The lake is also home to a wide variety of fish, such as walleye, catfish, and northern pike.
Big Creek Lake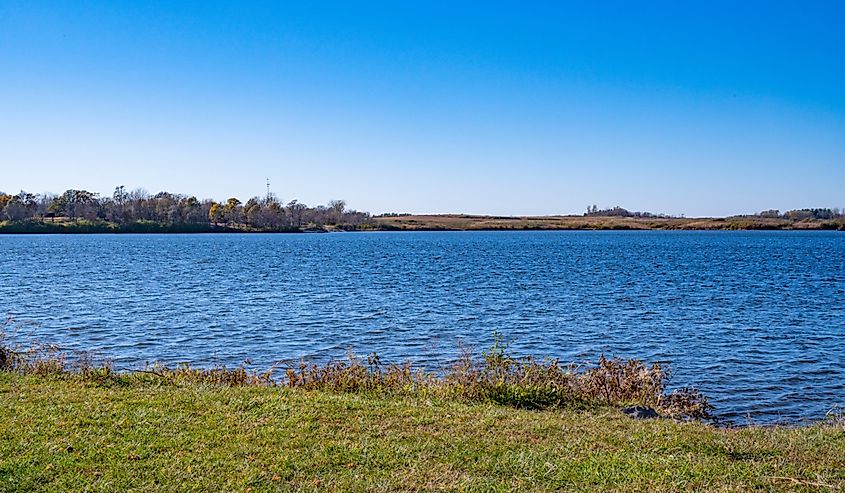 Located just north of Polk City, Big Creek Lake is near Big Creek State Park and all of the outdoor recreational opportunities that it offers. The 814-acre lake features a wide range of amenities for visitors, including boat access, a fishing jetty, a beach, a playground, and a picnic area.
You can rent a boat onsite, as well as fish from the lake's shoreline. A handy fish cleaning station is available for fishermen, allowing you to enjoy the fresh catch from your campsite. View beautiful plants and other types of foliage while relaxing on the beach, or during a picnic lunch. Take a walk along the lake's 26-mile paved Neil Smith trail.
Lake MacBride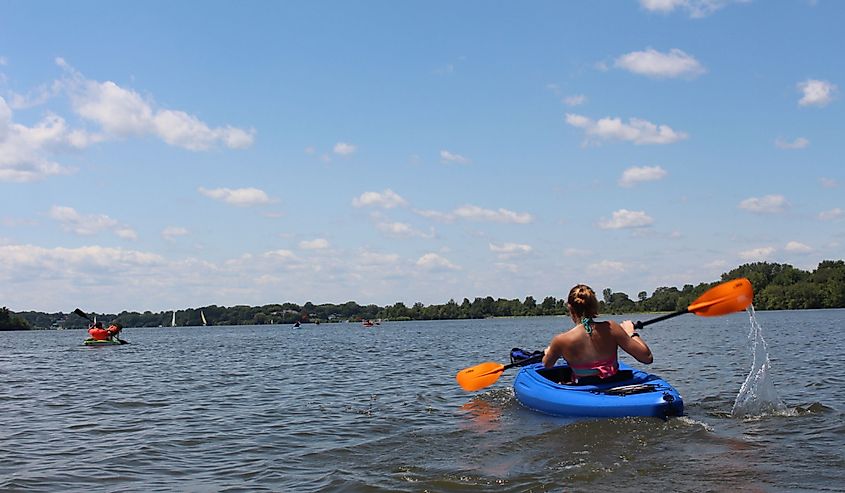 Located inside Lake MacBride State Park, Lake MacBride is split into northern and southern units, each offering unique amenities and recreational activities. The artificial lake also features a modern campground, a swimming beach, and boat rentals.
Fishermen can fish for Kentucky spotted bass, walleye, channel catfish, and musky in Lake Macbride, either from a boat, a fishing pier, or along the shoreline. If you get hungry during your visit to the lake, enjoy lunch at one of the scenic picnic areas. More than seven miles of hiking and walking trails surround the lake, allowing visitors to explore an Iowa prairie as well as an oak and hickory forest. Watch for songbirds, osprey, and other types of wildlife as you wind through the trail.
No matter what portion of Iowa you are visiting or passing through, you will find a natural or artificial lake that is both diverse and easy on the eyes. During the late spring and summer months, take a dip in the water, or observe wildlife from a paved or rustic trail. The winter months are ideal for exploring the lakefront during a cross-country skiing or snowmobiling adventure.