World Facts
The 10 Largest Lakes In Iowa
The largest lake in Iowa is Lake Red Rock.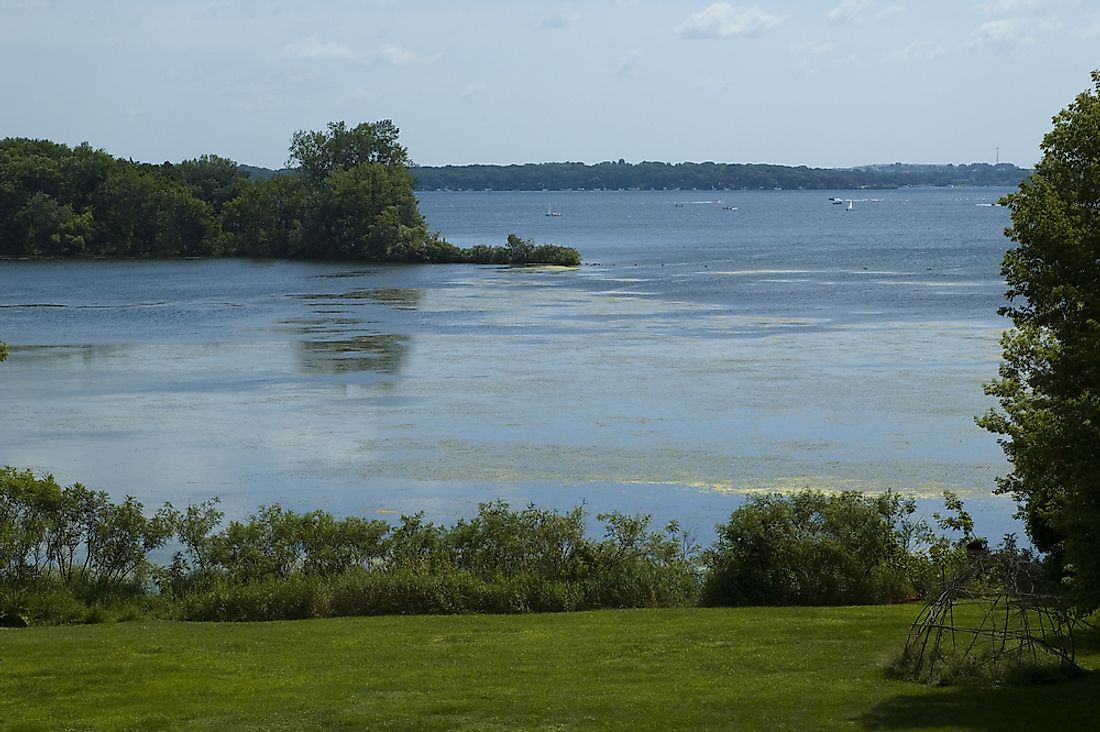 Iowa has numerous lakes, both artificial and natural. The three largest lakes in the state are artificial reservoirs created by the construction of dams on rivers flowing through the state. The dams and reservoirs were built to control floods, supply water to nearby towns and agricultural fields, and provide recreational opportunities to locals. Most of Iowa's natural lakes have a glacial origin including the Iowa Great Lakes. Below is a list of the largest lakes of Iowa.
The Five Largest Lakes Of Iowa
1. Lake Red Rock
The largest lake in Iowa, Lake Red Rock, is an artificial reservoir with an area of 283.3 square km. It was born of the Red Rock Dam on the Des Moines River in 1969. Various recreational activities are available on the lake's shores like camping, boating, hiking, fishing, etc. Several wilderness areas including the Elk Rock State Park are nearby.
2. Rathbun Lake
With an area of 84.98 square km, Rathbun Lake is Iowa's second biggest lake. It is also an artificial lake created for flood control, fish and wildlife enhancement, and for providing recreational opportunities to residents. Rathbun Lake is located in Appanoose County. Visitors to the lake can enjoy boating, camping, sightseeing, picnicking, and other recreational activities. Many species of mammals, birds, and fish like white-tailed deer, wild turkey, Canada geese, channel catfish, walleye, etc., live in and around the lake.
3. Saylorville Lake
The Saylorville Lake is the third largest lake in Iowa. It occupies an area of 24 square km. The lake came from the construction of the Saylorville Dam on the Des Moines River to control floods. Several recreational areas exist along the shores of the lake including campgrounds and boat ramp facilities. Outdoor activities like hiking, disc golf, biking, boating, fishing, etc., can be enjoyed in the area. Many species of fish like northern pike, largemouth bass, brown trout, white bass, crappie, bluegill, etc., thrive in the lake.
4. Big Spirit Lake
The Big Spirit Lake is the largest natural lake in Iowa and the fourth biggest lake in the state. It has an area of 23 square km. It is one of the Iowa Great Lakes, a chain of three natural lakes along the Iowa-Minnesota border. Geologically, the Big Spirit Lake has its origin in a glacial pothole. Over 40 fish species thrive in the lake which is a popular fishing destination. Kiteboarding is another favorite activity in the lake region.
5. West Okoboji Lake
Another member of the Iowa Great Lakes, the West Okoboji is also a natural lake that has an area of 15.57 square km. The land around the lake is the territory of the Dakota Sioux people. The West Okoboji Lake is also Iowa's deepest lake. It has a maximum depth of 136 feet and a mean depth of 39 feet. Motorboating, water skiing, sailing, and swimming are some of the activities that can be enjoyed by visitors to this lake. It is also a popular fishing destination.
The 10 Largest Lakes In Iowa
| Rank | Lake In Iowa | Surface Area in square kilometres |
| --- | --- | --- |
| 1 | Lake Red Rock | 283.3 |
| 2 | Rathbun Lake | 84.98 |
| 3 | Saylorville Lake | 24.00 |
| 4 | Big Spirit Lake | 23.00 |
| 5 | West Okoboji Lake | 15.57 |
| 6 | Clear Lake | 14.91 |
| 7 | Okamanpeedan Lake | 9.30 |
| 8 | East Okoboji Lake | 7.42 |
| 9 | Lost Grove Lake | 6.87 |
| 10 | Lost Island Lake | 4.70 |
About the Author
Oishimaya is an Indian native, currently residing in Kolkata. She has earned her Ph.D. degree and is presently engaged in full-time freelance writing and editing. She is an avid reader and travel enthusiast and is sensitively aware of her surroundings, both locally and globally. She loves mingling with people of eclectic cultures and also participates in activities concerning wildlife conservation.
This page was last updated on April 11, 2019.
Citations
Your MLA Citation
Your APA Citation
Your Chicago Citation
Your Harvard Citation
Remember to italicize the title of this article in your Harvard citation.