Northern California, or locally NorCal, comprises the 48 northernmost counties of the state. The San Francisco Bay Area, California's area south of the Cascade Range, the Metropolitan Fresno area, and the Greater Sacramento area hold the most populations. This portion of the state also hosts unique natural beauty and is home to the majority of the Sierra Nevada, Yosemite Valley, a portion of Lake Tahoe, redwood forests, and much more.
Visit one of its beautiful lakes for a relaxing weekend getaway or a summer vacation. Choose one of these geological wonders, from glacial lakes to scenic reservoirs, for your next outdoor outing for a stunning experience amid the best of NorCal's nature.
Donner Lake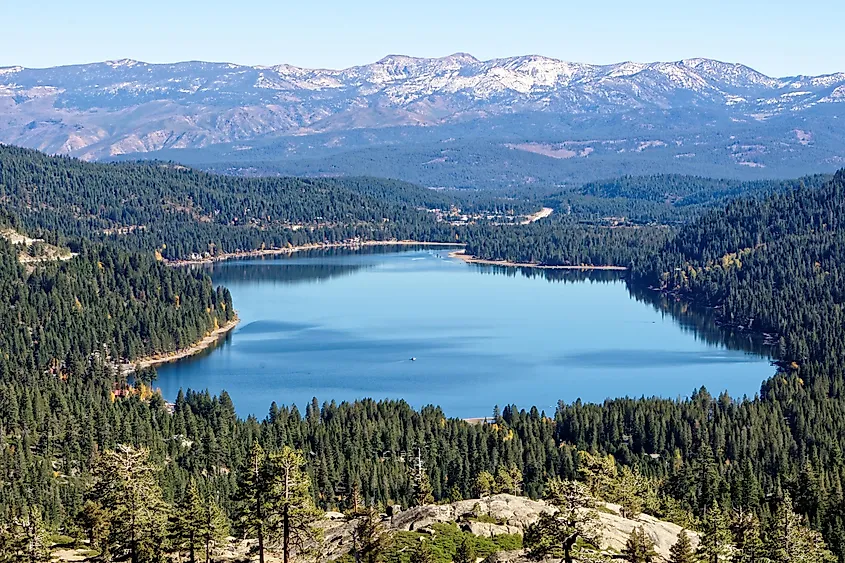 The beautiful hidden lake along Northern California's eastern slopes of the Sierra Nevada was not named after the Rendeer but the ill-fated Donner Party. The lake with its alpine beauty is strewn with 155 campsites along the shores for days of camping, fishing, boating, and picnics amid nature. This truly unique lake, with its rejuvenating ambience and mountain air, will work wonders for your mind and lungs.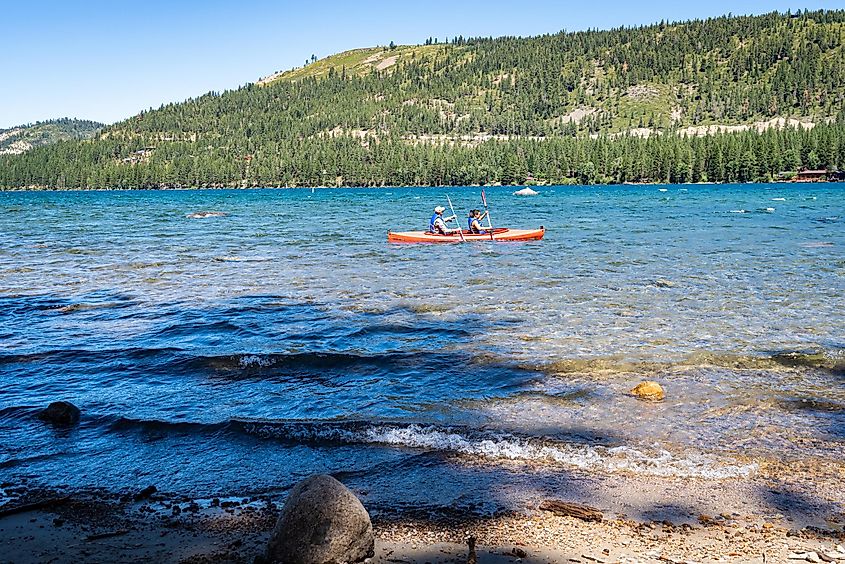 Find the scenic lake just a hop over from Truckee, a town in its own right, and enjoy fishing for rainbow and brown trout and Kokanee salmon. Venture into the wild Donner Memorial State Park for more picnics as well as wet activities like kayaking, water skiing, and jet skiing. There are 2.5 miles of hiking trails, including those around the lake for wistful strolls, and you can kick up your feet in style at a condo or a vacation rental around the lake.
Gull Lake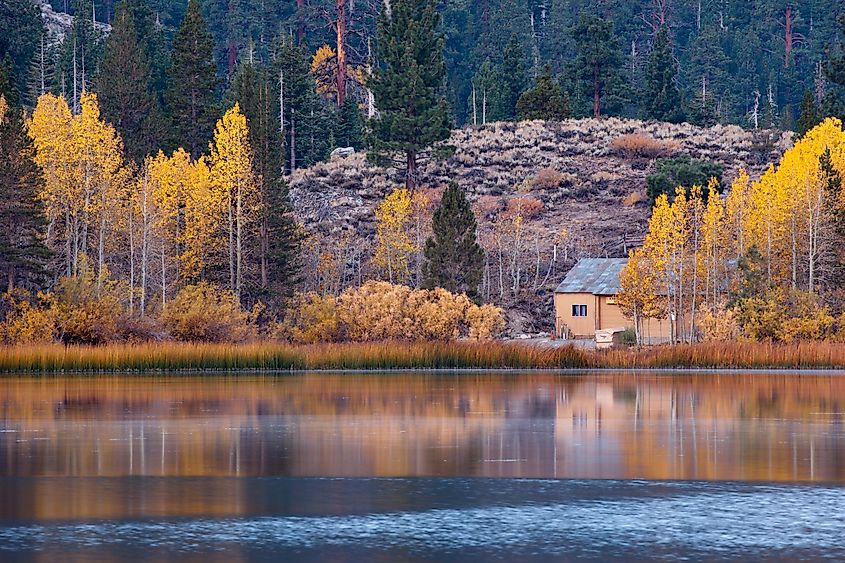 The lake nestled in the Eastern Sierra of California does this "Switzerland of California" region justice, with scenic shores amid jagged peaks and high-altitude attractions. Gull Lake is one of the chain of June, Gull, Silver, and Grant lakes with endless hiking trails around, like the favorite June Lake Loop for nature lovers. Turn on your mode of relaxation and utilize the Gull Lake Campground, making a short trip to June Lake, a rustic little mountain town, for provisions.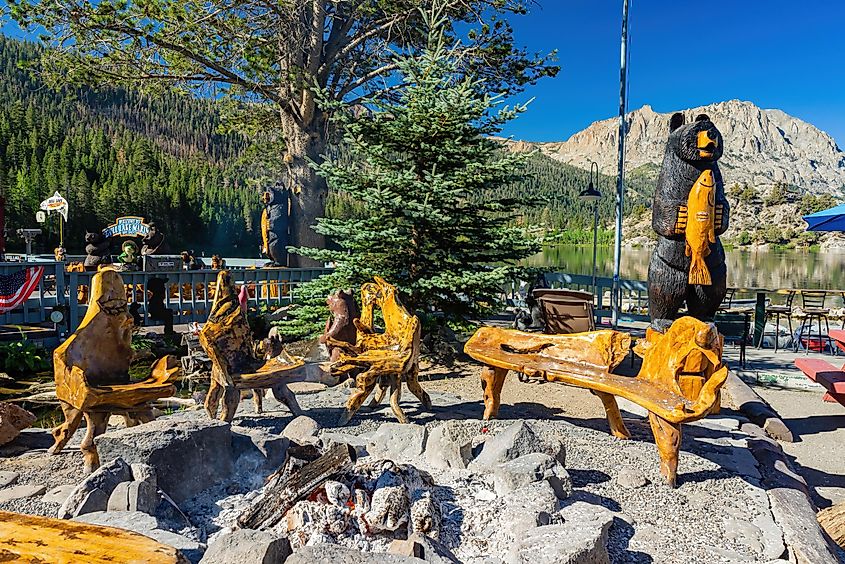 Escape the hustle and bustle of the city amid breathtaking scenery with popular pastimes like fishing, swimming, and canoeing. Reel in some rainbow trout and cook it right along the shores for the coziest evening by a campfire. There are several beaches for summertime getaways where you can sunbathe and take a refreshing dip post-hike. You can also rent a canoe or paddleboard from the Gull Lake Marina, which is also a beautiful spot to watch the sunset.
Lake Almanor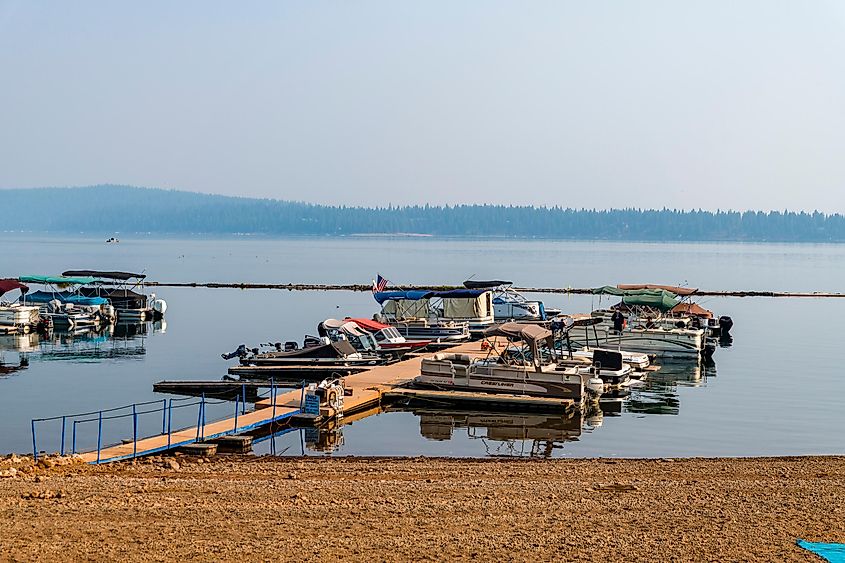 Lake Almanor was named after the power company vice president's three daughters, Alice, Martha, and Eleanor. He created a large reservoir by damming the Feather River in 1914; it is the state's widest lake as well as one of Northern California's most breathtaking. The scenic locale is a water sports enthusiast's playground, and there are feel-good pursuits along the vast shorelines with hiking trails and mountain views.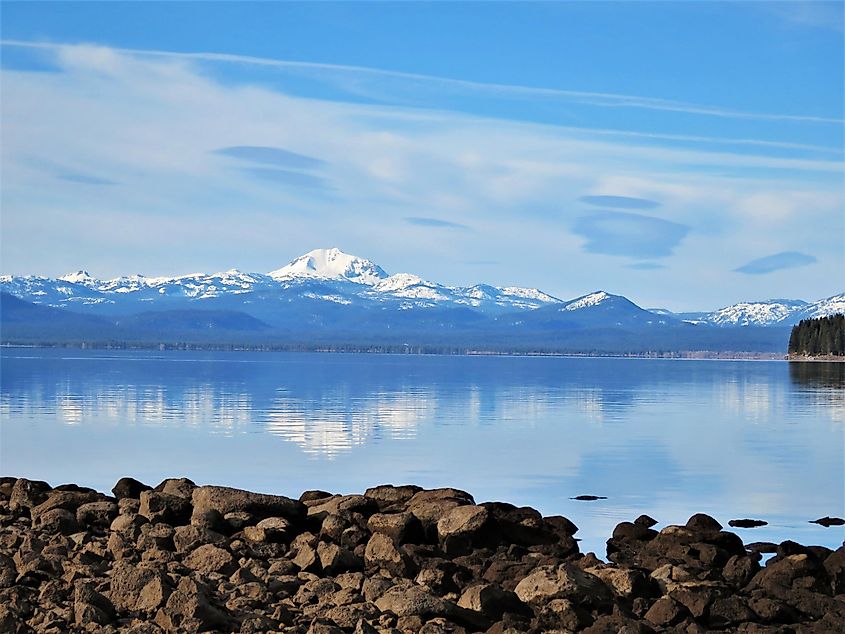 With a surface area of 44 square miles (113.3 square kilometers), enjoy plenty of space for recreation without crowds and unobscured views while sailing, swimming, or simply relaxing under the sun. Dive from the boat in the middle of the ocean-like lake, which holds 1,308,000 acre-feet (1.613109 m3) of water with up to 90 feet of depth. This powerful reservoir provides hydroelectric power generation, but you can consider it the most beautiful lake and leave it at that while enjoying camping, trekking, and fishing.
Lake Berryessa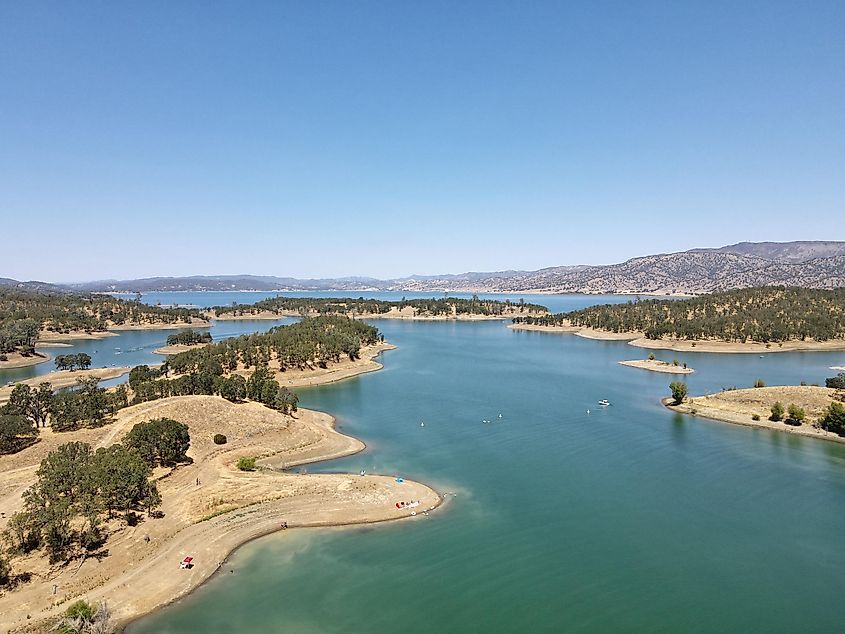 This beautiful lake with a picture-worthy name is the largest in California's Napa County, which is already telling of the many activities you can enjoy on the locale. Come to the immense Lake Berryessa and enjoy endless water pursuits, vineyard visits, tastings, sightseeing hikes, and sunbaths.
With an area of 32.3 square miles and about 165 miles of scenic shoreline, you can swim and splash without others, enjoy a private picnic, and hike to your heart's content. The reservoir also supplies water and hydroelectricity to the San Francisco Bay Area's North Bay area, while tourists come for boating that feels like an ocean cruise.
Lake Helen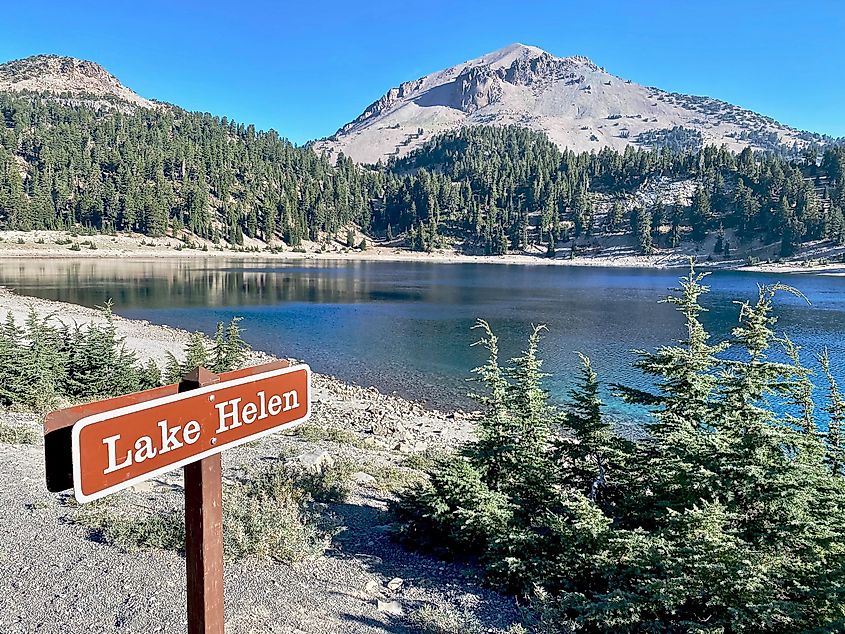 While some say that Lake Helen's beauty is unbeatable, its scenery will stun you, no questions asked. The lake was named after the first woman to ever reach the summit of Lassen Peak in 1964, Helen Tanner Brodt. Sightsee this summit today in Lassen Volcanic National Park, south of Lassen Peak and west of Bumpass Mountain. The natural lake was formed when water filled an earth's cavity by way of glacier movements.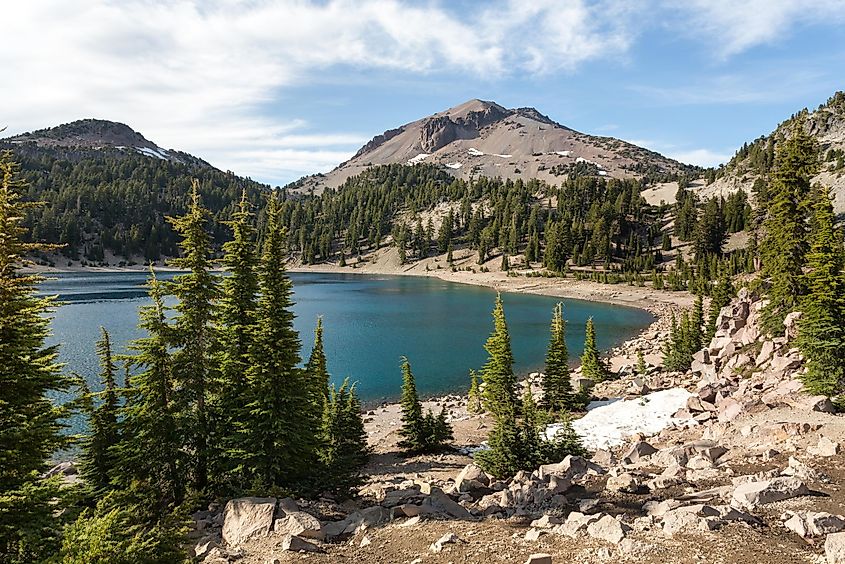 Thanks to the mineral-rich waters of the glacier lake, the breathtaking scenery of the translucent sapphire effect is a beautiful sight to behold. Moreover, the higher elevation keeps Lake Heenan in a frozen state for most of the year, amid the snowiest region of the state. It lacks in pursuits but makes up in sights, which you can attain on a hike from the Lassen National Park to the Lassen and Eagle Peaks for an eagle's eye view of this beautiful lady.
Lake Oroville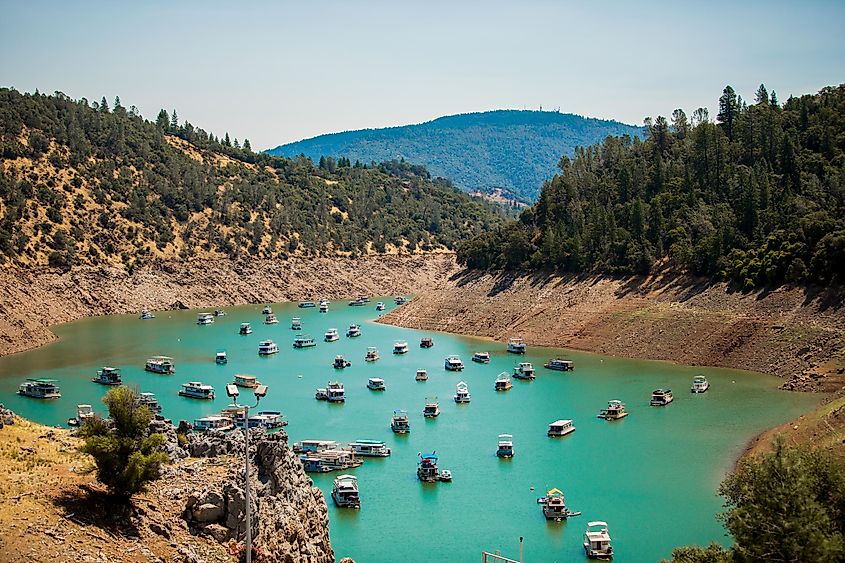 The widely sought-after lake is one of the best in Northern California to play, boat, and camp around. Check out this favorite destination for generations along the Feather River for yourself; it is a nationally renowned area for bass fishing and coho salmon, supplied from the Feather River Fish Hatchery. The sizable reservoir is also a water skiers and wakeboarders' haven, with a surface area of 25 square miles.
The lake, part of the California State Water Project, also helps prevent saline intrusion into the Sacramento-San Joaquin Delta and protects a habitat for fish and wildlife. Lake Oroville was created by impounding the Feather River with the Oroville Dam in northern California's Butte County. The shores also serve as a state recreation area for discreet tourism.
Shasta Lake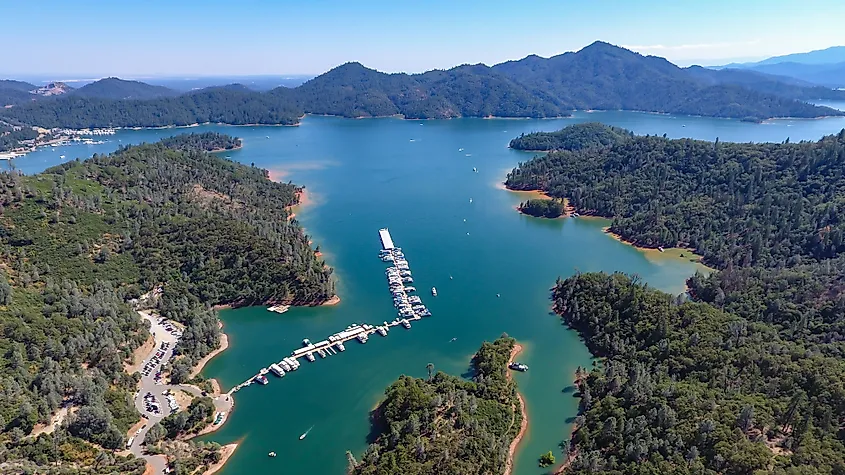 The divine Northern California lake is renowned as a US vacation destination as well as a popular day trip among locals. Shasta Lake, with a span of approximately 30,000 acres, is the state's largest reservoir and your ultimate playground to savor the serene surroundings through favorite pursuits. Enjoy fishing, swimming, boating, water skiing, camping around the lake, and many trails through the Shasta-Trinity National Forest. Take a journey to this paradise for recreation and NorCal's favorite camping spot.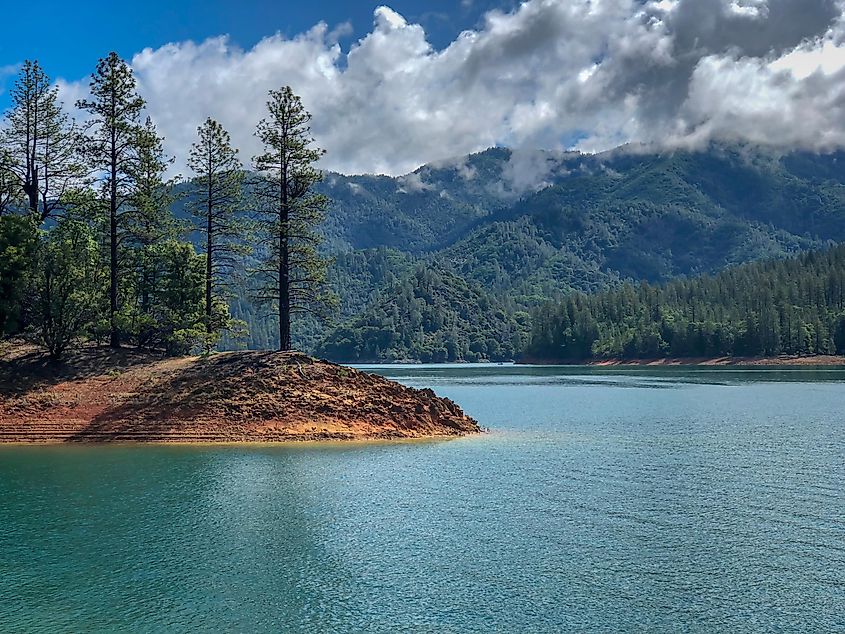 Enjoy some fancy-pants time on a rented houseboat over a weekend trip for a few days amid vast waters. There are also plentiful accommodations around, from hotels to cottages, all the way down to the Sacramento River. The Shasta Dam, the sixth largest in the US, impounded the river to create this largest artificial lake, which is also used to generate hydroelectricity, store water, and prevent floods in the Sacramento Valley.
Lake Tahoe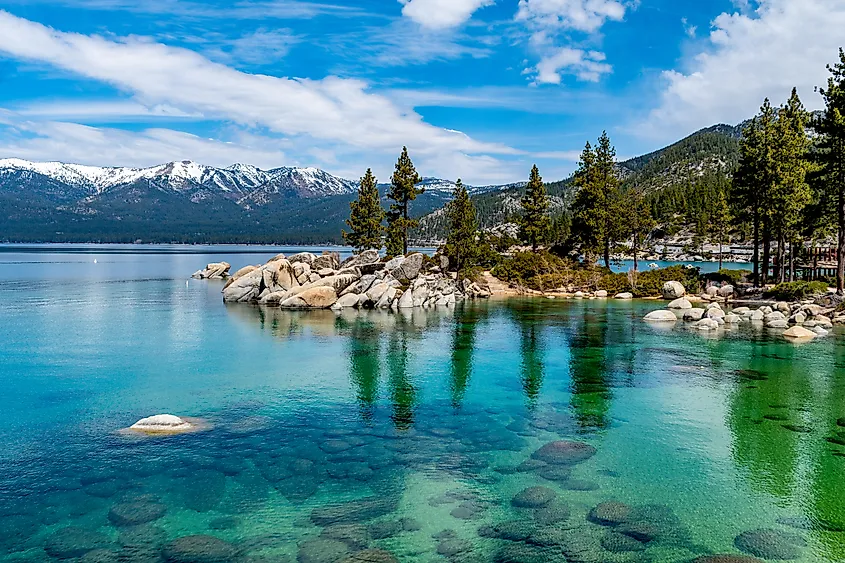 Lake Tahoe is a one-of-a-kind destination, with some of the best swimming, boating, and hiking in the whole nation. With a moniker like "Jewel of the Sierra," world-wide fame, and weekend crowds of locals, taking off a few days from work is worth it. NorCal's second-biggest lake spans a surface area of 191.58 square miles (496.2 square kilometers), making it truly unbeatable for outdoor activities.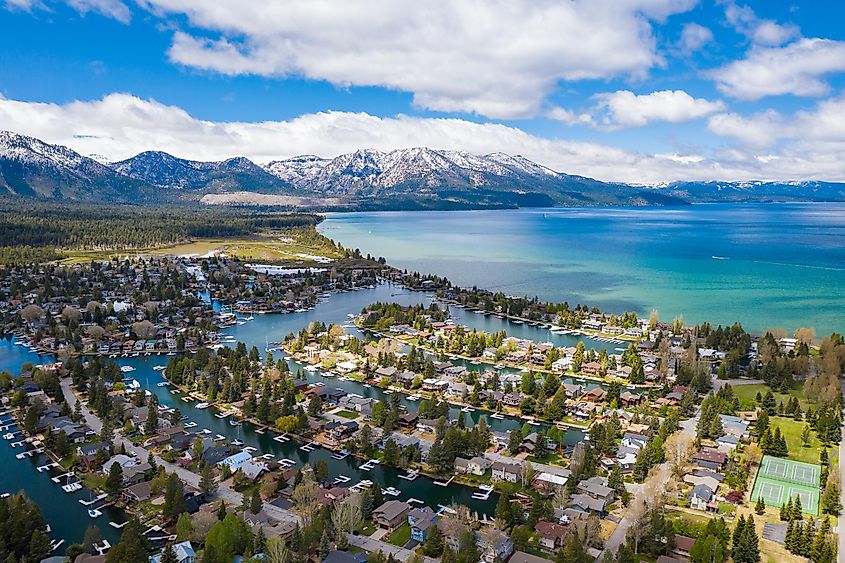 Lake Tahoe is also the largest freshwater lake in terms of water volume and one of the US' deepest lakes, with a volume of 36.15 cubic miles, or 150.7 cubic kilometers. Find this national treasure in the scenic Sierra Nevada, along the Nevada border with California. Enjoy easy access and the fun fact that the distinct lake is 99.994% pure, whereas distilled water is 99.998% pure.
Mono Lake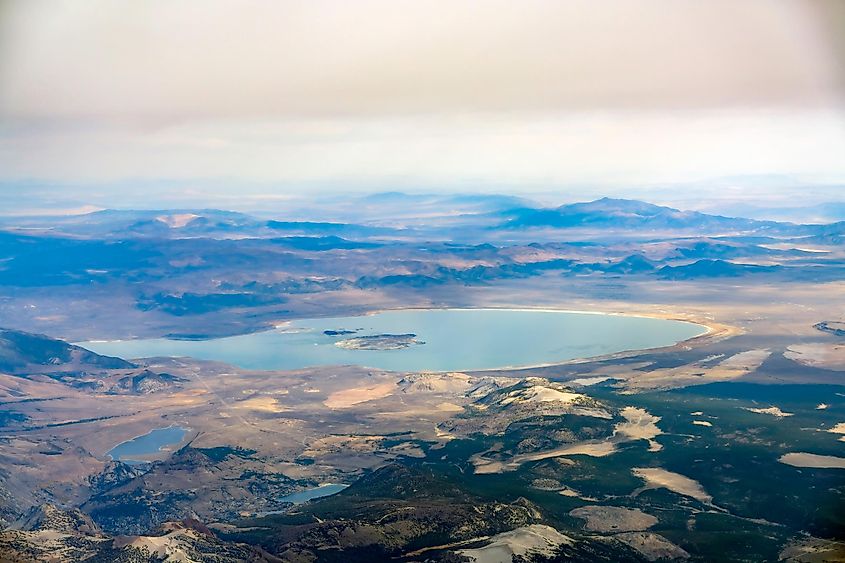 Find this beautiful, ancient saline lake on the edge of California's arid Great Basin, amid snowy Sierra Nevada mountains. The uninhabited lake lacks fish but hosts trillions of brine shrimp and millions of birds. Sightsee the impressive tufa towers, the tall calcium carbonate or limestone columns that reach from below lake level and are made from spring water and saline lake water chemical reactions.
The drop-dead gorgeous scenery, along with a wide array of wildlife, makes for one hell of a destination and an imminent getaway if you already live in this part of the state and haven't experienced the sight. There are free naturalist-guided walks around the lakes to see and learn about the strange tufa towers, as well as a Lundy Canyon bird walk. The Mono Basin National Forest Scenic Area Visitor Center is the first national scenic area in the US, with exhibits on the lake's history, geology, and wildlife, as well as an interpretive trail.
Trinity Lake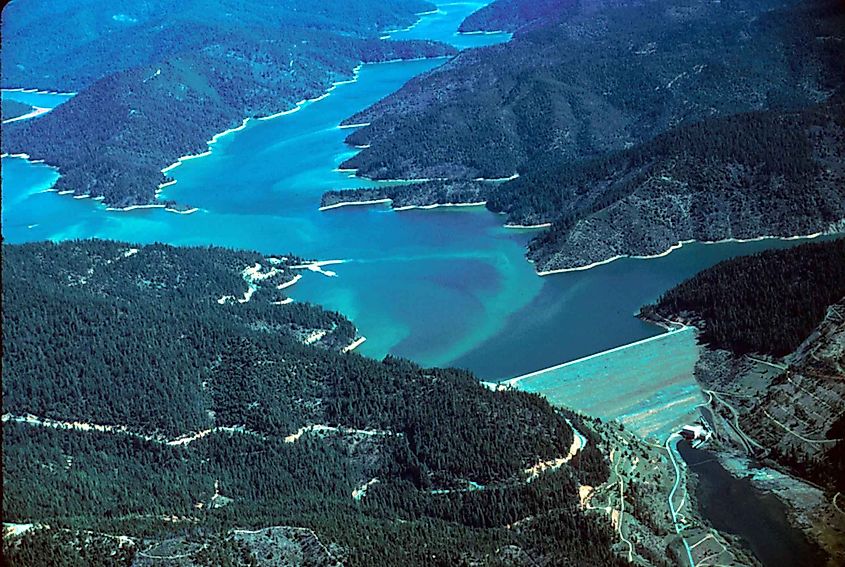 Not far from Lake Shasta, Trinity Lake is your getaway to the greatest of the outdoors on the Trinity River. Enjoy everything from endless water adventures to getting lost in the surrounding red woods along the hiking trails. Trinity Lake is one of California's biggest reservoirs and serves for irrigation and hydroelectric generation in Trinity County, with some of Northern California's best swimming along the river and fewer crowds than around Lake Shasta.
Take a long and winding road to the shores of Trinity Lake, once formed by damming the river into one of NorCal's largest and most beautiful reservoirs. Get away from it all at the man-made lake with a surface area of 25.8 square miles and a 2,447,650-acre capacity, with a choice of pursuits like going for a soak, fantastic water skiing, and scenic boating around its many arms and crystalline inlets.
Clear Lake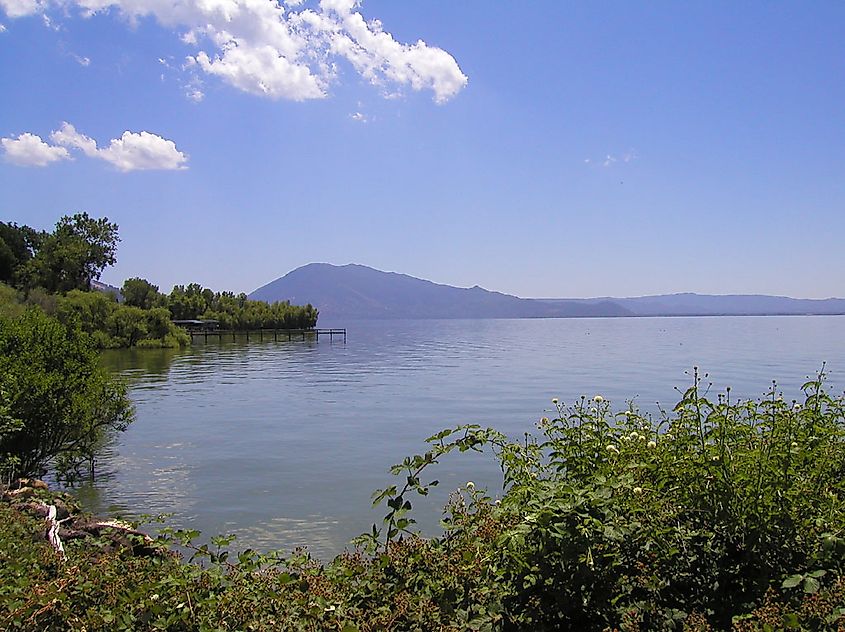 One of Northern America's oldest lakes, Clear Lake is about 19 by 6 miles large and a beauty to behold, regardless of the season. This largest naturally occurring freshwater lake, which is wholly within the Golden State's borders, spreads between Napa County and San Francisco. Enjoy easy access to the wine-drenched region and the entertainment of big city life, depending on your choice of setting base.
Visit Clear Lake during the summer and dive into fun water pursuits amid a total surface area of 68 square miles or 180 square kilometers. The 2.5-million-year-old lake is your glorious escape for fishing, with largemouth bass, bluegill, carp, crappie, and catfish. The basin is a year-round habitat for populations of pelicans, ducks, egrets, blue herons, ospreys, and bald eagles. You can also catch sight of the modest mountain lions, deer, bears, raccoons, and other animals.
These beautiful lakes are sprinkled throughout the north of the state for your ultimate convenience on your next weekend escape to the greatest of Northern California's outdoors. Enjoy water pursuits and recreation amid mountain vistas and with nearby flowing rivers, redwood forests, and valleys.
Set camp near the shores for easy access to fishing, boating, and sunbathing, as well as hiking around the lakes. With many rentable cabins and cottages and nearby towns with hotels, you can kick up your feet in any style to spend a fun weekend by the lake or enjoy a wide range of pursuits for your next best vacation in NorCal.