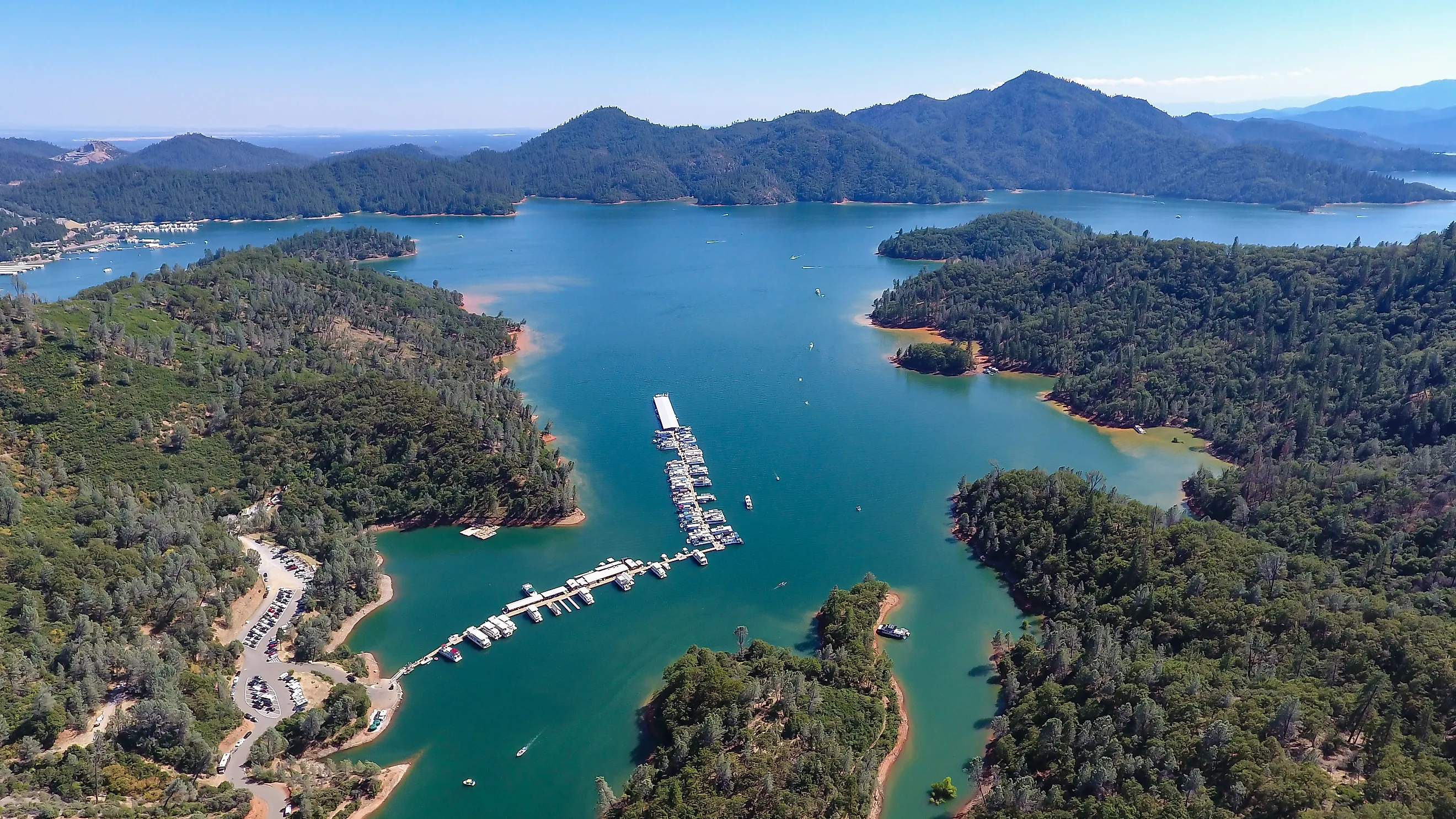 Shasta Lake is a reservoir in Northern California, located in Shasta County. It was created in 1944 by the impounding of the Sacramento River via the Shasta Dam, the ninth tallest dam in the United States. Shasta Lake provides both flood control and electricity through the Shasta Power Plant and supplies irrigation and municipal water to the Sacramento Valley. Shasta Lake is located within the Whiskeytown-Shasta-Trinity National Recreational Area, which features swimming, fishing, biking, hiking, and boating. Fish caught in Shasta Lake are subject to a Safe Eating Advisory due to high levels of PCBs discovered.
A Brief History Of Shasta Lake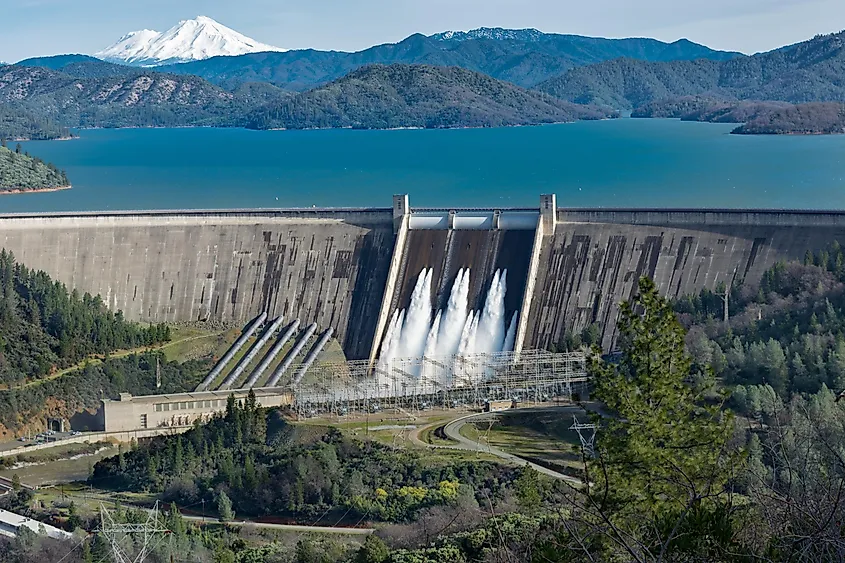 Construction of the Shasta Dam began in 1935 and was completed in 1945. Shasta Lake itself was formed in 1948. The Sacramento River submerged parts of several smaller rivers and tributaries during the damming process, including Pit River and McCloud River. Also beneath the lake is the town of Kennett (which at one time housed up to ten thousand residents), as well as the towns of Baird, Copper City, Elmore, Etter, Morley Pitt, and Winthrope, as well as several settlements of the Wintun People, whose traditional territory used to run the length of what is now Shasta Lake, to San Francisco Bay. The lake's formation also drowned train tracks and tunnels belonging to the Southern Pacific Transportation Company. These can occasionally be viewed if the lake's water levels are low enough. 
Geography Of Shasta Lake
At full pool, Shasta Lake has a capacity of 4,552,000 acre-feet. It is located at an elevation of 1,067 feet and occupies an area of 30,000 acres. It is California's largest reservoir and third-largest body of water. Its' maximum depth is 517 feet, and there are 365 miles of shoreline. Shasta Lake is ten miles from the town of Redding, California, and 167 miles from Sacramento.
Visiting Shasta Lake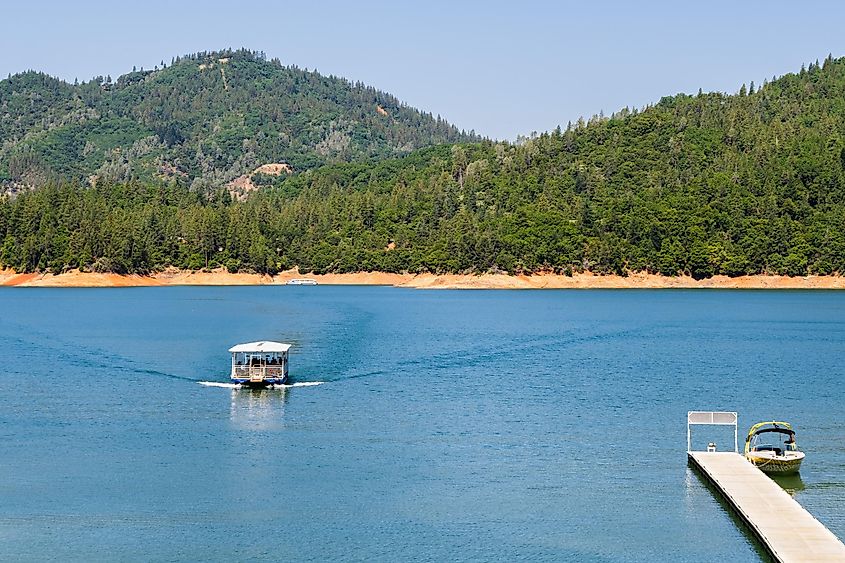 The City of Shasta Lake, the closest settlement in the lake area, serves as the gateway to the lake. The city is home to over 10,000 residents. The city recently constructed a new community center to host events of all sizes. The area also has several campgrounds, hotels, and motels and is well-known for its houseboat rentals. There are several boat marinas around the lake. The lake is also known for excellent water skiing and swimming opportunities. 
There are guided tours of the Shasta Dam, the construction of which is said to have inspired the writing of Woody Guthrie's "This Land is Your Land." Another well-reviewed tour is that of the Lake Shasta Caverns, which are only accessible by boat. Though they were discovered in 1868 and opened to the public in 1964, the caverns are thought to be at least 250 million years old.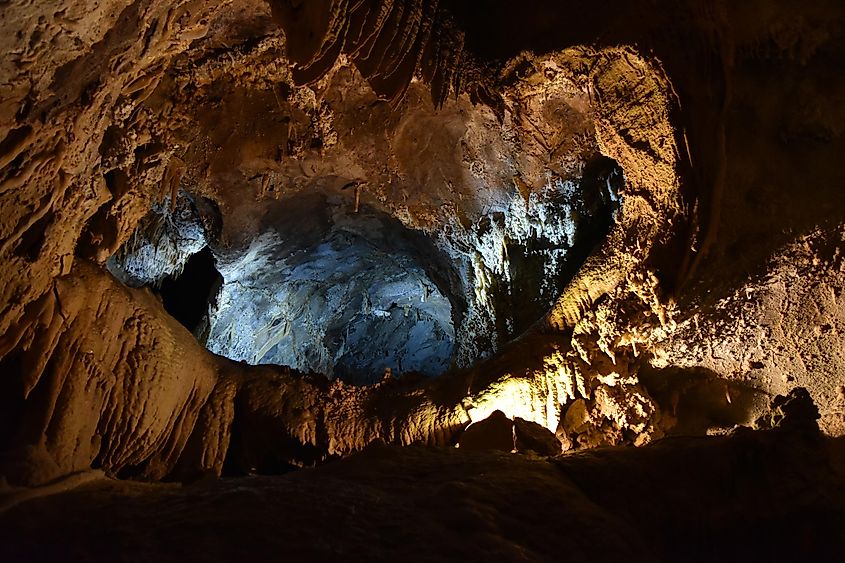 Shasta Lake is a beautiful place to visit, with an average of 264 days of sunshine and mild winters. Outdoor enthusiasts and nature lovers are sure to want to add this Northern California gem to their list of must-see destinations.