Covering just over 60 acres, Gull Lake is the smallest of the June Lake Loop's four roadside lakes in the US State of California. The lake's uniqueness, however, more than makes up for what it lacks in size. Gull Lake, which is close to June Lake's central business district, is well-liked for many reasons. The well-stocked lake is popular with anglers of all ages due to its accessibility. With abundant family-oriented recreational activities available, the lake and its surrounding area host several tourists and anyone who would like to enjoy a fun-filled adventure. The views of the neighboring "Switzerland of the Sierra," as the lakes of the June Lake Loop are termed, due to their breathtaking beauty both in the winter and the summer, are also hard to top. When covered in a blanket of snow, the lakes' forested surroundings enhance their icy, enigmatic attractiveness. 
Geography And Climate Of Gull Lake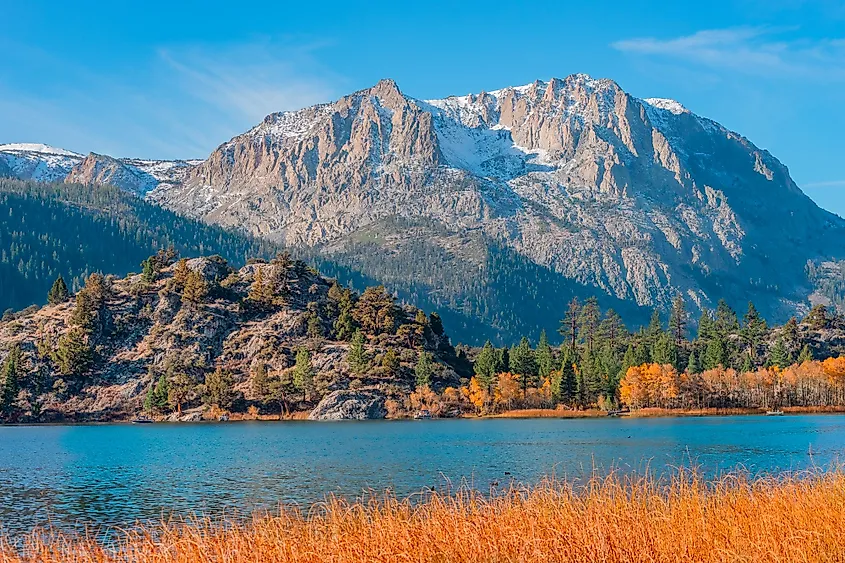 Gull Lake is situated at the base of spectacular mountains in the Eastern Sierra region of California's Mono County. Being one of California's tiniest lakes, Gull Lake covers an area of 67 acres and reaches an average depth of 64 ft. The June Lake Loop travels by four chilly, crystal-clear lakes: June, Gull, Silver, and Grant, as it weaves through the rocky Eastern Sierra Mountains, offering breathtaking views of Carson Peak in the distance.
Gull Lake boasts an almost perfect temperature. Placed at the foot of the gorgeous Sierra Mountains, the lake area experiences mild summers and winters, making it an ideal destination all year. During summer, the highest temperatures reach about 78.7°F, and the lowest temperature during winter remains around 13°F. A rainy day won't ruin your trip because there are 78 days of precipitation yearly, with only 16 inches of rain, and 277 days of glorious sunshine. The lake and its surrounding area receive around 93 inches of snow annually. 
Brief History Of Gull Lake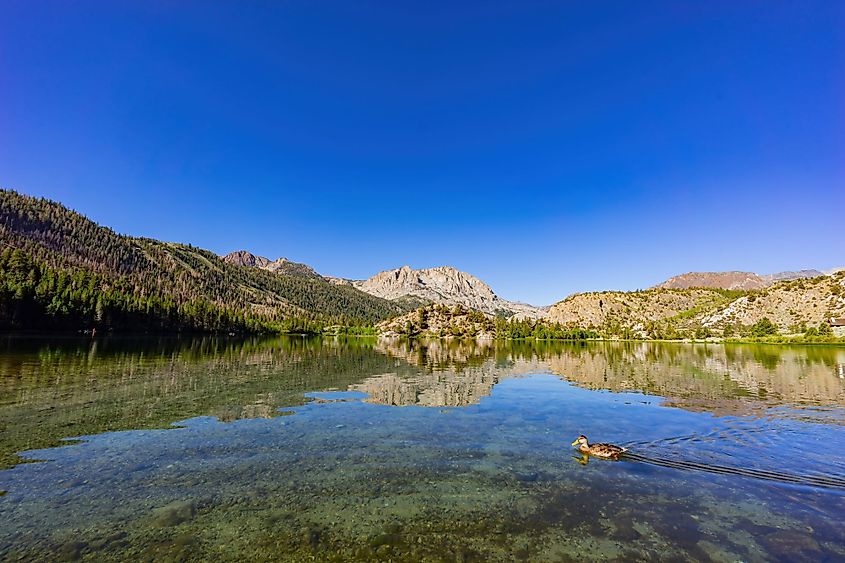 Due to people's innate need to live near a body of water, Gull Lake and its surrounding valleys have been inhabited for hundreds of years. The Paiute Indians of the Mono Basin were the first people to live in the June Lake Loop. Although there was a lot of mining going on nearby, the late 19th-century prospectors didn't find much interest in this area. The region continued to be devoid of roads and was solely acknowledged for its scenic and recreational value. Interest in the new hydroelectric energy technology grew as the mining period came to an end.
By 1915, a road had been built up to a point just below Silver Lake, and a rail tramway system had been relocated from a closed mine in Bodie to the rough, steep mountains above so that two dams could be built to provide hydroelectric power. In 1916, the Rush Creek Powerhouse started generating energy for far-off communities, marking a significant breakthrough in the state of California's hydroelectric power industry. Gull Lake was then used as a reservoir for some time to supply the power station with fuel. Since then, June Lake Loop's lakes have primarily been used for recreational purposes.
Fishing In Gull Lake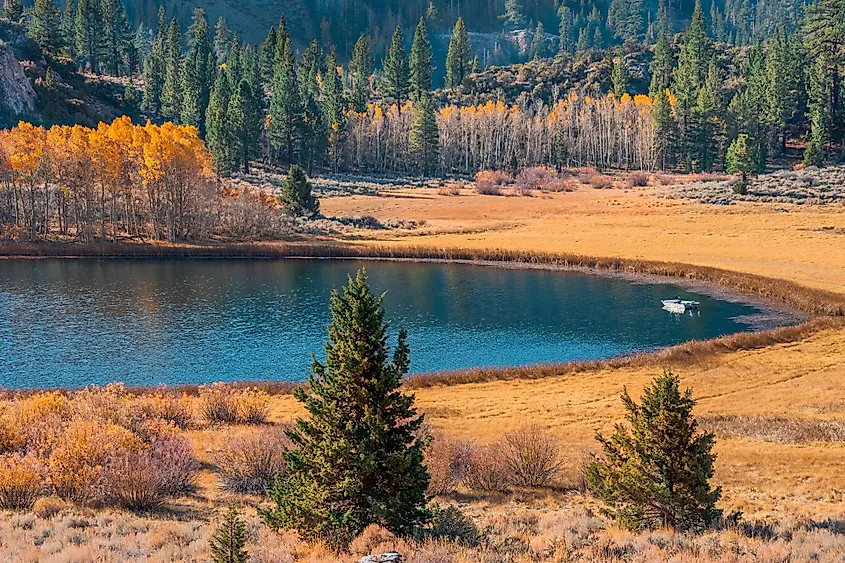 Even though other lakes in the June Lake Loop feel somewhat broader, Gull Lake offers a more intimate experience. The entire lake may be fished in a day by boat, or one can fish a good portion of it from the shore. However, just because the lake is small doesn't mean it lacks prominent fish. In addition to some elusive cutthroat and brook trout, Gull Lake is home to some remarkably huge rainbow and brown trout. The Gull Lake Marina offers a competition named "Wheel of Fortune" for fishermen who catch a fish that big, doubling their luck with a wide selection of prizes. 
Recreational Activities In Gull Lake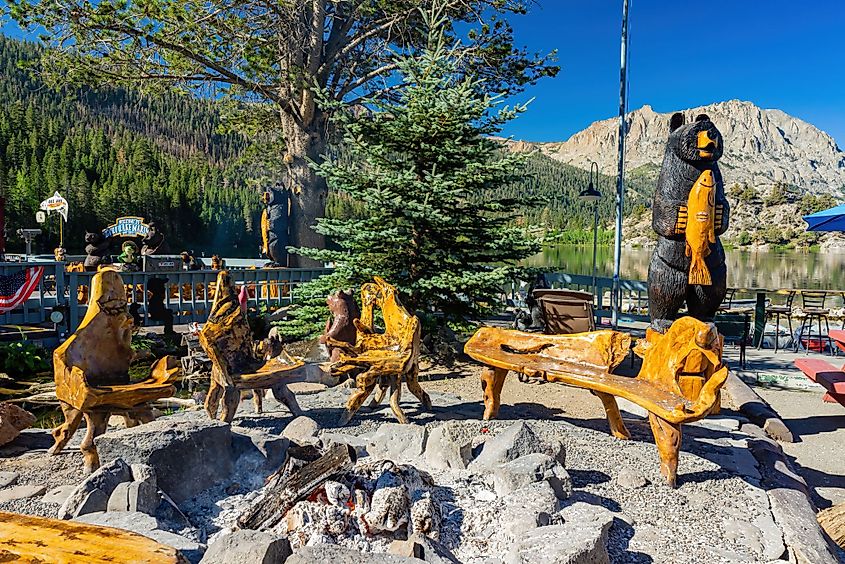 This tiny lake offers a variety of recreational activities besides fishing. With many properties and spots providing a commanding view, June Lake, California's downtown neighborhood and central business center are mainly located between June Lake and Gull Lake. The Interlaken condominium complex, many summer residences, boat docks, a community park, a playground, and a campground with possibly the most excellent campsites in the region are all located along the shores of Gull Lake.
The lake's southernmost point is where one can find the modest Gull Lake Campground. The Gull Lake campground, which has just 11 kept sites on the property, is ideal for visitors looking for peace. The many trees and willows provide great shade and privacy between sites. Around the lake's perimeter, the "Fisherman Trail" and the "Gull Lake Trail" connect June Lake Village with the campground's entrance and the Gull Meadows walk-on boat loading docks.