With a total population of over 330 million inhabitants, the United States is the third most populated nation in the world. Indeed across its 50 States, a diverse array of ethnicities, religions, and cultural groups define much of its population. But although many States and their respective capital cities comprise large populations, several of them host only modest numbers and dimensions. This article looks at the Ten Smallest US State Capitals by population:
1. Montpelier, Vermont - 8,074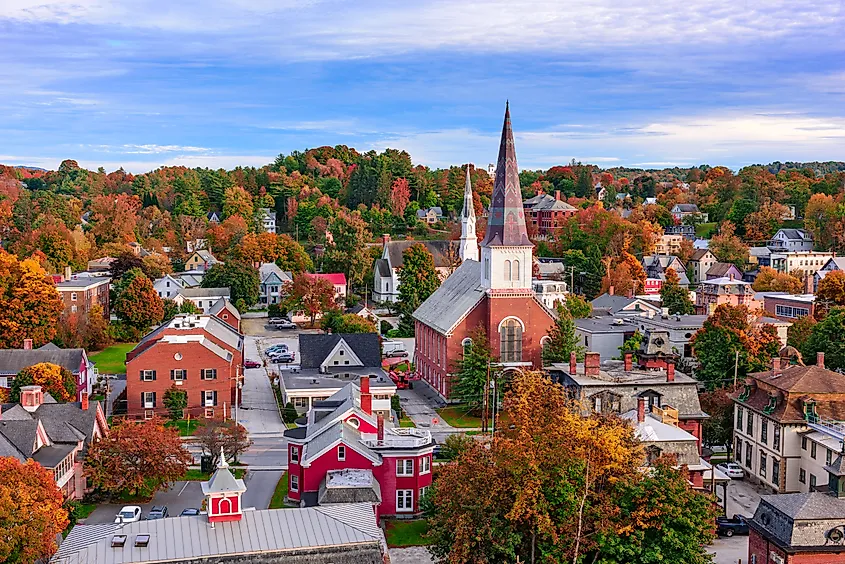 The United States' least populous State capital is Montpelier, Vermont. With a population of just over 8,000 residents, Montpelier is not even Vermont's most populous city. That distinction goes to Burlington and its nearly 45,000 inhabitants. Named for the southern French city of the same name, Montpelier was founded in 1787 and retains a special blend of small-town charm and a bustling government center. 
2. Pierre, South Dakota - 14,091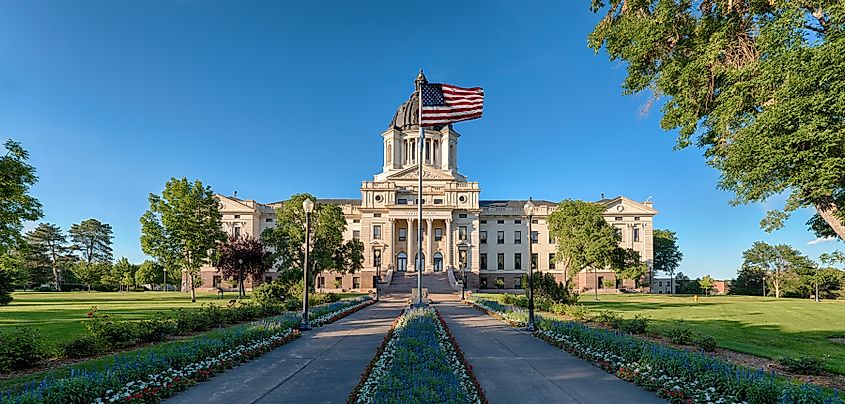 South Dakota's capital Pierre is home to just over 14,000 residents, making it the second least populous State Capital. Indeed Pierre is not even in the top five biggest cities in South Dakota, ranking behind cities like Sioux Falls (the largest), Rapid City, and Aberdeen. Located on the banks of the Missouri River, Pierre covers an area of 33.8 square kilometers. 
3. Augusta, Maine - 18,899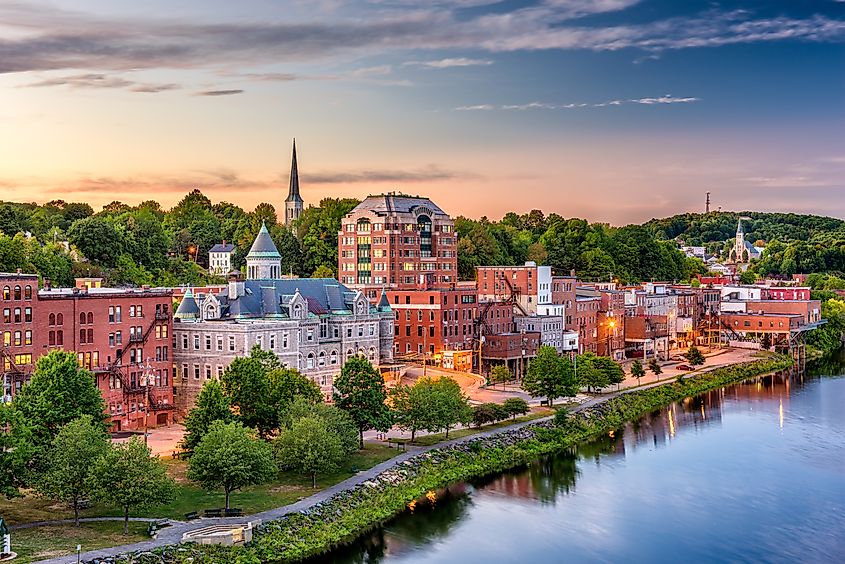 Though it is the capital of Maine, Augusta is the State's tenth-largest city, with a population of just under 19,000 inhabitants. Situated on the 270-kilometer-long Kennebec River, this small capital city spans an area of 150 square kilometers. Founded in 1754, Augusta is also the easternmost capital city in the United States. 
4. Frankfort, Kentucky - 28,602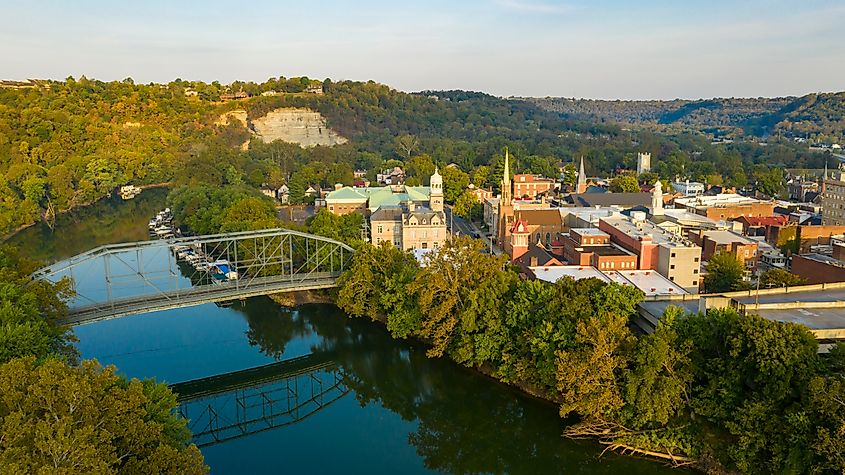 With a population of 28,602, Kentucky's capital Frankfort is the fourth least populous capital city in America. Located in the State's Bluegrass Region in Franklin County, Frankfort ranks behind cities like Louisville and Lexington with respective populations of 633,000 and 322,000 residents. Spanning an area of only 37.8 square kilometers, Frankfort also does not have its own commercial airport. 
5. Helena, Montana - 32,091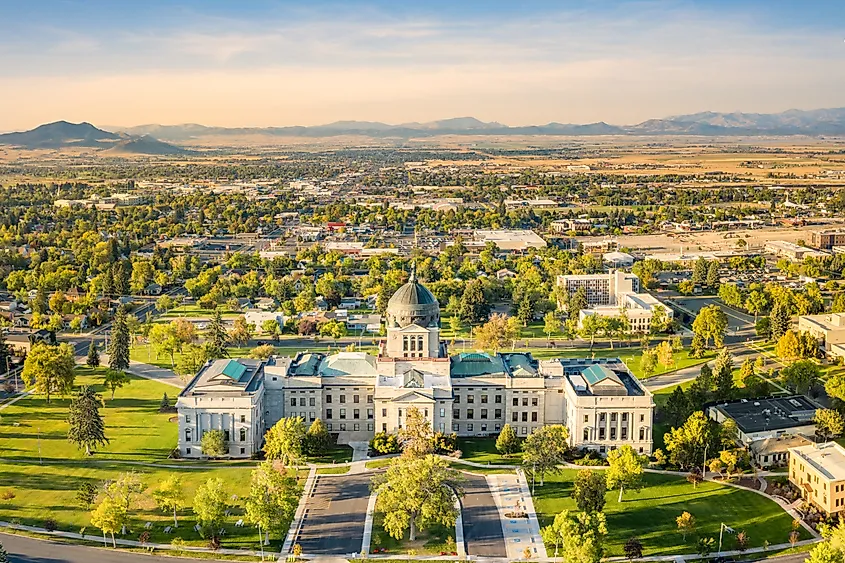 The seat of Lewis and Clark County, Montana's capital Helena is home to only 32,091 residents. Indeed in the entire State of Montana, Helena ranks as the sixth largest. Behind such cities like Billings, the total land area of Helena is only 42.45 square kilometers, though it is situated at an altitude of just over 4,000 feet. 
6. Juneau, Alaska - 32,255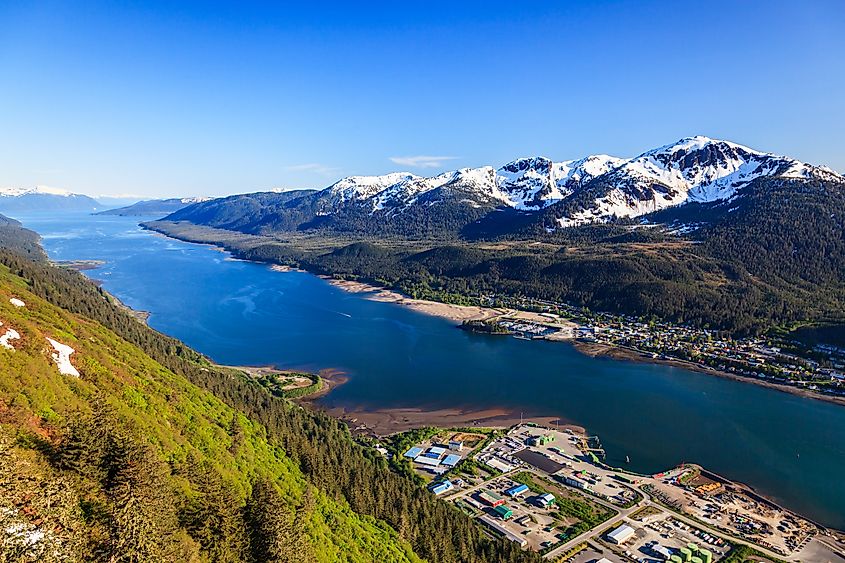 For a State as large as Alaska, its capital city is surprisingly on the list of smallest in America. With a population of just over 32,000 people, Juneau curiously is the second largest city in the nation by land area spanning some 8,430 square kilometers! Still, in terms of demographics, Juneau ranks as the sixth smallest State Capital and is far behind Alaska's other famous city Anchorage, with a population of 291,247. 
7. Dover, Delaware - 39,403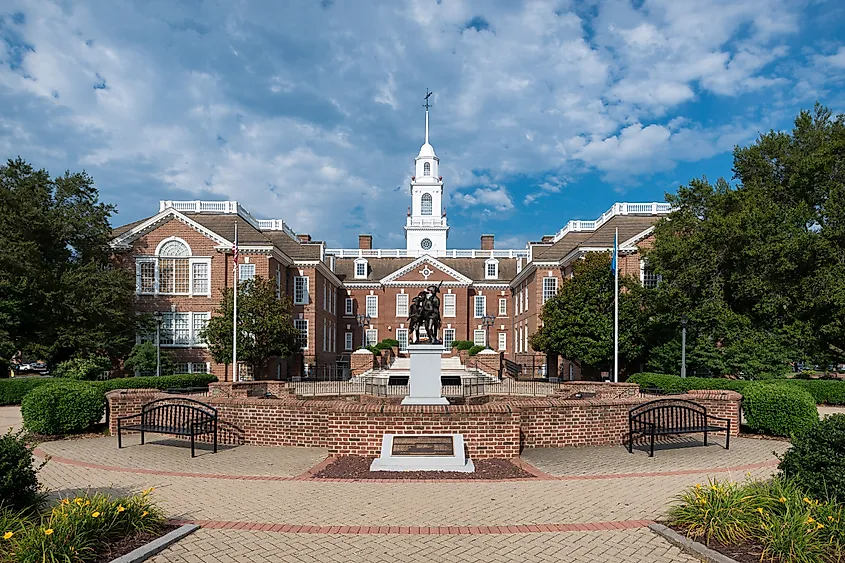 The capital of the first State admitted to the Union, Dover was founded in 1693 and today is the home to just under 40,000 residents. An hour's drive south of Delaware's largest city of Wilmington, Dover also serves as the seat of Kent County. Covering an area of 59 square kilometers, Dover is also known for its hot summer temperatures and mild winters. 
8. Annapolis, Maryland - 40,812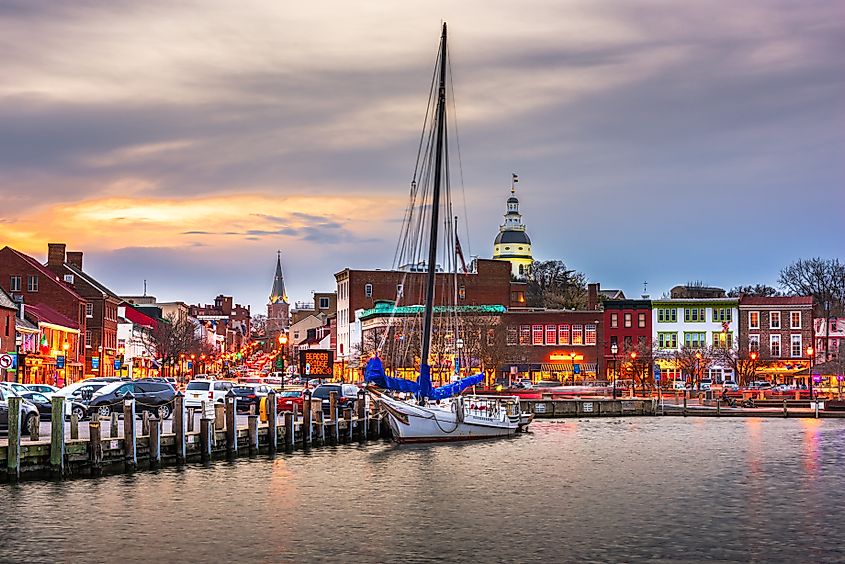 Annapolis' population is 40,812 according to 2020 census numbers, making it the eighth smallest State Capital city. Located on the famed Chesapeake Bay, Annapolis also serves as the seat of Anne Arundel County and is Maryland's seventh most populous city. Just a 45-minute drive from the State's largest city of Baltimore, Annapolis covers an area of 20.9 square kilometers and lies at an elevation of only 50 feet. 
9. Jefferson City, Missouri - 43,228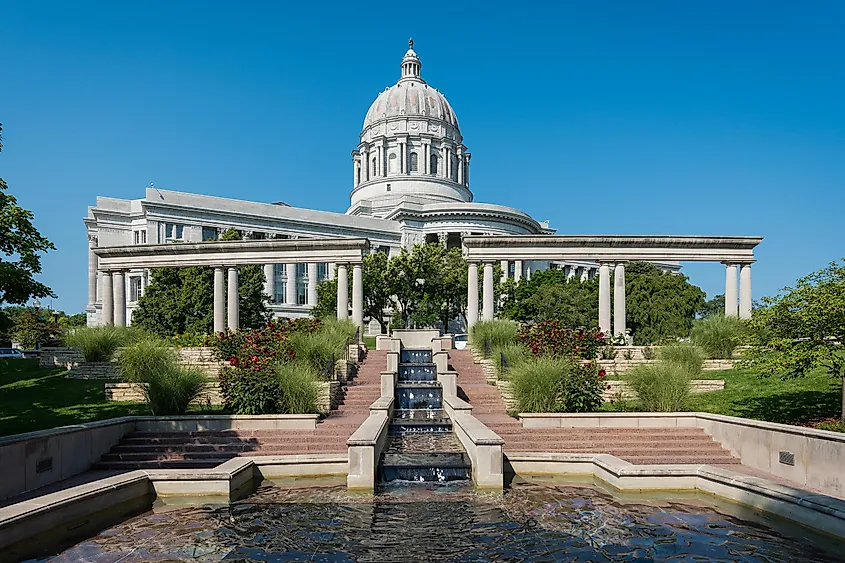 While it may be Missouri's capital, Jefferson City is amazingly the fifteenth-most populous in the entire State. With a population of 43,228 (as of 2020), Jefferson City was founded in 1821 and named for the third US President, Thomas Jefferson. Situated at the midway point between the large cities of Kansas City and St. Louis, Jefferson City covers an area of 97.1 square kilometers. 
10. Concord, New Hampshire - 43,976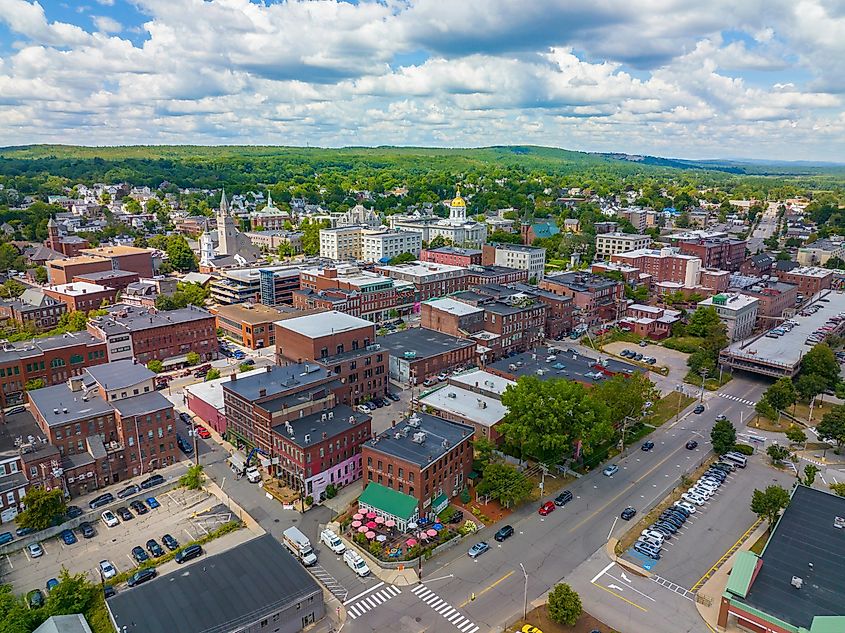 Rounding out the top ten smallest State capitals is Concord. With just under 44,000 residents, Concord traces its origins to 1659. Also serving as the seat of Merrimack County, Concord is New Hampshire's third largest city behind Nashua and Manchester. Covering an area of 174 square kilometers, Concord experiences mild winter temperatures and hot summer months averaging around 25 C.
The 50 States of America reveal a most dynamic window into the nation's wonderful diversity. The ten State capital cities on this list are unique in that they are home to small and modest populations and often are not the biggest cities in their respective States. Still, as capitals, they remain important centers of government, culture, and tourism, and despite their smaller sizes, are worthy of a firsthand visit. 
| State | Capital | Population |
| --- | --- | --- |
| Vermont | Montpelier | 8,074 |
| South Dakota | Pierre | 14,091 |
| Maine | Augusta | 18,899 |
| Kentucky | Frankfort | 28,602 |
| Montana | Helena | 32,091 |
| Alaska | Juneau | 32,255 |
| Delaware | Dover | 39,403 |
| Maryland | Annapolis | 40,812 |
| Missouri | Jefferson City | 43,228 |
| New Hampshire | Concord | 43,976 |
| West Virginia | Charleston | 48,864 |
| Pennsylvania | Harrisburg | 50,099 |
| Washington | Olympia | 55,605 |
| Nevada | Carson City | 58,639 |
| Wyoming | Cheyenne | 65,132 |
| North Dakota | Bismarck | 73,622 |
| New Mexico | Santa Fe | 87,505 |
| New Jersey | Trenton | 90,871 |
| New York | Albany | 99,224 |
| Michigan | Lansing | 1,12,644 |
| Illinois | Springfield | 1,14,394 |
| Connecticut | Hartford | 1,21,054 |
| Kansas | Topeka | 1,26,587 |
| South Carolina | Columbia | 1,36,632 |
| Mississippi | Jackson | 1,53,701 |
| Oregon | Salem | 1,75,535 |
| Rhode Island | Providence | 1,90,934 |
| Florida | Tallahassee | 1,96,169 |
| Utah | Salt Lake City | 1,99,723 |
| Alabama | Montgomery | 2,00,603 |
| Arkansas | Little Rock | 2,02,591 |
| Iowa | Des Moines | 2,14,133 |
| Virginia | Richmond | 2,26,610 |
| Louisiana | Baton Rouge | 2,27,470 |
| Idaho | Boise | 2,35,684 |
| Wisconsin | Madison | 2,69,840 |
| Nebraska | Lincoln | 2,91,082 |
| Minnesota | Saint Paul | 3,11,527 |
| Hawaii | Honolulu | 3,50,964 |
| North Carolina | Raleigh | 4,67,665 |
| Georgia | Atlanta | 4,98,715 |
| California | Sacramento | 5,24,943 |
| Massachusetts | Boston | 6,75,647 |
| Oklahoma | Oklahoma City | 6,81,054 |
| Tennessee | Nashville | 6,89,447 |
| Colorado | Denver | 7,15,522 |
| Indiana | Indianapolis | 8,87,642 |
| Ohio | Columbus | 9,05,748 |
| Texas | Austin | 9,61,855 |
| Arizona | Phoenix | 16,08,139 |