A scenic river town nestled in the rolling hills of the American Midwest, Aberdeen, South Dakota, offers a balance of green space and fun. One can spend an afternoon at Wylie Park, where one can explore a 210-acre entertainment complex consisting of a campground, a lake to fish on, a picnic area for the family, and many amusement park rides. At Storybook Land, one can relive childhood nursery rhymes and visit the Land of Oz, influenced by L. Frank Baum's The Wonderful Wizard of Oz. 
Geography And Climate Of Aberdeen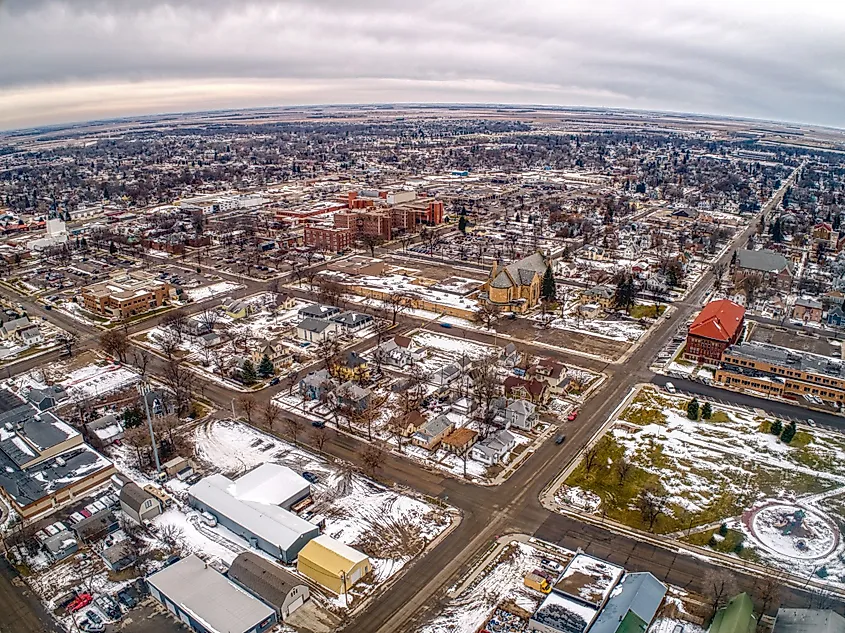 Aberdeen is situated in the James River Valley in the northeastern part of the US State of South Dakota. The 1,140km long James River - a tributary of the Missouri River, flows about 18km away from the city. Through the center of Aberdeen runs Moccasin Creek, which dissects the city into east and west and joins the James River to the southeast. Aberdeen covers a total area of 40.40 sq. km, of which only 0.26 sq. km is occupied by water, and 40.14 sq. km is occupied by land. 
The climate of Aberdeen is a humid continental climate. It experiences four seasons in a year, with moderately humid summers and cool, dry winters. With an average of 7.1 inches of snowfall, March is the year's snowiest month. Hence, Aberdeen gets 91 days of precipitation annually, including rain, sleet, freezing rain, and snow. Aberdeen experiences 22.4 inches of rain, with the US average being 38.1 inches per year. Aberdeen receives 38.4 total inches of snow in the winter, whereas the US average is 27.8 inches. The year's hottest month is July having an average high temperature of 28.6°C, while January is the year's coldest month having an average temperature of -17.05°C. 
Brief History Of Aberdeen
In 1881, Aberdeen was incorporated at the convergence of nine railroad lines. It was named after Aberdeen in Scotland by Alexander Mitchell, the President of Milwaukee Railroad. Aberdeen soon became an agricultural powerhouse with abundant fertile farmland, producing cattle, pork, wheat, soybeans, and sunflowers. The city also started serving as a transportation hub and distribution center for wholesale agricultural goods. Moreover, one of Aberdeen's most famous residents, L. Frank Baum once called Aberdeen home from 1888 to 1891. Before publishing the Wonderful Wizard of Oz in May 1900, Baum owned a store called Baum's Bazaar. The store became bankrupt a couple of years later, so he turned it into a newspaper called the Aberdeen Saturday Pioneer, where he published the column Our Landlady. How Kansas is described in The Wonderful Wizard of Oz depicts Baum's time spent in Aberdeen and South Dakota. To this day, Aberdeen uses the slogan "Write Your Story" as a nod to L. Frank Baum and the influences of The Wizard of Oz on Aberdeen.
The Population And Economy Of Aberdeen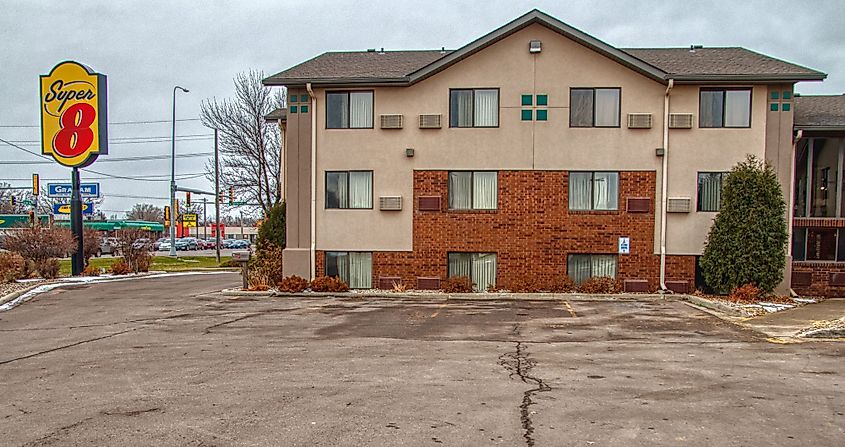 Aberdeen sits in Brown County and has a population of 28,495 inhabitants, making it the third-largest city in South Dakota, with Rapid City and Sioux Falls ahead of it. The median household income in Aberdeen is $56,455, with a gross monthly rent of $669. Currently, 11.6% of the population lives below the poverty line. The median age of an Aberdeen resident is 34.6 years old. On the cost of living index, Aberdeen sits at 78.6, whereas South Dakota is 88.3.
Aberdeen has an unemployment rate of 3%, while the US unemployment rate is 6%. The main industry in Aberdeen is the healthcare and social services sector, making up 16.8% overall. Other industrial sectors that make up the economy include retail trade (14.1%), manufacturing (14.0%), and accommodations and food services (8.6%). The first Super 8 Motel can be found in east Aberdeen, which still operates today. 
Attractions In Aberdeen
Story Book Land and Wylie Park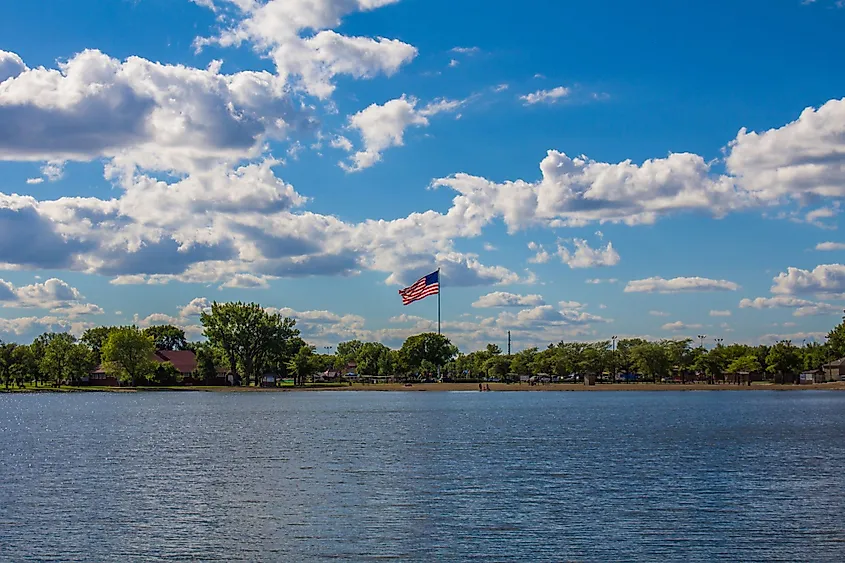 Wylie Park is a 210-acre amusement park, which also includes Storybook Land. This entertainment complex consists of the Wylie Park Campground, a bike and skate rental, picnicking, recreational trails, softball, swimming, and wildlife exhibits. Numerous rides make up Wylie Park, including bumper boats, go-karts, and miniature golf that draws tourists from all over the states.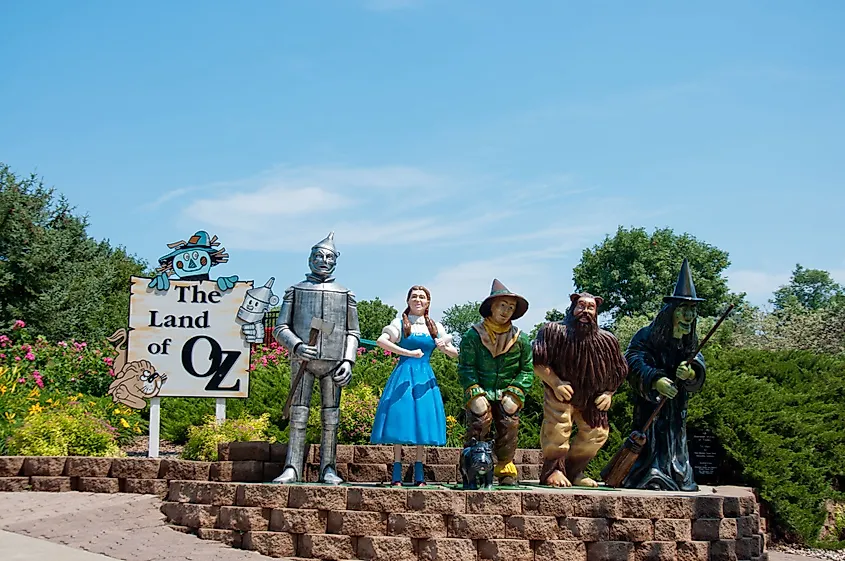 Storybook Land is a family-oriented theme park catering to children. Here, you can visit the home of the Three Little Bears, play on the Jack and Jill Slide, or frolic in Old Macdonald's Barn. One must check out Storybook Land's most prominent attraction, a medieval castle surrounded by a moat. At last, don't forget to walk down the yellow brick road in the Land Of Oz and visit Dorothy's Farm or the Munchkin Land.
Dacotah Prairie Museum
The Dacotah Prairie Museum is a non-profit museum found in downtown Aberdeen. It showcases the US's land expansion in South Dakota but with a predominant focus on local history, including the time when pioneers first settled and Native American tensions over land claims. The museum focuses on conserving Aberdeen's history for future generations through culture, history, and its once-thriving railroad economy.
True to its slogan "Write Your Story," Aberdeen, South Dakota, is a place to wander. It's easy to see how the gently rolling hills and bountiful farmland within the James River valley inspired L. Frank Baum and Dorothy's home. One can get lost on the snaking banks of Moccasin Creek or enjoy an afternoon of fun at Wylie Park. There's more to this quiet river town than what meets the eye.