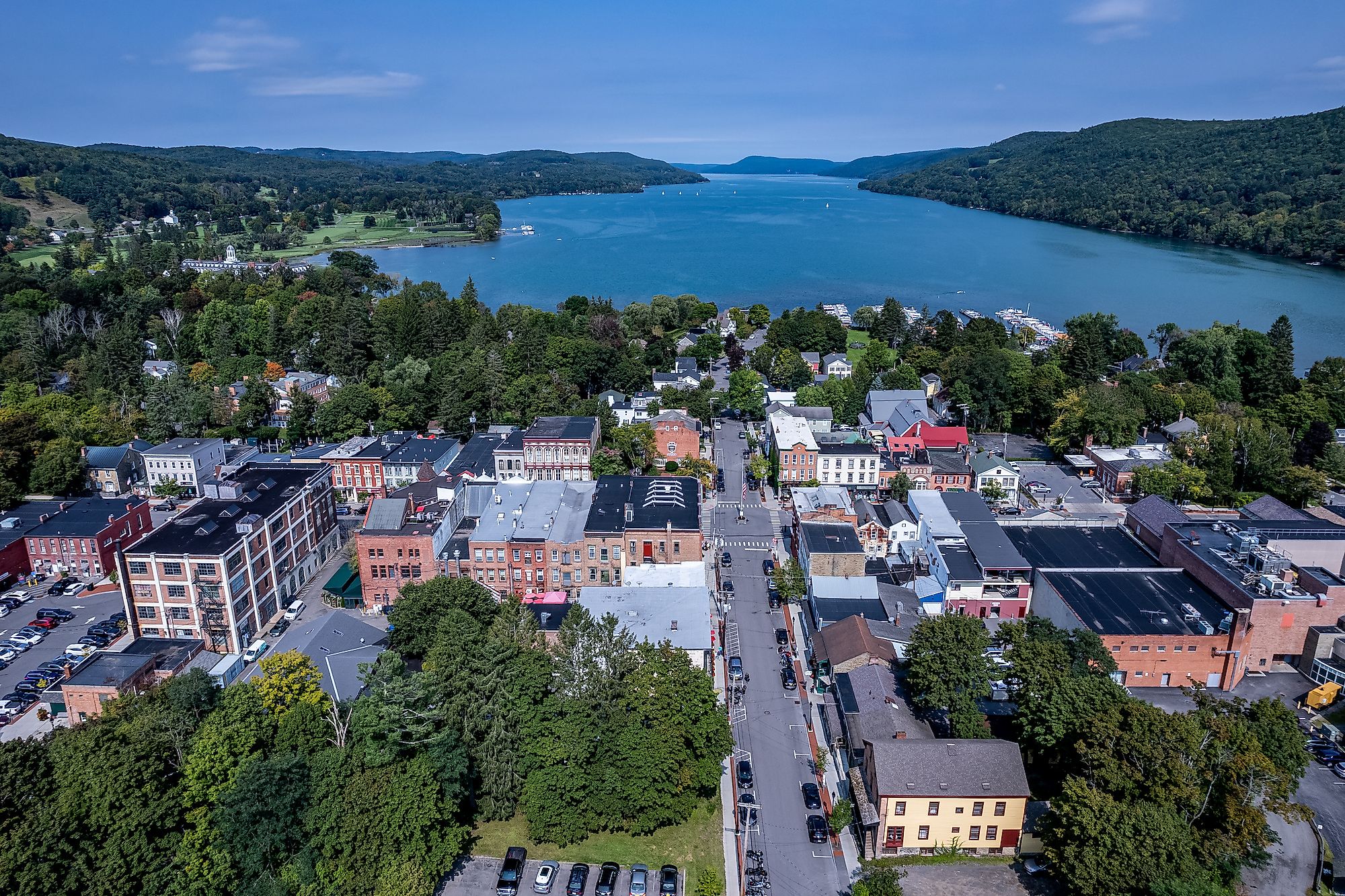 14 Off The Beaten Path Towns in New York
Sometimes, it is fine to visit popular vacation spots and roll with the crowds. There is some safety in big names; some excitement with big numbers. Other times, however, you want to go the road less traveled; to be the pathfinder and the quintessential discoverer. Fortunately, the Empire State, as the State of New York is known, brims with several off-the-beaten-path towns first-time visitors often get mindblown with. Many of these are cute, little gems boasting quaint downtowns, red-brick buildings, pop-and-mom shops, and farm-to-table restaurants. Yet nature — in all its heart-melting glory — is never far away. The following are 14 off-the-beaten-path towns in New York you should put on your bucket list.
Watkins Glen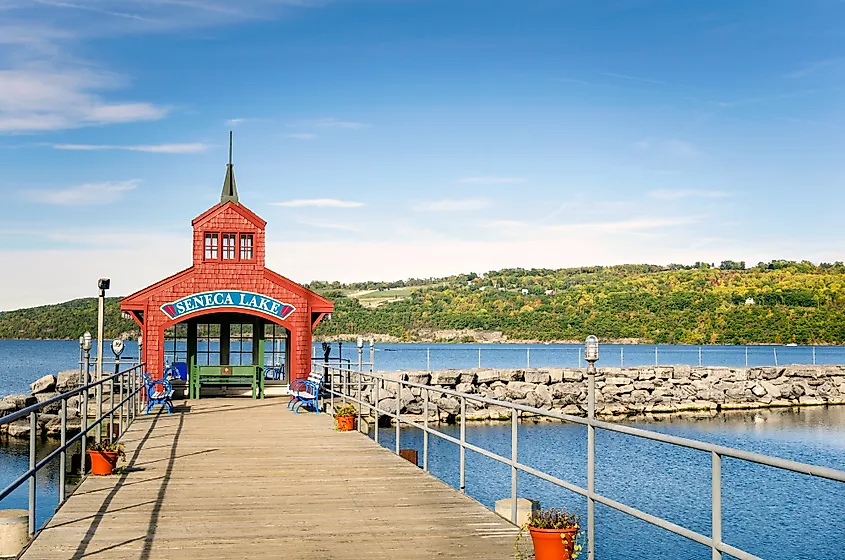 The Finger Lakes. One of Watkins Glen's most appealing features is the fact it sits smack in the middle of the Finger Lakes region. If you have not visited the Finger Lakes, you are missing out on a part of New York that is as stunning as the imagination can comprehend. Then again, with more than 400 wineries spread across its 9,000 square miles, the Finger Lakes region happens to be New York's largest wine-producing area. This means lush, beautiful vineyards and all the Sylvan splendor you can dream of. As if that is not enough, Watkins Glen sits on the picturesque Seneca Lake, the second-largest lake in the region. Finally, a paradise for outdoor lovers, Watkins Glen is the gateway to the eponymous state park whose breathtaking scenery often earns it a spot among the most beautiful destinations in New York. 
Penn Yan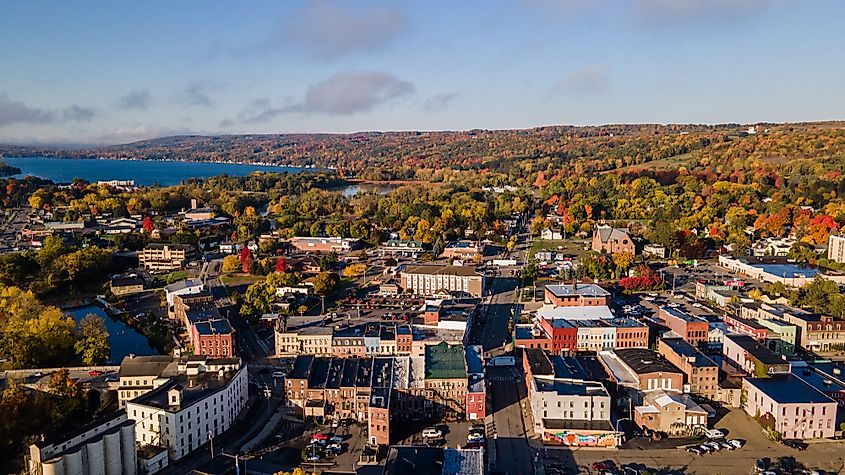 Still in New York's Finger Lakes region, Penn Yan is a nature-wrapped bastion of fantastic locally-owned shops, farm-to-table Amish restaurants, gorgeous architecture, and spots that would enthuse art lovers — such as the Arts Center of Yates County — a free-to-enter gallery displaying beautiful painting, photography, pottery, sculpture, jewelry, and woodwork. Because it hugs the northern tip of the scenic Keuka Lake, is encircled by flourishing farmlands (thanks to the decent population of Mennonites), and boasts a wine trail in its backyard, Penn Yan is often a drug to the eye. For those who love shopping, The Windmill Farm & Craft Market, located just south of town on State Route 14A, plays host to 175 indoor and outdoor shops. It also features hand-crafted items too numerous to count.
East Aurora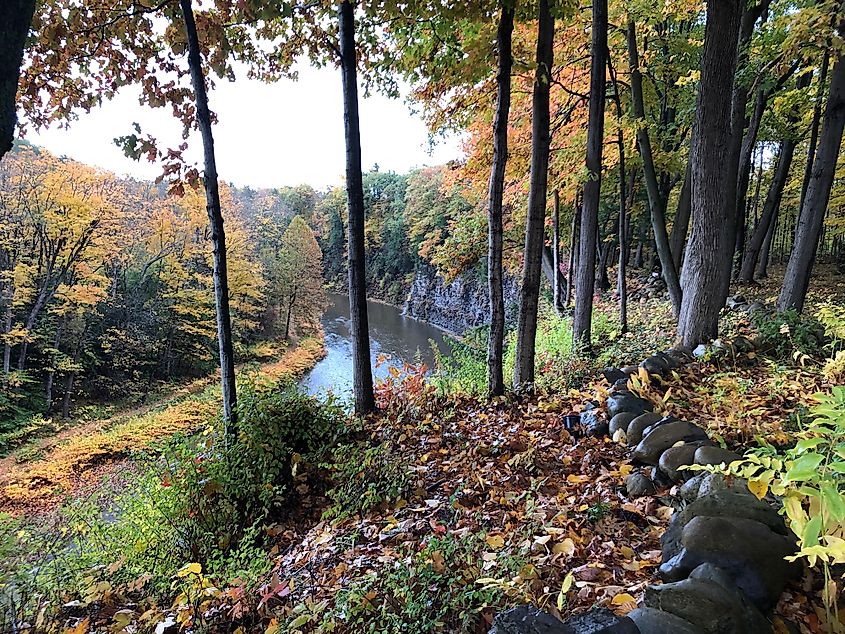 One interesting fun fact about East Aurora, a stunning town of about 6,000 located about 20 miles from Buffalo — is the fact it birthed America's Arts and Crafts movement more than 100 years ago. Today, East Aurora proudly displays its art heritage through historical sites such as Roycroft Campus, the best-preserved and most complete complex of buildings that remain in the country, especially of the "guilds" that evolved as centers of craftsmanship in the late 1800s. East Aurora's picturesque main street is known to put a smile on first-time visitors — and is lined with coffee shops, art galleries inviting restaurants, and unique shops, including Vidler's 5 & 10, the largest 5 & 10 variety store on Earth — and Plant Shack, a one-of-a-kind botanical cafe housing nteresting varieties of indoor plants.
Auburn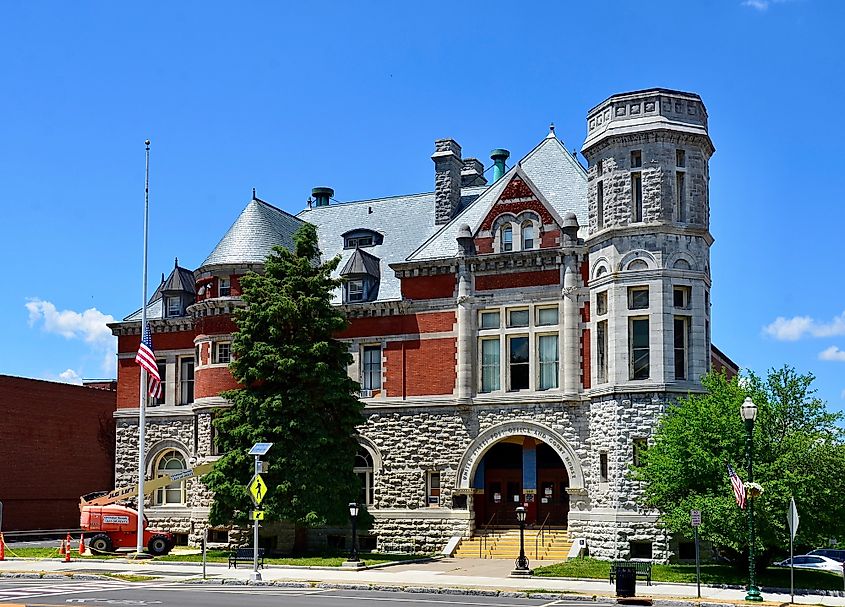 Nicknamed "Moses," after the Biblical figure who, according to the Christian tradition, led Israelites from Egyptian Slavery, Harriet Tubman has remained a beacon of resilience, determination, and courage. If you are wondering why we are talking about Harriet Tubman and not Auburn, a hidden gem that lies at the northern periphery of Owasco Lake in west-central New York, you are late to the party. Auburn is where Harriet Tubman settled after the Civil War — and spent the rest of her eventful life. Today, one of Auburn's most sought-after attractions, is the Harriet Tubman National Historical Park and the Seward House Museum, a resourceful facility that celebrates her precious legacy. Additionally, a plaque commemorating her life stands on the courthouse. Then again, who would not want to set foot in a city whose appearance is like a poem, perhaps as the poem that gave it its name — Oliver Goldsmith's The Deserted Village?
Cooperstown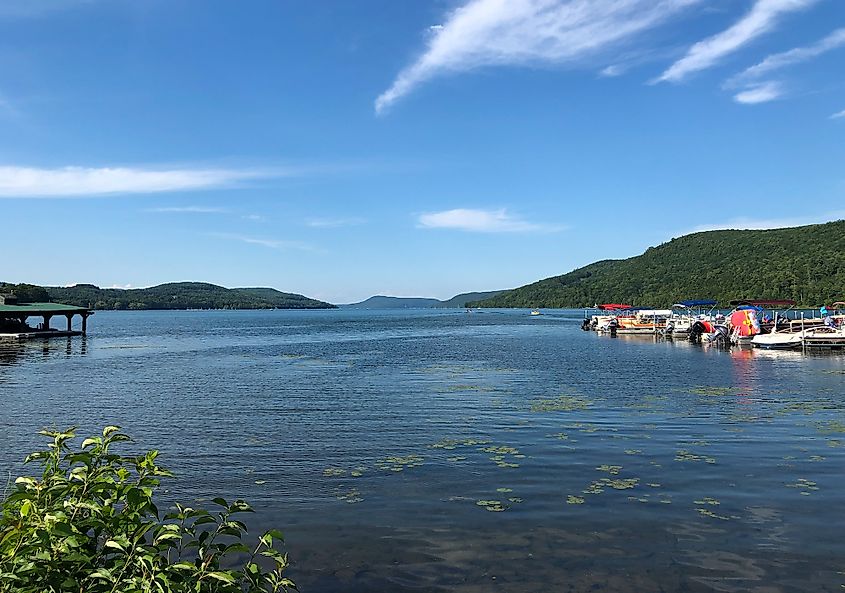 A winsome little gem that occupies the southern tip of the crystal-clear Ostego Lake, Cooperstown is a tasty eye candy that redefines beauty. If baseball is the quintessential American sport, then Cooperstown is the quintessential American small town. This is because Cooperstown hosts the world-famous National Baseball Hall of Fame and Museum. If you want to be captivated by intriguing facts about a sport that has been called "America's Pastime," including how the history of baseball intersects with some of the darkest periods in the history of the United States, this museum provides quite a moving experience. Yet, amid picture-perfect scenery, first-time visitors to Cooperstown can explore several other attractions within Cooperstown, including the rolling terrains at Glimmerglass State Park, home to the oldest covered bridge in the United States that is still in existence.
Canandaigua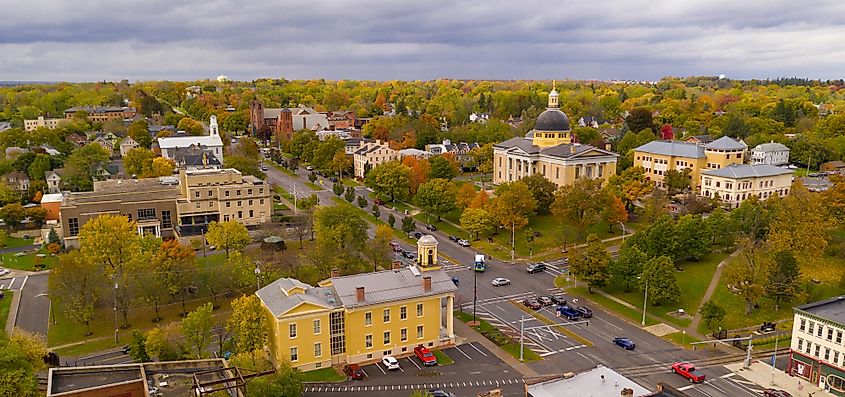 Established in 1791, only two years after the election of George Washinton to the presidency, Canandaigua is among the most historic towns in New York, particularly in the Finger Lakes region. Known for its spellbinding beauty, partly because it sits on the northern shores of the scenic lake that lends it its name, Canandaigua's breathtaking beauty is among its most defining features. Encircled by wave-like, rolling hills, this hidden gem is known also for its lush greenery and beautiful trees that often make the region burst into color, especially when fall comes calling. The many lookouts around Canandaigua Lake provide some of nature's most heart-melting views and earn Canandaigua a spot among the most beautiful towns in New York. Then again, Canandaigua is packed with adventure options, including Sonnenberg Gardens & Mansion State Historic Park, a blinding beauty that will make you think you have arrived in another country.
Prattsville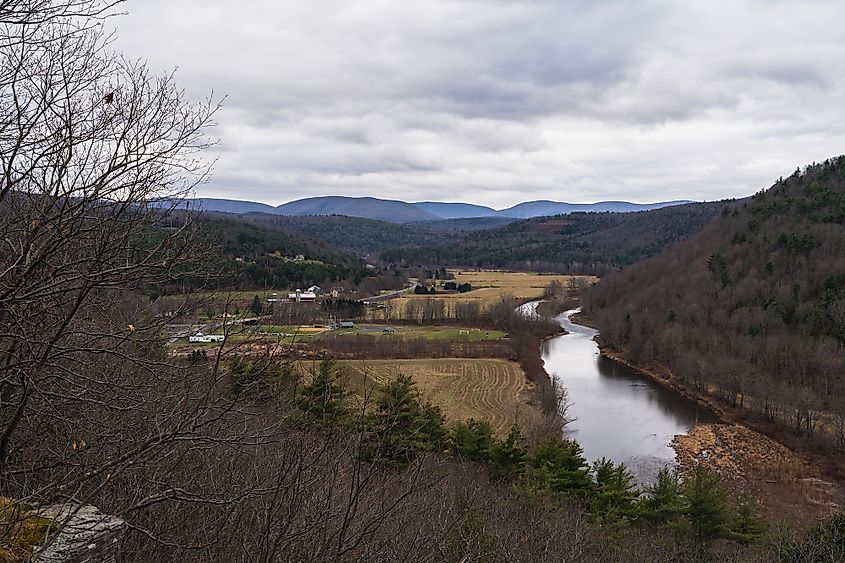 Tucked away in the heart of the Catskills Mountains, on a spot that is enticingly wooded and picturesque, Prattsville is content to remain one of New York's best-kept secrets. If seeking a town that is as off-the-beaten-path as it can ever get, you can never go wrong with Prattsville, an under-the-radar destination located where the Schoharie Creek, a major tributary of the Mohawk River, bends alongside Route 23. Part village; part town, Prattsville reclines in a fold of tree-covered hills, and features a fascinating attraction that has been called New York's Mount Rushmore. Pratt Rock, besides offering spectacular views of the Schoharie Creek and the beautiful valley, features carvings considered by many to be the earliest Civil War monument in the United States. The carvings are in a special sense, the history of one of the town's founders carved in stone.
Wellsville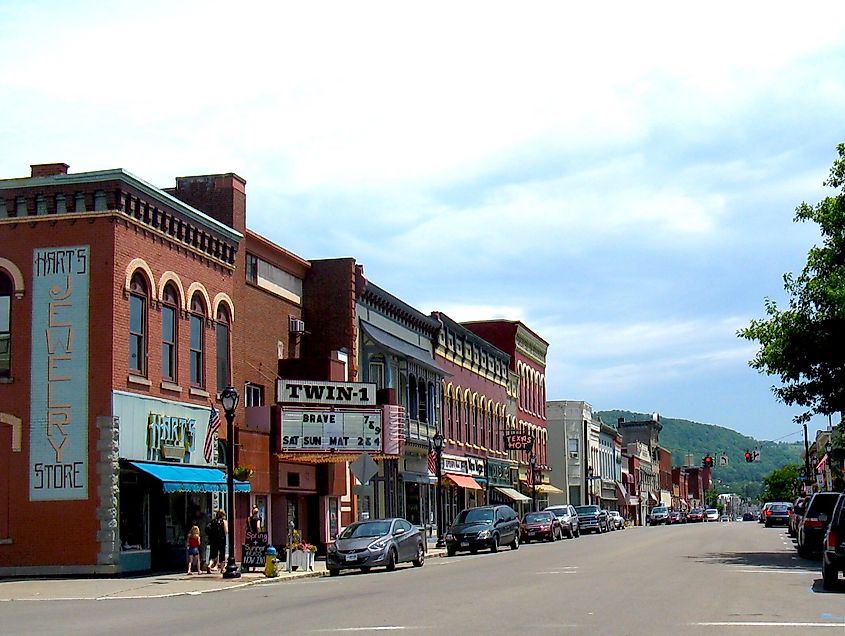 Located less than 10 miles north of the Pennsylvania border, Wellsville is another New York town that is scarcely featured in travel circles. One of the Native tribes that once camped in the area referred to Wellsville as "the Pigeon Woods" most likely in relation to the abundance of pigeons in the area, which, at the time, were a highly prized bill of fare. Still, the word "woods" should not be lost — and gives an idea of the kind of environment that defines this cute, hidden gem. While Wellsville is tiny and hosts just about 4,500 residents, it is ravishingly quaint and offers a number of attractions, including the luxurious Italianate Victorian mansion known as the "Pink House" — a feature of the town since 1868. Today, the Pink House still remains a centerpiece of Wellsville. Finally, whether you will want to enjoy a good book, meet friends, or explore forgotten skills, David A. Howe Library will be at hand. This library's interior decor exhibits an impressive air of austerity and the most exquisite woodwork.
Chautauqua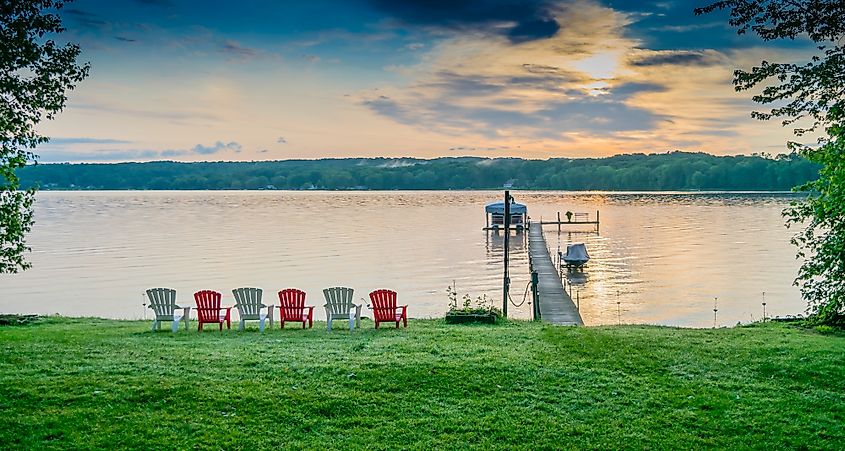 Chautauqua is a stunning resort town that sits on Chautauqua Lake, about 16 miles northwest of Jamestown. Encircled by rolling hills and a topography that is among the most heart-ravishing, Chautauqua provides some of the finest optical nourishments in the Empire State. The area is especially prettiest in fall  — when leaves change their color and put on their best and brightest. The town, however, is best known as home to Chautauqua Institution, an intriguing educational experiment in out-of-school learning which, today, has assumed a slightly more multi-faceted character and may very well be an art commune, educational complex, entertainment festival — all in one. Chautauqua Institution boasts grounds that are amazingly pristine and well-preserved and on which stand hundreds of historic buildings right next to the glimmering waters of a lovely lake.
Olean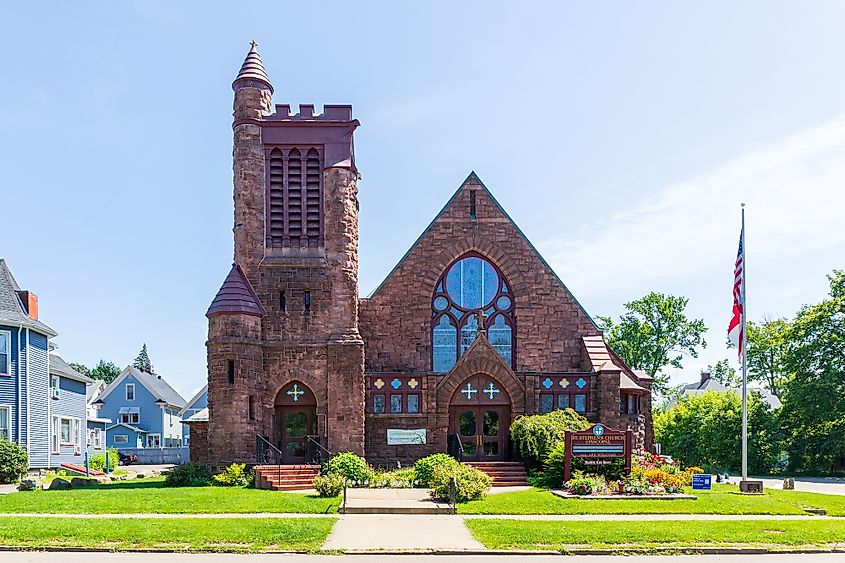 Once a lumber camp, Olean derives its name from what the Natives called "oleum," meaning oil. This was in reference to deposits in the Oil Springs Territory near Cuba about 13 miles from Olean reputed to be where petroleum was first discovered in North America. The city itself reclines along the Allegheny River, provider of the most populous freshwater mussel habitat on the planet, and sits at the mouth of an eponymous creek, 60 miles southeast of Buffalo. One of the town's most sought-after attractions is Rock City Park, a geological spectacle considered the Eighth Wonder of the World where enormous rocks with descending staircases lead to trails dotted with unique monolithic rocks of different sizes and shapes. A prehistoric ocean floor, this whimsical expanse boasts the world's largest display of quartz conglomerate.
Geneva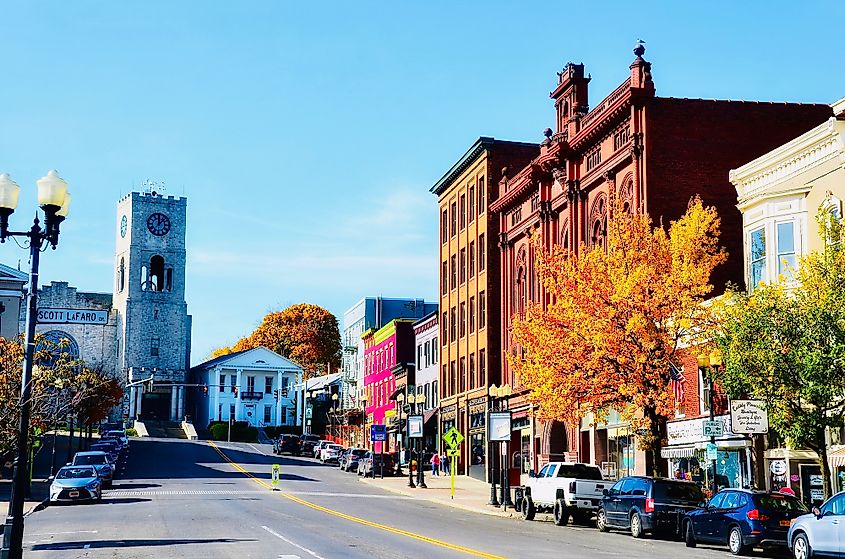 One of the best parts about Geneva is the heart-stirring views around the picturesque Seneca Lake on whose northern end it reclines. But the name itself is a give-away. First settled in 1788, a year before Washington took his oath of office, a land promoter would later rename the city after Geneva, Switzerland — an old city whose downtown is among the most gorgeous in the world. And just as Geneva, Switzerland sits on Lake Geneva — Geneva, New York sits on Seneca Lake. This New York jewel plays host to several art galleries, including the Vines of New York Art Gallery, where almost every piece of art is inspired by or derived from nature. Other attractions include the historic Smith Opera House, a popular landmark that has graced Geneva's townscape since 1894. On the flip side, if all you want is to place the soul of your feet on some soft, fluffy grass — or get on the water and kayak an afternoon away — Seneca Lake State Park is what your doctor will prescribe
Saugerties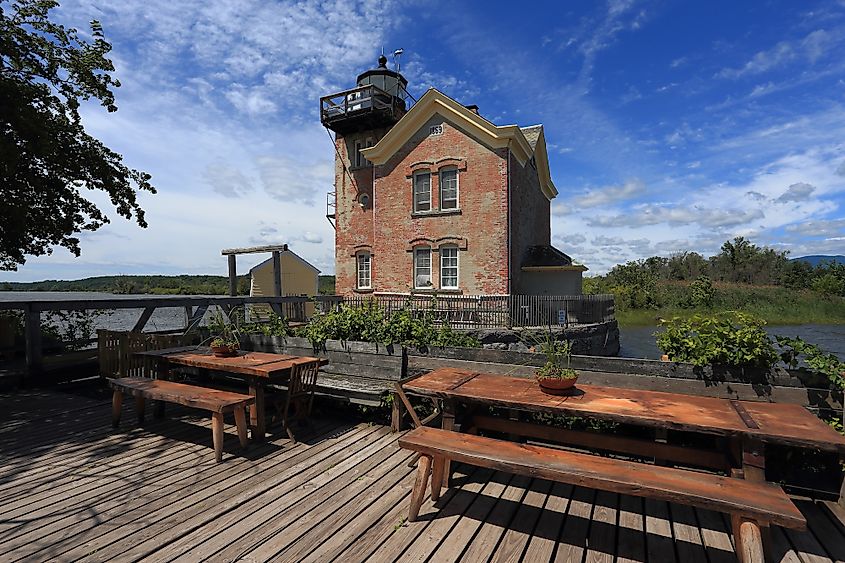 Congenial - that is how some have described this Hudson River gem located about 100 miles north of the Big Apple. The claim that Saugerties is congenial may not be far-fetched, after all. As you drive into town, one of the things that will arrest your attention is a sign that reads "Friendly historic Saugerties welcomes you." Dutch for "Sawmill," Saugerties gets its name — according to one account — from one of the town's founders best known for the sawmill he used to operate for a manor house in the middle of the 17th century. Saugerties' downtown hosts a number of high-quality boutiques, shops, and restaurants. 
Windmill Wine & Spirits is an upscale wine shop smack in the heart of Saugerties' downtown area that often leaves first-time patrons completely blown away. Finally, no one should claim he has visited Saugerties if he has not experienced the gasp-inducing beauty that is the Historic Saugerties Lighthouse, one of a few historic beacons that still stand on the Hudson River, a famous waterway reputed to be among the first arteries of exploration in the United States.
Honeoye Falls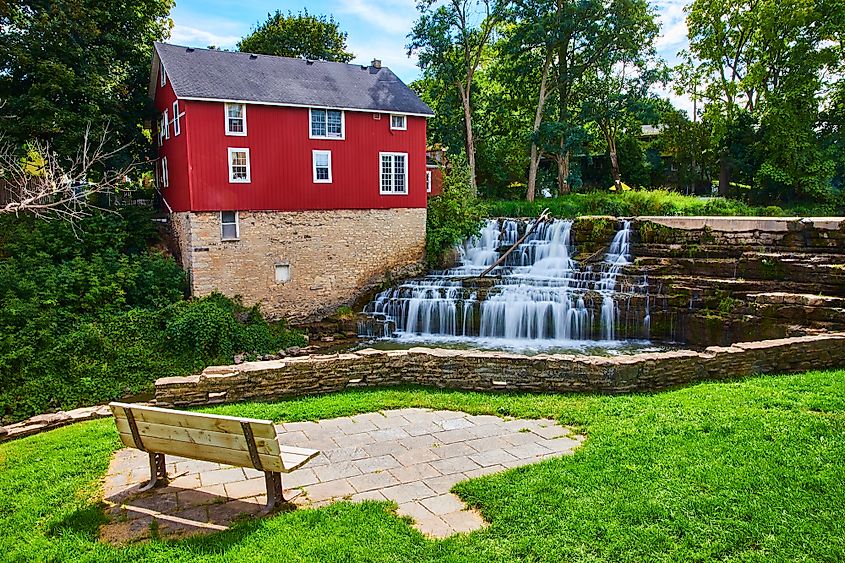 Honeoye Falls is an incredibly photogenic town of about 2,700 that is located only about 18 miles south of Rochester, New York. While you may want to focus on the "Flower City," as Rochester is often referred to, if you do not mind something a bit off-the-beaten-path, you will fall in love with Honeoye Falls. Exuding the quiet of a peaceful village, this hidden treasure hosts a decent number of locally-owned shops and inviting casual restaurants. In Honeoye Commons, Feisty is a cutting edge gift shop carrying locally handcrafted gifts. Close by, BodyWork Kneaded will expertly attend to your tense muscles and cluttered mind. That said, this town is best known for the gorgeous falls and crystalline creek— that meander through it — imbuing it with Sylvan splendor and rustic allure.
Skaneateles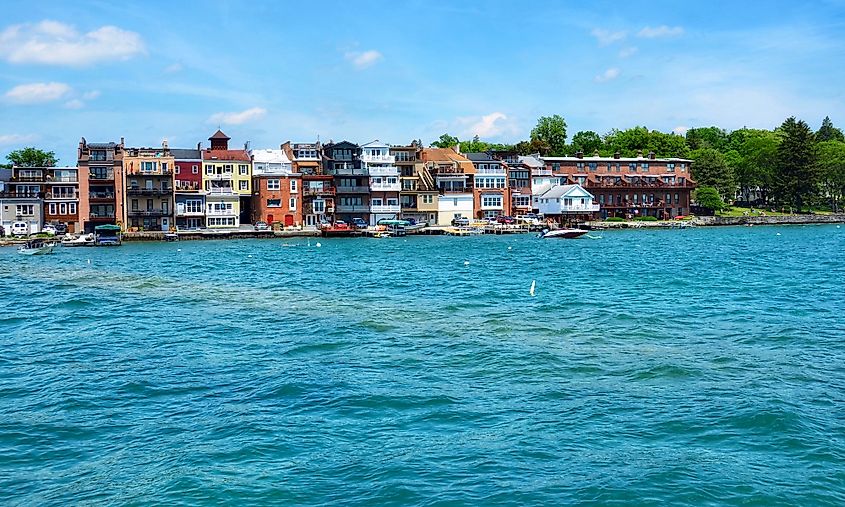 Skaneateles rests on the picturesque shores of Skaneateles Lake, one of the Finger Lakes. This spellbinding waterbody is one of only six unfiltered water sources in the United States. Do not be deceived by the fact only about 2,500 residents call Skaneateles home. Oprah Magazine, for instance, once ranked Skaneateles as the number one unheard-of town in the United States you should visit. The calm air and the town's breathtaking scenery often make for a quiet, romantic getaway. But the village is also stylish and affluent and will appeal to those who enjoy a dash of tasty finesse. Besides, the "Eastern Gateway to the Finger Lakes hosts outstanding attractions such as The Sherwood Inn whose decor and ambiance are such a welcome contrast to the metal and barn wood style most restaurants prefer. Finally, Skaneateles is also known for its Christmas shows and festivals.
The Take-home
One of the most criminal misconceptions about New York is the idea it starts and ends with the Big Apple. Yet, far away from the glass and glitter that define America's largest city, lies an incredibly vast expanse consisting of peaceful farmlands, rolling hills, crystal-clear lakes, razor-thin ridges, thread-like brooks, and gorgeous small towns content to live in the shadow of contemporary big names. If craving something off-the-beaten-path, hidden gems such as Skaneateles, Olean, and Honeoye, will exceed your expectations.