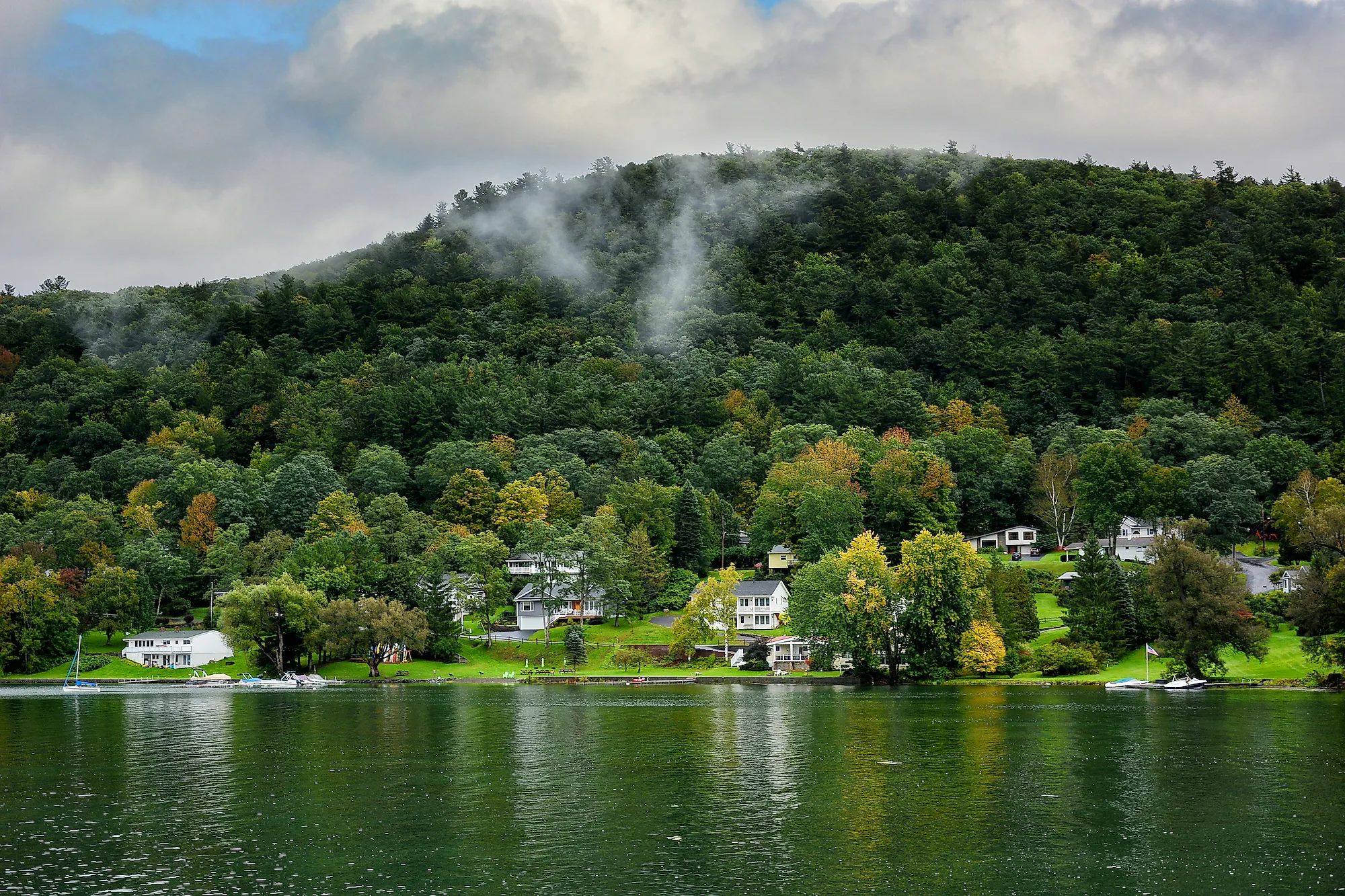 Cooperstown is a village in the central New York state of the US, stretching over 1.6 square miles in Ostego and Middlefield towns, under Ostego county seat. Initially famous for its association with The Leatherstocking Tales by author James Fenimore Cooper, the village is recognized by the Americans as the home of the National Baseball Hall of Fame and Museum, holding a close connection with the baseball world. Besides, the village hosts a bunch of rural traditions, restored historic structures, and countless cultural attractions, forming its exclusive atmosphere.
The Geography And Climate Of Cooperstown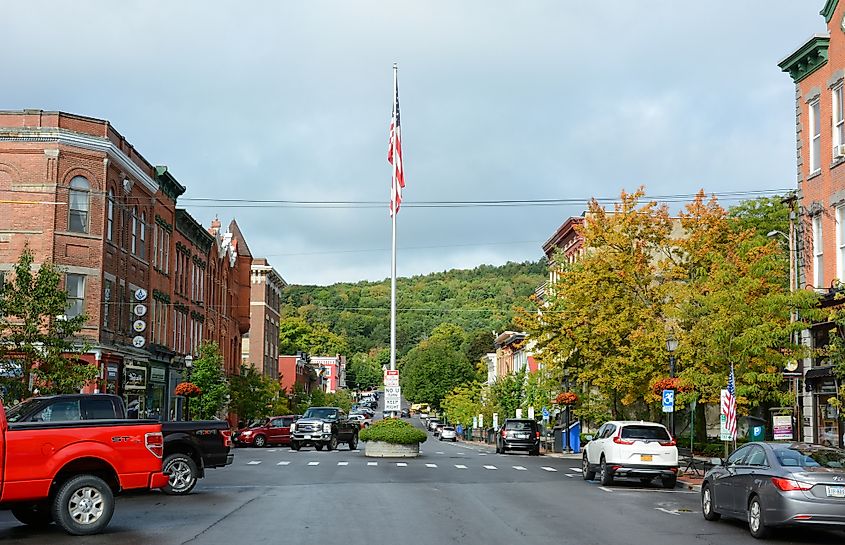 Cooperstown is situated between the Catskill and Adirondack Mountain ranges, along the southern shore of Otsego Lake, sourcing the Susquehanna River 38 miles southeast of Utica. The village covers a total area of 1.6 square miles, of which 1.5 square miles is land and 0.04 square miles is water.
Cooperstown has a humid continental climate, warm summers, and freezing- snowy winters, with cloudy and wet skies all year round. According to the season, the temperatures vary from -10 °C to 25 °C and are hardly below -19 °C or above 29 °C. For visitors, the best time to visit the village for warm-weather activities is from late June to early September, and it is avoided during January and February due to its freezing and snowy conditions. 
A Brief History Of Cooperstown
The village was founded in 1785 by Judge William Cooper. Back then, the area was part of Montgomery County, and it was incorporated as the "Village of Otsego" in 1807. Later on, in 1812, it was renamed "Village of Cooperstown" after its founder. The village serves as a monument to the Cooper family, having the judge's son, James Fenimore Cooper, buried in the cemetery of Christ Episcopal Church. Cooperstown is one of the twelve villages in New York that are still incorporated under a charter, with other villages having been incorporated under the rules of Village Law.
Population And Economy Of Cooperstown
Cooperstown is populated by 1,853 residents. About 88.84% of those residents were born in the United States, with 59.97% born in New York. Whereas 6.70% of Cooperstown residents are not US citizens, the largest percentage of those who were not born in the United States are from Asia.
The economy of Cooperstown relies on local services and tourism revenues. Health care & social assistance, accommodation & food services, and educational services are considered the village's key industries. Moreover, the average annual income of a Cooperstown resident is $42,004, undergoing a high sales tax rate of 8.0% and an Income tax rate of 6.5%.
Top Attractions At Cooperstown
National Baseball Hall of Fame & Museum
Presenting more than 60,000 square feet of display area to exhibit plenty of treasures from baseball's glorious history, there are loads to explore at the National Baseball Hall of Fame. This attraction in Cooperstown honors the players, managers, and executives who achieved excellence in America's past time. Visitors dive into baseball's history, exploring the struggles and downfalls that made champions and crowned World Series champs. Baseball enthusiasts can visit the nearby Doubleday Field, which has been used for baseball since 1920, where Abner Doubleday used to play the game.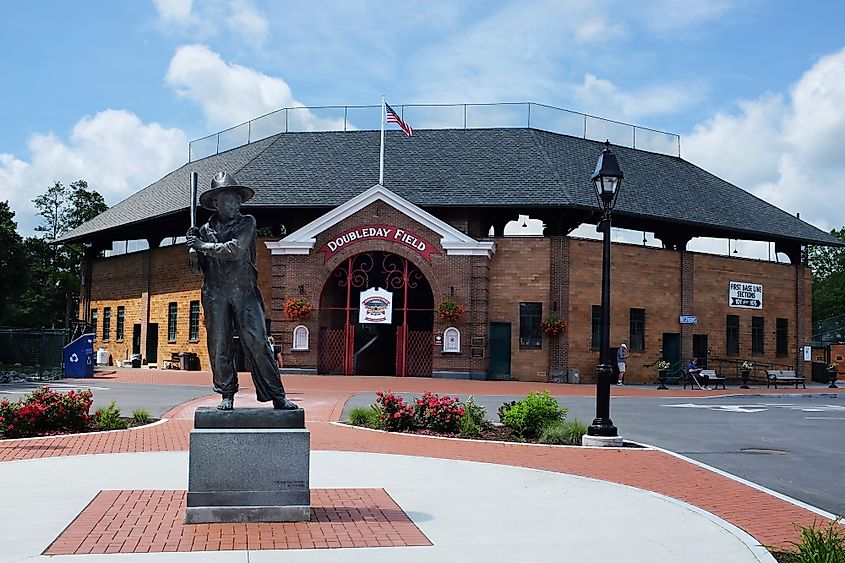 Farmer's Museum
The Farmers' Museum of Cooperstown is considered one of the oldest living history museums, featuring exhibits, craft demonstrations, and hands-on activities that bring history to life. The museum offers its visitors the experience of 19th-century rural village life through demonstrations and informative exhibits, including a colonial revival stone barn, the Empire State Carousel, and a working ranch. The museum also saves a collection of more than 23,000 items, showing examples of upstate New York architecture, ancient agricultural tools, and equipment, where visitors experience the interaction that used to happen back in the 1840s between trades, and village life, and agriculture in New York State.
Glimmerglass State Park & Hyde Hall
Glimmerglass State Park overlooks Otsego Lake, called "Glimmerglass" by James Fenimore Cooper in his Leatherstocking Tales. The park is open all year-round, in which each season brings a list of outdoor recreational activities for visitors to the park. The park is 3 minutes drive from Hyde Hall, a historic 50-room country mansion and a monument of a former American era when powerful English families founded huge parklands in their previous colonies.
Besides all the above attractions, Cooperstown has a selection of more museums and festivals, and events that attract visitors and residents, topped by the Glimmerglass Festival. This internationally-celebrated summer opera festival offers operas in a splendid setting overlooking Otsego Lake.
Named as America's hometown, it's no wonder to be considered equally perfect by its visitors. Cooperstown shows off its small-town appeal and world-class attractions, boasting numerous museums, an unusual tribute to baseball history, and a range of parks and recreational spots.