Winter is an attested magical time spent in Finger Lakes, not only during the holiday season but for the natural beauty that shines through in a whole new way under the snow-cover. The ideas of engaging oneself there during wintertime listed below are the best activities unique to this region.
Shopping For Gifts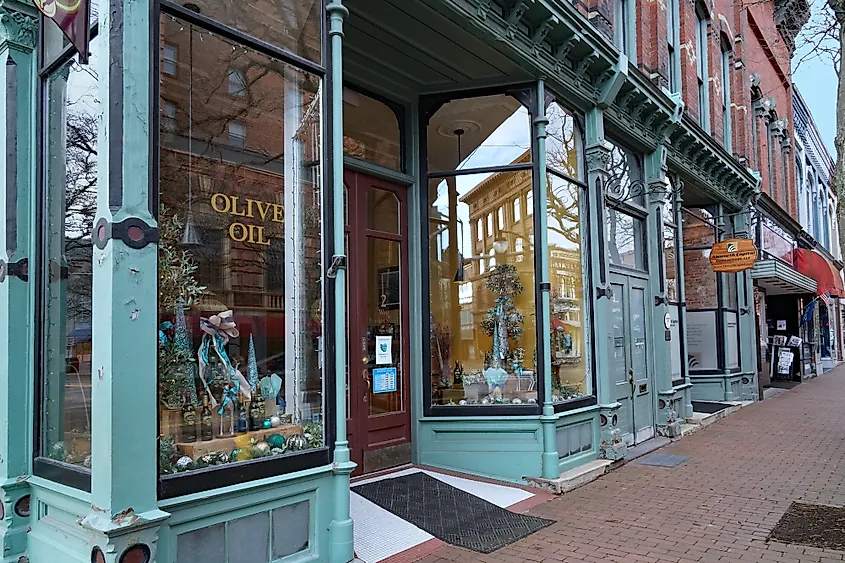 If visiting Finger Lakes before the holidays, it is a perfect opportunity to go shopping for some Christmas gifts, unique trinkets for the tree, house-ware, or a new outfit item that one can justify buying as part of the deserved getaway after months of working. It is also a great way to check out the local craft, not available in other places, and holding a promise of a truly one-of-a-kind find. On the other hand, one can always opt-out to visit during the boxing week sale to stock up on bargains.
The Eastview Mall in Rochester has five major department stores, among many others, providing a full day of active shopping, eating, and relaxing. The Mackenzie Childs is a must-visit when in Aurora for some mesmerizingly intricate tableware items to reminisce about forever after. Artizann's in Naples is full of artwork, crafts, and jewelry made by local artists, while the F. Oliver's in Canandaigua contains some of the freshest oils and flavor-infused balsamic vinegar.
The Corning Winter Farmers' Market deserves a special mentioning, as well, with the farmers and artisans of the town proudly presenting their local variety of natural products right from their homes, such as naturally raised meats, honey, gift items, fresh food, and much more. Found in downtown Corning, at 1 West Market Street, the Winter Farmers' Market welcomes visitors every Saturday from November through March, starting at 11 a.m. 
Wakins Glen Village Christmas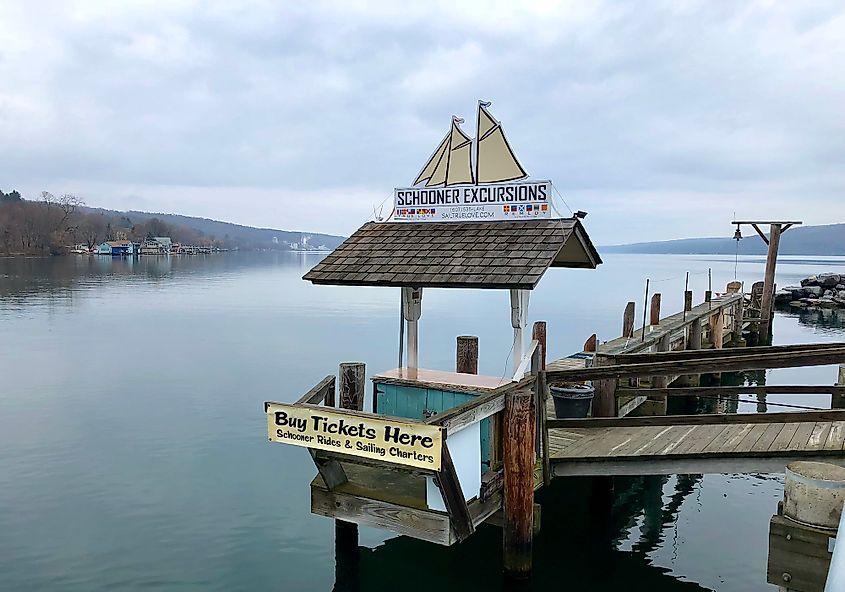 This Seneca Lake event comes complete with the magical views of the frozen lake, and the snow-covered trees and rooftops will awaken a true holiday spirit for an unforgettable time spent with the whole family. Usually taking place in the second week of December, the Wakins Glen Christmas Village has been a loved tradition in the town for almost 30 years. Among the myriad of other things to see and do, the Dr. Seuss parade, fireworks at the pier, as well as meet and greet with Santa and Mrs. Clause are the most popular highlights. Locals thoroughly enjoy the arts and crafts sprinkled throughout the outdoor venue. Last year, the spectators also enjoyed a new Our Visions of a Candy Land Christmas parade.
Rice Hill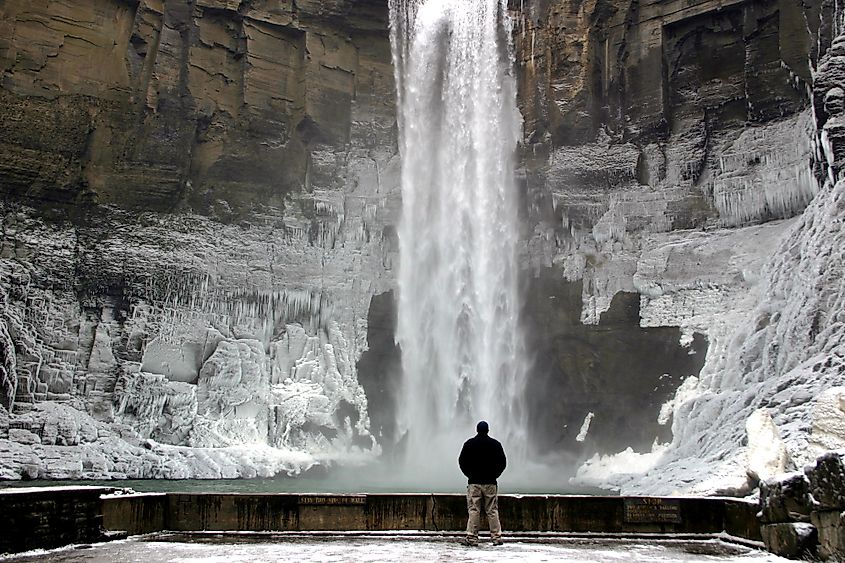 During wintertime, one cannot miss a chance paying a visit to this gem of the Trumansburg town in New York, set on the north side of the Taughannock State Park. The great hill is pretty long and maybe the best spot in the whole region to go sledding. The two ponds set at the bottom of the hill freeze over in winter to allow ice-skating. If neither of these activities seems appealing, one can always choose to rent some snowshoes or a pair of skis to tackle one of the "Multi-use trails" that allow for snowshoeing or go hiking on them. Sitting either by way of Route 89 or Route 96, one needs to follow the signs for Taughannock Falls State Park to reach this wintertime Finger Lakes hotspot. 
Ice Fishing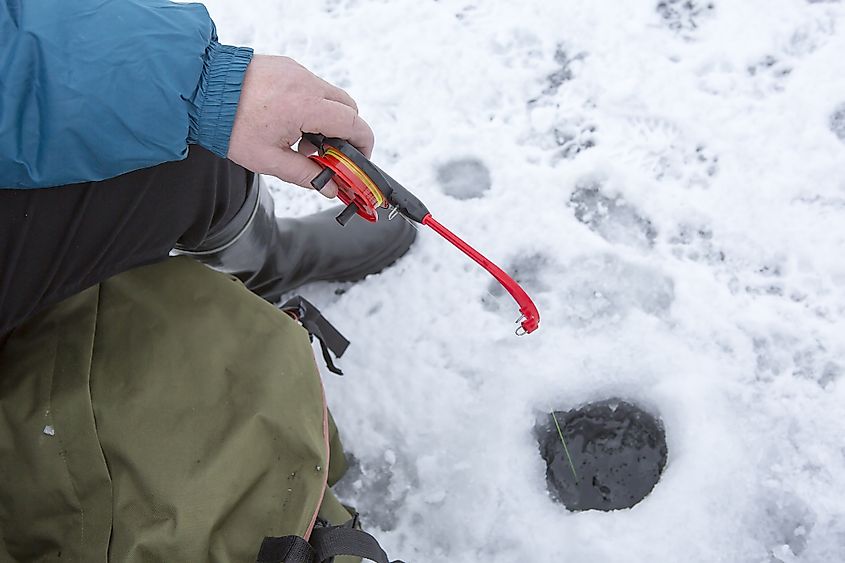 Those who have ice fished before know how occupying and serene the pastime is. The opportunity to engage in this unique experience is plentiful in the Finger Lakes region. The Y-shaped Lake Keuka's tips are one of the most popular spots for the variety of fish one can catch, such as yellow perch, large and smallmouth bass, lake, brown, and rainbow trout, sunfish, and pickerel. The latter two can also be found in the Loon Lake along with black crappie that can also be caught at the Almond Reservoir, along with brown bullhead, common carp, golden shiner, pumpkinseed, spottail shiner, white sucker, yellow perch, and largemouth bass. Northern pike, pickerel and panfish are popular in the north end of Cayuga Lake, while many locations also offer rentals, so one can be comfortable while enjoying full days of ice fishing.
High-Speed Ski At Bristol Mountain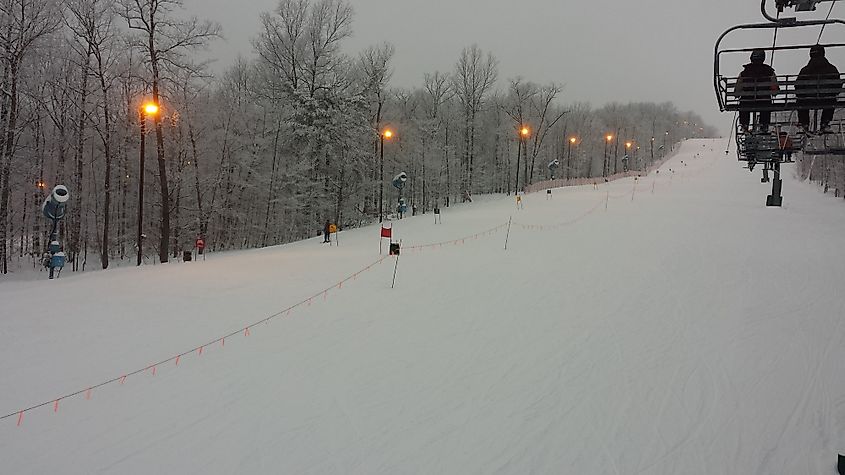 Coupled with state-of-the-art snowmaking, the 1200 feet of vertical, two high-speed quads of Bristol Mountain in Canandaigua offers some extreme skiing of the larger slopes. There is also 3 km of gently rolling trails for novices, manicured to a pristine condition for smooth rides down. Those favoring other activities, the ski rentals also provide snowshoes to stomp one's way over the crisp fresh snow.
Wine Tour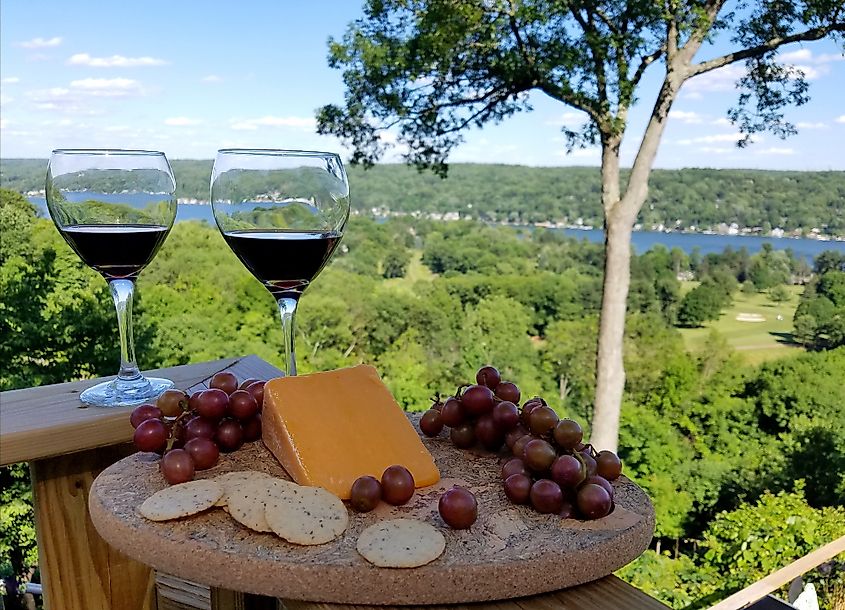 A snow-covered vineyard in the vicinity of a finger lake is a true sight to behold. The warm, inebriating aroma of one of the many wineries of the region, such as the Ravines Wine Cellars in Geneva, or the Inspire Moore Winery in Naples, is a treat to the senses. The Canandaigua Wine Trail and the Seneca Lake Wine Trail also offer great selections of wine, together with the meandering between the hibernating vineyards. The Seneca Lake locations also have an event season that launches off with the Bargain Bash week-long sale. 
Not only is winter time optimal for this activity due to "off-season" with small crowds, but it is also a perfect time to try some of the colder months' specialty wines and ice wines, aside from the most popular, Rieslings. Ice wines (treated as dessert wines) are produced from grapes that have been frozen to the vines, which makes them more concentrated, and the wines sweeter. Fortified wines like Sherry or Ports are complex in flavor. They have a higher alcohol content that is added with a neutral grape spirit, like brandy, which makes them more popular to sip on in smaller quantities during winter.
Maple Syrup Tasting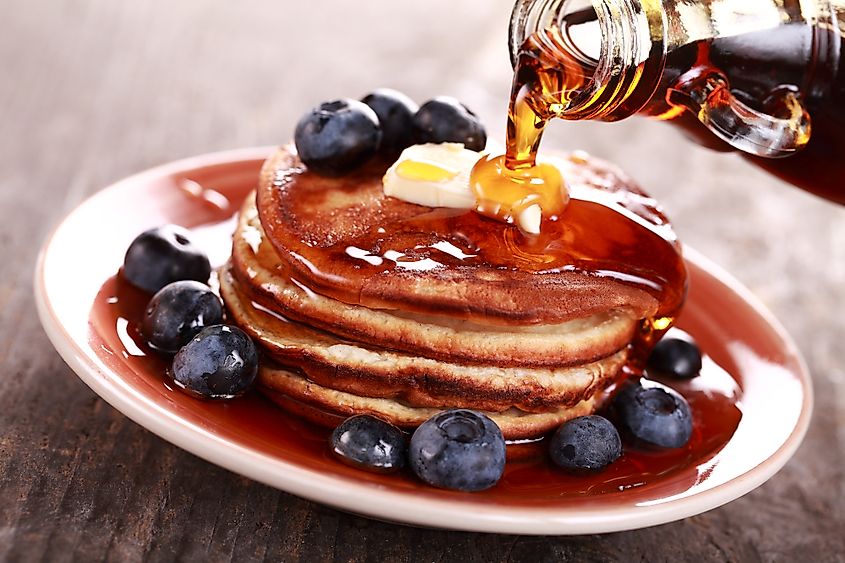 Another kind of tasting that can lead to a sugar-high and is also family-friendly is sampling nature's candy during the maple syrup season in the Finger Lakes. While vineyards may be plentiful in the region, many of the farms and orchards also produce maple syrup, where one can try out the pure product, as well as the goods made out of it, stocking up to bring some home for the kitchen or as souvenirs for the friends and family. Some of the towns in the region have markets with maple syrup that are open year-round, including Bath's Parluski's Farms, Hornell's Stewart's Family Farm, Elmira's Chamberlain Acres Farmer's Market, Painted Post's Painted Post Farmers Market, Penn Yan's Oak Hill Bulk Foods and Apple Barrel Orchards, Burdett's Thyme Stands Still Farm Stand, and Hammondsport's Oak & Osage Farm. 
Create Own Glass Tree Decorations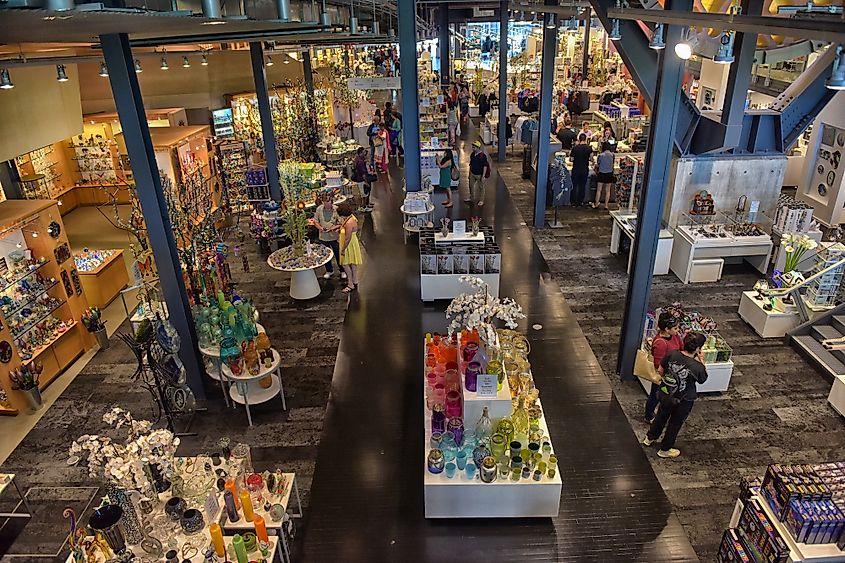 This fun way to experience wintertime in the Finger Lakes region may be the most sought-after on the list. It offers the perfect opportunity to gain a new skill and produce something to take with, which engages the creative side and tests out or lets one practice their dexterity. Corning's Hands-On Glass studio offers several unique classes. The famed Corning Glass Museum has holiday-themed classes that include Christmas tree sculpture-making, snowman ornament-making, and fused glass ornament-making. Creating a glass tree decoration for someone special is also a perfect way to show love. 
The best thing about these activities is that they can suit any taste or group of people, from family to friends, to honeymooners. With each one being uniquely charming, the special atmosphere that comes with the cold season is, without a doubt, worth paying a visit to try out.