World Facts
The 10 Biggest Cities In Oklahoma
Oklahoma City is the most populated city in Oklahoma.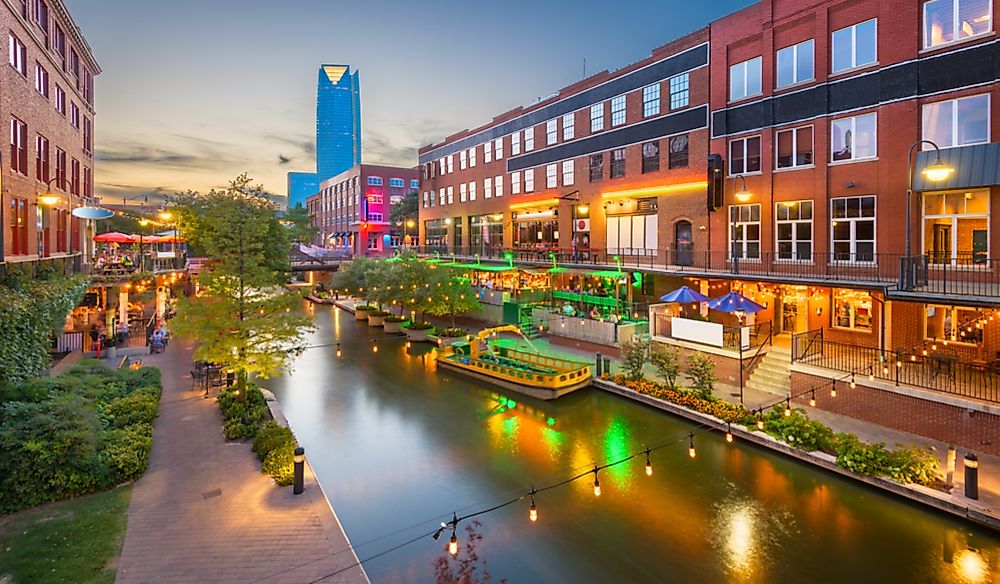 The US state of Oklahoma is located in the southern region of the country. It is home to 3,751,616 inhabitants that makes it the country's 28th most populous state. With an area of 177,660.0 square km, Oklahoma is America's 19th most expansive state. Oklahoma has 77 counties with 597 incorporated municipalities including towns and cities. All incorporated municipalities with a population of 1,000 and above are called cities. The most populous city in Oklahoma is Oklahoma City, followed by Tulsa, Norman, Broken Arrow, and Lawton among others.
Largest Cities in Oklahoma
1. Oklahoma City
With a population of 579,999 individuals, Oklahoma City is Oklahoma's largest city. It is also the state capital and the county seat of Oklahoma County. It is the country's 27th most populous city. Although most of the city is located in the Oklahoma County, its limits also extend into Cleveland, Pottawatomie, and Canadian counties. Oklahoma City is the country's second biggest city in terms of area which is 1,606.67 square km. The city has one of the largest livestock markets in the world. Also, petroleum and natural gas industry are well established here. The federal and state governments also employ many people.
2. Tulsa
Oklahoma's second most populated city is Tulsa. It has a population of 391,906 individuals. It is the country's 47th biggest city by population. Tulsa is the county seat of Tulsa County, the state's most densely populated county. Settlement in the region began in the early 19th century. In the 20th century, Tulsa was nicknamed the "Oil Capital of the World" as it was one of America's biggest hubs for the oil industry. Today, however, the city's economy has diversified significantly.
3. Norman
The US city of Norman is Oklahoma's third largest city. It has 110,925 residents. It serves as the county seat of Cleveland County. The University of Oklahoma, the state's largest university, is located here. Other higher learning and research institutions are also present in Norman. The University of Oklahoma has several museums including a natural history museum and an art museum.
4. Broken Arrow
Broken Arrow is located in the Tulsa County of Oklahoma. A small section of the city extends into Wagoner County. With a population of 98,850, it is the state's fourth largest city. Although Broken Arrow was primarily an agricultural community in the past, today it has a diverse economy.
5. Lawton
Lawton, the fifth most populated state in Oklahoma, has a population of 96,867 people. It is the county seat of Comanche County. The city was established in 1901. It mostly has flat topography with gently rolling hills. The Fort Sill Military Reservation forms the backbone of Lawton's economy. Other important economic sectors in the city include higher education, health care, retail, and manufacturing.
The Economy of Oklahoma
Oklahoma has a diverse economy. The state hosts a variety of sectors like energy, aviation, electronics, food processing, etc. It is the country's third largest natural gas producer. It ranks 5th in wheat production in the US. Oklahoma is regarded as one of the nation's most business-friendly states.
The 10 Biggest Cities In Oklahoma
| Rank | City | Population | County |
| --- | --- | --- | --- |
| 1 | Oklahoma City | 5,79,999 | Oklahoma |
| 2 | Tulsa | 3,91,906 | Tulsa |
| 3 | Norman | 1,10,925 | Cleveland |
| 4 | Broken Arrow | 98,850 | Tulsa |
| 5 | Lawton | 96,867 | Comanche |
| 6 | Edmond | 81,405 | Oklahoma |
| 7 | Moore | 55,081 | Cleveland |
| 8 | Midwest City | 54,371 | Oklahoma |
| 9 | Enid | 49,379 | Garfield |
| 10 | Stillwater | 45,688 | Payne |
About the Author
Oishimaya is an Indian native, currently residing in Kolkata. She has earned her Ph.D. degree and is presently engaged in full-time freelance writing and editing. She is an avid reader and travel enthusiast and is sensitively aware of her surroundings, both locally and globally. She loves mingling with people of eclectic cultures and also participates in activities concerning wildlife conservation.
This page was last updated on January 15, 2019.
Citations
Your MLA Citation
Your APA Citation
Your Chicago Citation
Your Harvard Citation
Remember to italicize the title of this article in your Harvard citation.