Society
Nations Around The World Where Child Marriage Is Legal
Across much of the developing world and Middle East, there are no laws on the books prohibiting or invalidating child marriage.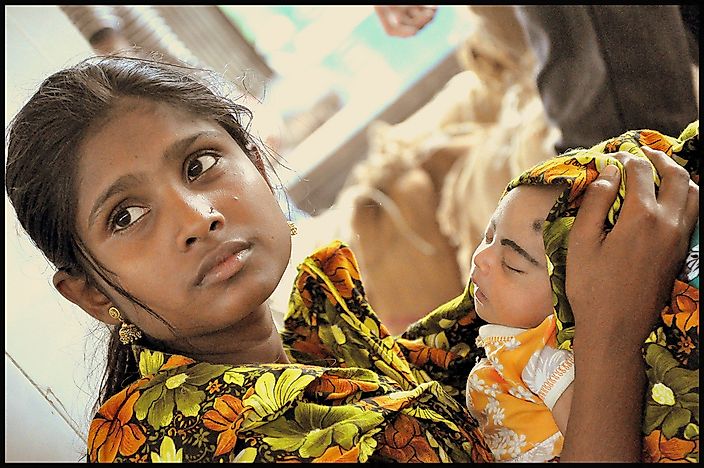 Child Marriage Facts
Child marriage has become a global problem that is very common in most countries especially in the developing countries and the Middle East. According to International Center for Research on women, 1/3 of women are married before their 18th birthday while 1/9 women are married before their 15th birthday. Child marriage is giving away a child who is under the age 18 years into marriage and it could either be a boy or a girl. Child marriage is rampant because there are no laws protecting children from married before the appropriate age of 18 years.
Cultural Factors
Child marriage has been around for generations with most cultures supporting it as a cultural norm. Child marriage has since become part of a culture that defines a community practice and is considered sacred. Opponents of the child marriage legislation see it as a taboo to prohibit children from getting married at an early age. Children also see it as a sign of pride to get married at a very young age just like their parents and past generations. Gender inequality is also a contributing factor in the promotion of child marriage. Parents will marry off girls rather than take them to school. Families also guard their girls' sexuality and value virginity to the extent of marrying them off early enough to preserve the family honor. Poverty has also led to opposition by any attempt to outlaw child marriage. Early marriage is considered a source of wealth through bride price while the girl feels the change of economic status if married to a wealthier person.
Legal Factors
Enacting anti-child marriage laws requires political will. However, proponents of such legislation do not get enough support from the political class because of fear of being rejected by the electorate who support child marriage. Another bone of contention has been the appropriate age when one is considered adult. While majority agree that 18 is the right age opponent of the laws, on the other hand, feel that one is mature by looks and by the ability to handle house chores and not age. Most countries already have a bill of right that is considered universal for all as such they do not see the need for having legislation for women, children, or any other disadvantaged grouped.
Impact Of Absence Of Laws
Lack of appropriate laws to protect children from early marriages has continued to encourage child bride in different countries. Today there are about 80 million girls married before the age of 18 in developing countries, Middle East, and Latin America. It is projected that if the trend continues then, 150 million girls will be married before they turn 18 years by 2025 according to World Bank. The risk of contracting HIV/AIDS is high among children marrying older people who are likely to have had many sexual experiences. Since the number of girls married as children is greater than boys, this has had the greatest impact on the education level of the girl child. Child bride continues to face opposition from the older generation who support early marriages.
Some of the African countries that are yet to pass laws prohibiting child marriage include Sudan, Namibia, Morocco, Burkina Faso, Burundi, South Sudan, Uganda, Malawi, Togo, and Madagascar. While Nepal, China, Haiti, Iran, Iraq, and Saudi Arabia are some of the countries in the Middle East and Asia that are yet to pass anti-child marriage legislations.
Nations Around The World Where Child Marriage Is Legal
| | |
| --- | --- |
| Country | Laws Prohibiting or Invalidating Child Marriages? |
| Sudan | No |
| Namibia | No |
| Nepal | No |
| China | No |
| Fiji | No |
| Iran | No |
| Morocco | No |
| Burkina Faso | No |
| Burundi | No |
| South Sudan | No |
| Comoros | No |
| Palau | No |
| Saudi Arabia | No |
| Panama | No |
| Samoa | No |
| Solomon Islands | No |
| Grenada | No |
| Oman | No |
| Botswana | No |
| Swaziland | No |
| United Arab Emirates | No |
| Bahrain | No |
| Uganda | No |
| Malawi | No |
| Vanuatu | No |
| Afghanistan | No |
| Madagascar | No |
| Mauritania | No |
| Maldives | No |
| Bhutan | No |
| Togo | No |
| Trinidad and Tobago | No |
| Micronesia | No |