Economics
Countries With The Largest Decreases In Export Volumes Since 2000
Several island nations currently record exceptionally low export volume indices.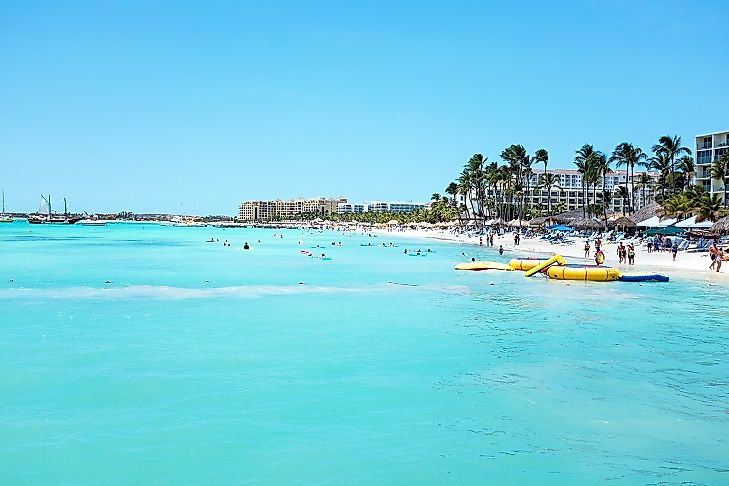 Exports into the international marketplace will play a critical role in any country's balance of trade. Exports add to the gross output of a country and also act as an exchange for other goods that are in demand in the exporting countries. Major exports from developed economies are mainly machinery, electronics, telecommunication devices and finished agricultural products. Developing countries mainly export raw agricultural products, crude fuel, and manpower. Export volumes are unusually high in the developed countries compared to developing economies. The high exports volumes from the developed world are because these countries are chief exporters while developing countries, on the other hand, are mainly importers. Most of the island nations continue to record low export volume indices. Some of the countries with the largest relative decreases in export volume since 2000 are looked at below.

Northern Mariana Islands
The Northern Mariana Islands' latest export volume index was 0.1% relative to the year 2000. Over the last two decades, the export volume indices have been fluctuating between 106.66% and 0.1%. Northern Mariana Islands export mainly to India, the United States, Australia, and New Zealand. Chief Commodity export is garments. Northern Mariana Islands export volumes are affected by the lack of export commodities, challenges of accessing the international market, and trade restrictions in the country that delay export to the global mark. Low export volume index has affected the quality of Northern Mariana Islands' trade in the market. Investors are also shying away from investing in the export sector because of the small volumes.
Aruba
Aruba's latest export volume index was measured at 2.3% relative to 2000, an indication that it has one of the lowest trading volume indices in the world. The country's export value is around $116 million annually, with the exports of goods and services accounting for 70% of the country's Gross Domestic Product (GDP). Aruba Exports mainly beverages, tobacco, precious stones, cosmetics, and electronic machinery. Some of its popular export destinations include Colombia, US, Venezuela, Netherlands, and Mexico. Aruba's low export volume is attributed to the value of commodities it exports to the international market. The country faces competition for export of these goods from already established economies thereby reducing their export volume. Also, delay in export products reaching the international market has affected the export volume index.
Curacao
Curacao's export services are considered by other countries to give significant added value, leading to a higher export volume than the two other island nations listed above. Curacao is ranked 132nd largest economy in the world with an export value of $2.45 billion. The country's top exports include gold, crude and refined petroleum and frozen fish. The top export destinations are Nicaragua, Switzerland, Brazil, and the US. Curacao is one of the countries with the largest decrease in export volume. According to United Nation Commission on Trade and Development, the country's export volume index was 12.2% in 2015. The decrease in export volume was as a result of low trading volumes and delay in access to the market.
Contributing Factors
Other countries with some of the largest decreases in export volume index include Bermuda (13.8%), Syria (16.1%), Guam (22.8%), Palau (35.4%), the Central African Republic (36.4%), American Samoa (41.4%), and Libya (41.5%). The low export volume indices are mainly as a result of low export quantity into the international market, delay in export goods reaching the market, and the competition from established economies. As you can see, these factors are often more problematic for small island nations.
Countries With The Largest Decreases In Export Volume Since 2000
| Rank | Country | Export Volume Index (Relative to the Year 2000) |
| --- | --- | --- |
| 1 | Northern Mariana Islands | 0.1% |
| 2 | Aruba | 2.3% |
| 3 | Curacao | 12.2% |
| 4 | Bermuda | 13.8% |
| 5 | Syria | 16.1% |
| 6 | Guam | 22.8% |
| 7 | Palau | 35.4% |
| 8 | Central African Republic | 36.4% |
| 9 | American Samoa | 41.4% |
| 10 | Libya | 41.5% |
About the Author
Benjamin Elisha Sawe holds a Bachelor of Arts in Economics and Statistics and an MBA in Strategic Management. He is a frequent World Atlas contributor. 
This page was last updated on April 25, 2017.
Citations
Your MLA Citation
Your APA Citation
Your Chicago Citation
Your Harvard Citation
Remember to italicize the title of this article in your Harvard citation.