Economics
Countries With The Largest Increases In Real Export Values Since 2000
Using the standards set forth by the IMF and UN, Sierra Leone by far has the highest export value index.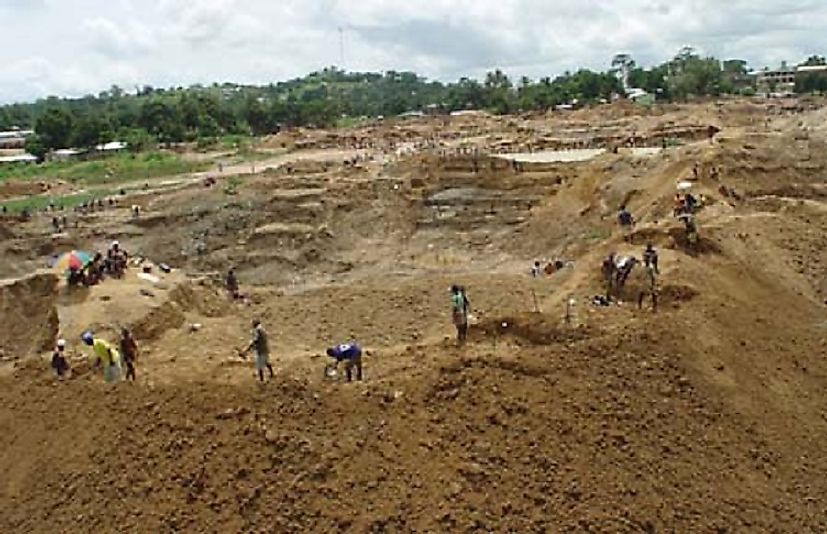 The export value index are an expression of changes in the current export value converted to US Dollars. The export value index is then expressed as a percentage of the average base period. The base period is 2000, thus the export value is expressed as 2000 being "100%". The export index value is reported by most economies around the world yearly by the United Nation Commission on Trade and Development (UNCTAD. Export value index can also be derived from export volume index especially for countries that do not publish their export data. Over the last decade, there has been a significant increase in the real export values by most countries around the world. These countries have experienced such growth as a result of an increase in their share in the international market. Some of the countries with the largest increase in real export value since 2000 include,
Sierra Leone
According to the United Nation Commission on Trade and Development's 2015 report, Sierra Leone realized the highest export value index in 2015, with an export value index of 1,4472.2%. The export index value represented an increase of 4000% compared to 2014. The higher export index was attributed mainly to trade liberalization in the country and an increase in GDP. Sierra Leone has also reviewed its business policy making it easier for exporters to access international market. The country has also reduced their imbalances of trade significantly by improving the amount of export into the global market. With a better export value Index, Sierra Leone is likely to attract ever more export investors by building their confidence.
Eritrea
Eritrea is one of the economies that continue to face economic challenges and imbalanced international trade. Decades of civil wars, corruption, and lack of proper business regulations affected trade in this country. However, Eritrea is slowly rising from these challenges and is currently one of the most active small countries in the world. The country is currently one of the considered gateways to international trade especially for the European countries such as Italy. Eritrea's Export value index was 2070.3% according to UNCTAD report. The government of Eritrea has made it a priority to promote foreign trade and increase the country's competitiveness in the developing export markets. The modern export processing zone has also contributed to the higher increase in the export value index.
Chad
Chad has focused on boosting the exports of its commodities to finance public development and investment plans. Its principle exports include cotton, cattle, Arabic gum, and oil. In a bid to boost its export, Chad has joined several economic trading blocs such as Economic and Monetary Community of Central Africa and the Economic Community of Central African States. The country's export index has significantly increased to 1967.2% according to UNCTAD report. The Export value index is expected to continue rising due to the government's focus on promoting export and its increased activities in the international market.
Other countries with some of the largest increase in export values since the turn of the new millennium include Azerbaijan (1,619.5%), Panama (1,533.9%), Rwanda (1,388.6%), Mozambique (1,298.2%), Burkina Faso (1,190.8%), Equatorial Guinea (1,148.6%), and Qatar (1136.1%). The large increases in export value are attributed mainly to activities fostering their respective international trade relations and access to global markets.
Countries With The Largest Increases In Real Export Values Since 2000
| Rank | Country | Export Value Index Relative to 2000 |
| --- | --- | --- |
| 1 | Sierra Leone | 14,473.2% |
| 2 | Eritrea | 2,070.3% |
| 3 | Chad | 1,967.2% |
| 4 | Azerbaijan | 1,619.5% |
| 5 | Panama | 1,533.9% |
| 6 | Rwanda | 1,388.6% |
| 7 | Mozambique | 1,298.2% |
| 8 | Burkina Faso | 1,190.8% |
| 9 | Equatorial Guinea | 1,148.6% |
| 10 | Qatar | 1,136.1% |
About the Author
Benjamin Elisha Sawe holds a Bachelor of Arts in Economics and Statistics and an MBA in Strategic Management. He is a frequent World Atlas contributor. 
This page was last updated on April 25, 2017.
Citations
Your MLA Citation
Your APA Citation
Your Chicago Citation
Your Harvard Citation
Remember to italicize the title of this article in your Harvard citation.