10 Countries With The Best Education Systems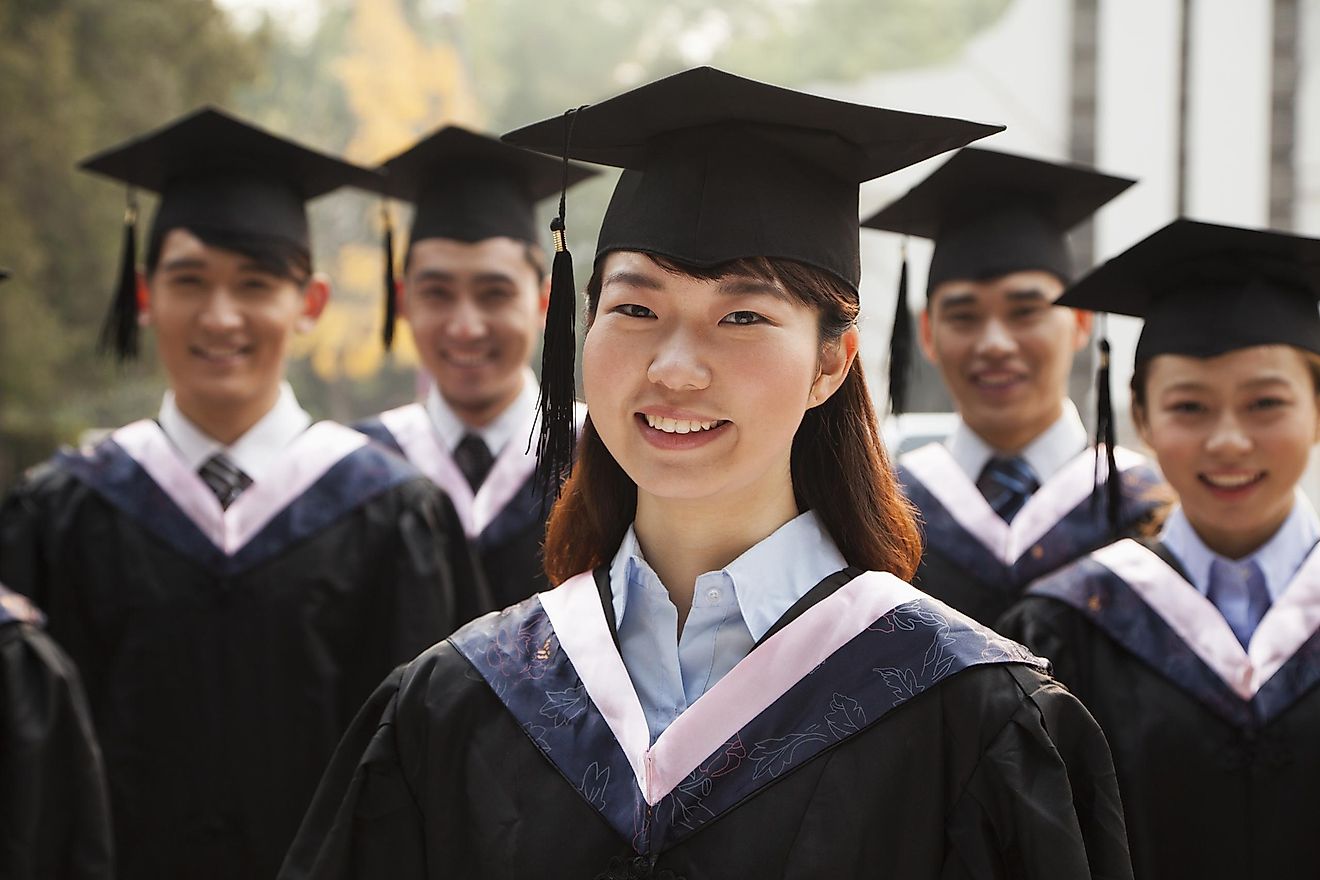 The first Pisa Worldwide Ranking took place in 2000
Pisa exams in reading, math, and science take place every three years in over 70 countries
Pisa exams have no minimum or maximum. They are scaled which results in most countries scoring 500 points and a deviation of about 100 points.
Pisa, the Programme for International Student Assessment, has released its 2018 Worldwide Ranking list. The highly influential rankings allow countries to compare their performance in math, reading, and science to education systems around the world. More than 470,000 15-year olds from over 70 countries write the standardized tests administered by the Organization for Economic Cooperation and Development (OECD). The results are not holistic, however, and not all of the data is reported. Reading scores for Spain, for instance, were omitted after the OECD detected anomalies in response times. Regions like Taiwan and Hong Kong are ranked individually by Pisa, thus altering the placement of independent countries.  
On this list, we've used the Pisa scores as well as referencing GDP data from the World Bank and the United Nations. Taiwan, Hong Kong, and Macao are included under the China ranking, and the percentage of the population who go on to pursue higher education is also a factor. 
So how did the United States do? According to the Pisa rankings, the US ranked 25th overall, coming in 37th in mathematics, 18th in science, and just missing the top 10 in reading at 13th place. Spending about 4.9% of its GDP on education puts the US on par with Ireland and Poland, and above China, Singapore, and Japan, all of whom made it to our list. Read on to discover which countries offer the best education systems.
1.  China
Even without the inclusion of Taiwan, Hong Kong, and Macau, China dominated the Pisa tests in 2018, coming in first in all three subjects of reading, science, and mathematics. With these additions, China is an educational powerhouse. Their impressive results come after a decade of modifications to the education system while maintaining an overall spend of about 4% of the GDP. The changes are clearly having a positive impact, not only on Pisa scores but also at the post secondary level where 27% of those aged 25-34 have graduated college or above.
2.  Singapore
Despite being the youngest and smallest country on this list, Singapore is a world leader in education. With a modest 3.3% expenditure on education, Singapore scores an impressive second place in all three subject areas. What's even more impressive, students are taught not only in English, the official language of Singapore, but also in at least two additional languages, including Chinese, Malay, or Tamil. It's little wonder that 54% of the population goes on to earn a post-secondary diploma.
3.  Estonia
With 41% of its population holding post-secondary certification, and 5.5% of its GDP dedicated to education, Estonia has consistently been one of the highest achieving European nations on the Pisa rankings since it joined the EU in 2005. Reading and science are particularly strong, with exam results in the top five, while math scores are ranked at 8th place.
4.  Japan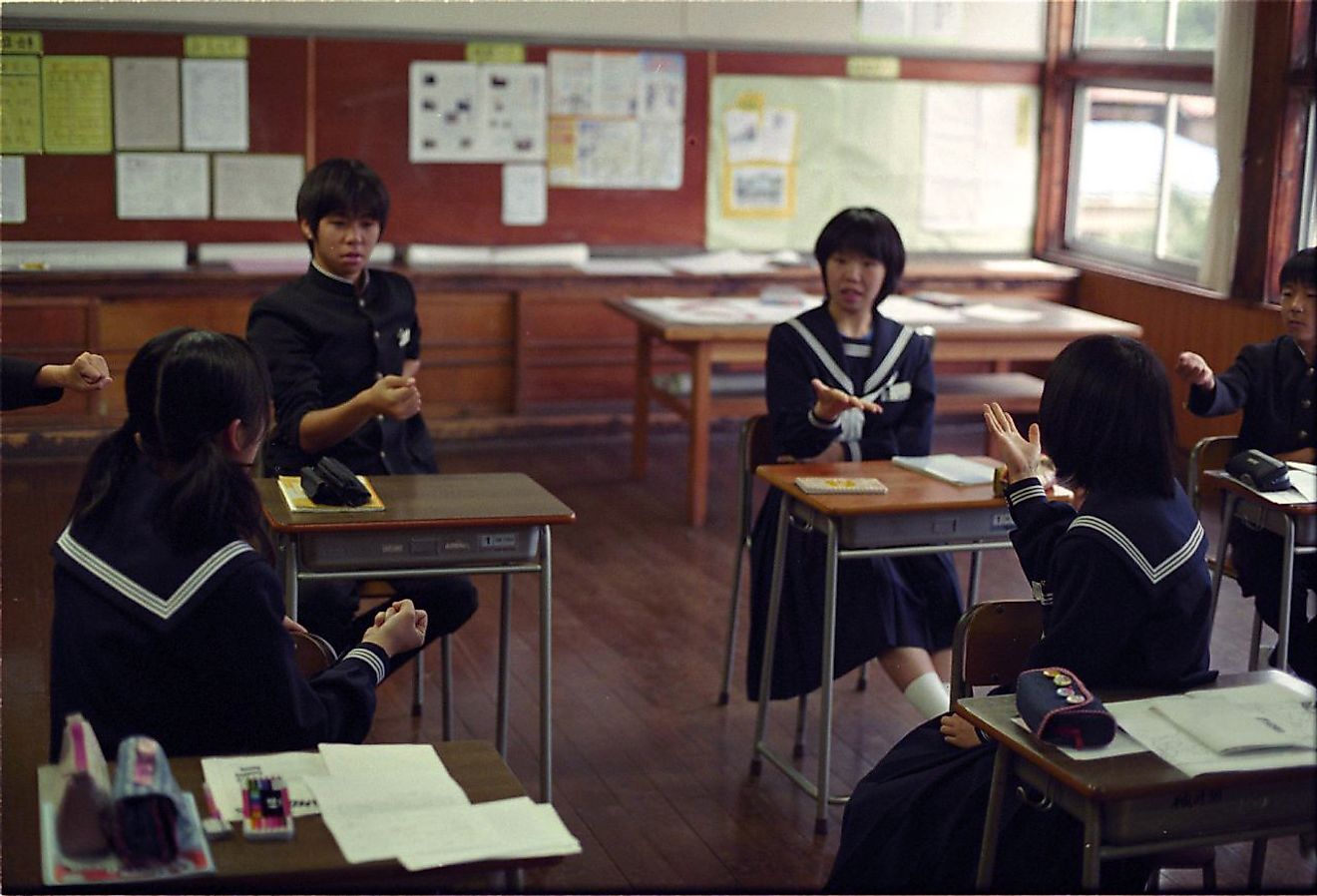 Japan boasts a well educated population, with 48% having completed the tertiary level. Despite a relatively low 3.6% government expenditure on education, its high tech economy greatly values secondary and post-secondary achievement as a means of socioeconomic mobility. Unsurprisingly, Japanese students consistently rank among the world's top five countries for reading, science, and math.
5.  South Korea
Holding a consistent place on the Pisa rankings, with 7th place in math and sciences in 2018, and 9th in reading, South Korea has one of the most educated labour forces worldwide. Over 45% of the population has graduated high school and completed tertiary education. Much of the country's rapid economic growth and high tech boom is rooted in a societal emphasis on schooling, including 5.1% of government spending dedicated to education.
6.  Canada
With 54% of its population having completed post secondary education, which ties it with Russia for the top spot, Canada is the only North American country to make it on this list. Devoting 5.5% of its GDP to education has certainly paid off, with Canada earning top ten scores in reading, math, and sciences well above its neighbors to the south in the US (25th place) and Mexico (56th place).
7.  Finland
Finland has held a place in the top ten Pisa rankings for as long as the OECD has been compiling the data. Famous for its no homework and no mandatory testing policies, this Scandinavian nation tops the government spending list at 6.8% with an impressive 42% of the population going on to earn post secondary certification.  While its Pisa scores in math have dropped to 16th place in 2018, strong results in reading (7th) and science (6th) keep Finland on the list of countries with the best education systems.
8.  Poland
Like nearby Estonia, this former Soviet satellite has seen a shift in government spending since joining the EU in 2004. Today Poland allocates 4.9% of the GDP toward education, bringing it on par with Ireland and above other countries on this list such as China and Japan. Poland earned the 10th place spot on the combined Pisa exams, and while 27% of the population holds college level diplomas, that number jumps to 43% when looking at 25-34 year olds.
9.  Ireland
Despite a much lower GDP than its neighbor, the UK, Ireland dedicates 4.9% of it towards education. The return on this investment is evident in rapid gains in the PISA rankings, with Ireland ranking above the UK in overall scores. It's unsurpising that this highly literate population, 41% of whom have a post-secondary diploma, continues to improve its education system, including the introduction of Gaelscoils, state-funded language immersion schools that teach in the traditional Irish language.  
10. Slovenia
Nestled between Italy, Austria, and Croatia, Slovenia outpaces all of its neighbours in reading, math, and science. Slovenians place a high emphasis on the value of education, dedicating not only 5.7% of its GDP to schooling, but also offering tuition-free undergraduate degrees at state universities. As a result of this no-tuition policy, 38% of 25-34 year olds have a post secondary diploma, with 29% of the overall population completing post-high school studies.
Countries With The Best Education Systems
| Rank | Country | Math | Science | Reading |
| --- | --- | --- | --- | --- |
| 1 | China | 591 | 590 | 555 |
| 2 | Singapore | 569 | 551 | 549 |
| 3 | Estonia | 523 | 530 | 523 |
| 4 | Japan | 527 | 529 | 504 |
| 5 | Korea | 526 | 519 | 514 |
| 6 | Canada | 512 | 518 | 520 |
| 7 | Finland | 507 | 522 | 520 |
| 8 | Poland | 516 | 511 | 512 |
| 9 | Ireland | 500 | 496 | 518 |
| 10 | Slovenia | 509 | 507 | 495 |
| 11 | United Kingdom | 502 | 505 | 504 |
| 12 | New Zealand | 494 | 508 | 506 |
| 13 | Netherlands | 519 | 503 | 485 |
| 14 | Sweden | 502 | 499 | 506 |
| 15 | Denmark | 509 | 493 | 501 |
| 16 | Germany | 500 | 503 | 498 |
| 17 | Belgium | 508 | 499 | 493 |
| 18 | Australia | 491 | 503 | 503 |
| 19 | Switzerland | 515 | 495 | 484 |
| 20 | Norway | 501 | 490 | 499 |
| 21 | Czech Republic | 499 | 497 | 490 |
| 22 | United States | 478 | 502 | 505 |
| 23 | France | 495 | 493 | 493 |
| 24 | Portugal | 492 | 492 | 492 |
| 25 | Austria | 499 | 490 | 484 |
| 26 | Latvia | 496 | 487 | 479 |
| 27 | Russia | 488 | 478 | 479 |
| 28 | Iceland | 495 | 475 | 474 |
| 29 | Lithuania | 481 | 482 | 476 |
| 30 | Hungary | 481 | 481 | 476 |
| 31 | Spain | 481 | 483 | |
| 32 | Italy | 487 | 468 | 476 |
| 33 | Luxembourg | 483 | 477 | 470 |
| 34 | Belarus | 472 | 471 | 474 |
| 35 | Croatia | 464 | 472 | 479 |
| 36 | Slovakia | 486 | 464 | 458 |
| 37 | Israel | 463 | 462 | 470 |
| 38 | Turkey | 454 | 468 | 466 |
| 39 | Ukraine | 453 | 469 | 466 |
| 40 | Malta | 472 | 457 | 448 |
| 41 | Greece | 451 | 452 | 457 |
| 42 | Serbia | 448 | 440 | 439 |
| 43 | Cyprus | 451 | 439 | 424 |
| 44 | Chile | 417 | 444 | 452 |
| 45 | United Arab Emirates | 435 | 434 | 432 |
| 46 | Malaysia | 440 | 438 | 415 |
| 47 | Romania | 430 | 426 | 428 |
| 48 | Bulgaria | 436 | 424 | 420 |
| 49 | Moldova | 421 | 428 | 424 |
| 50 | Uruguay | 418 | 426 | 427 |
| 51 | Brunei | 430 | 431 | 408 |
| 52 | Montenegro | 430 | 415 | 421 |
| 53 | Albania | 437 | 417 | 405 |
| 54 | Mexico | 409 | 419 | 420 |
| 55 | Jordan | 400 | 429 | 419 |
| 56 | Costa Rica | 402 | 416 | 426 |
| 57 | Qatar | 414 | 419 | 407 |
| 58 | Thailand | 419 | 426 | 393 |
| 59 | Colombia | 391 | 413 | 412 |
| 60 | Kazakhstan | 423 | 397 | 387 |
| 61 | Azerbaijan | 420 | 398 | 389 |
| 62 | Bosnia and Herzegovina | 406 | 398 | 403 |
| 63 | Peru | 400 | 404 | 401 |
| 64 | Brazil | 384 | 404 | 413 |
| 65 | North Macedonia | 394 | 413 | 393 |
| 66 | Argentina | 379 | 404 | 402 |
| 67 | Georgia | 398 | 383 | 380 |
| 68 | Saudi Arabia | 373 | 386 | 399 |
| 69 | Indonesia | 379 | 396 | 371 |
| 70 | Lebanon | 393 | 384 | 353 |
| 71 | Morocco | 368 | 377 | 359 |
| 72 | Panama | 353 | 365 | 377 |
| 73 | Philippines | 353 | 357 | 340 |
| 74 | Dominican Republic | 325 | 336 | 342 |