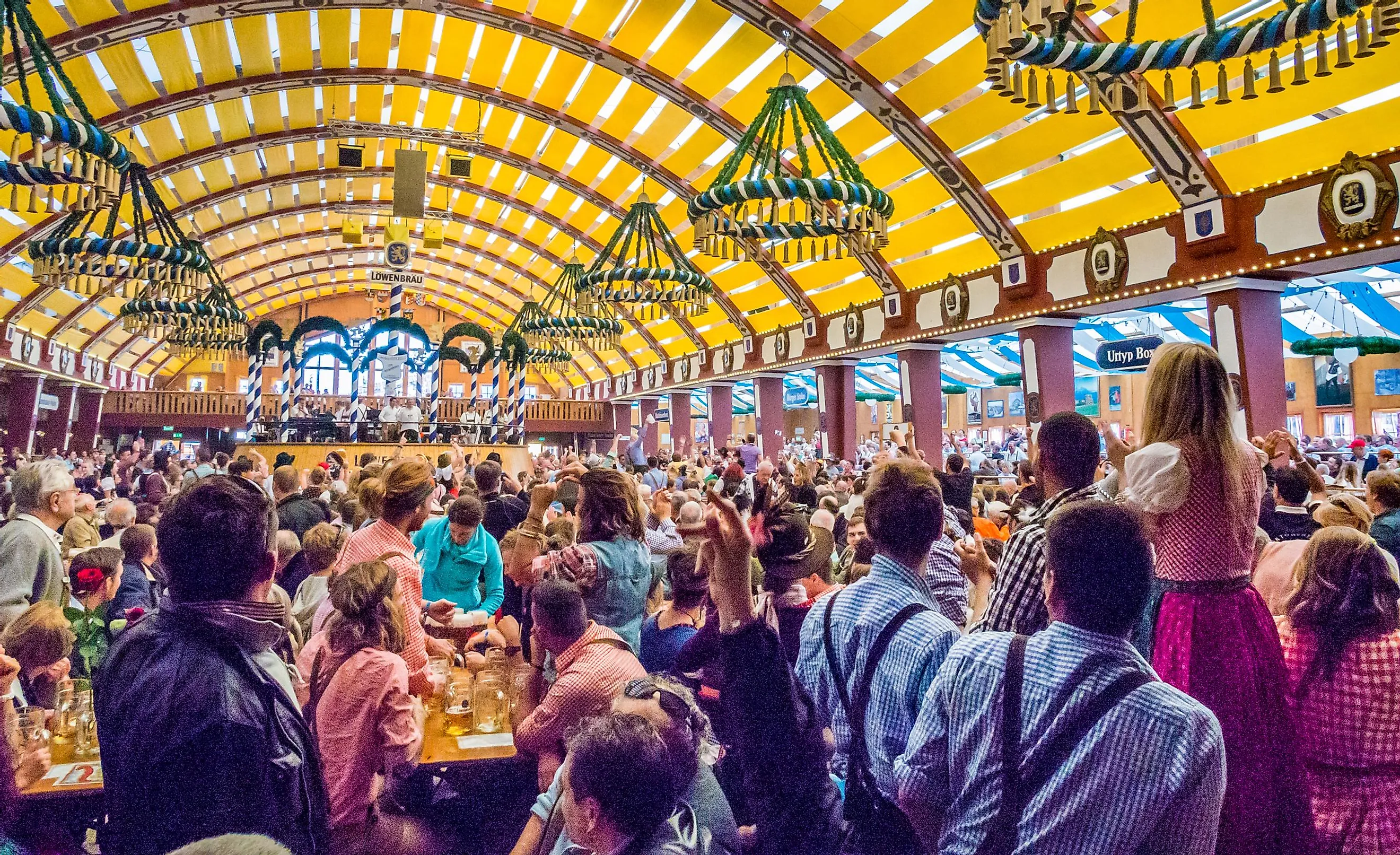 Oktoberfest Celebrations Around the World
The arrival of autumn can be bittersweet. With those long, warm days of summer firmly behind us, fall brings with it the chance for a last blast of fun before the onset of winter. And no one celebrates fall's arrival better than the Germans during their famous Oktoberfest celebration.
Held in the Bavarian city of Munich from mid-September to the first Sunday in October, Germany's 16-day Oktoberfest festival can trace its roots back to October 12, 1810. It was then that then Crown Prince (Kronprinz) Ludwig, later King Ludwig I of Bavaria, married Princess Therese of Saxe-Hildburghausen.
In a first for the time, the city's population, then around 40,000 people, was encouraged to join in the celebration of this important royal wedding. Land in front of Munich's city gates was set aside for the festivities, with the fields used named Theresa's Meadow (Theresienwiese) in honor of the bride. This tradition continues to this day, with Theresa's Meadow, usually referred to as "Wiesn" by locals, marking the epicenter of the celebrations.
Oktoberfest: The Early Years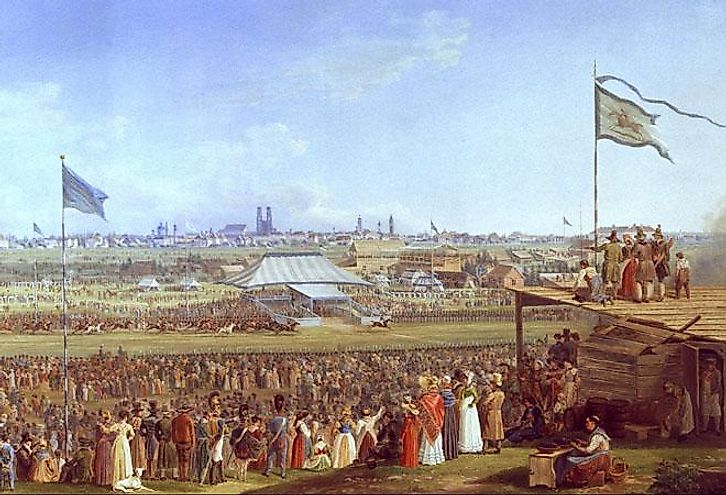 In addition to the food, wine, and beer tastings that were enjoyed, local children put on a display of dance dressed in regional Bavarian costumes. The event's very first parade was also organized, and horse races were held a few days later, ensuring the festivities extended beyond the wedding day itself.
So popular an event was it that it was decided to repeat the celebrations a year later. The decision to enshrine Oktoberfest as an annual event in the public calendar came in 1819, placing the ever-growing celebrations under the management and organization of the city itself.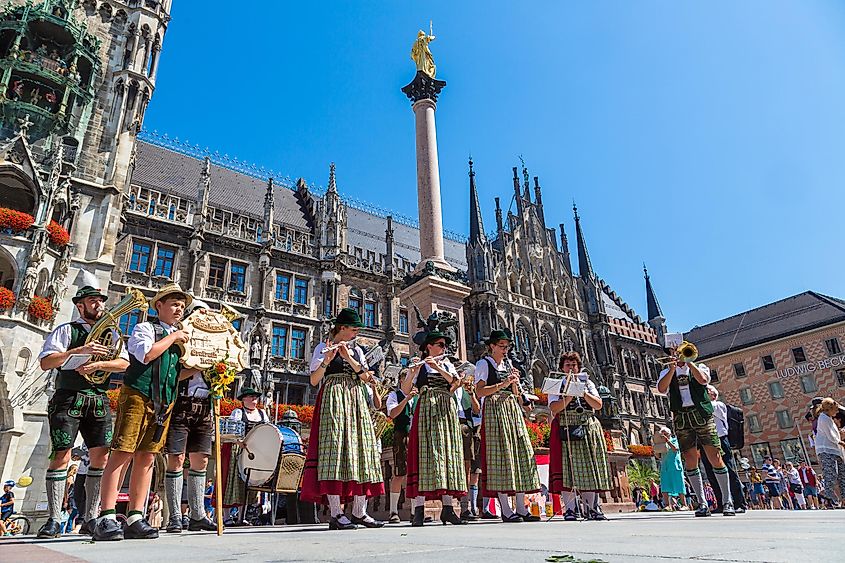 Despite a handful of cancellations due to war, the modern-day Oktoberfest has grown into one of the world's largest public celebrations. These days, more than 6 million visitors from across Germany and abroad travel to Munich to participate in the festivities, and countless imitations are now held around the world.
The Modern Oktoberfest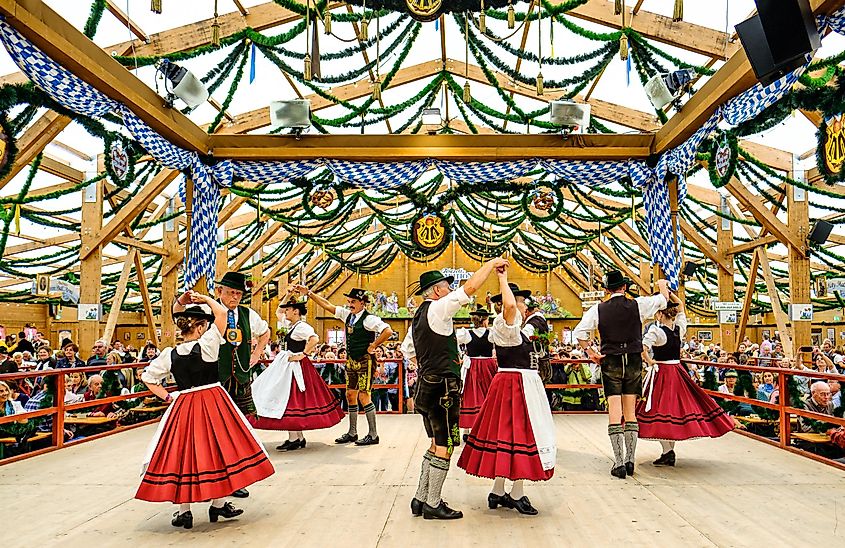 While many of the traditions of the earliest Oktoberfest celebrations have been maintained, there are plenty of things to do now that would be unrecognizable to those first revelers. Modern amusements and attractions have become the norm, from Ferris Wheels to carousels, as well as stalls offering a variety of fun games and activities.   
Entertainment, and music in particular, has become a mainstay of the modern Oktoberfest. Whether you're enjoying the festivities in places like the Bavarian-themed town of Helen, Georgia, or in Munich itself, you'll find tents and venues hosting an array of musical genres. And while much of what you experience will depend upon local tastes, you'll always find the core elements – a carnival-like atmosphere, throngs of happy revelers, and yes, plenty of beer – that make this unique German celebration so special.
Whatever continent you celebrate on, try to arrive in time to see the traditional Oktoberfest opening ceremony at least once in your life. If you do, you'll witness the tapping of that all-important first keg of Oktoberfest Beer by the community's Mayor (or some other dignitary or celebrity) with the proud proclamation, "O'zapft is!" … "It is tapped!".
Munich Oktoberfest Facts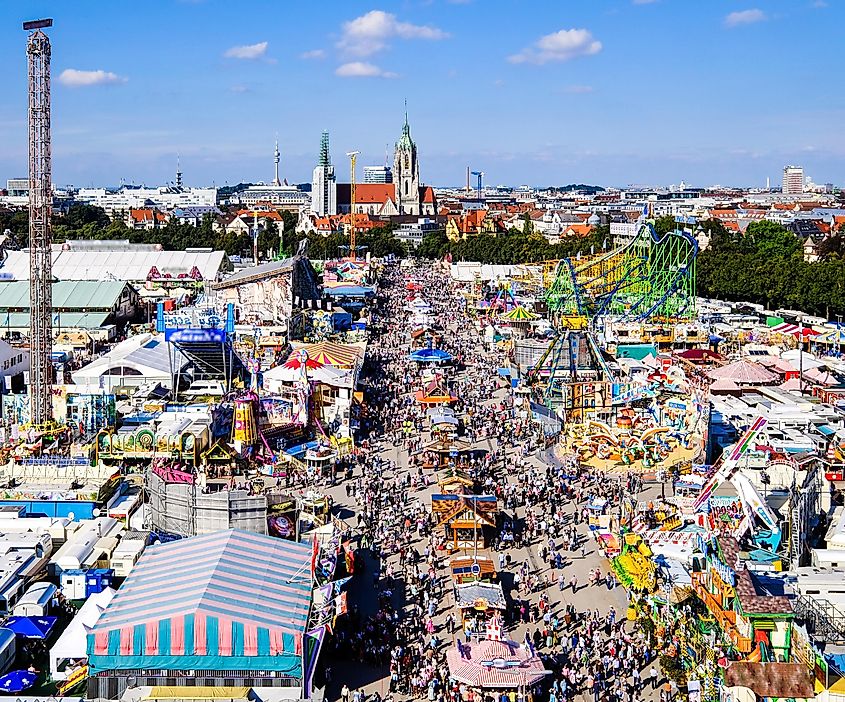 Munich's Oktoberfest became the inspiration for the modern Olympic Games after a visit by Greek delegates in 1832.
The popular brewery parade with its horse-drawn carriages was added in 1887 and is one of the most anticipated highlights.
8,000 Bavarians dressed in traditional costumes participate in the Oktoberfest parade.
Stalls selling Bratwurst sausages were added in 1881.
In 1892, beer was served in glass mugs for the first time.
Nearly 2 million gallons of specially brewed Oktoberfest Beer are consumed during the event each year.
Family-friendly events were added in 2005, including quiet tents.
Munich's Beer and Oktoberfest Museum opened in 2005 and offers a fascinating look at the history of this important cultural event.
An Oktoberfest countdown can be seen on the event's official website at https://www.oktoberfest.de/en.
Oktoberfest in the US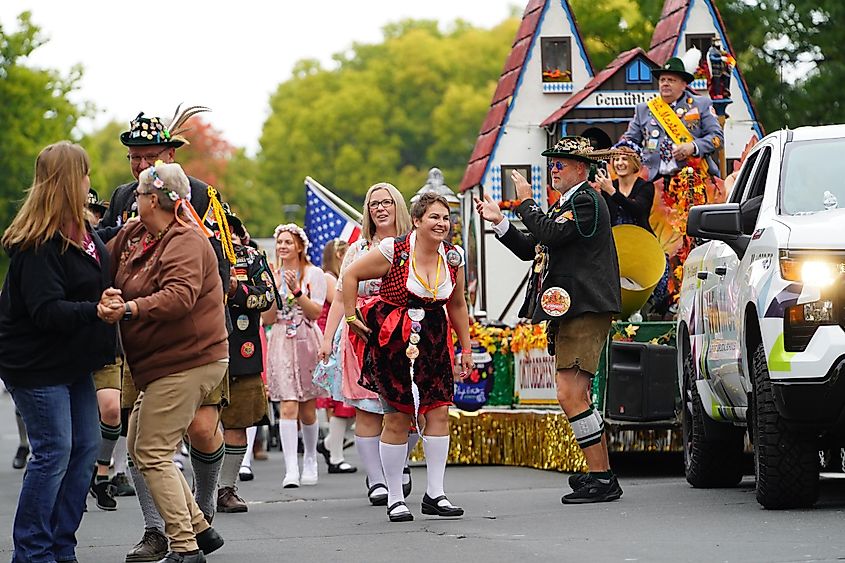 As the USA's largest "self-reported" ancestral group, it's not surprising that German-Americans brought with them a few cherished traditions that would catch on in their new home. None have proven more popular than Oktoberfest, and each year literally hundreds of communities across the USA, big and small, don the lederhosen and pour the beer for a traditional German knees-up. 
It did, however, take a little while to get started, with the first immigrants from Germany in the 19th and 20th centuries preferring to assimilate into their new country. Two world wars where Germany was a protagonist didn't help. The first recorded American Oktoberfest took place in 1961 in La Crosse Wisconsin, with the focus on folk music… and beer. Below are some of the best Oktoberfest celebrations in the USA: 
Cincinnati, Ohio
The largest Oktoberfest in the USA, Oktoberfest Zinzinnati is held in Cincinnati, Ohio, and attracts crowds of up to 500,000 people. Highlights include the tongue-in-cheek "Running of the Wieners", a fun race of 100 dachshunds wearing hot dog costumes. Oktoberfest Zinzinnati also holds the Guinness World Record for the largest chicken dance when 48,000 people, including the Prince of Bavaria, performed this polka-like dance. 
Denver, Colorado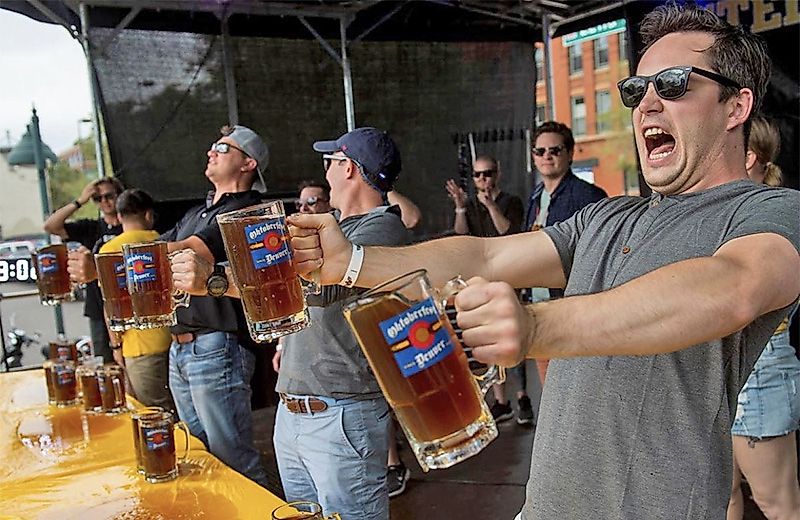 Since it started in 1969, Oktoberfest in Denver has been a fixture on the city's cultural calendar. Spread over the last weekend of September and the first weekend of October, this long-running festival includes such fun activities as music, dancing, keg bowling, and stein hoisting.
Leavenworth, Washington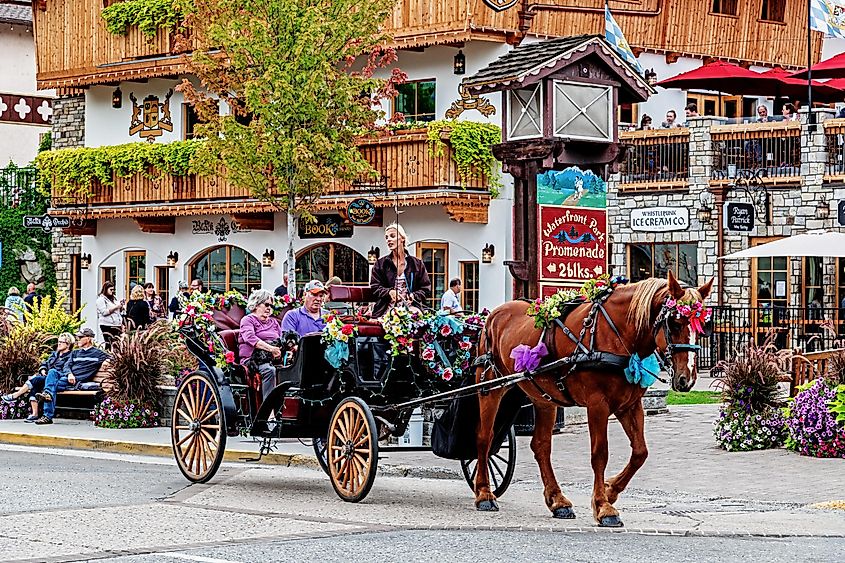 Leavenworth's mountainous setting certainly adds to the allure of its Oktoberfest celebrations. Taking place over three weekends in October, visitors come from far afield to enjoy music and beer from across the world.
Oktoberfest Celebrations Around the World
While the ultimate Oktoberfest experiences are undoubtedly to be enjoyed in Munich, a number of countries around the world have embraced this traditional German celebration. Here are a few of the best:
Kitchener-Waterloo, Ontario, Canada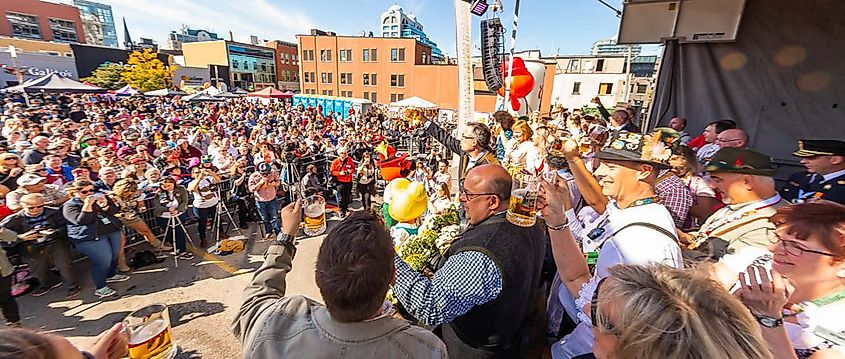 Held each year in Canada's most populated province, Ontario, Kitchener's Oktoberfest is widely considered one of the most authentic and largest Oktoberfest outside of Germany and in North America. It sticks closely to the format perfected over the centuries in Munich. Up to a million participants join in the festivities, culminating in a Thanksgiving Day Parade. 
"Blumenau", Santa Catarina, Brazil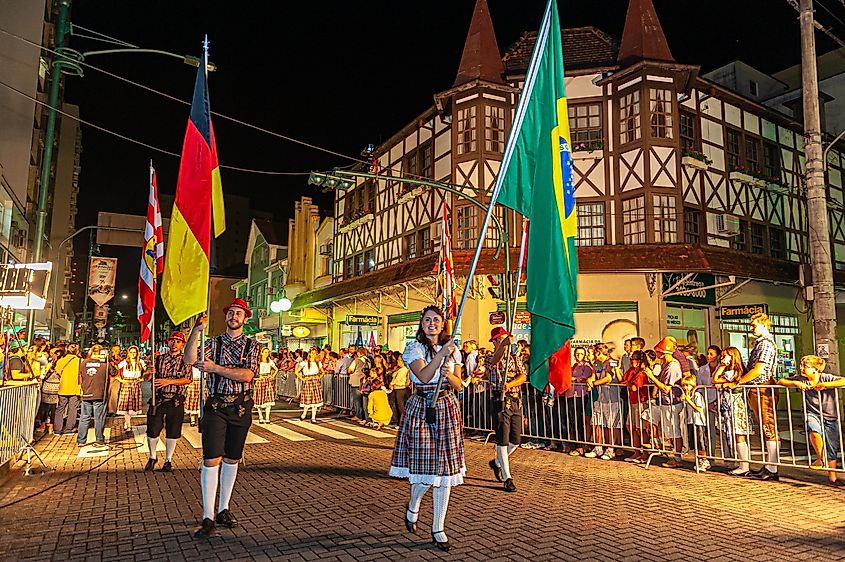 Believe it or not, Brazil is actually home to the world's second-largest Oktoberfest celebration outside of Germany. Known as "Blumenau", this 17-day-long festival is held in the large city of Santa Catarina and attracts up to 800,000 revellers each year. Highlights include beer-drinking contests (naturally), dancing, and dining.
Australia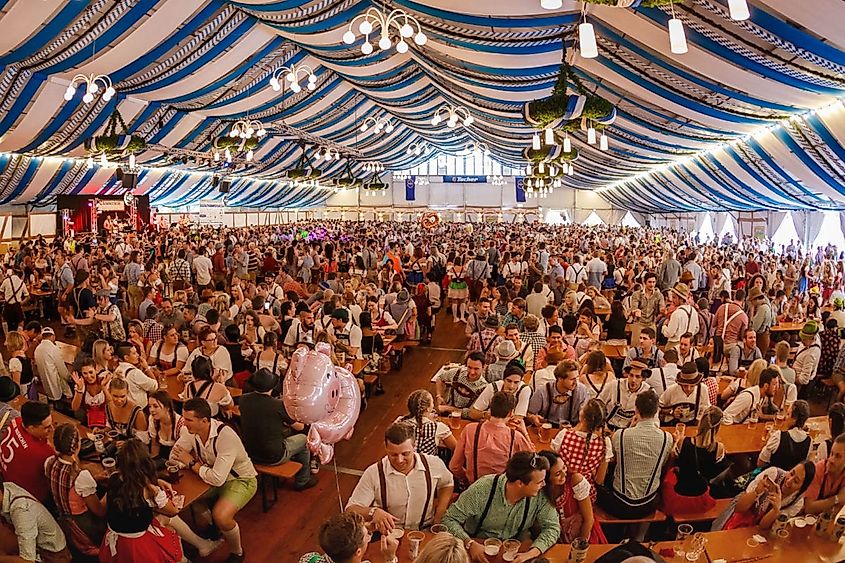 Australia's Oktoberfest in the Gardens celebrations take place in a variety of cities across the country, kicking off in Adelaide in late September and travelling to the Gold Coast and Brisbane, among others, before wrapping up in Sydney at the end of October. Highlights include beer tents, a Bavarian Strongmen competition, doughnut-eating contests, and plenty of entertainment, including fun things for kids to do. 
Córdoba, Argentina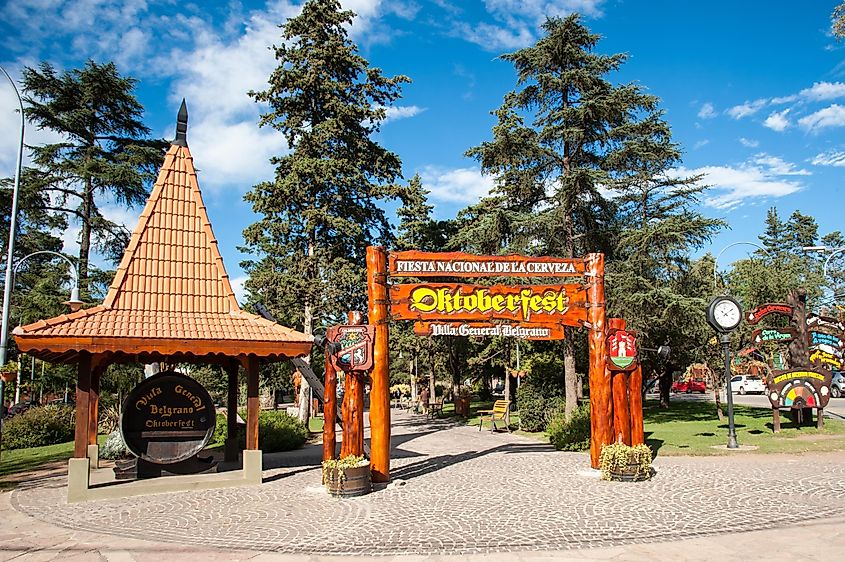 Well-known for its large German population, Argentina's Oktoberfest celebrations are known as the National Beer Festival (Fiesta Nacional de la Cerveza) and have been held in Córdoba since 1963. This festival was started by German immigrants.
China and Hong Kong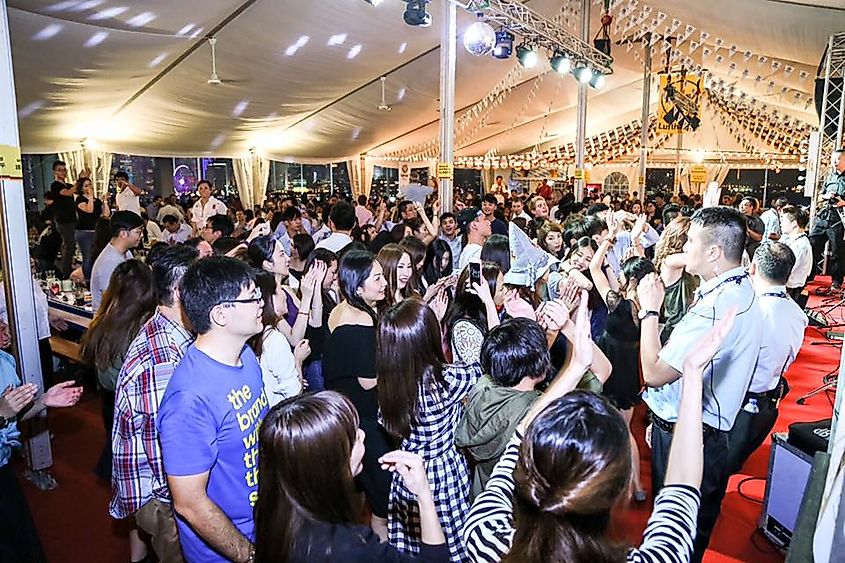 Hosted at the famous Marco Polo Hotel, Hong Kong's version of Oktoberfest is certainly one of the most interesting. German-themed music is played live, and yes, there's beer. And plenty of it. On the mainland, the Quingdao Oktoberfest, also known as the Qingdao International Beer Festival, is the largest Oktoberfest celebration in all of China and draws large crowds.
Tokyo, Japan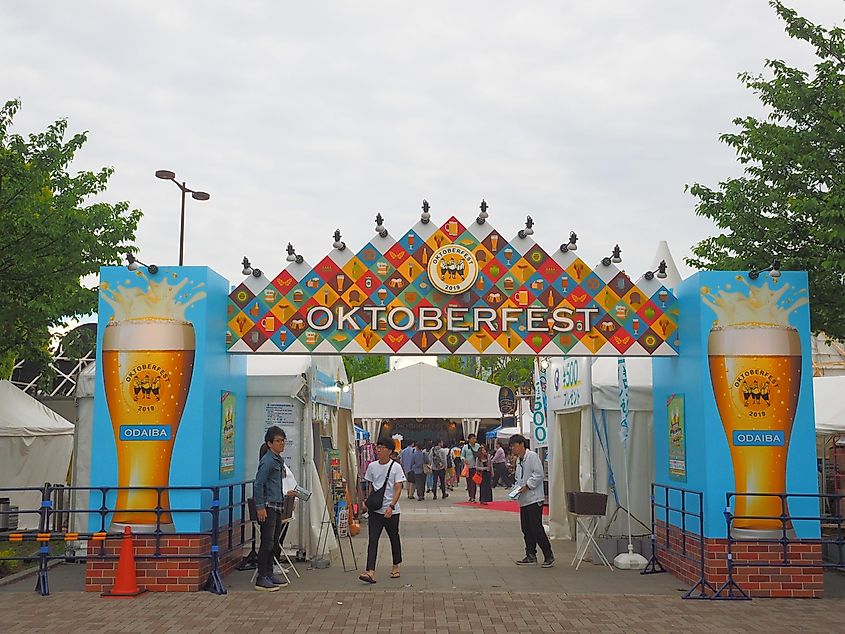 Japan is another Asian country that has embraced the Oktoberfest tradition. Although held in April and again in August, festivities take place on the Tokyo Bay island of Odaiba and draw huge crowds for beer and polka music.
The Takeaway
Munich's Oktoberfest started with a humble 1800s wedding party and has grown into one of the world's most popular cultural events. From Germany to Australia and countless places in between, Oktoberfest celebrations around the world keep this fantastic tradition alive.