The Largest Cities In Bavaria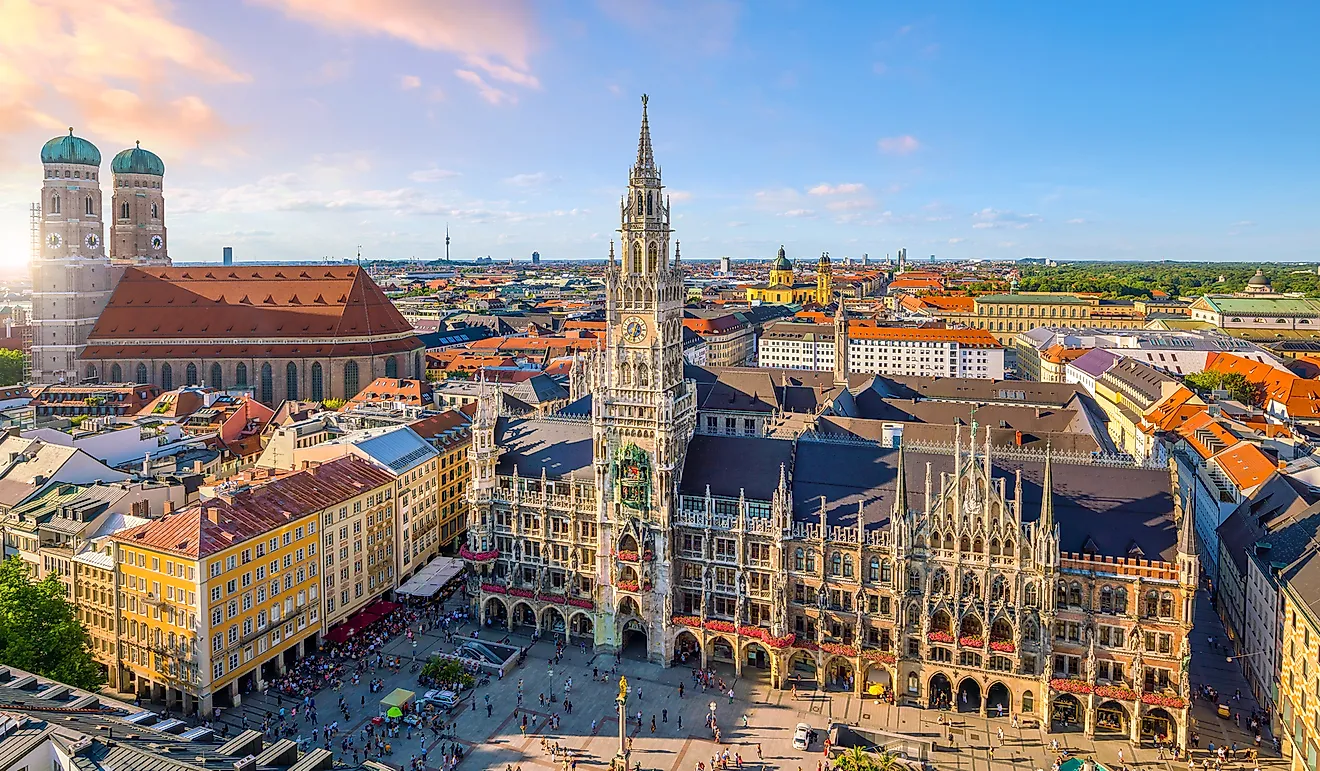 The Free State of Bavaria is the largest of the 16 states of Germany by area and the second-largest by population after North Rhine-Westphalia. It covers about 27, 200 square miles, which is about a fifth of Germany. Bavaria traces its history to the Iron Age when it was incorporated into the Raetia Province of the Roman Empire. It was occupied by the Prussian-led German Empire in 1871 and transitioned into a state of the Federal Republic of Germany. The main cities of Bavaria are Munich, Nuremberg, and Augsburg.
The Largest Cities In Bavaria
Munich
Munich is the most populous and the capital of Bavaria. It is also the third-largest in the country after Berlin and Hamburg. Munich is inhabited by 1.5 million, but its metropolitan population is approximately six million. It is a center of finance, science, art, culture, business, innovation, and education. The city is consistently voted among the best to live and do business, making it a popular destination for immigrants and expatriates. Munich is divided into 25 boroughs.
Nuremberg
Nuremberg is the second-largest city of Bavaria after Munich and the 14th largest in the country. It is also the largest and unofficial capital of Franconia. About 520,000 people inhabit the city, but the Metropolitan population, which encompasses the cities of Erlangen, Schwalbach, and Fürth, is about 3.5 million. Nuremberg is a center of education. It was the site of the Nuremberg trials that tried many Nazi officials.
Augsburg
Augsburg is the largest city in Bavaria with a city population of approximately 300,000 and a metro population of 885,000. It is the seat of Regierungsbezirk Schwaben. Augsburg is the third oldest city in Germany after Trier and Neuss. Between the late 13th and early 19th century, it was administered as a free imperial city. The Water Management System of Augsburg was declared a UNESCO World Heritage Site in 2019.
Regensburg
Regensburg is the fourth largest city in Bavaria, with a population of approximately 150,000 inhabitants. It is located at the confluence of Regen, Naab, and Danube rivers. Regensburg is the capital of Upper Palatinate. The city is divided into the new and medieval center, which is a UNESCO World Heritage Site.
​The Economy Of Bavaria
The GDP of Bavaria is about $690 billion, which is about 18% of Germany's GDP, and higher than 22 of the 28 members of the European Union. The economy of Bavaria has undergone a significant change in the past 60 years, shifting from a dominant agricultural region to a competitive industrial hub. Bavaria is home to several multinationals, including BMW, Audi, Allianz, Adidas, and Siemens. The state is also a popular choice for small and medium-sized businesses.
The Largest Cities in Bavaria
| Rank | City | Population |
| --- | --- | --- |
| 1 | Munich | 1,348,335 |
| 2 | Nuremberg | 515,201 |
| 3 | Augsburg | 292,851 |
| 4 | Regensburg | 150,894 |
| 5 | Ingolstadt | 135,244 |
| 6 | Würzburg | 126,635 |
| 7 | Fürth | 126,526 |
| 8 | Erlangen | 110,998 |
| 9 | Bamberg | 77,179 |
| 10 | Bayreuth | 73,999 |