America's rivers are amongst the country's most important and beautiful geographic features. Each with its unique natural and social history, these rivers across the land reveal a wide diversity of wildlife, cultures, and simply breathtaking beauty. Here are 10 of America's most beautiful rivers. 
Columbia River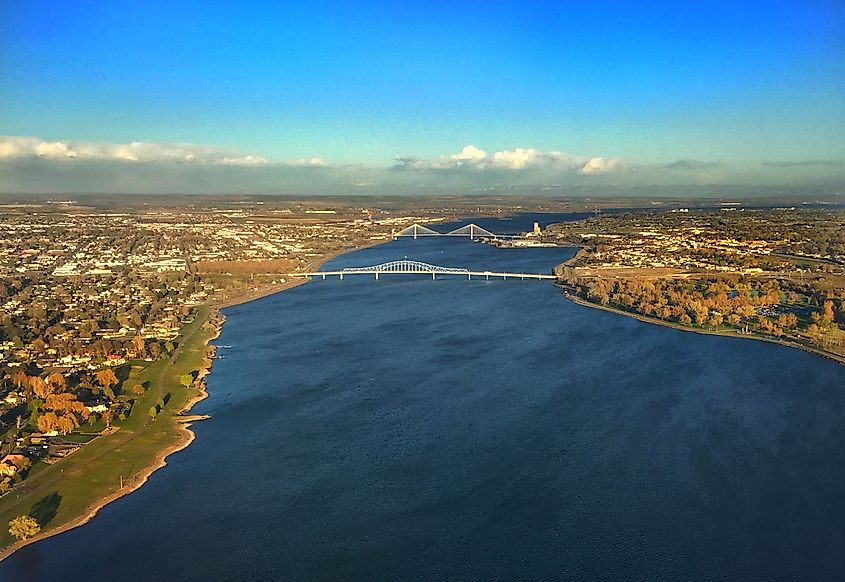 The mighty Columbia River is the Pacific Northwest's largest waterway and travels an incredible 2,000 kilometers. Passing through Washington State, Oregon, and the Canadian province of British Columbia, the Columbia River is one of the most beautiful and truly majestic rivers in America. Home to various fish species, including Chinook Salmon and Rainbow Trout, the river has been an important part of the historical development of the Western United States. As a center of trade and transportation, the Columbia River has been and continues to be an important economic driver for the Northwest region. But of course, for many visitors, the natural beauty and surroundings of the Columbia River and its famed Gorge make it one of the country's most visited and admired natural sites. 
Hanalei River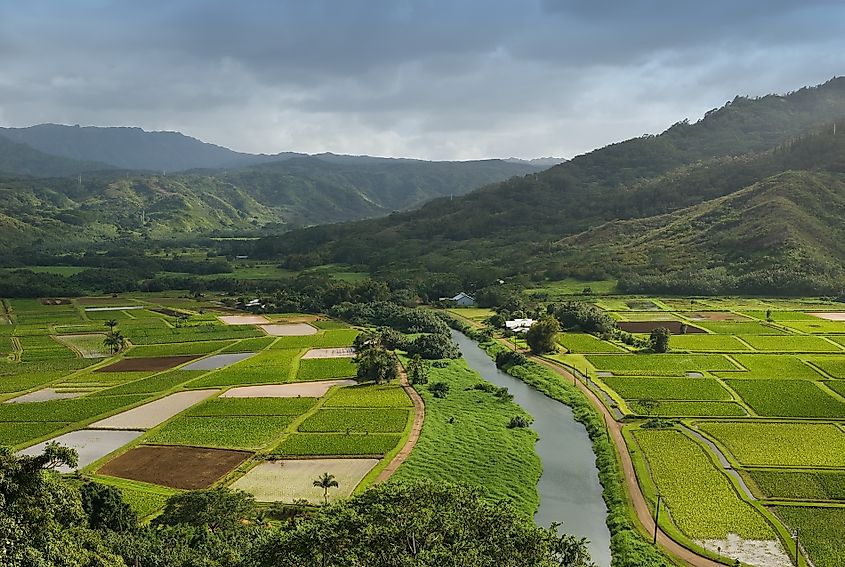 On the Hawaiian island of Kauai, the beautiful Hanalei River may only stretch a short distance of 26 kilometers but crosses a most scenic route. Flowing down from Mount Waialeale volcano some 3,500 feet high, Hanalei River gently makes its way down to Hanalei Bay, an estuary of the Pacific Ocean. Along its path, stunning greenery, tropical forests, and breathtaking valley views make following the River one of the most beautiful experiences one can take. Kayak down its pristine waters, meet unique island flora along the way, or just head down to the Bay for a truly spectacular postcard-perfect backdrop. Indeed the Hanalei River was designated a "Heritage River" in 1998 to protect this most special natural treasure further.
Colorado River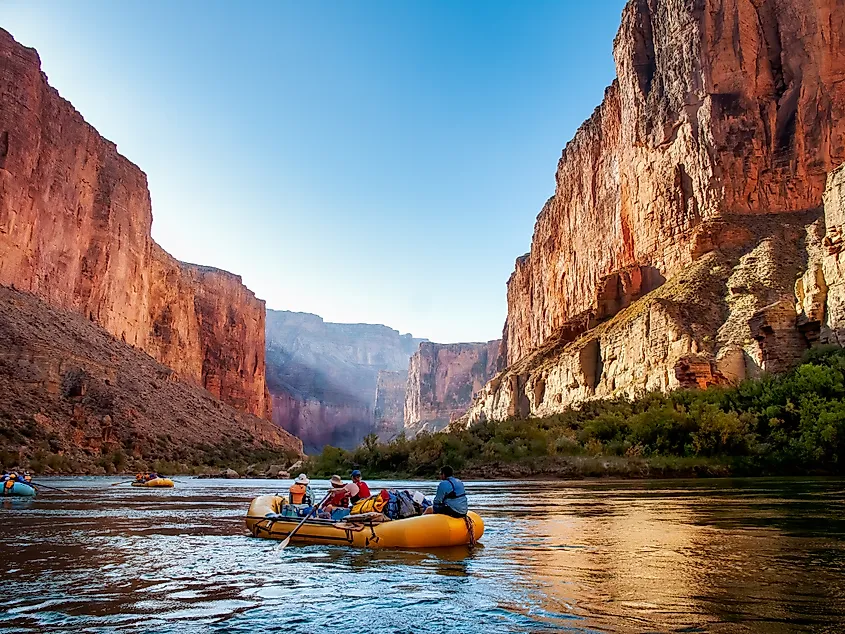 Crossing several States, including Colorado, Arizona, Utah, and Nevada, the 2,330-kilometre-long Colorado River is a true marvel. Passing through the famed Grand Canyon, the river is amongst the most widely photographed site of the 446-kilometer-long rock valley. With its spectacular views of steep canyon walls, wide desert vistas, and red-colored rocks, traveling along the Colorado River is indeed a most special visual delight. An important water source for millions of Americans, the Colorado River is also a great place for outdoor exploration. Take a raft, go for a swim, or hike along its banks. When near the majestic Colorado, you are sure to experience a great sense of awe and emotion. 
Rio Grande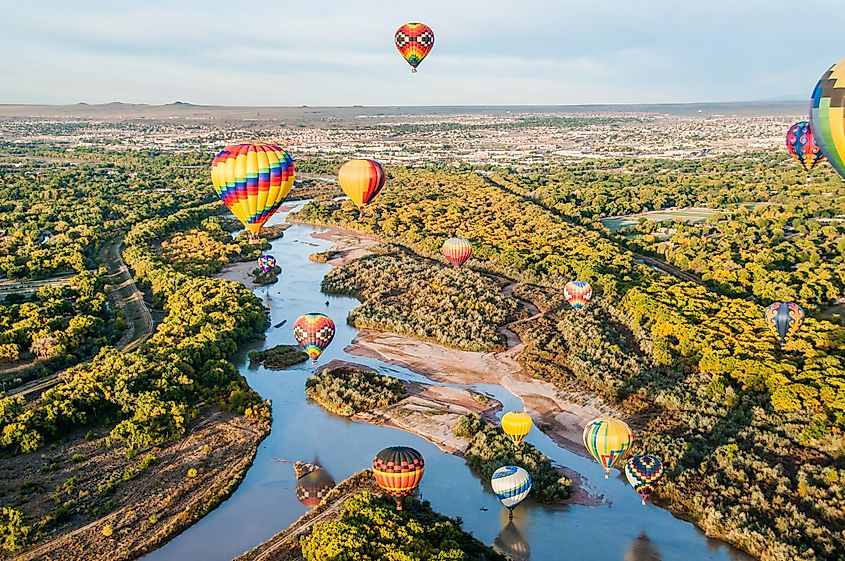 Flowing an amazing 3,051 kilometers, the Rio Grande is the USA's fourth longest river, stretching across the border into Mexico. Covering an astonishing 472,000 square kilometers, the Rio Grande spans from southern Colorado, New Mexico, Texas, and into the Gulf of Mexico. 
A vital water source for the regions it crosses, this river has witnessed its share of pollution and diminishing water levels, causing concerns for scientists and the public alike. Indeed the effects of climate change and overconsumption have seen the Rio Grande frequently exhibit drought. Due to this, efforts for conservation and several reservoir projects have begun in the hopes of preserving this important natural and economic wonder. 
Hudson River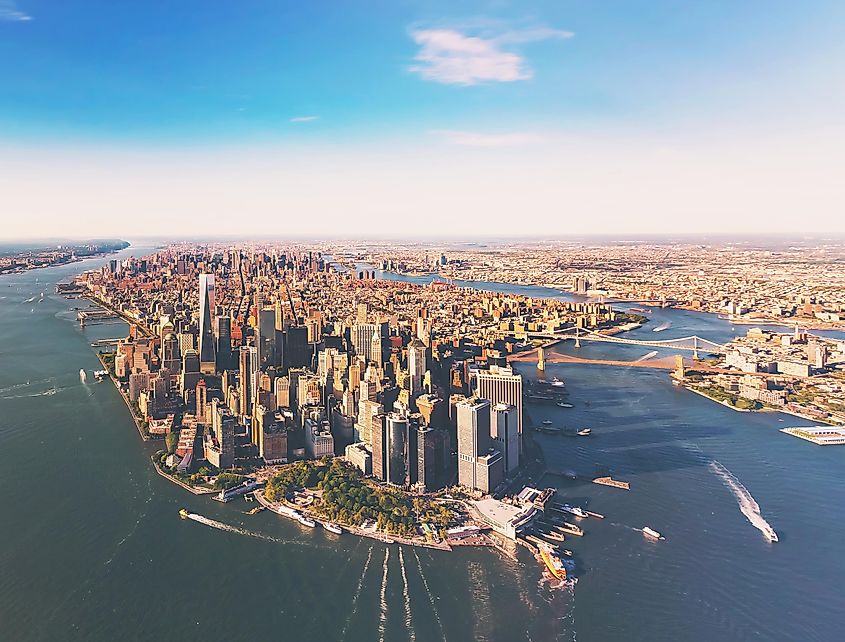 Named after 16th-century explorer Henry Hudson, the Hudson River is one of New York State's most famous natural landmarks. Spanning a distance of 507 kilometers, the river's journey includes the beautiful Adirondack Mountains through the panoramic Hudson Valley and into the Atlantic Ocean. A famous component of Manhattan, the Hudson River also acts as a border with the State of New Jersey. Renowned for lush green valleys and serene waters, the Hudson River also served as an inspiration for a group of 19th-century artists, better known as the Hudson River School. Indeed some of Hudson's best views are not in New York City but in the idyllic wilderness and stunning foliage along much of its banks. 
Kenai River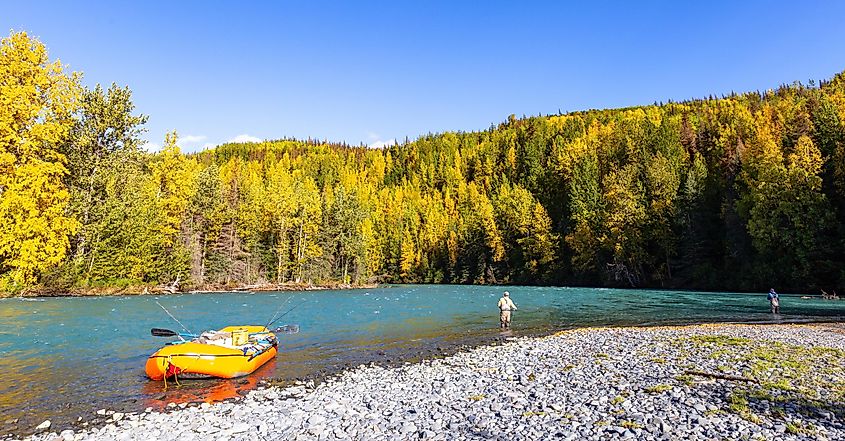 Alaska's Kenai River runs some 132 kilometers from the Kenai Mountains to the Cook Inlet on the Pacific Ocean. The river is home to a rich abundance of wildlife. Many species of birds, bears, caribou and even moose can be found along this river's banks. And, of course, its fish content is widely renowned, making the Kenai the premium destination for fishing in Alaska. The Kenai River is an angler's paradise with abundant fish, from the Chinook Salmon to the Rainbow Trout. With pristine blue waters, lovely forested views, and snow-capped mountain peaks surrounding it, the Kenai River defines what it means to be picture-perfect. This Alaskan gem is indeed one of the most stunning natural sites to visit for anyone in "The Last Frontier" State. 
Truckee River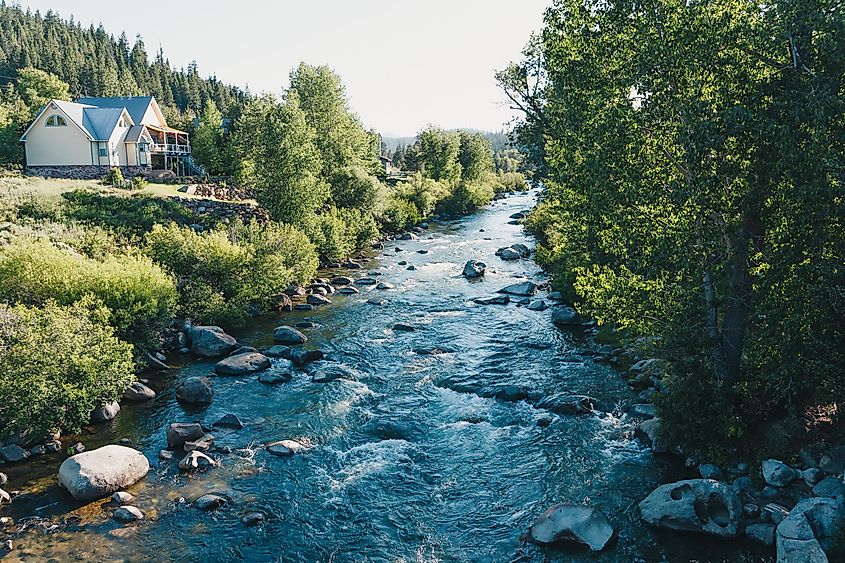 With its clear blue waters and stunning forested surroundings, the Truckee River is a wonderful place to spend time. Indeed in the summer months, this 195-kilometre-long river is a very popular spot for fishing and whitewater rafting, and tourists from all across Nevada and California make the voyage to its banks. The Truckee River is the largest in Western Nevada and is the only outlet for Lake Tahoe making its water an essential source of irrigation for the region. Controlled by the Lake Tahoe Dam, much of the river's flow is regulated, and towns like Reno and Sparks use its treated water. But whether it is drinking its water, hiking or biking along its trails, fishing in it or partaking in the ultimate rafting adventure, the Truckee River does, without doubt, have something for everyone to appreciate. 
Potomac River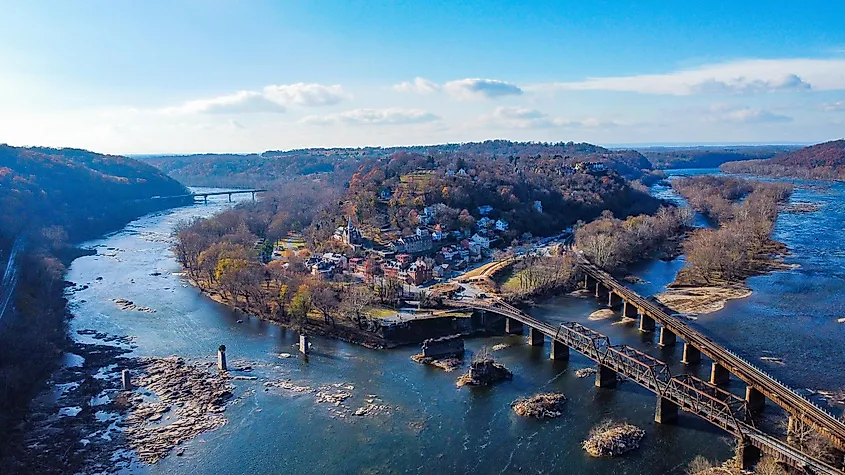 The Potomac River covers an area of 38,000 square kilometers and runs for 652 kilometers. Forming a natural border between the State of Maryland and the nation's capital, Washington DC, the Potomac is the Eastern United State's fourth largest river. Within the capital, visitors can enjoy its serene waters alongside monuments like the Jefferson and Lincoln Memorials. But beyond Washington, this river also flows into the States of Virginia and West Virginia, respectively, where a more natural view of its banks can be found. With beautiful panoramas and a charming, wooded ambiance, visitors will surely not want to miss the Great Falls. Some 23 kilometers from Washington D.C., this series of waterfalls and rapids is a popular spot for activities like rafting, kayaking, and hiking. 
Crooked River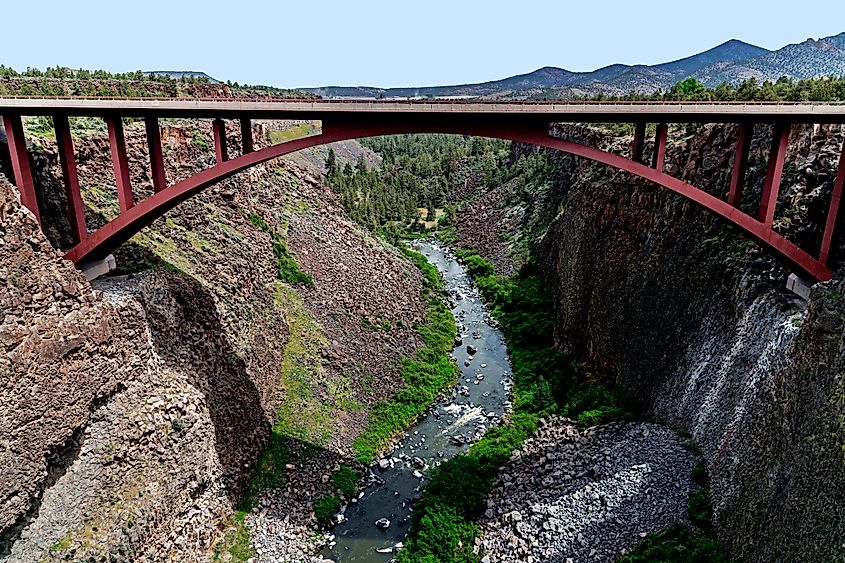 A tributary of the Deschutes River, Oregon's Crooked River is nonetheless an impressive waterway in its own right. Spanning 201 kilometers, the river passes through the Smith Rock State Park and is a popular place for fishing, hiking, camping, and boating. With beautiful canyon vistas and winding waterways, the Crooked River is an awe-inspiring locale where majestic mountains and charming waterfalls can also be found. And for those who travel up into Jefferson County, a stop at the Crooked River Railroad Bridge, some 320 feet above the water, is a photo opportunity surely not to be missed! 
Loxahatchee River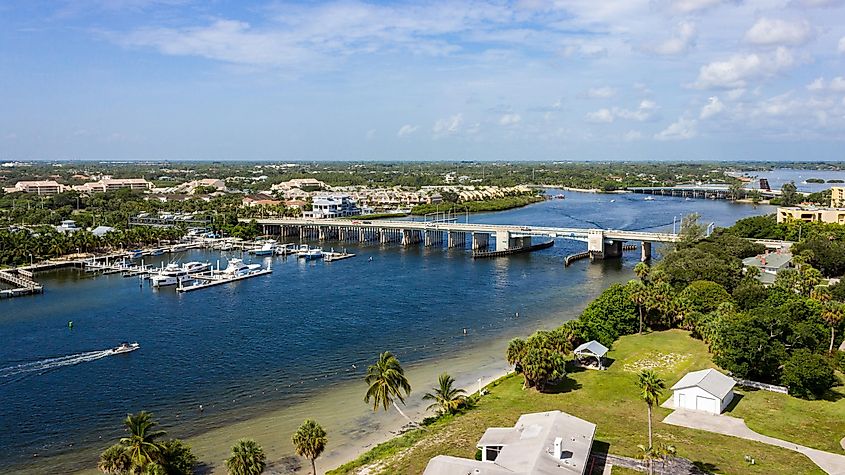 From a Seminole indigenous word meaning "river of turtles," the Loxahatchee River is a small but gorgeous waterway in southeast Florida. This slow-moving river, running a short distance of only 12 kilometers, is a peaceful place of relaxation and meditation and is ideal for paddling and canoeing at a leisurely pace. With stunning bayou surroundings, the Loxahatchee River is a native habitat for many species of wildlife, and visitors may even see a majestic manatee or two in its waters. Eventually, meeting with the Atlantic Ocean at the Juniper Inlet, Loxahatchee River may not command the same attention as some other rivers, but it is an undisputed place of great natural beauty and wonder. 
Merced River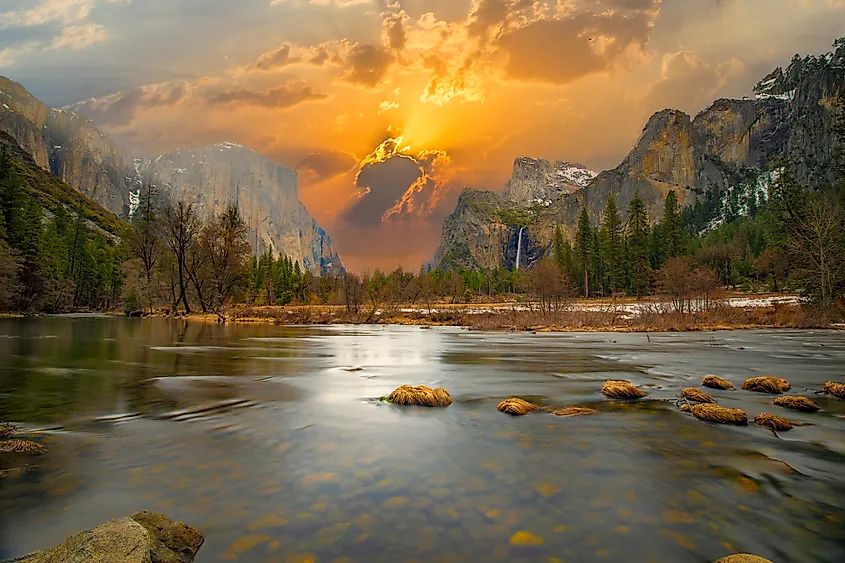 California's Merced River runs through the Yosemite National Park, from the peaks of the Sierra Nevada Mountains to the San Joaquin Valley. Spanning 233 kilometers, the Merced River has seen inhabitants along its banks for centuries, from indigenous populations to those seeking wealth in the California Gold Rush. A beautiful waterway with stunning mountain vistas, green valley trees, and sparkling waters, this river is also a popular destination for rafting, swimming, and fishing. This most scenic destination also has an abundance of wildflowers blooming in the springtime, adding an added layer of allure to an already picturesque place.
Salt River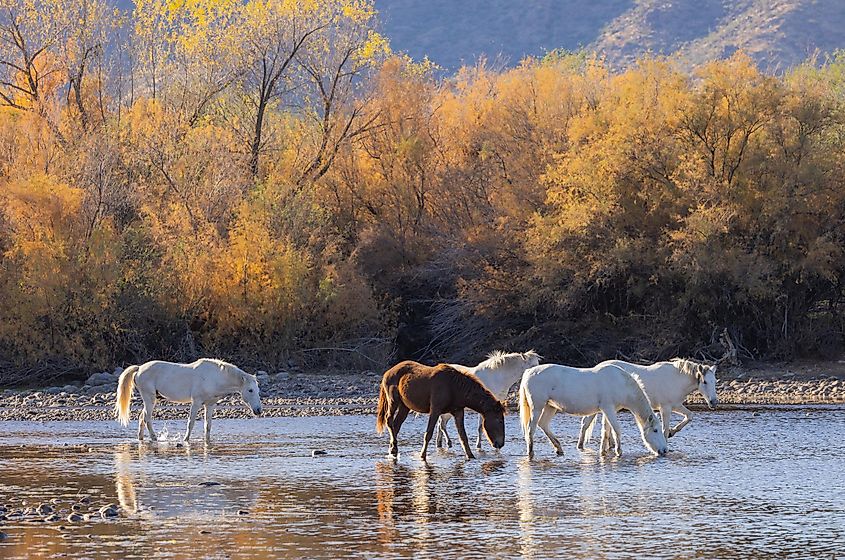 The aptly named Salt River, flowing over large salt deposits, is situated within the Phoenix metropolitan area and runs for some 329 kilometers. A popular place for fishing, camping, hiking, and picnicking, the Salt River is also an incredible natural habitat for wild horses. Surrounded by saguaros cactuses, a simple journey down the river may indeed be one filled with views of horses, either grazing or galloping freely in the valley of the White Mountains. Meanwhile, the Salt River also forms a boundary with the Tonto National Forest, where further outdoor adventures await. From rock climbing to star gazing, spending time in this natural wonderland along the water's edge is indeed a type of earthly paradise.
Whether one swims, catches fish, walks along their banks, or makes use of their water, these rivers reflect some of the very best waterways in all of America.