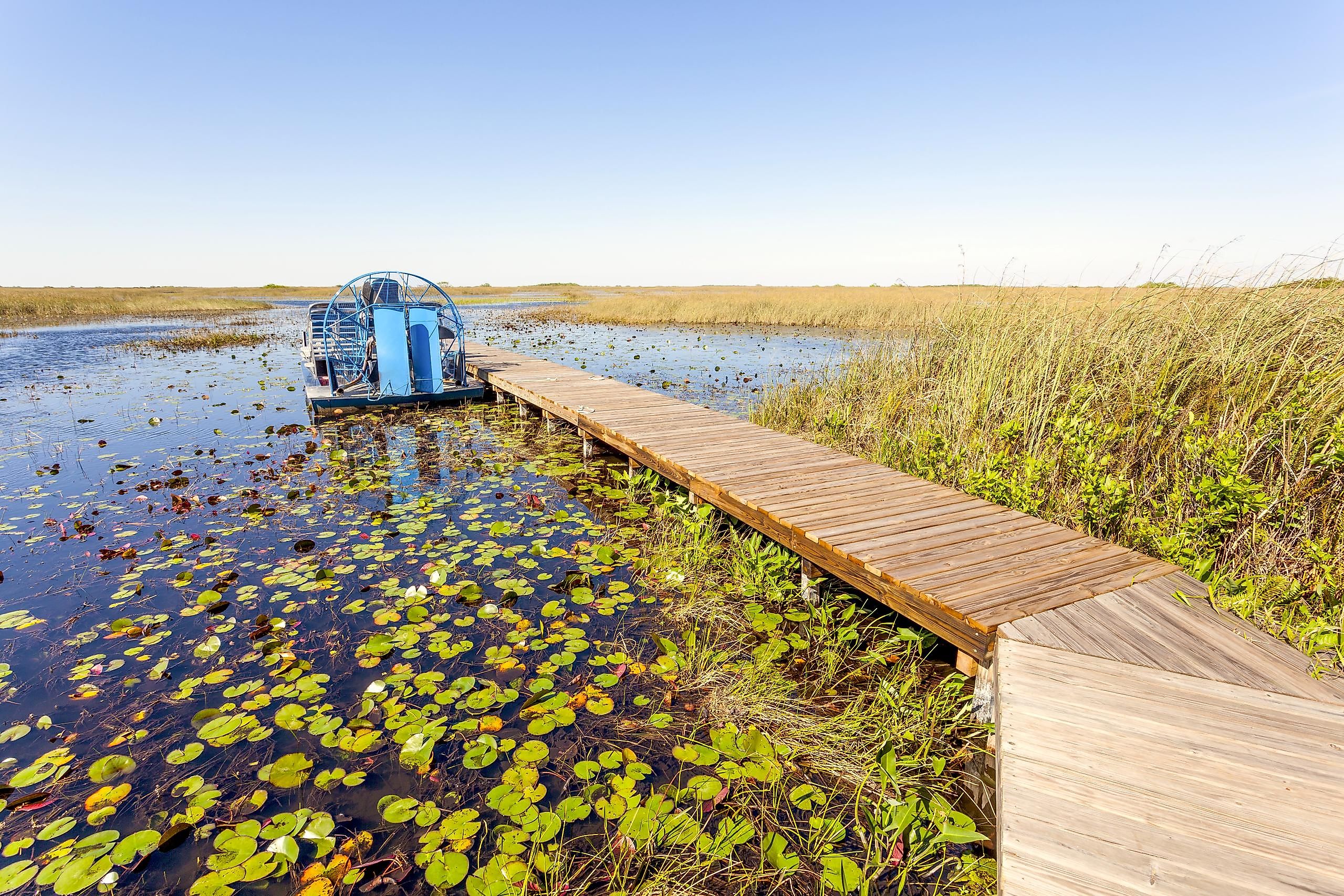 7 Best Fall Hikes In Florida
Although many people may associate Florida with sandy beaches and tropical foliage, the state is also home to a wide variety of diverse parks and other natural areas for hiking. After summer ends and the hot, humid days start to cool down in fall, it's the perfect time to lace up your hiking boots and hit the trails to enjoy native wildlife, as well as lush flora and fauna. Some of these hiking trails hug the shoreline, providing breathtaking river, lake, and ocean views, while others traverse through swampy terrain or dense forests.
Blackwater River State Forest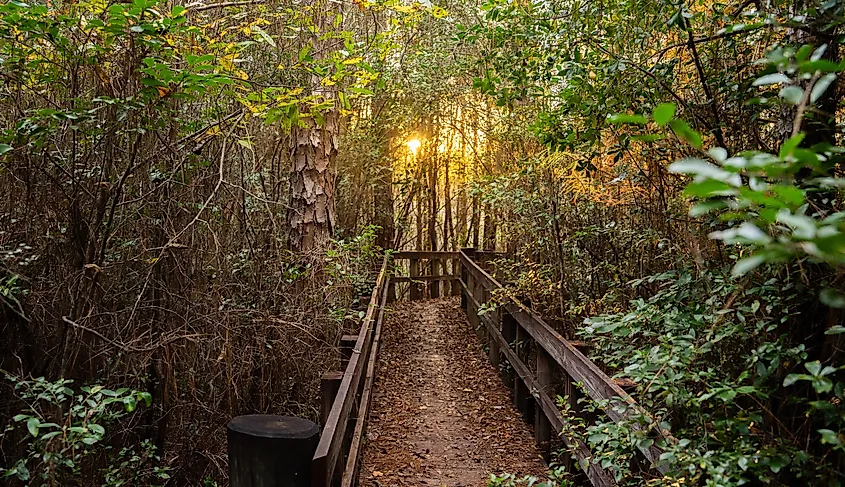 If you're in Florida's Panhandle region and are looking for the perfect place to take a fall hike, you can't go wrong with the 600-acre Blackwater River State Forest. Located in Milton, a small inland town, the park is named after the Blackwater River, which is known for its unique, transparent golden-brown water. Since the park is located in the northern portion of the state, it experiences fall color late in the season. Visitors can hike one of the park's several trails that wind through a forest containing longleaf pines, Atlantic white cedar, and magnolia trees. The Juniper Lake Trail treats hikers to Blackwater River views, and there are plenty of opportunities for autumn bird and wildlife watching, picnics, and boating. 
Paynes Prairie Preserve State Park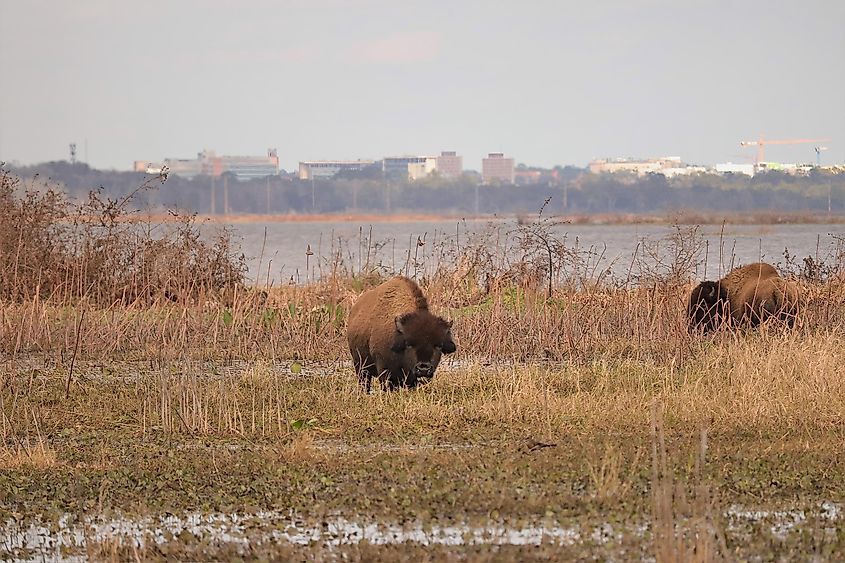 What sets Paynes Prairie Preserve State Park, which is located just south of the college town of Gainesville, apart from others in the state, is that bison and wild horses roam across the diverse landscape. The park offers eight hiking trails, where you can see native wildlife, such as alligators and herons, in their natural habitats. The paved, 16-mile Gainesville-Hawthorne State Trail winds through the interior portion of the park and is ideal for those who prefer a less rustic hiking experience. Visitors can climb up the park's 50-foot observation tower for panoramic views of the prairie. 
Bulow Creek State Park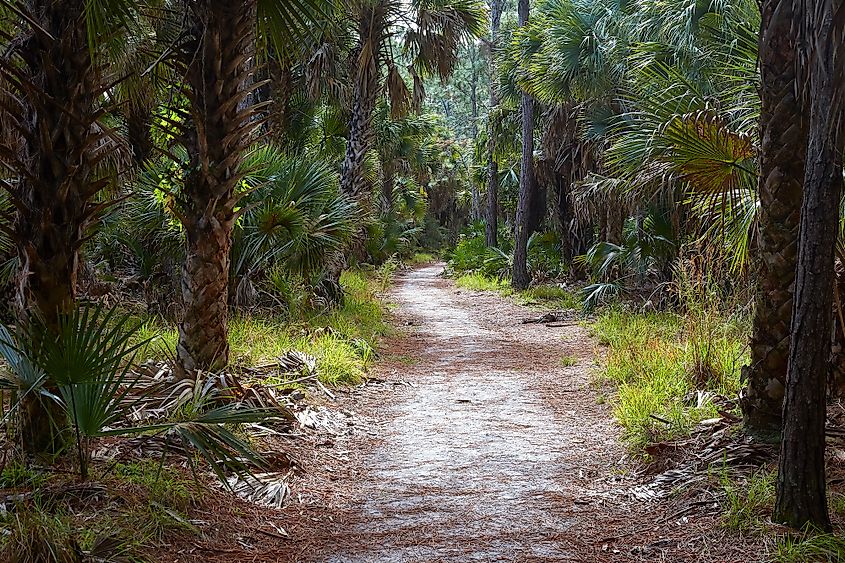 The 5,600-acre Bulow Creek State Park is unique in that over 1,500 acres is submerged land, and the protected preserve is also one of eastern Florida's largest remaining strands of live oak forest. With several different types of trails to explore, the park offers an exciting hiking experience for hikers of all levels. The 7-mile Bulow Woods Trail leads hikers to Bulow Plantation Ruins Historic State Park, which dates back to the 19th Century. During the cooler fall months, hikers can see all types of native wildlife, such as foxes and bobcats, salt marshes, old-growth oak trees, and wet hammock areas. 
Everglades National Park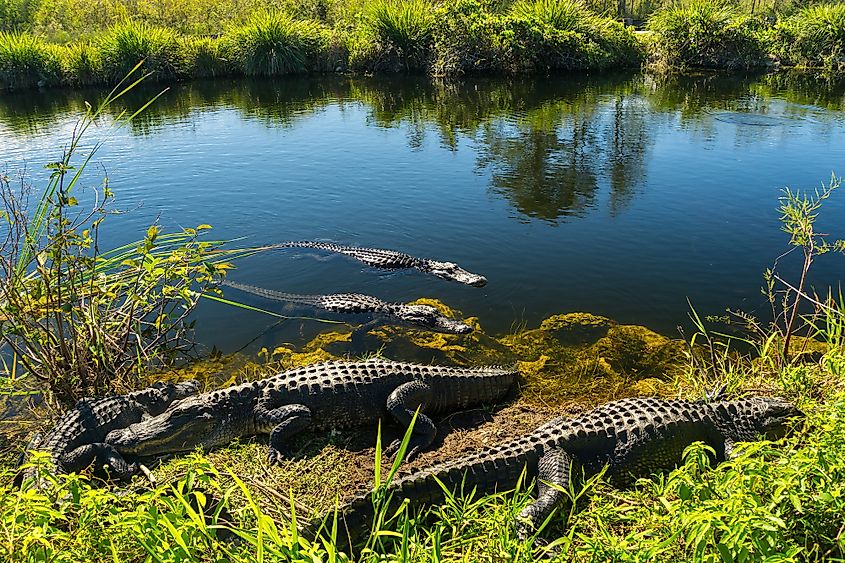 During the hot and humid summer months, the diverse and magnificent Everglades National Park, which is situated in South Florida, can be uncomfortable to explore. During the autumn, however, hikers flock to the park to submerge themselves in the United States' largest subtropical wilderness. One of the many reasons the large park is significant is because it provides a protected space for various endangered species, including manatees, Florida panthers, and American crocodiles. Hikers have the choice to explore the park alone or as part of a guided tour, as well as on rustic trails or paved paths. 
Silver Springs State Park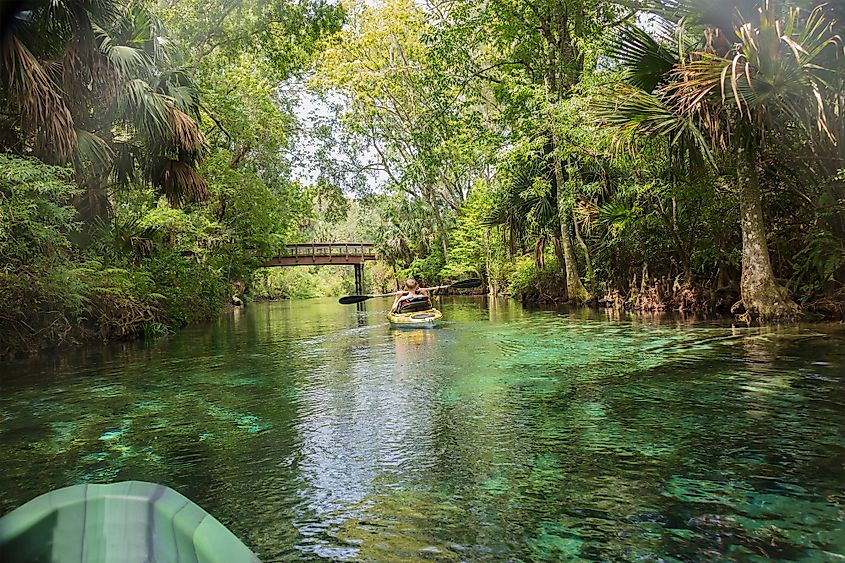 Silver Springs State Park, which is located in Ocala, gives nature and history lovers a taste of Old Florida with its rustic cabins, crystal clear spring water, and one-of-a-kind glass-bottomed boat tours. The expansive park encompasses one of America's largest springs, which stays a comfortable 72-degree year-round, as well as the Silver River and a primeval forest wilderness. During the fall, escape city life by hiking on one of the park's several trails. Creek Trail is a gentle 3/4-mile hike, ideal for beginners or those who just want a short experience. The almost 2-mile Swamp Trail is accessible from the comprehensive Silver River Museum and traverses through scenic wetlands. 
Highlands Hammock State Park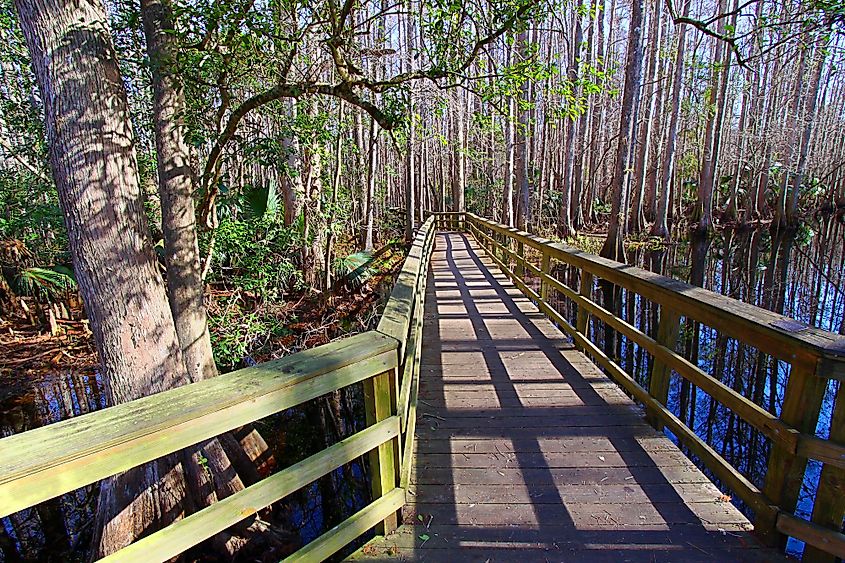 Nature and history combine to create a unique hiking experience at Highlands Hammock State Park, which is situated in inland Sebring. The park, which is recognized by the National Register of Historic Places, features miles of old-growth hammock, ancient, towering oaks, boardwalks over cypress swamps, and wildlife such as Florida panthers, black bears, alligators, and deer. Autumn hikers can access the park from one of nine hiking trails, which include a mix of rustic and paved walkways. 
Myakka River State Park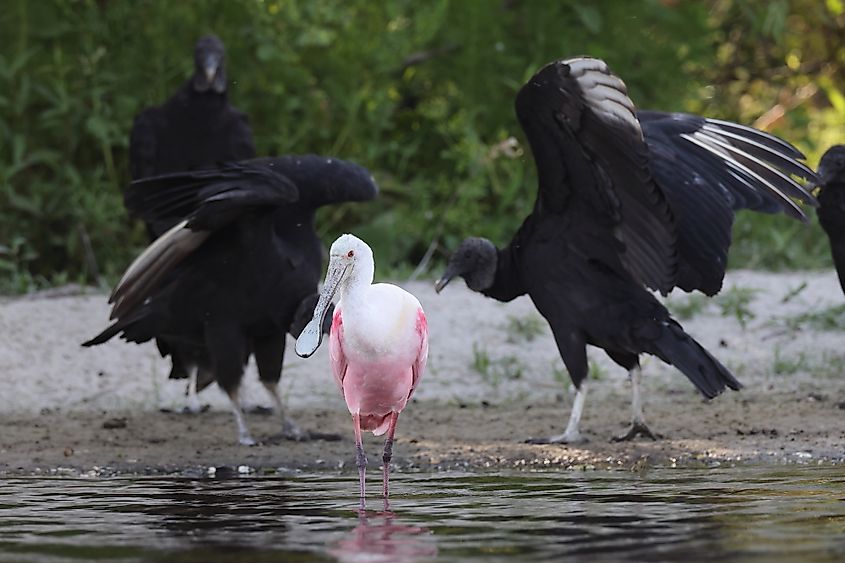 If you're looking for one Florida preserve where you can access wildflower-dotted prairies, wetlands, and pinelands all within one expansive area, look no further than Myakka River State Park. Located in coastal Sarasota, the park features the Myakka River, which flows over 58 miles and gives visitors a scenic view as they hike. As you hike along one of the park's several trails, you can take in unspoiled swamp lands, forests filled with live oaks and palm trees, and wildlife such as blue herons, alligators, turtles, and deer. In addition to hiking, visitors can also explore the park via canoes, kayaks, and other types of personal and rented watercraft. 
As the hot summer gives way to cooler fall temperatures, get out and explore wild Florida via one of its breathtaking hiking trails. Florida features a wide variety of state parks just waiting to be discovered by those who want a break from the theme parks or bustling cities. From the top of the state to the bottom, you'll find hiking trails that wind through everything from swamps to ancient hardwood forests.