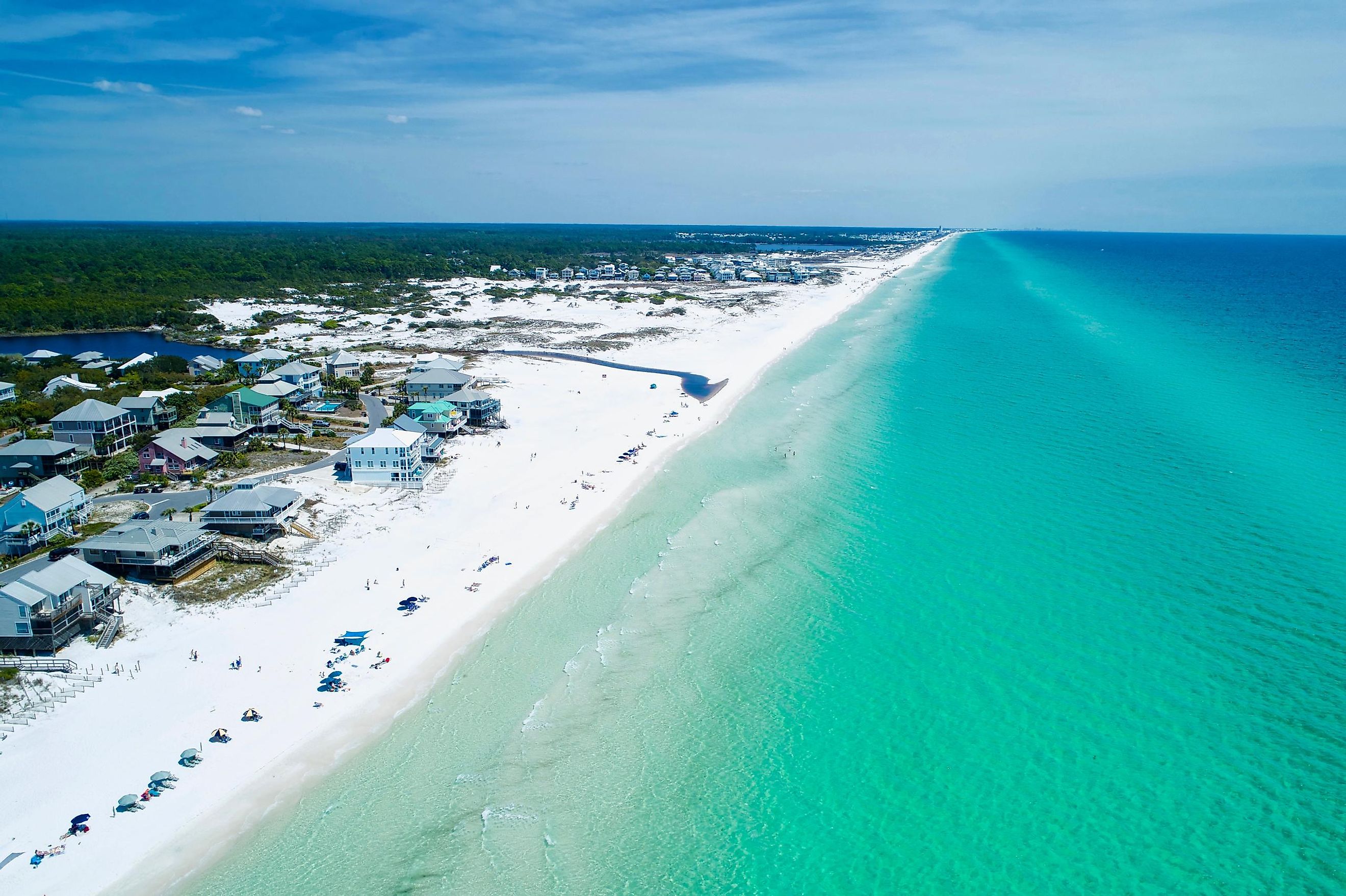 7 Most Relaxing Beaches On Florida's Panhandle
The Emerald Coast has a history almost as sprawling as the ivory beaches over its endless shores. Since 1811, almost a dozen attempts to annex the strip into Alabama were made, but citizens of Florida knew a treasure when they saw one- and held fast! Time has been kind to that investment, in the form of serene escapes from the bustle of inland life.
These seven beaches are renowned for their maintenance, seclusion, and capacity to spark a joy for life. From wildlife to romance, this coastal collection truly has everything for everyone.
St. Andrew State Park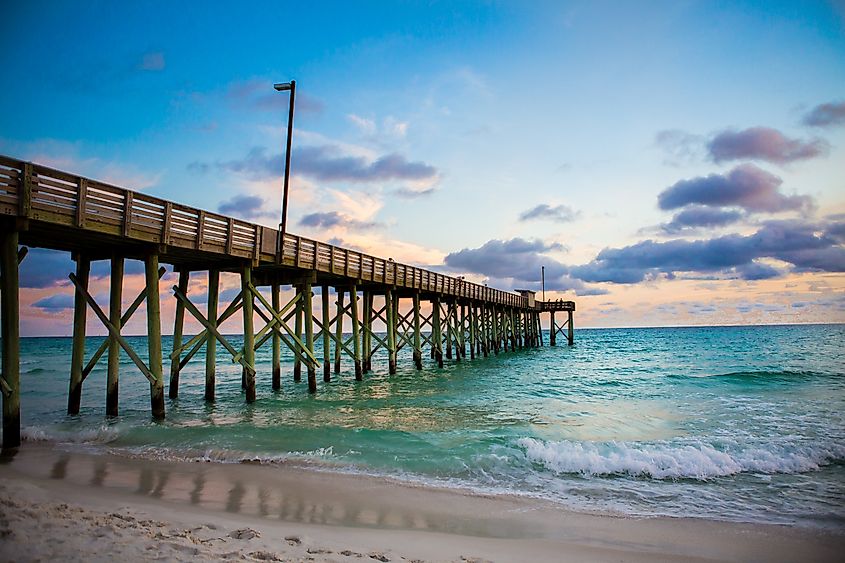 This gem lies in the southeastern stretch of Panama City, nestled between emerald waves and wetland flora harmoniously living amongst the bright white dunes of St. Andrew State Park. A quiet morning walk from the city will reveal a great pier stretching out to sea. Farther down the beach rests a gazebo, waiting patiently to witness another marriage proposal. Beachgoers report dolphin sightings with such consistency that it would be a shock not to see that aquatic dance performed by this shore.
In-between snorkeling endeavors, children are ever-fascinated by the crabs skittering around to the beat of their own drums. Hunger and thirst are quenched easily at Patches Pub nearby, or for more of a family setting, Schooners seafood eatery. Beach showers and boardwalks are readily available all over this park, so even the timid find their summertime spirit when they visit St Andrew's State Park.
Henderson Beach State Park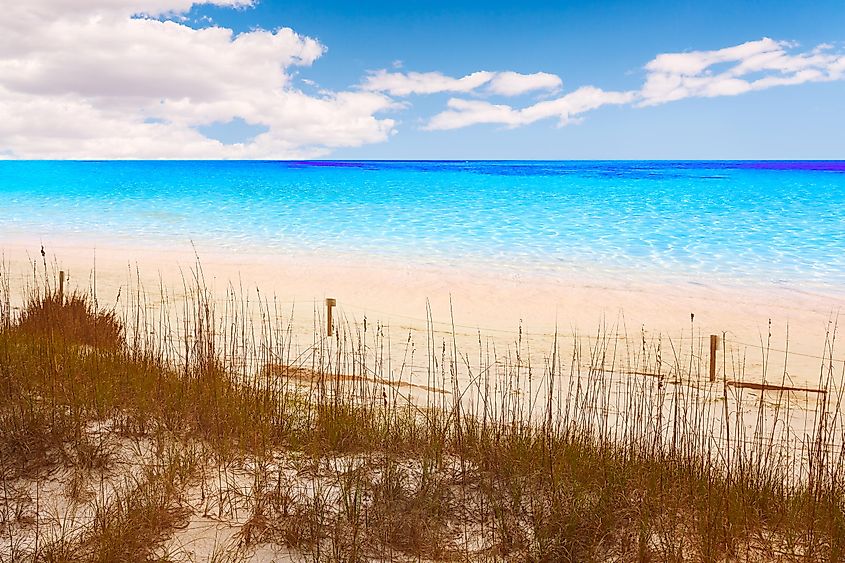 Henderson is a slice of heaven, and words can only go so far past that. Typically, such a well-maintained area has a hefty cost of entrance yet surprisingly Henderson is one of the more affordable swaths on the Emerald coast.
Nomadic family tribes are delighted to see that Henderson is an RV-friendly park, with few nearby campgrounds hidden from beach view amongst wild, yet neatly organized, brush. Even the kids have a turf to call their own at a shoreside playground, a short walk from any of the five washroom-pavilion features.
Henderson boasts remarkably accessible parking, without imposing on the tranquility of the coast, to help you leave behind the days of walking endless boardwalks while hauling beach gear. Like many stretches of the panhandle, soft sand and sublime swells define this gentle place, and it has become a sanctuary for many.
Grayton Beach State Park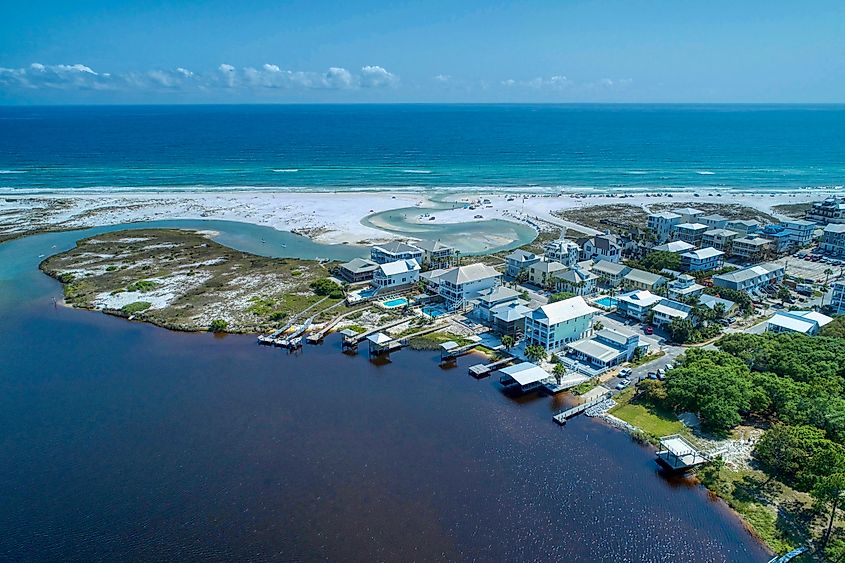 Just remote enough to stay hidden, Grayton Beach State Park is one of the more unique topographical adventures the panhandle provides. An outlet river from Western Lake, the pond-sized body of water hiding behind and within a hair's breadth of the shore, snakes into the Gulf of Mexico and is the primary catalyst for the emerald coloring in the surf that has earned this spot an iconic reputation.
In fact, visitors often feel compelled to kayak into Western Lake, before or after they hit the nearby bike and hike trails. For the more content, an absence of rough waves provides a safe environment to look after kids while lodging themselves in nearby cabins.
The sunset, affected by the coloring in the surf caused by this unique ecosystem, is described as nothing short of legendary.
Rosemary Beach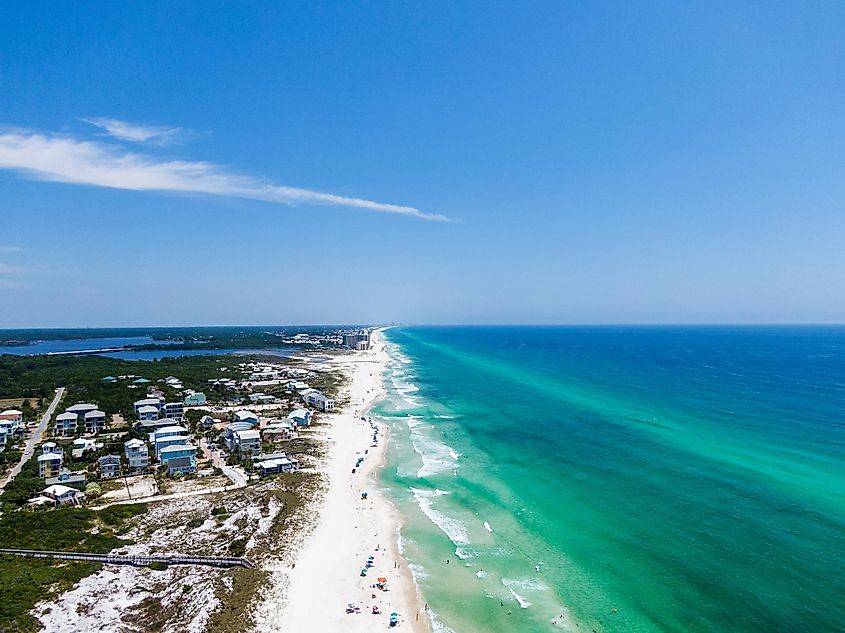 The pride and joy of this small town, aptly named 'Rosemary Beach,' is in fact: Rosemary Beach! Visitors often describe their time spent here as a surreal transportation to a "private European beach town." That said, there is a secret to it: nearby condominium lodging is meant to provide guests a code to access the beach, hence the small crowds. However, locals understand there is often a need to open the gates to folks waiting for entry.
Running, cycling, and strolling are the regional pastimes in this location. During Christmas, the festive personality of the town ignites into a dazzling fervor designed to turn guests into long-term friends of the community. At night, youngsters can be found milling about the beach with flashlight beams dancing over every rock and crevice, looking to find and even pick up the harmless crustaceans skimming over the softest sand on this side of the Atlantic. Grills, shops, and even a farmers market within walking distance all guarantee Rosemary Beach's status as a hassle-free escapade.
Blue Mountain Beach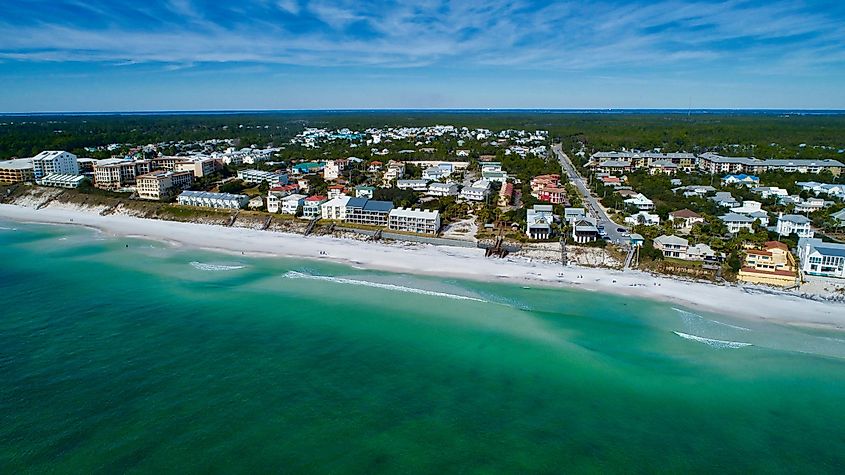 While you might have to wake up early to secure a spot at Blue Mountain Beach, the payoff is an intimate experience with this section of the Emerald Coast where super clear water and gentle surf will make you feel at home.
Small crowds and clean washing facilities are foundational to this getaway, as are the stairs and handrails making beach access possible. The tides are famous with surfers depending on the day, and Blue Mountain Creamery and Back Door Eats sit just around the corner when the dinner bell rings.
The All-American town backdrop sits on the adjacent dune hill, perfect for selfies and group photos. A short walk to the east reveals child-friendly streams coming out of the Redfish Lakes, and all the smiling faces that come with that.
Cape San Blas Beach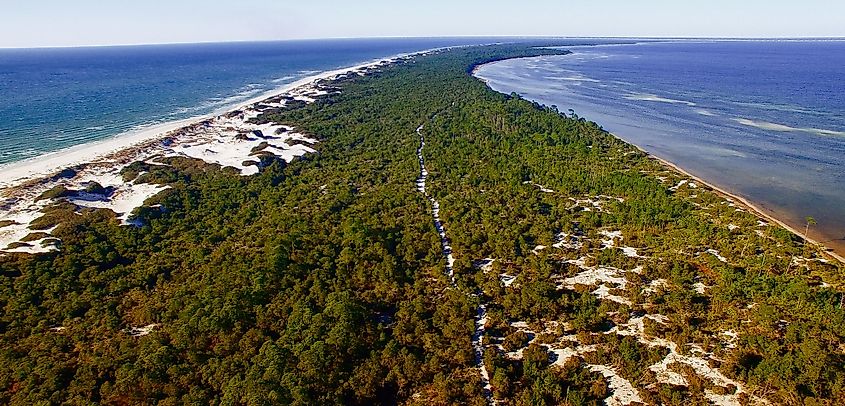 A journey alone may as well be a stay at home- Cape San Blas is pet-friendly so do not miss the opportunity to gallivant with your furry friend across miles of gorgeous shorelines, famously wide, coated in layers of fine white sand. There is a curious mystery mixed among the beauty and joy here; foundations of an old lighthouse and the accompanying home sit idly, scraped to the earth. In fact, the entire structure was moved to the nearby Port St. Joe as a restoration effort to prevent the dangers of coastal erosion.
A common sight in Cape San Blas is locals and guests romping through on horses, adding more variety to this spot which already serves as a convergence for wildlife. Small fires on the beach are allowed, and if you bring a volleyball you might feel like you are on the set of Cast Away.
Another common sight is a couple being photographed while on honeymoon or for engagement photos- for good reason with a view like that! Eateries dot the nearby town, such as The Smokehouse which is lauded locally for hosting a barbecue with a "beachy vibe." In one visitor's words: "Not much else to do other than relax!"
Langdon Beach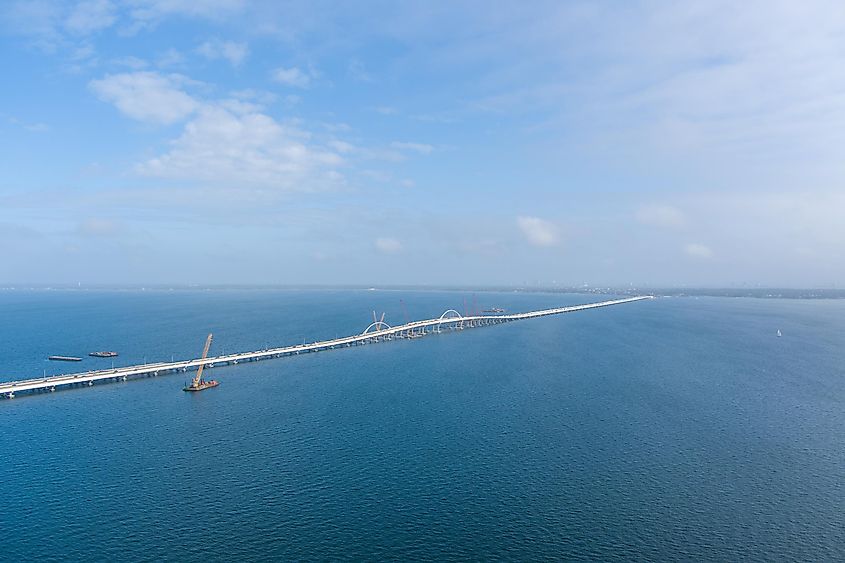 Taking up space is the core personality of Langdon Beach, and if seclusion was a currency, Langdon would be the bank. Crazy soft sand adorns this beach, with speckled sea shells and sand dollars waiting to be discovered. Apparently, even jellyfish like Langdon so much that they occasionally come out for a tan.  
A myriad of small vessels can be seen sailing and motoring around this Fort Pickens peninsula, which wraps around the Pensacola Bay. The old fort itself, made of brick and mortar and mysterious tunnels, is a relaxing stroll away which is ideal for bringing children to imagine life in a distant American past.
Lifeguards keep a careful eye on beachgoers, who usually find themselves huddled under the well-maintained pavilion during lunch hour. However, beachside grilling is an option for the survivalists among you. A foot wash and shower area promise to make car cleanup several headaches easier, and it is important to note that camping is allowed but keep a respectful distance from any grasses that could be endangered. When all is said and done, Langdon Beach was here yesterday, it is here now, and hopefully it will be here to stay for generations to come.
While some patricians may swear by sensory deprivation tanks to ease the anxieties of life, a calm walk on a white sand shore is much more within reach, and far more memorable. Gentle tides and surfs are a perfect white noise to tuck into that novel sitting on the bedside table for much too long. Historic forts, towns, and lighthouses fill photo albums with backdrops that will hold value for lifetimes. A small entrance fee to kayak and bike in the preserves of the Emerald Coast benefits not just yourself, but the continued maintenance of these magnificent places. In that light, consider it your duty as a world citizen to take a few days off in one of these ivory paradises.