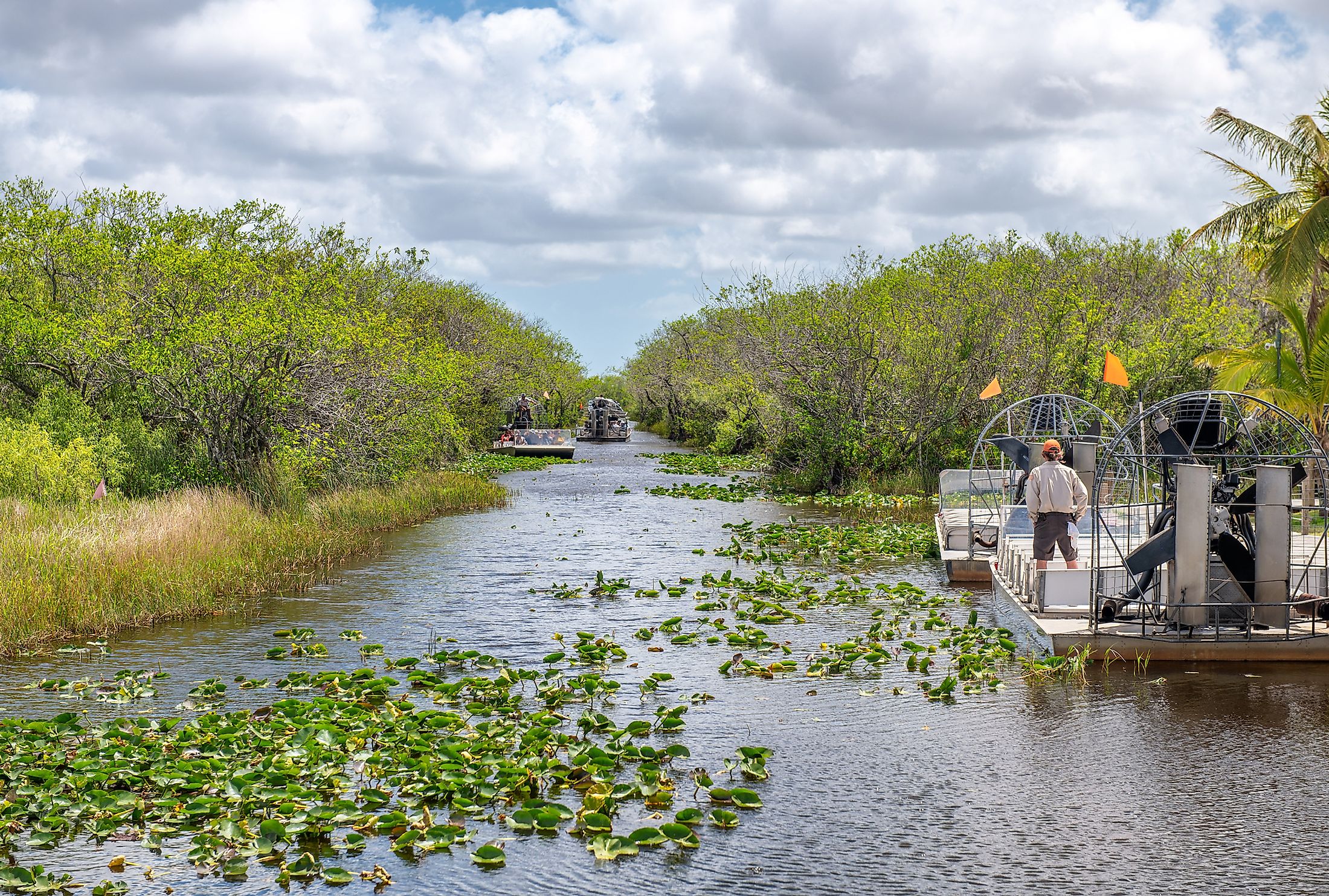 10 Best Ways To Experience The Florida Everglades
Jump To
When visiting Florida, the stunning and colossal Everglades (including the National Park) is a must-see for anyone who wants to experience the Sunshine State's unique geography. The largest subtropical wilderness area in the United States and a World Heritage Site, the Florida Everglades has swamps, rivers, wildlife, and plenty of opportunities for outdoor enthusiasts and nature lovers. This article looks at the 10 best ways to experience the Everglades. 
Visit Chokoloskee Bay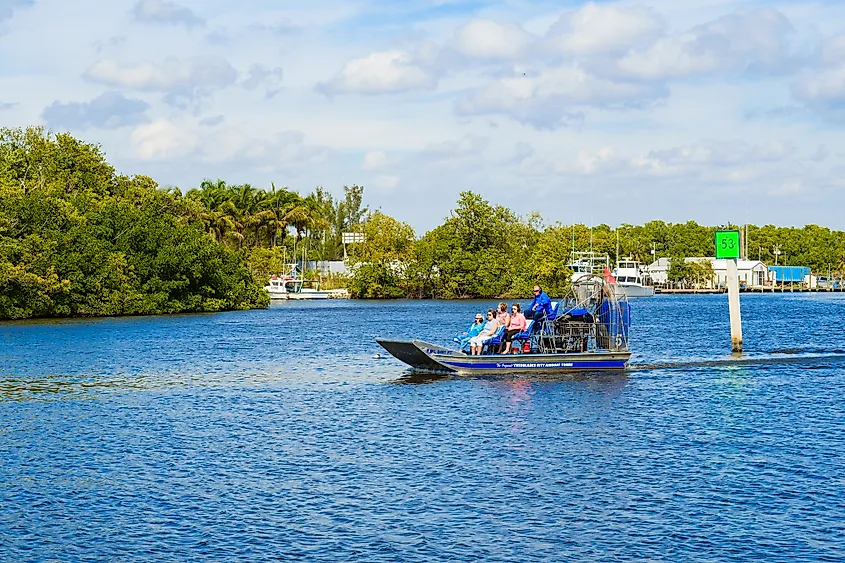 A favorite spot for anglers and water sports enthusiasts alike, the 16-kilometer-long Chokoloskee Bay has long been a popular destination. A beautiful Everglades ecosystem full of wildlife, swamps, and pristine waters, visitors to the community of Chokoloskee and its Bay will always have unique opportunities for adventure. Try kayaking, canoeing, fishing, or a boat tour for great personal views of nature. Near the Gulf of Mexico, a short trip to Everglades City is another neat way to enjoy the area, especially at the Ernest Hamilton Observation Tower, where the view truly cannot be beaten.
Camp At Long Pine Key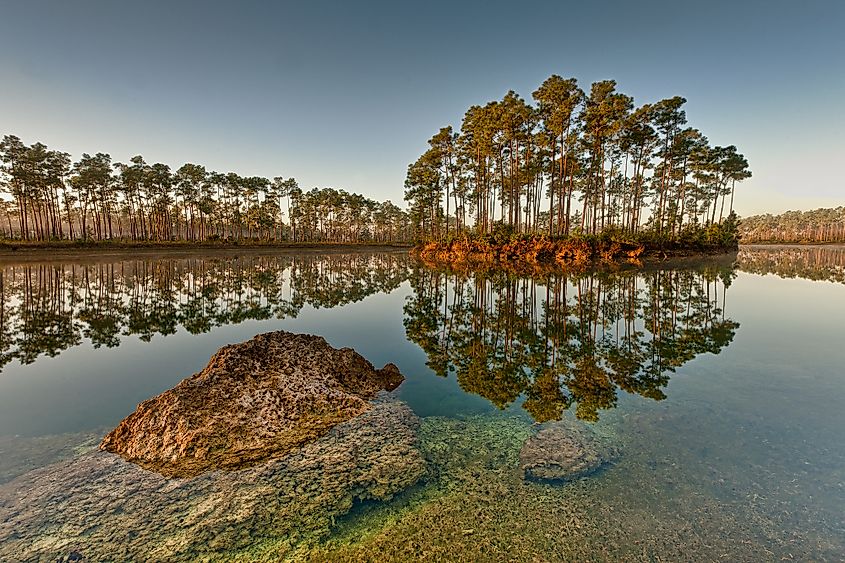 The Long Pine Key Campground is a must for anyone in the Everglades who loves to spend time outdoors. With trails galore, perfect for hiking, biking, and even casual strolls through wooded areas, Long Pine Key is a quiet and peaceful setting optimal for camping and sleeping under the stars. Visit the Long Pine Key Nature Trail for some stunning views of nature and wildlife, while the nearby Rockland Forest is a majestic place to set one's tent up.
Visit Flamingo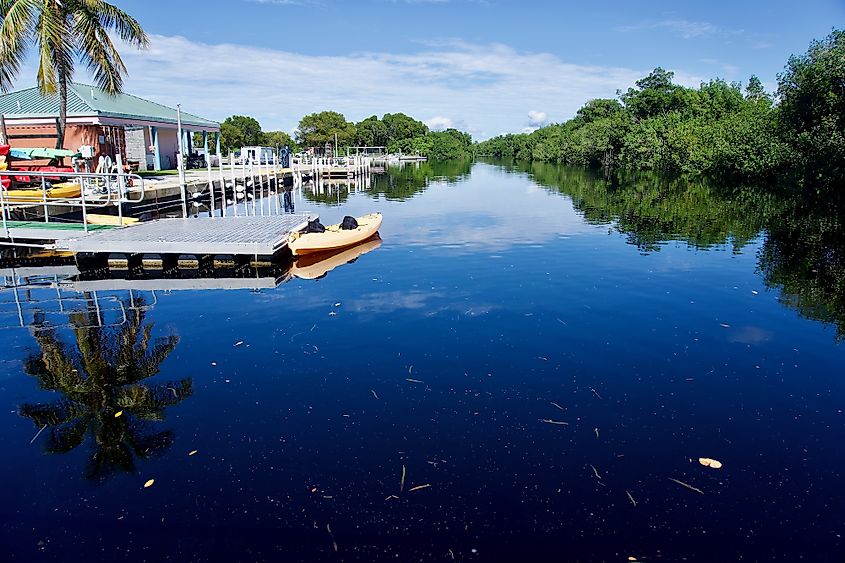 With hot summers and warm winters, Flamingo is a bonafide year-round paradise and a must-stop for those in the Everglades. It serves as the southernmost headquarters of the Everglades National Park. Tourists at the Flamingo Visitor Centre can find an assortment of hiking trails (including Rowdy Bend and Snake Bight Trails), opportunities to explore the water through swimming or sailing (by renting canoes and kayaks), guided tours, and even elaborate mangrove mazes. Flamingo is also known for its high-quality dark skies, where star gazers and amateur astronomers can view truly breathtaking scenes of the cosmos. 
Visit Big Cypress National Preserve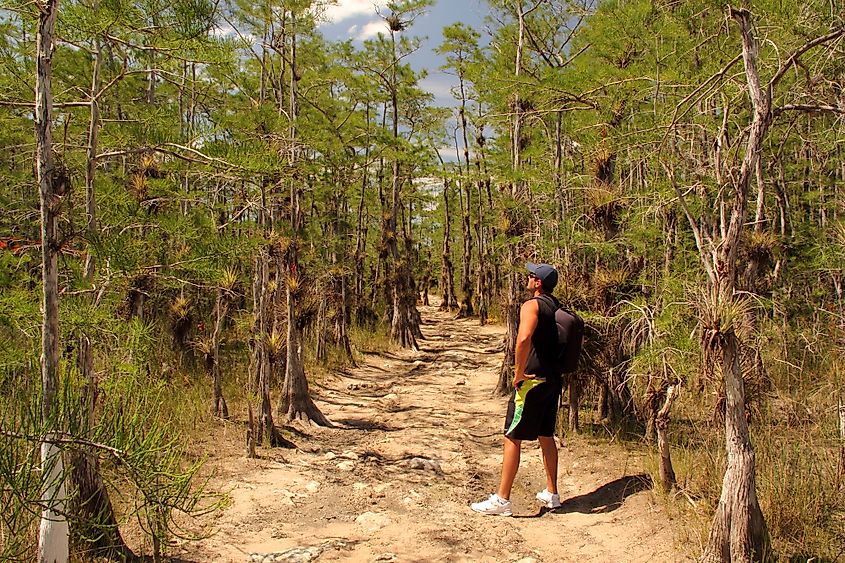 Around 72 kilometers from Miami, the Big Cypress National Preserve (BCNP) is an expansive and stunning place, showcasing some of the best of the Everglades. Covering an area of nearly 720,000 acres, BCNP was established in 1974 and continues to offer visitors unique and thrilling encounters with Florida's wildlife. Here, tourists can take a tour led by a park ranger and view wildlife like alligators, snakes, and migratory birds, or pitch up their tent or RV for an overnight stay at any of the numerous campgrounds. Indeed, as home to a list of endangered species, Big Cypress National Preserve is an immersive experience where the raw beauty of nature is allowed to shine. 
Go To Sawgrass Recreation Park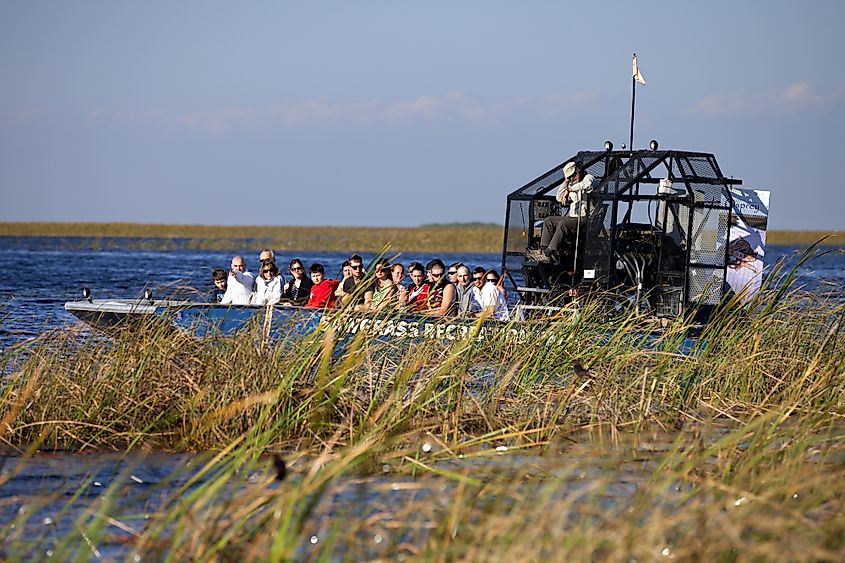 Those in the Fort Lauderdale area will certainly not want to miss a day trip to Sawgrass Recreation Park, which is just a short 25-minute drive away; despite its proximity to the city, once in the Park, total wilderness is to be found. Perfect for fishing and camping, visitors can also take an airboat ride and experience the shallow waters of the swamps and wetlands. Choose a daytime trip or try a unique voyage at night for amazing views of nocturnal wildlife. Sawgrass Recreation Park is a nice little snapshot of the Everglades ecosystem, all within driving distance of a major metropolis. 
Go To Shark Valley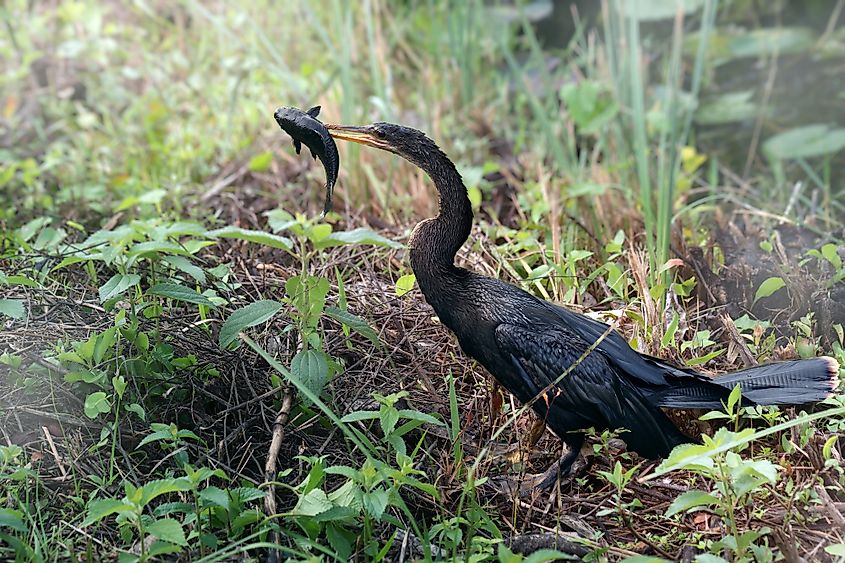 A part of Everglades National Park, the Shark Valley is a geological depression that empties into the Shark River. Featuring a visitor center with displays, videos, and even an underwater camera that captures all the goings on in this unique marsh area, Shark Valley is also a great place to spot some wildlife. From alligators to storks and even wild raccoons, there is an assortment of animals to be seen here, while a stroll on the Bobcat Boardwalk is simply a beautiful vista. Or perhaps go to the top of the Observation Tower for stunning panoramic views of the water, the wetlands, and maybe even a gator or two. 
Hike The Gumbo Limbo Trail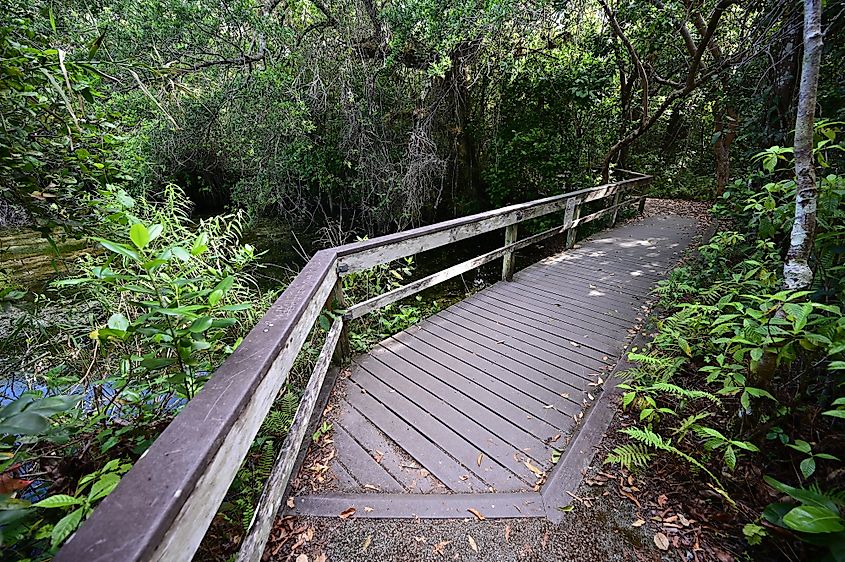 Within the Everglades National Park, hikers will find a treasure trove of trails perfect for all speeds. Amongst them is the Gumbo Limbo Trail, which runs for nearly 2 kilometers and gives visitors an up-close view of some of the Everglades' most distinct ecological features. Running through a hardwood hammock canopy, hikers can see such plant life as strangler figs, royals palms, and gumbo limbo trees, all in their natural raw setting. Enjoy some shade, unique flora, and maybe even the sight of an alligator at this charming little trail. 
Visit Royal Palm State Park
Established in 1916 and now a part of the Everglades National Park, Royal Palm State Park is another stunning destination for incredible views of nature and the remarkable wetlands ecosystem that is the Everglades. Go hiking, fishing, cycling, camping, boating (kayaks and canoes are always popular), bird watching, and even horseback riding at this beautiful compound. An expansive area covering some 4,000 acres, the Royal Palm State Park is a great way to enjoy the unique ecology and atmosphere that only the Everglades can provide.  
Go To Ernest Coe Visitor Centre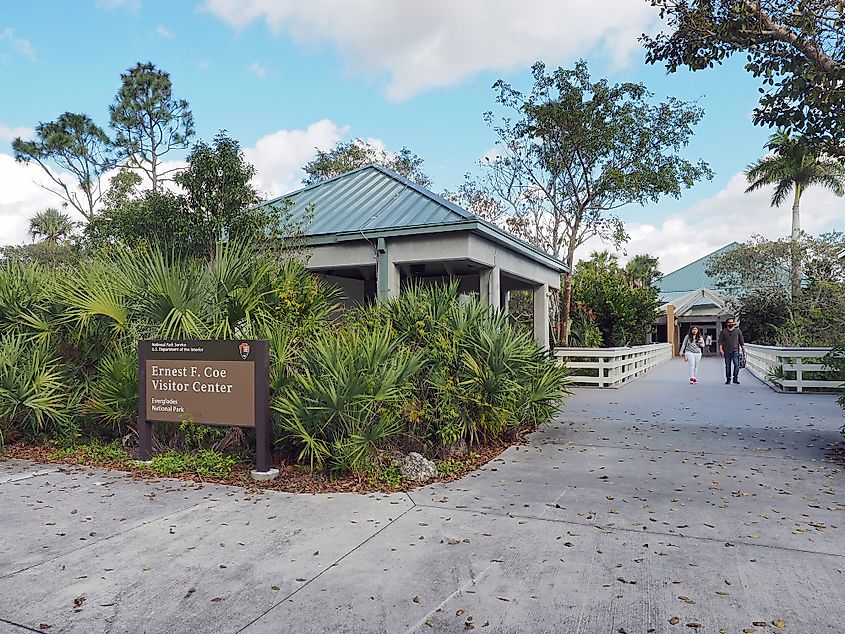 The Ernest Coe Visitor Centre is within Royal Palm State Park and is open 365 days a year, where visitors can find various exhibitions, guided tours, and friendly Park Rangers always ready to lend a helping hand. Situated right at the Homestead entrance of the Royal Palm State Park, the Visitor Centre is an informative spot to learn more about the wetlands ecosystem that defines the Everglades and also serves as a place of rest after a day out in the sun. Inside, one can rent a houseboat and prepare for the next adventure in the great outdoors.
Hike The Mahogany Hammock Trail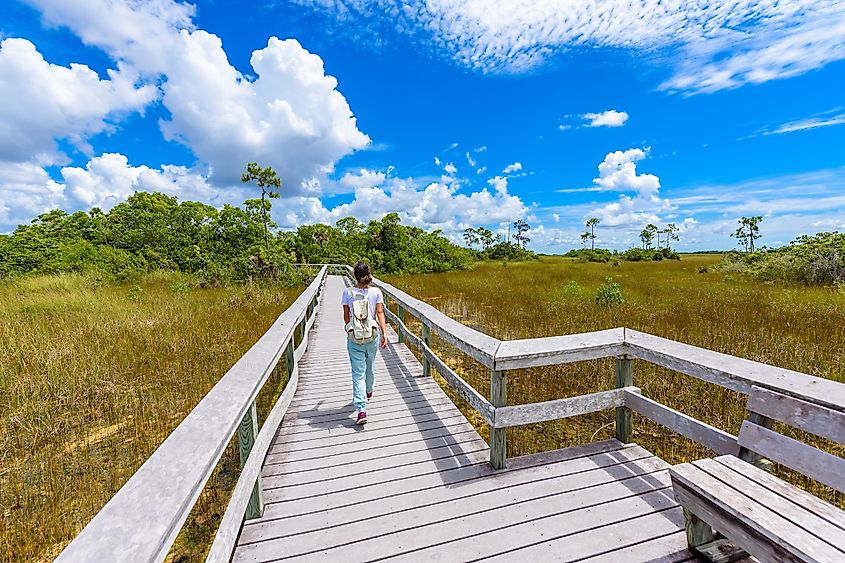 The 800 meters long Mahogany Hammock Trail allows one to witness the stunning beauty of the Everglades up close and personal. Near the Ernest Coe Visitor Centre, this self-guided boardwalk trail is the site of the largest Mahogany tree in all of America. It is surrounded by lush vegetation, gumbo limbo trees, and air plants. Wheelchair accessible and easy to navigate, this small yet charming trail is a nice place to visit before heading on to the greater offerings of the Everglades National Park.
With its rich biodiversity, beautiful wetland habitats, and plenty of outdoor activities, the Florida Everglades offers its visitors an experience of a lifetime in the heart of nature. It is a place every American must visit at least once in their lifetime.