Lake Apopka is a freshwater lake situated in Orange and Lake Counties of the US State of Florida. It is the state's fourth-largest lake having a total surface area of 30,800 acres. Revered as a top destination for observing migratory birds, Lake Apopka is home to nearly 400 species, further making it a must-see spectacle for any birders and nature observers. Lake Apopka also hosts the Wildlife Drive, which offers visitors a relaxing cruise around 11 miles of the eastern section of the Lake Apopka North Shore with many stops to see that is in turn supported by an audio tour. With scenic views of this watery expanse, one would also know that Lake Apopka is transforming to remove a lifetime of pollution caused by humans.
Geography Of Lake Apopka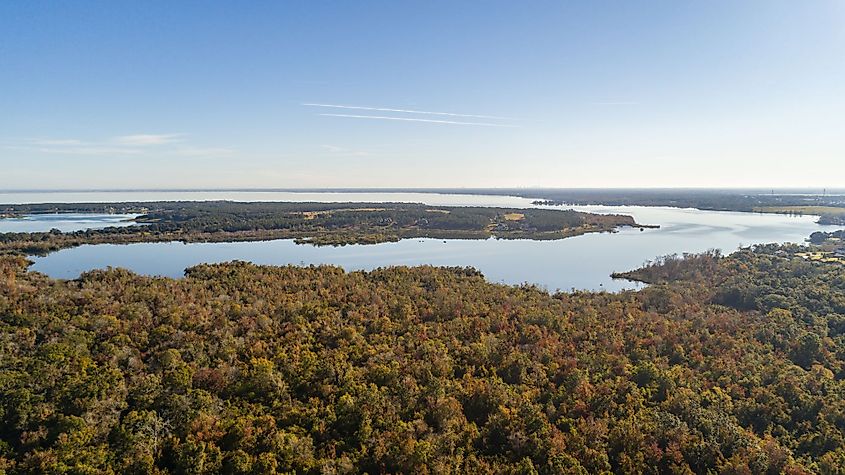 Lake Apopka can be found about 24km northwest of Orlando, Florida. As for size, it is 19.8 km long, 15.6 km wide, and has an average depth of 4.7 m. Being a freshwater lake, it is primarily fed by rainwater, springs, and storm runoff, which flows out to Lake Beauclair and Lake Dora via the Apopka-Beauclair Canal to the north. The Lake Apopka North Shore presents visitors with many opportunities for outdoor recreations with trails, an observation tower, and Lake Apopka's historic pump house. However, those looking for serenity may want to check out the 192 acres of the Ferndale Preserve; this former orange grove offers scenic vistas of western Lake Apopka from 70 feet above sea level. There are several waterfront parks found around the west, and southern edges of Lake Apopka with Tuskett Park in Monte Verde, Healthy West Orange Boardwalk at Oakland Nature Preserve in Oakland and Newton Park in Winter Garden. 
History Of Lake Apopka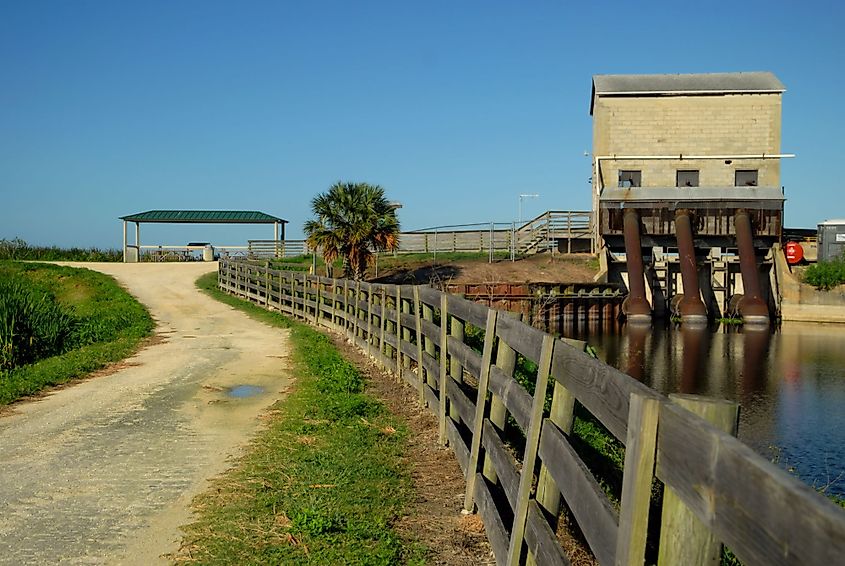 Commencing in 1888, alterations to the northern shoreline of Lake Apopka saw the construction of the Apopka-Lake Beauclair Canal. Formerly consisting of 50,000 acres, Lake Apopka would lose 20,000 acres of its northern marshland from the installation of a levee in 1941 to aid in farming. As a result, discharge from the farms created lower fish populations and algae blooms. Further devastation came in 1980 when the Tower Chemical Company illegally released large amounts of DDE into the waterway. Aware of this development, the US Environmental Protection Agency (EPA) shut down the company and conducted a super clean of the lake. However, this would have long-term effects on the wildlife, including infertility with trace amounts of contaminated water leaking into Florida's waterways. In 1991, the Friends of Lake Apopka was established and operated with the sole purpose of removing those who were leaking phosphorus into the lake, thus, feeding the algae blooms. Success would come from Governor Lawton Chiles signing the Lake Apopka Restoration Act, which held the farms accountable for any phosphorous discharge. It also granted the St. Johns River Water Management the ability to restore the former marshlands along the northern shore. In 2002, an update from the District's Governing Board highlighted that gizzard shads had removed 58 tons of phosphorus and 175 tons of nitrogen within their bodies.
Wildlife Of Lake Apopka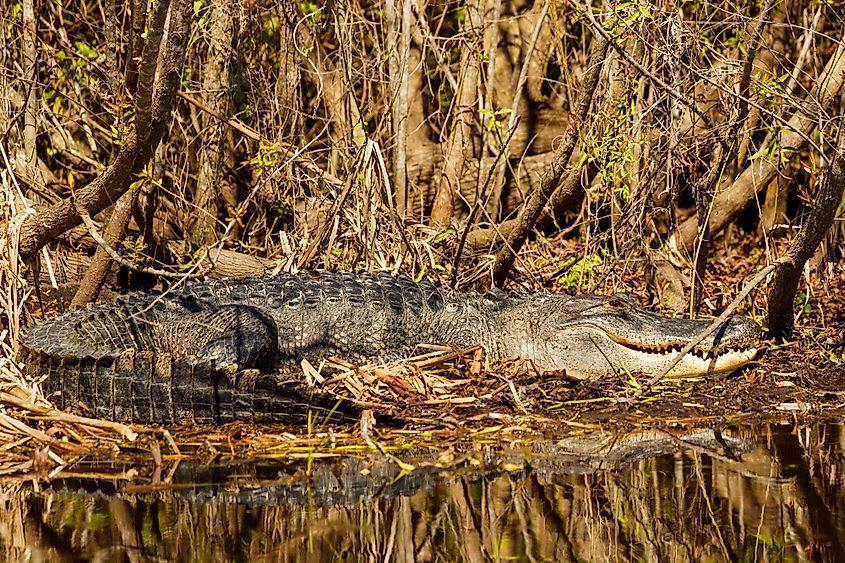 Lake Apopka boasts a large wildlife population, with some 367 species that call this body of water home. Butterflies and bird species are among the most abundant, with a checklist offered for keen spotters through the Lake Apopka North Shore. The lake houses a wide variety of rare and endangered plant and tree species, with some reintroduced after being decimated by the lake's phosphorous levels. However, the commonly spotted animals are; pine snakes, gopher tortoises, bobcats, otters, box tortoises, and American alligators.
Recreation Of Lake Apopka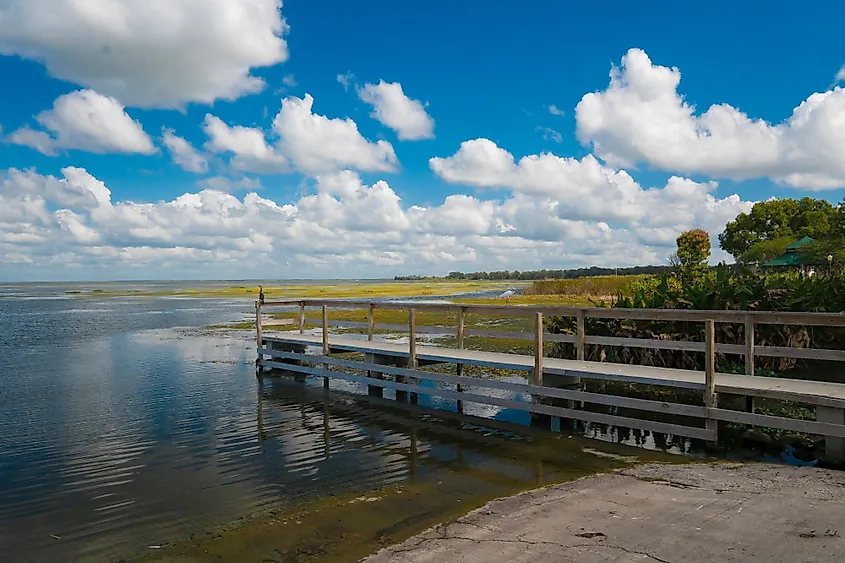 With its central Florida location, Lake Apopka rose to notoriety as a trophy bass fishing lake in the 1940s. As of today, it is still a popular destination for a variety of species. These include; largemouth bass, channel catfish, black crappie, blue gill, redbreast sunfish, redear sunfish, and hybrid striped bass, to name a few. It is important to note that gizzard shad have been placed in the lake as a means of cleaning up the phosphorous, and if caught, it should be placed back into the water. In addition, Lake Apopka serves as a popular destination for motor boating, canoeing, and kayaking, with a boat launch accessible at the MacDonald Canal Boat Ramp. Back to the Lake Apopka North Shore, families can enjoy an afternoon of horseback riding, hiking, and birding on the 6-mile loop white trail via Clay Island to the overlook. Or, for those who enjoy biking, the 2.6-mile red trail will serve as the best option to gain views of Lake Apopka.
Lake Apopka serves as a scenic getaway found a stone's skip away from Orlando. Anglers, boaters, photographers, and birders will appreciate the easy access to the marshlands, waterway, or by the Wildlife Drive. Through the efforts of EPA and the Friends of Lake Apopka, this lake is bouncing back to its former glory. These accomplishments come as: the farms being bought back and reverted to marshland, the replanting of plants to help wildlife, and native species like gizzard shads filtering the water quality. With many species of fauna and flora living prosperously, this is one lake that you want to have a camera at the ready.