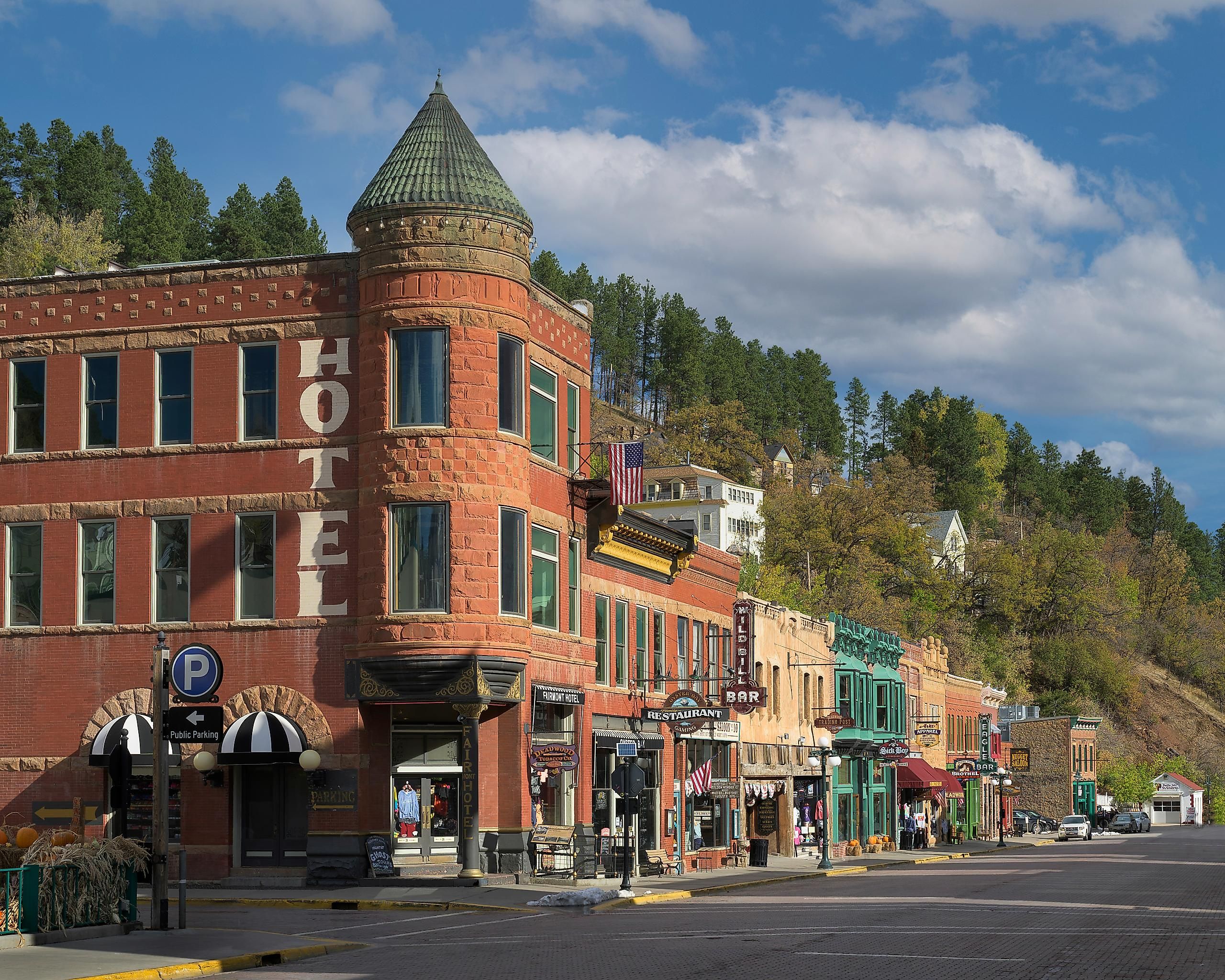 8 of the Most Welcoming Towns in South Dakota
South Dakota is known as the Mount Rushmore State due to its famous granite rock sculptures of four U.S. Presidents. However, South Dakota is also renowned for its hospitality and friendly small towns. Locals welcome visitors to explore the state's picturesque landscapes, historical sites, and unique festivals, such as the annual Corn Festival in Mitchell, South Dakota.
Hospitality is a way of life in South Dakota, extending from small towns in the western Black Hills to glacial lake towns in the northeast. Visitors are invited to walk in the steps of the Lewis and Clark Expedition, travel along the Missouri River, and explore the state's infamous Wild West history. Here are eight of the most welcoming towns in South Dakota where tourists can journey through history, explore the great outdoors, and experience local events. 
Spearfish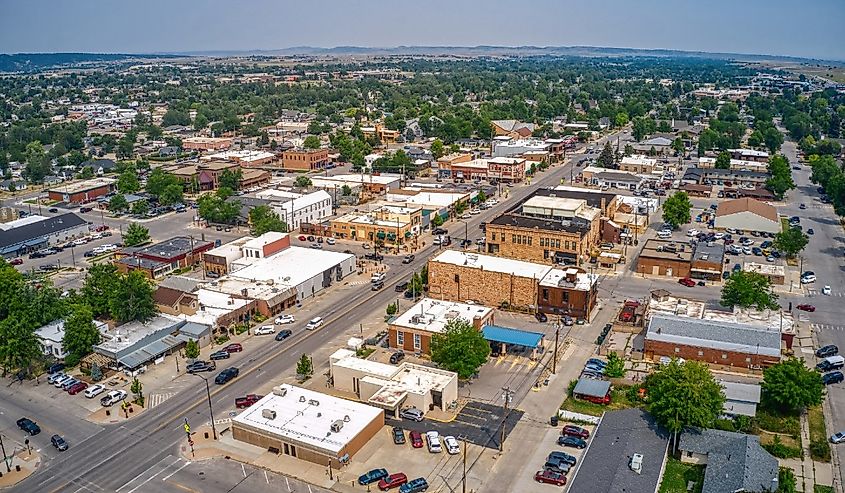 Spearfish welcomes all visitors with a blend of outdoor adventures, a vibrant downtown, and engaging community events. Visitors enjoy the friendly atmosphere in downtown Spearfish, with charming storefronts, a self-guided walking tour, and historic buildings, including the Matthews Opera House and Art Gallery. Built in 1906, the performing arts center is a great place for live music, theatrical performances, movies, and festivals throughout the year.
Spearfish also offers outdoor enthusiasts views of breathtaking limestone palisades at Spearfish Canyon. Located in the Black Hills, the canyon is a great spot for rock climbing, hiking, biking, and fishing. Visitors can also explore the outdoors and dive into the past at the D.C. Booth Historic National Fish Hatchery and Archives. Home to walking trails and historic buildings, the hatchery also houses the largest collection of fishing artifacts in the country at the Von Bayer Museum of Fish Culture.
Vermillion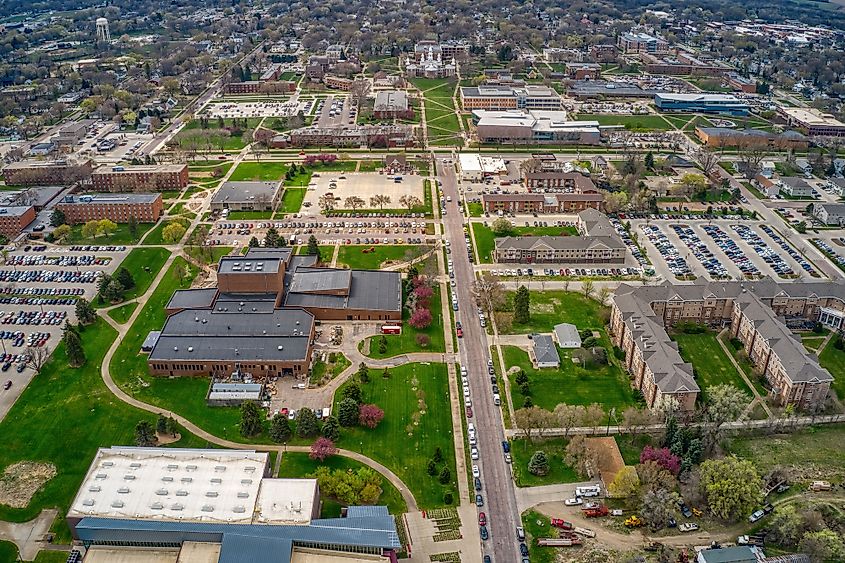 A lively college town, Vermillion welcomes visitors to explore the area's art, history, and outdoor recreation. Home to the University of South Dakota, the campus features the W. H. Over Museum, South Dakota's oldest natural & cultural history museum. Historical instruments from various cultures and periods can also be found on campus at the National Music Museum, which features live performances. For those wanting to meet friendly locals, enjoy coffee and comfort food at Café Brulé or explore the town's history at the Austin-Whittemore House. Both establishments are located in downtown Vermillion, which is listed on the National Register of Historic Places.
History meets nature at Spirit Mound Historic Prairie, a state park where visitors can walk in the steps of explorers Meriwether Lewis and William Clark. The two climbed the mound on August 25, 1804, as part of their westward expedition as they traveled on the Missouri River. 
Watertown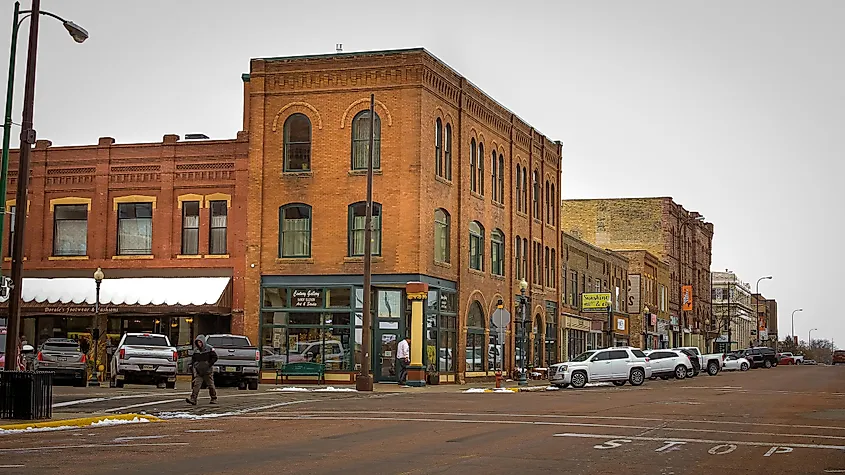 Just as the town's name suggests, Watertown is a friendly waterfront community, surrounded by multiple lakes and the Big Sioux River. The town welcomes nature and outdoor enthusiasts to explore Lake Kampeska, a sprawling 5,250-acre glacial lake. Outdoor enthusiasts can kayak, fish, boat, and swim in the lake at Sandy Shore Recreation Area. Pelican Lake is also nearby, where nature lovers can view migrating birds, prairie grasses, and wildflowers. In the winter, Pelican Lake Recreation Area welcomes outdoor adventurers to cross-country ski, snowshoe, and ice fish.
Beyond the town's incredible outdoor activities, Watertown is known for its friendly atmosphere. Wandering through the historic downtown allows tourists to step back in time, with 64 buildings listed on the National Register of Historic Places. For art enthusiasts, the Redlin Art Center is a must-see, showcasing over 150 original nature paintings by local artist Terry Redlin.
Yankton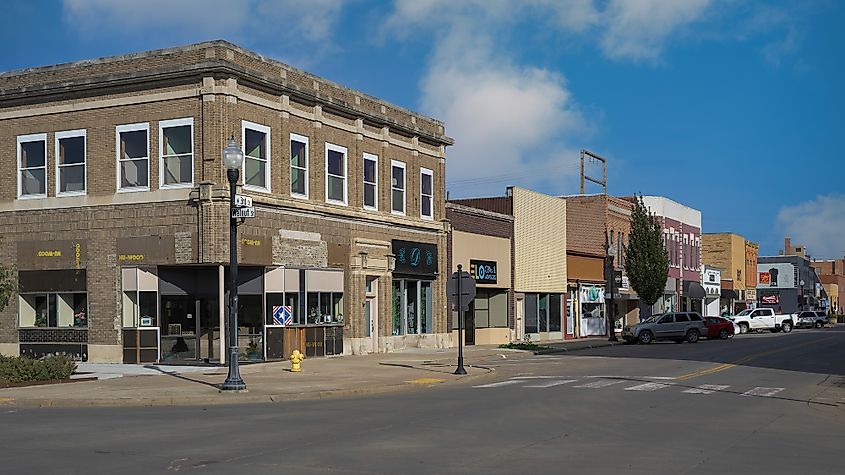 Located along the Missouri River and Nebraska state border, Yankton has a rich history and charming downtown. Yankton's historic downtown, known as the Meridian District, welcomes visitors to catch a show at the Dakota Theater, a historic Art Deco building from 1902. The district also invites tourists to take a stroll along the historic Meridian Bridge, a popular spot for biking, running, and walking. The bridge spans 3,029 feet and is the longest two-level pedestrian bridge that connects two states, South Dakota and Nebraska. The bridge crosses the Missouri River, where several famous steamboat captains traveled through Yankton in the 1800s, including Meriwether Lewis, Willian Clark, and General Custer. For water lovers, Lewis and Clark Lake offers stunning scenery and outdoor adventures, such as boating, canoeing, and sailing.
Huron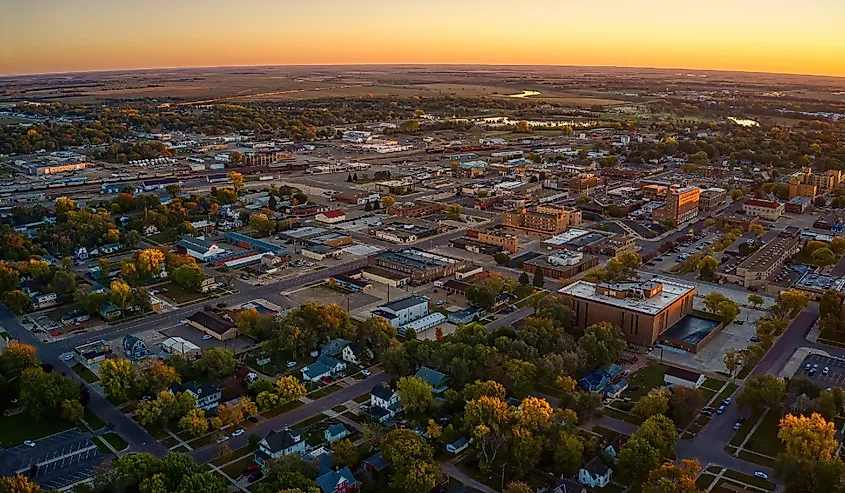 The community of Huron, South Dakota, invites visitors to experience the town's friendly atmosphere and annual events. Home to the South Dakota State Fair, Huron celebrates the state's agriculture history with musical entertainment, carnival rides, and livestock shows annually during Labor Day weekend. The town hosts several other festivals each year, including the Original SD BBQ Championships in June and the Great Scarecrow Festival in October.
A must-see in Huron is the World's Largest Pheasant, standing at 28 feet and weighing 22 tons. The tale of a large pheasant began in the 1880s when Europeans and Americans settled the area, and also reflects the hunting heritage in Huron. Located near the large pheasant is The Plains Dining and Recreation Center, featuring friendly service, large food portions, and a bowling alley. For outdoor enthusiasts, nearby Ravine Lake and the James River boast fishing, boating, and jet skiing. 
Brookings
Located less than 20 miles from Minnesota is Brookings, South Dakota, a college town with eclectic charm. Home to South Dakota State University, Brookings welcomes visitors to explore local art exhibits on campus at the South Dakota Art Museum. Also on campus is the South Dakota Agricultural Heritage Museum where visitors can explore a replica 1915 farmhouse, a 1915 Case Steam Traction Engine, and other agricultural artifacts. 
For nature lovers, McCrory Gardens offers 25 acres of gardens and 45 acres of arboretum to explore. Visitors can view hundreds of flowers and plants along walking and biking paths in the gardens. Another great spot for outdoor recreation is Dakota Nature Park, where outdoor enthusiasts can bike or hike along nature trails, view native wildlife, and fish in the park's pond.
Deadwood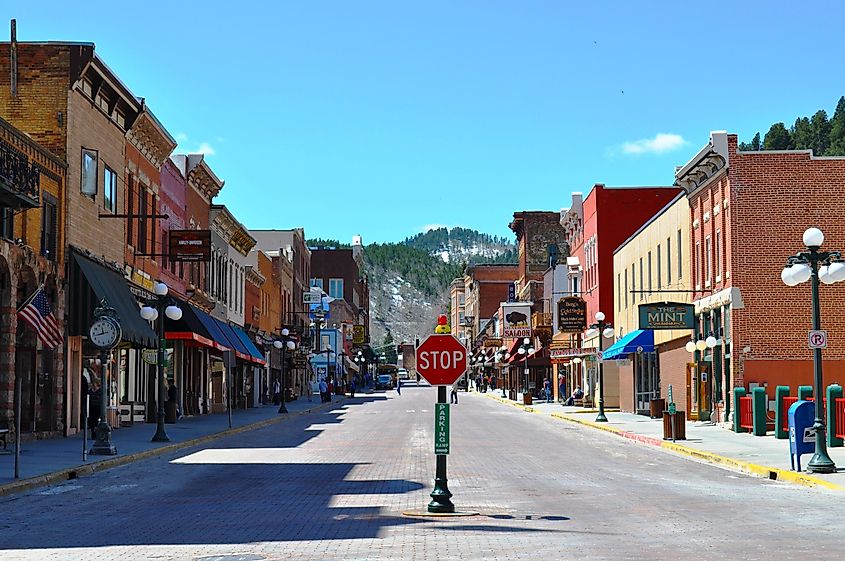 Nestled in the Black Hills National Forest is the Wild West town of Deadwood. Famous for its Gold Rush history, the entire town is designated as a National Historic Landmark. History buffs can explore the town's past at the Days of '76 Museum. Named after those who settled the town in 1876, the museum features memorabilia and more than 50 historic wagons, stagecoaches, and carriages from this time period. The town also has the graves of Wild West legends, including Wild Bill Hickok and Calamity Jane, at historic Mount Moriah Cemetery. 
Brookings is also home to Tatanka Story of Bison, a unique attraction for cinephiles and art enthusiasts. Established by actor Kevin Costner after filming Dances with Wolves, the site features a museum and a 17-piece bronze sculpture called "Lakota Bison Jump," created by local artist Peggy Detmers.
Mitchell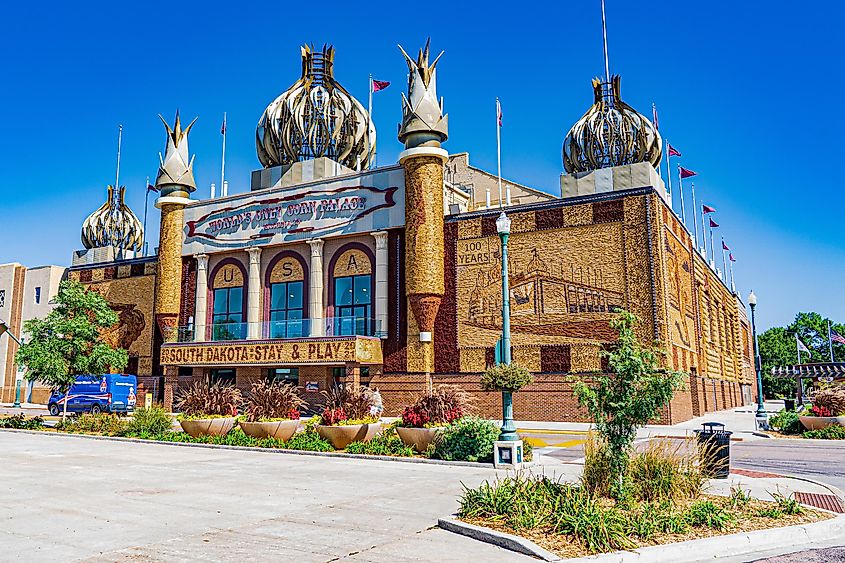 Mitchell, South Dakota, welcomes tourists to explore the town's agricultural events, historic Main Street, and the World's Only Corn Palace. Established in 1892, the unique Corn Palace is decorated with 12 colors of corn each year, hosts the annual Corn Festival in August, and is located on historic Main Street. The street is home to 100 unique stores and restaurants, including The Back 40 Taphouse Grill, which offers a fun atmosphere, friendly staff, and delicious American food. 
Another must-see in town is the Mitchell Prehistoric Indian Village, a Native American village that is more than 1,000 years old. The public is welcome to view archaeologists excavating on site and, although visitors are not allowed to dig, they may wash and sort artifacts. Located near the village is Lake Mitchell, a serene spot for relaxation. The lake offers many hiking and biking trails, along with fishing, boating, and swimming.
The Heart of Hospitality
South Dakota has a heart for hospitality, which is evident in these welcoming small towns. Each town offers a unique blend of history, outdoor adventures, and cultural heritage for all visitors to experience. Whether strolling through historic downtowns, attending the South Dakota State Fair, or exploring an ancient Native American village, South Dakota welcomes all visitors to experience the state's hospitality.