Gunfight at the O.K. Corral and Other Famous American Old West Gunfights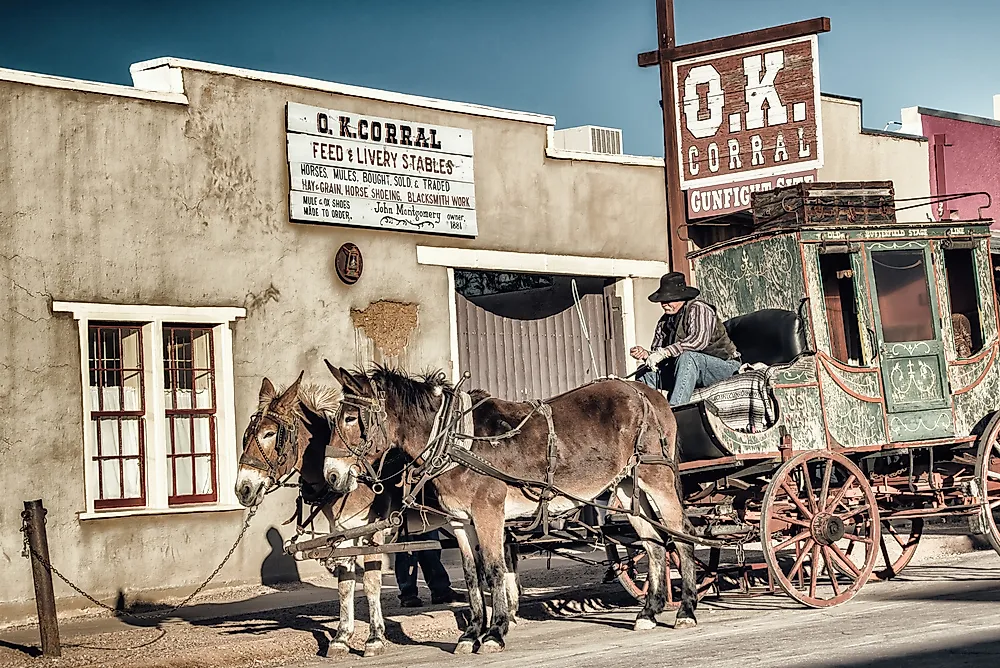 During the second half of the nineteenth century up to the late twentieth century, the Western Region of the US produced massive media content that revolved around the then lifestyles of the people, most notably, cowboys. This period is the Old West or the Wild West depicted in themes of lawlessness, gun contests, romance, and religion among other themes. To date, the Old West continues to inspire western film genre, comic books, toys, costumes, music, and games among others. This depiction is not far from the truth. According to tales, the Old West had some gunfights whose tales became part of the US history. Below are some of the fights.
17. Bellevue War
The Bellevue War occurred on April 1, 1840, in Bellevue, Iowa between a group under the command of Sheriff W. A. Warren and another one under W. W. Brown. Tension had been mounting from 1837 business feuds against Yankee businessmen whom Brown protected against the hostile locals. Because of this and cases of political meddling, authorities issued an arrest warrant for Brown. When Brown refused to surrender, Warren led a group to arrest him. Gunfire broke out when Brown's gun discharged. Three people died and several buildings were set ablaze.
16. Wild Bill Hickok – Davis Tutt Shootout
On July 21, 1865, there was an open pistol quick-draw one-on-one duel between friends-turned-foes veterans and gamblers Davis Tutt and Wild Bill Hickok in Springfield, Missouri. Reports claim that Hickok got Tutt's sister pregnant while Tutt preyed on Hickok's lover. Eventually, each supported other gamblers whenever one of them played and this was humiliating. Hickock became bankrupt without repaying Tutt's debt. At the shootout, Tutt was 75 yards away and wore Hickock's watch. Hickock's first shot killed Tutt and the court acquitted him after a trial.
15. Goingsnake Massacre
Ezekial Proctor killed Polly Beck and wounded Jim Kesterson in an alleged love triangle. During the trial on April 15, 1872, in the Cherokee Nation's Goingsnake District in Oklahoma, Beck and Kesterson's families came. All the Beck family had fought in the Confederate Army while Proctor was a Union Army veteran. At the time, Cherokee and the US had territorial disputes, therefore, Beck's family posse came to arrest Proctor in the event that the court acquitted him. A gunfight broke out in the courtroom killing eight marshals and three Cherokee citizens. Other revenge killings followed this thereafter.
14. Battle of Lincoln
This five-day long battle was as a result of unresolved murder cases involving gangs in Lincoln, New Mexico. From July 15-19, 1878, civilians took it upon themselves to hunt down those who were part of gangs. Their decision led to the largest armed conflict between civilians and it took the efforts of US Calvary to put an end to it. At least seven people died.
13. Four Dead in Five Seconds Gunfight
On April 14, 1881, an armed Mexican posse went to El Paso, Texas in search of two missing vaqueros who were found dead in a cattle rustler's ranch. After they returned to Mexico, Constable Krempkau who had translated for the Mexicans, and George Campbell argued about the case. An intoxicated John Hale took Campbell's gun and shot Krempkau. On hearing the shot, Marshal Stoudenmire drew his pistol and aimlessly killed a bystander, and then shot Hale. Krempkau and Stoudenmire then shot Campbell almost simultaneously. Minutes later, Krempkau succumbed to his injury. Later, Bill Johnson tried to assassinate Stoudenmire, but Stoudenmire shot off Johnson's testicles in self-defense.
12. Gunfight at the O.K. Corral
At approximately 3:00pm on October 26, 1881, in Tombstone, Arizona, as a result of long-simmering feuds, marshals engaged some cowboys outlaws in a 30-second shootout that left two of the outlaws dead and the marshals with minor injuries. Reports indicated that the cowboys had planned to kill some of the marshals. Approximately 30 shots were fired during the 30-second shootout, which has seen become of the famous shootouts in American Wild West history.
11. Vaudeville Theater Ambush
Two years earlier, Marshal Ben Thompson killed Jack Harris and the court acquitted Thompson. On March 11, 1884, Joe Foster (theater owner) and Marshal Jacob Coy ambushed and shot Thompson and King Fisher, both of whom were gunmen. The incident occurred at the Vaudeville theater in San Antonio, Texas where Fisher and Thompson had gone upstairs to see Foster only to face an ambush. As he was laying down before he died, Thompson shot and crippled Coy. Fisher and Thompson died.
10. Big Fight at the Jenkins Saloon
On March 21, 1886 in Tascosa, Texas, two groups of ranch owners, The System and Home Rangers, decided to settle a two-year misunderstanding in a gunfight after a night of dance. The gunfight started in a salon and ended up in the street and left casualties on both sides.
9. Battle of Cimarron
During the Gray County War, Bill Tilghman led a posse to take records from the county court to a new county headquarters. They encountered gunfire from residents of Cimarron, Kansas that lasted six hours on January 12, 1889 leaving one person dead and many wounded.
8. Battle of Ingalls
Ingalls, Oklahoma harbored many outlaws including the train and bank robbing Doolin-Dalton Gang. On September 1, 1893, the gang engaged a posse of US Marshals out to arrest the members. The gun battle left three marshals, several gang members, and a horse dead while several bystanders became victims. Most gang members were arrested and the gang wiped out.
7. Shootout on Juneau Wharf
Business in the town of Skagway, Alaska was booming during the Klondike gold rush and different people wanted to have control. On July 8, 1898, crime boss Jefferson Randolph "Soapy" Smith, Frank H. Reid and Jesse Murphy engaged in a supremacy gunfight that left Reid and Smith dead.
6. Hot Springs Gunfight
Two factions, the Flynn and the Dorans, fought each other for control of the gambling industry in Hot Springs, Arkansas. These two factions bribed factions of law enforcers and politicians to favor them. The first gunfight in the morning of March 16, 1899, occurred between two Marshals supporting different factions. In the late afternoon, a second encounter ensued between the two marshals and their respective workmates who too had scores to settle. Three died on the spot while one died minutes later. Eventually, three more people succumbed to their wounds.
5. Battleground Gunfight
On October 9, 1901, the Smith Gang of cattle rustlers engaged a posse of US Marshals in Arizona's Fort Apache Indian Reservation. By the end of the long gunfire, two marshals died while the gang members fled into Mexico never to return.
4. Canyon Diablo Shootout
Witnesses described this three-second shootout as a huge explosion. Bandits William Evans and John Shaw had been on a robbing spree the previous night and on April 18, 1905, in Canyon Diablo, Arizona, marshals caught up with them. They killed Shaw and captured Evans.
3. Shootout in Benson
J.A. Tracy was a stubborn man after a lady who did not want anything to do with him. While looking for the lady, Tracy found himself at a railway station where a group wanted to kill him. The courageous Tracy was also spoiling for a gunfight while Ranger Harry Wheeler tried to arrest him first. Tracy fired twice hitting Wheeler once while Wheeler, known for his speed and precision, returned fire and hit Tracy four times. While Wheeler fully recovered, Tracy succumbed to injuries. The fight took place on February 27, 1907 in Benson, Arizona.
2. Gleeson Gunfight
The Gleeson Gunfight, on the night of March 5, 1917, is one of the last known gunfights of the Old West and, just like the Benson shootout, also involves Ranger Wheeler. Wheeler and his deputy, Lafe Gibson, had been searching for a drug smuggling gang near Gleeson, Arizona. They set camp to spend the night, and unknown to them, the gang had been trailing them for a while. Just after they rolled up their blankets, the gang started shooting. Luckily the two rangers were quick and had enough supply of ammunition. They exchanged fire for over an hour until the gang escaped in the process with several wounded.
1. Power's Cabin Shootout
The Power's Cabin Shootout took place on February 10, 1918 in Arizona's Galiuro Mountains. The Power family of miners consisted of "Old Man" Jeff who was the dad, his three sons Charles, John, and Tom. Jeff had previously lost his wife and daughter. The period was at the onset of WWI and all able-bodied men, including the Power brothers were to join the military. When the brothers, with the help of Jeff ignored summons from the Sheriff, a Posse went to their Cabin on the night of February 9, 1918, to arrest the brothers. The lawmen took positions and waited until morning to breach but, just before dawn, the dog barked and the Powers, not knowing who was out there, started shooting. Gunfight broke out that left Jeff and three marshals dead while the brothers escaped into Mexico.