Meriwether Lewis - Famous Explorers of the World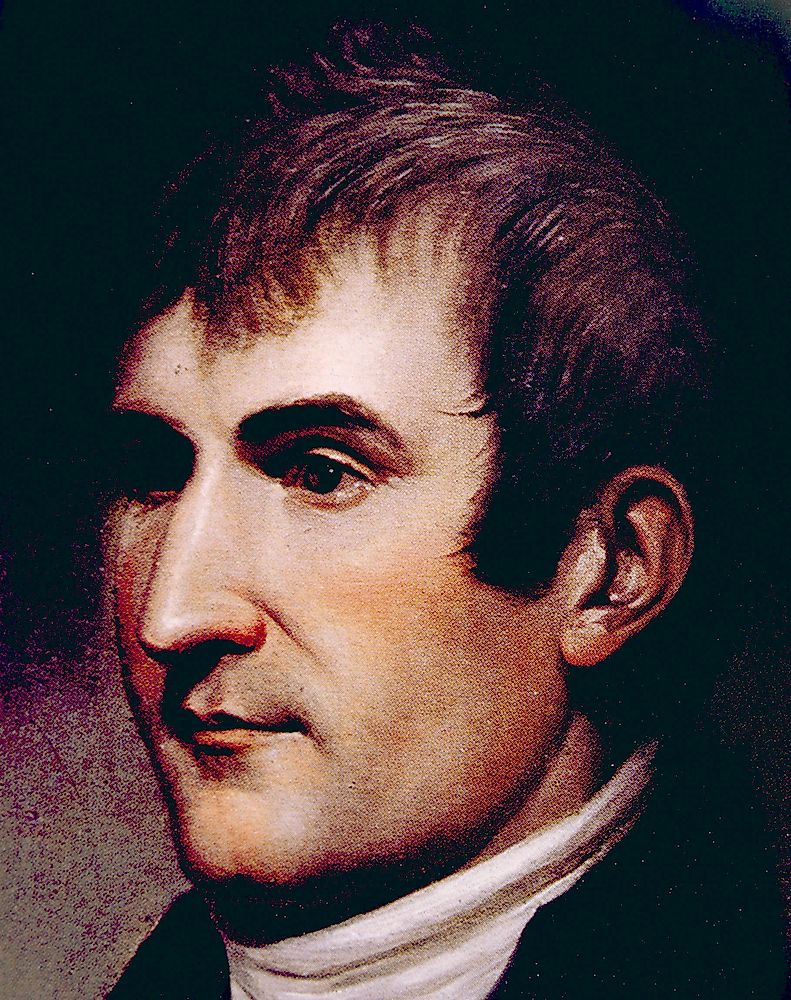 5. Early Life
Meriwether Lewis was born a scion to a wealthy family, hailing from a lineage of plantation landowners. Lewis was born on August 18, 1774 in Charlottesville, Virginia. His early education was spent with tutors until the age of 13, and these were probably the best that money could buy at that time. His father was an officer in the American Revolution who died when Meriwether was young. In his youth, the young Meriwether Lewis took to hunting and exploring the woods in his native Virginia. As a teenager, he gained much responsibility after his grandfather's death, as he took over the operations of his grandfather's plantation while he lived with his mother and siblings.
4. Career
In 1794, Lewis became a militia soldier who helped stopped the Whiskey Rebellion in the state of Pennsylvania. Later, Lewis joined the army and was posted on the frontiers of Tennessee and Ohio. Lewis was a neighbor and friend of President Thomas Jefferson. At that time, President Jefferson was ready to send a transcontinental expedition to explore and potentially purchase additional western lands for the United States, with the explorers being referred to as the "Corps of Discovery". Learning about Lewis's previous posts and experience, President Jefferson thought Lewis was a good choice to lead the expedition after having served in the frontier. William Clark, who had himself been a commanding officer in the Army, was appointed second in command to Lewis in the expedition.
3. Major Contributions
The Lewis and Clark expedition was a success, and after three years had explored much of Louisiana Territory, from the Missouri River to Pacific Northwest in what is now the state of Oregon. After his return, President Jefferson appointed Lewis to act as Governor of Louisiana Territory in 1806. He was also granted him 1,600 acres of land. Lewis further added to his accomplishments by assisting in the writing of the first laws for the new U.S. Territory of Louisiana. Lewis had new roads built and promoted President Jefferson's fur trading agenda. He also interceded with several native American Indian tribes who were fighting amongst one another in the region. Lewis was also a Freemason, and was appointed First Master of the Grand Lodge of Pennsylvania on September 16, 1808, not long before his death.
2. Challenges
Many challenges were faced by Lewis in his career, both as an explorer and as Territorial Governor of Louisiana. While exploring the new territories, Lewis, who was tasked to inform the Native American Indians of the changes after their territories were bought by the U.S. government, had considerable difficulty in bringing the tribes together. As Governor of Louisiana Territory, Lewis was faced with the problem of granting the new American settlers land as a result of his peace treaty with the native American Indians, while preserving the assigned lands ensured to them per the conditions of the sale. Lewis also faced the problem that his Territory Secretary, Bates, was undermining his authority in his own interests regarding the governorship of Louisiana Territory.
1. Death and Legacy
Lewis as governor developed many enemies, and faced a number of challenges he had to surmount. One of these was the accusation of his misappropriation of funds, resulting in him being asked to explain and present his actions to the White House. As a result, Lewis set out for the capital on September 3, 1809. On the way, Lewis stopped at an inn in Tennessee for the night. Whatever happened that night, October 11, 1809, no one can be sure, as there were no real witnesses. In any case, Lewis was found dead from gunshot wounds in his room. Some thought that it was a robbery, and some said it was a problem related to drugs. Whatever the cause of his death might have been, Lewis is seen today in a more favorable light, as biographers continue to reveal inspiring information about his life and career to the public.