A tranquil grassland prairie town and home to the state's largest and oldest university, Brookings, South Dakota, is a place to pursue your passions. Whether it be one of the many programs offered at the more than a century-old South Dakota State University or finding your peace in the Great Plains, one can feel the influence that Frank Gobel found as he illustrated his artworks inspired by the once Native American land and their traditions. One must also visit the South Dakota Art Museum to see one of 140 artworks featured in the Harvey Dunn exhibit, including the notable work - "The Prairie is my Garden." Brookings is a town that invokes inspiration, discovery, and creativity, whether through education or art. 
Geography And Climate Of Brookings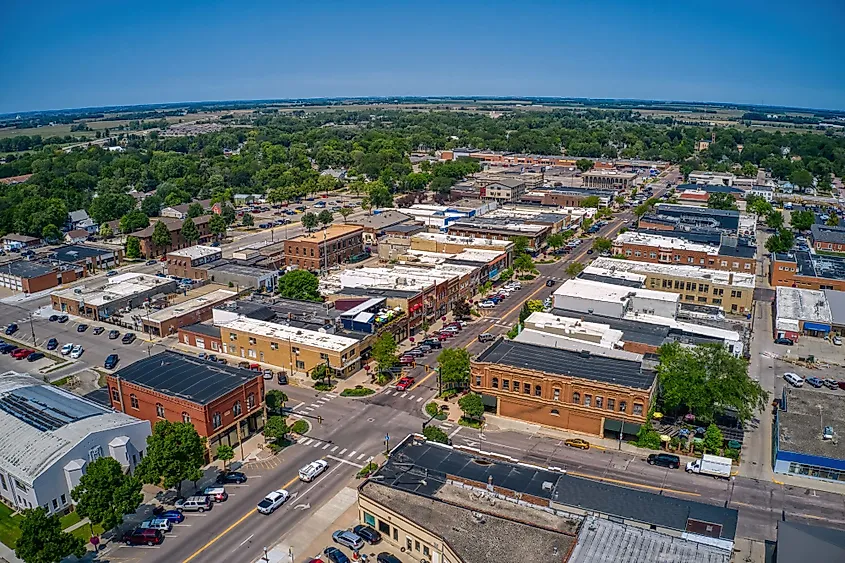 Brookings can be found on the eastern side of the US state of South Dakota, 15 miles from the Minnesota State line. Brookings lies in an area known as the Big Sioux River Valley, which is part of the larger Coteau des Prairie that makes up the vast plateau of the grassland plains. On a map, Brookings is approximately 55 miles north of Sioux Falls and sits at an elevation of 494 meters. Furthermore, being the state's fourth-largest city, Brookings encompasses an area of 33.77 sq. km, with only 0.26 sq. km accounting for water and 33.51 sq. km being occupied by land. 
Brookings experiences a humid continental climate in which there are four seasons. This includes humid and semi-arid summers and dry winters, with transitional springs and autumns. In a year, Brookings collects 84.7 days of precipitation, including rain, sleet, hail, and snow. The city receives, on average, 25.8 inches of rainfall a year, whereas the US average is 38.1 inches. Alternatively, Brookings receives 35.8 inches of snow in the winter months, unlike the US average of 27.8 inches of snow in winter. During the year's coldest month, the average temperature ranges from -13.8°C to -3.8°C. During the year's warmest month, the average temperature ranges from 27.7°C to 16.6°C. 
Brief History Of Brookings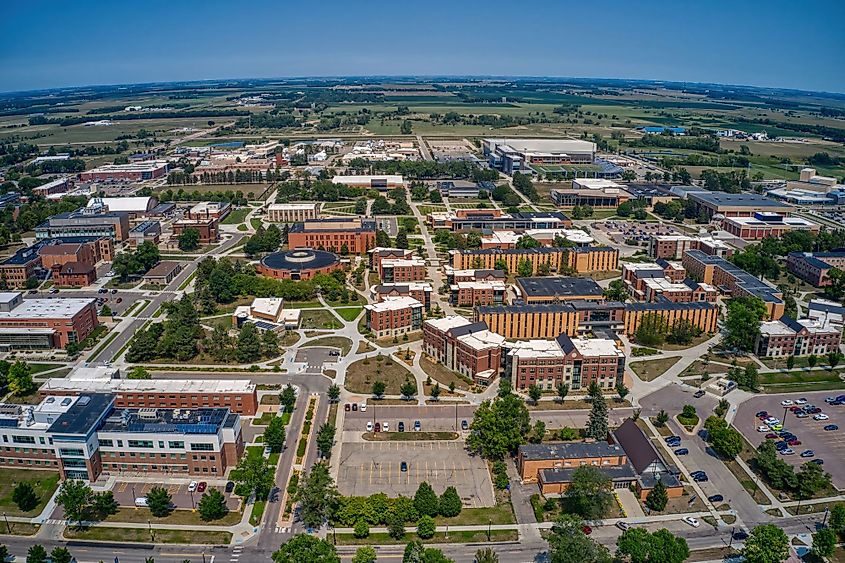 Named after Judge Wilmot W. Brookings for his drive to settle the Dakota Territory, this community was founded in 1879 as part of the railroad expansion from Minnesota. Due to its abundance of fertile farmland, Brookings became an agricultural producer but specified in seeds. Some of the produced items included corn, soybeans, oats, cattle, pigs, and dairy products. Much of this early pioneer technology is on display at the South Dakota Agricultural Heritage Museum, which highlights the historical importance of this industry. South Dakota State University was established in 1881 by the Dakota Territory Legislature under the Morrill Act of 1862. In 1923, it was reorganized to include divisions of agriculture, engineering, home economics, general science, and pharmacology. In 1950 nursing was added to its program list, and later 1975 saw the addition of the division of education. At present, South Dakota State University is the largest university in the state. It has grown to include 70 undergraduate programs, 30 master's programs, seven doctorate programs, and two associate programs.
The Population And Economy Of Brookings
The City of Brookings resides within Brookings county and is home to 23,377 inhabitants. It is the fourth-largest city in South Dakota, with Sioux Falls, Rapid City, and Aberdeen ahead of it. The median household income is $57,471, with a gross monthly rent of $759. However, 9.9% of Brookings residents live below the poverty line. Females make up 48.6% of the population, whereas males account for 51.4%, and the average age of a resident is 24.3 years old.
The most predominant industry in Brookings is its manufacturing sector, accounting for 17.9% of the economy overall. In 2012, BEL Brand Inc, best known for its Babybel products, announced it was opening a 170,000 sq. ft facility in Brookings. By 2014, this state-of-the-art facility would exclusively produce the Babybel Mini at a rate of 1.7 million units a day, which equates to 24 million pounds of cheese a year. However, this isn't the only well-known manufacturer to call Brookings home, with Rainbow Play Systems establishing its headquarters in 1985. Best known for its wooden children's playsets, Rainbow Play Systems have set up 700,000 playsets and have a reach beyond the United States, including products being available in Canada, the United Kingdom, Mexico, Spain, Panama, Italy, and Belarus. Other sectors that contribute to Brookings economy include educational services (16.7%), healthcare and social assistance (12.8%), and accommodations and food services (10.4%).
Attractions Of Brookings
Children's Museum of South Dakota
Build in a brick schoolhouse dating back to 1936, the Children's Museum of South Dakota is a non-profit and the first children's museum in the state, opening in 2010. This 44,000 sq ft museum features two full-size animatronic T-rexes known as Mama T-rex and Baby Max. The principal aim of the museum is to educate children in a fun way through play, discovery, and creativity. As of 2020, 1 million people have visited the museum.
South Dakota Art Museum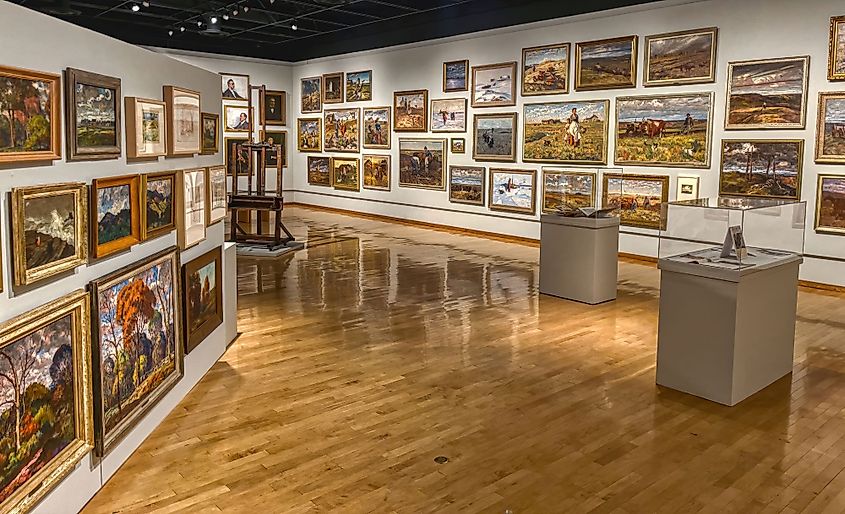 The South Dakota Art Museum contains 7000 paintings done by South Dakotan artists, including Harvey Dunn, who has a permanent exhibition containing his infamous piece, "The Prairie is my Garden." Dunn was best known for illustrating the Great Plains, battlefields, and World War I. Paul Goble is another notable artist who has a permanent exhibit where one can find pieces such as The White Buffalo Woman, The Arc of Life, and The Radiating Sun, to name a few. The South Dakota Art Museum can be found at South Dakota State University and has been named one of the 25 Best Art Museums and Galleries since 2017.
More than a grassland prairie that got its beginning as part of the Dakota Territory settlement and flourishing agricultural industry, Brookings is a serene town and a place for new beginnings inspired by discovery, creativity, and passion.