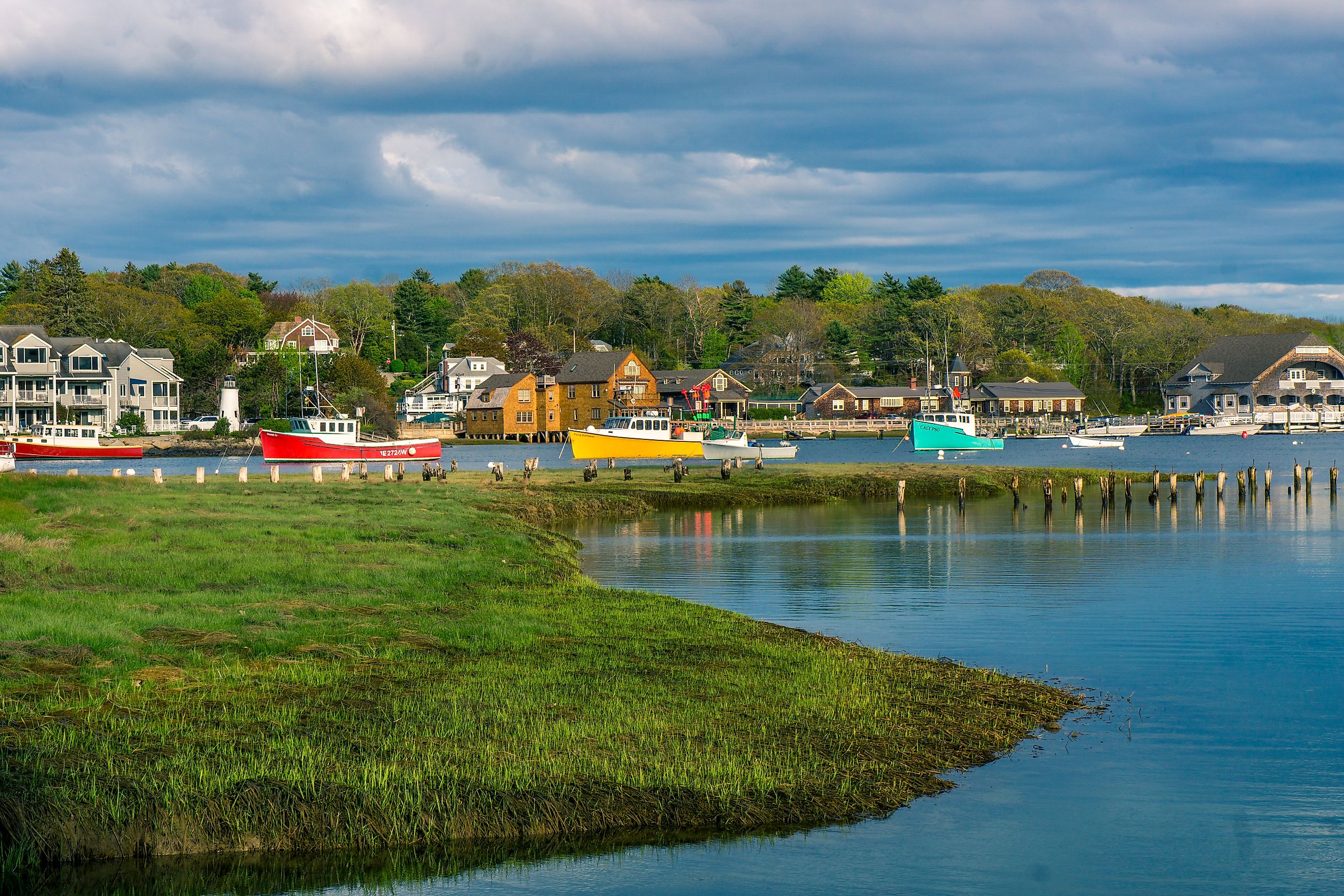 10 Small Towns In Northern United States To Visit For A Weekend Getaway
No, the northern US is not the cold-hearted counterpart of the always-happy southern neighbors hyped up on the sun and tropical vibes further south. These towns from New England, the Great Lakes State, and more have a lot to be joyful about, like the best hiking spots in summer with beaches nearby and destinations for the wintertime snow bunnies!
From coast to coast, Mystic is one town literally on everyone's lips in Connecticut, while Montpelier, home to 8,000, is the smallest capital in the US! Birmingham handles a large local lifestyle of indulgers in finer things who enjoy sharing them with tourists. Grand Marais has too many accolades to fit the intro, but its picture-perfect waterfront, where painters gather to recreate sailboats, the lighthouse, and the beautiful Lake Superior scene, is worth a thousand words!
Birmingham, Michigan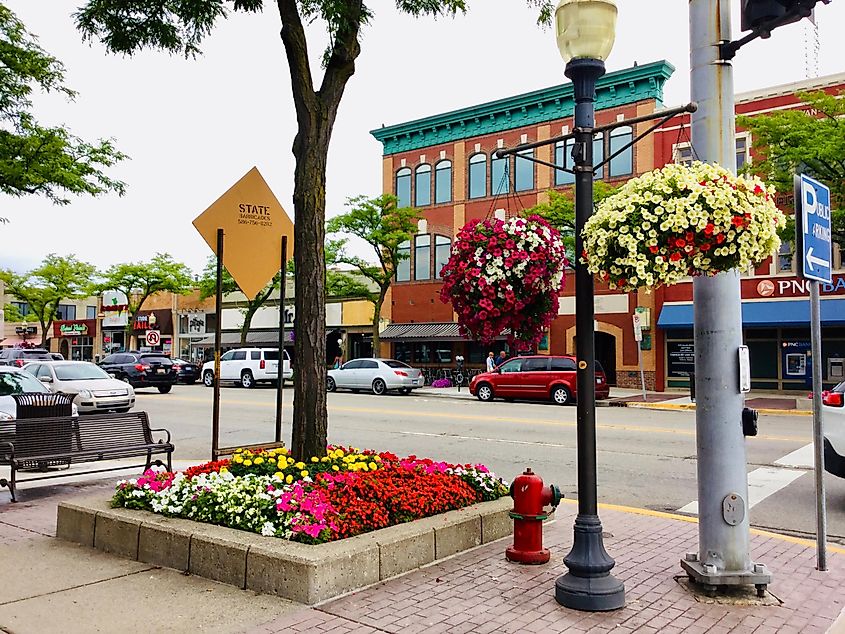 The town with a big name and a not-too-shabby population of under 22,000 is a perfect getaway from Detroit for creative spirits, no matter where you are! While not the giant city in Alabama nor the renowned England town, Birmingham is a vibrant community with a guilty pleasure in the finer things in life, from fine cuisine to the arts and ditto the wines! You can join them for unforgettable experiences with a charming Michigan spirit and picturesque tree-lined neighborhoods with an upscale vibe along the streets, boutique shops, and diverse dining options.
From regular events to art galleries, Birmingham is always "in season," from the historic architecture to its lively downtown for shopping and mingling with like-minded people in pretty sights. Oh, and you are in Michigan, so a lake is nearby for the best summertime getaway, including hiking opportunities like Quarton Lake, right at the heart with a pretty dam. Just a hop away, the most popular Emagine Palladium for a showing and Toast, a cafe, will complete an unforgettable weekend evening.
Damariscotta, Maine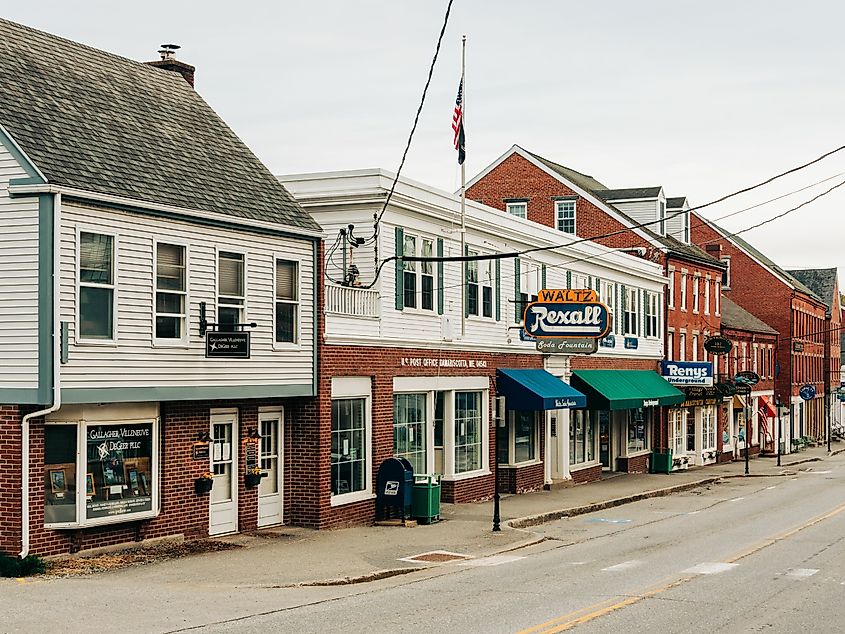 Boasting water on all sides, this lakeside town along the swift currents of the Damariscotta River can rival any coastal destination. Just a hop from the coast of Muscongus Bay, Damariscotta spreads peacefully along Lake Pemaquid, with the same Maine seafood to cook up lakeside. From boating, fishing, and swimming to bookshops and galleries, you can gorge on fresh oysters and mussels through local cafes and markets. Skidompha Secondhand Book Shop's over 20,000 volumes, and Sherman's Maine Coast Book Shop will have the perfect gift for a literary fan back home, alongside highlights to browse like Alewives Fabrics, Weatherbird, and The Kingfisher and the Queen. There's always something surprising for new visitors and delighting old friends, like the annual Damariscotta Pumpkinfest and Regatta, a boat race in carved giant pumpkins.
Geographically favorable, Maine's native people left middens and oyster shells dating back two millennia, as you can see at the Whaleback Shell Midden State Historic Site. With oysters still central here, there's the annual Pemaquid Oyster Festival in autumn, with food, displays, music, and an oyster-sucking competition. From an oyster farm tour via a river boat or kayak to a guided oyster ecology tour by Midcoast Kayak, there is also a seal-watching tour and an oyster and wine cruise by Damariscotta River Cruises. Coastal Rivers Conservation Trust trails welcome hikers. Like its "twin village" across the bridge, Newcastle, both feature grand mansions and businesses that have risen out of the shipping and shipbuilding industry. You can literally stroll through the architectural past to the present, like the oldest Roman Catholic Church in New England, St. Patrick's Church, from 1807, and stop by the Lincoln Theater circa 1875 for a Christmas play!
Grand Marais, Minnesota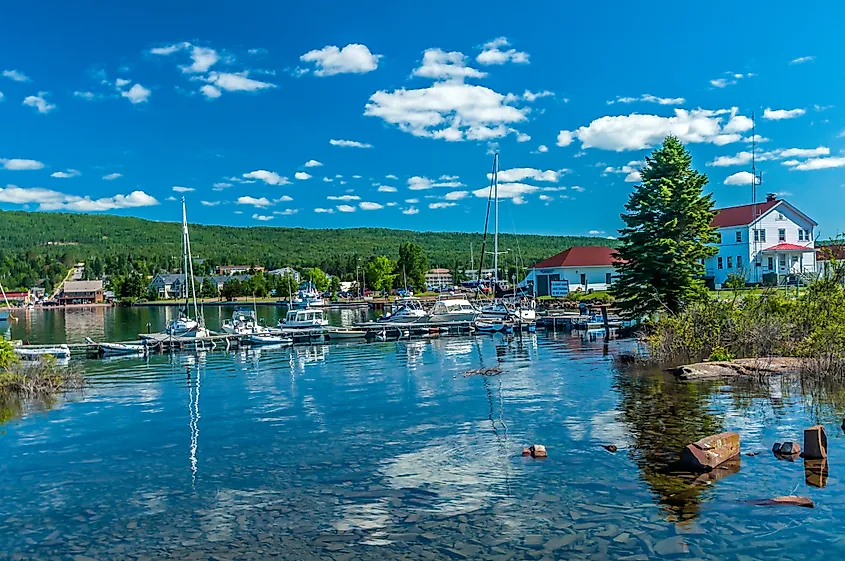 This harbor village shines along the popular North Shore as an artsy and quirky destination, attracting artists, families, and adventure-seekers for an unforgettable escape. Named America's Coolest Small Town, among the Top 10 Beach Getaways, and Next Great Adventure Town, even its loud name holds a promise. You will meet the most friendly, creative, and talented locals, inspired by the beautiful nature, in a sandwich between the Sawtooth River and Lake Superior shore. Home to under 1,500, the oldest art colony in Minnesota, with musicians, artists, photographers, and artisans, inspires you to find your hidden talent with something new around each postcard-worthy corner.
From local shops for gifts and home decor, you can discover traditional regional crafts at the North House Folk School with open classes. The harbor, a natural beauty where painters gather at Artist's Point, is a picture-worthy sight in itself, recreating sailboats, the lighthouse, and the beautiful Lake Superior scene, so bring your own easel, a sketchbook, or join them with a camera! In the summer, there's great hiking, biking, canoeing, sailing, and nearby golfing. Come winter to Cook County, and Grand Marais is one of the few places in the US to see the aurora borealis and then talk about inspiration!
Hermann, Missouri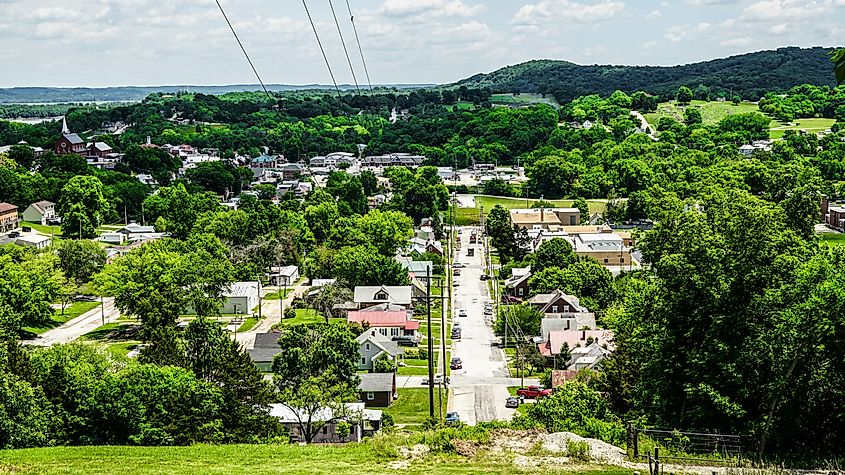 With a tiny population of 2,200 and a deep pocket full of history, Hermann is the king of getaways in Missouri for all things vintage along the banks of the Missouri River! Perfect to visit in every season, you can spend days prowling through your favorites along the streets made quaint under timeless charm with historic architecture, yet very vibrant culture between wine nooks and tasting rooms and antique shops with friendly locals. Replete with BnBs and cozy cafes for gatherings with traditions and delicious food, you must try Hermann Wurst Haus, which tells of its rich German heritage and more on it at the Historic Hermann Museum.
Hermann, a summertime destination town, is best for vineyard strolls and the incredible outdoors, with stunning nature to explore through lush forests, serene lakes, and scenic trails. From the popular Hermann City Park to Roadside Park and Riverfront Park, Daniel Boone Conservation Area is just north of town! Among a whole line-up of festivals, the magic town could not be more wonderful for celebrating the season over fine wines at Stone Hill Winery and some holiday shopping through adorable boutiques like Sugar Momma's.
Kennebunkport, Maine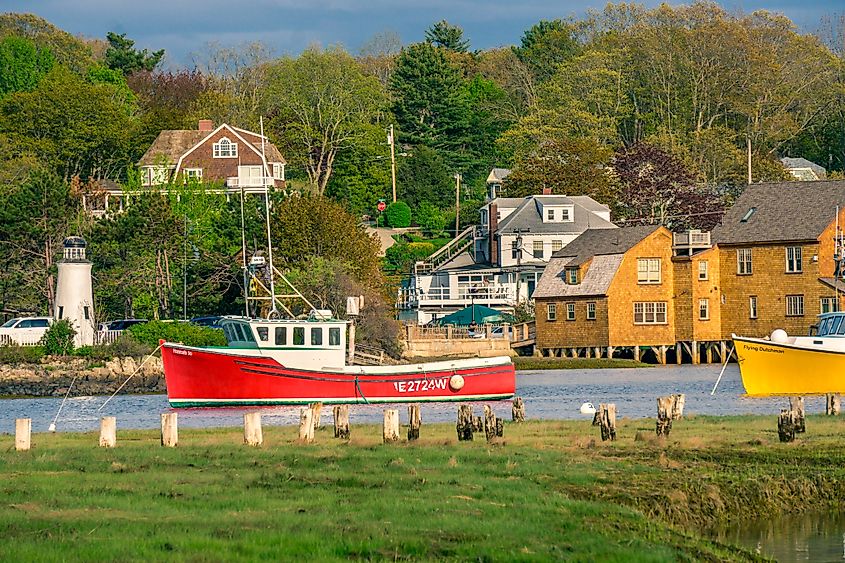 The town in southern Maine, one of the East Coast's best all-season getaways, is self-proclaimed "the place to be all year!" With many beaches for sunbathing, boating, and fishing, Kennebunkport swarms in the summer, with a quaint and magnificent waterfront for strolls, sunsets, and seafood galore at North Atlantic oceanfront restaurants. The upcoming holiday season will delight first-time visitors with all the lobster rolls your heart desires during the town's annual Christmas Prelude event.
There is no better way to get away than Bush family style—their favorite family hideaway. More than just a retreat for the rich and famous, the laid-back atmosphere with refined amenities and a beautiful coastal landscape attracts families and couples with memorable bed and breakfasts and fun family resorts. There are also art gallery strolls and lobster-catching lessons, as well as a slew of unique shops in Dock Square! Steps away, Gooch's Beach is a must-visit, and hop on a boat cruise to catch the sunset ahead and Kennebunkport behind—an unforgettable sight of white, red-roofed mansions against the cerulean waters!
Moab, Utah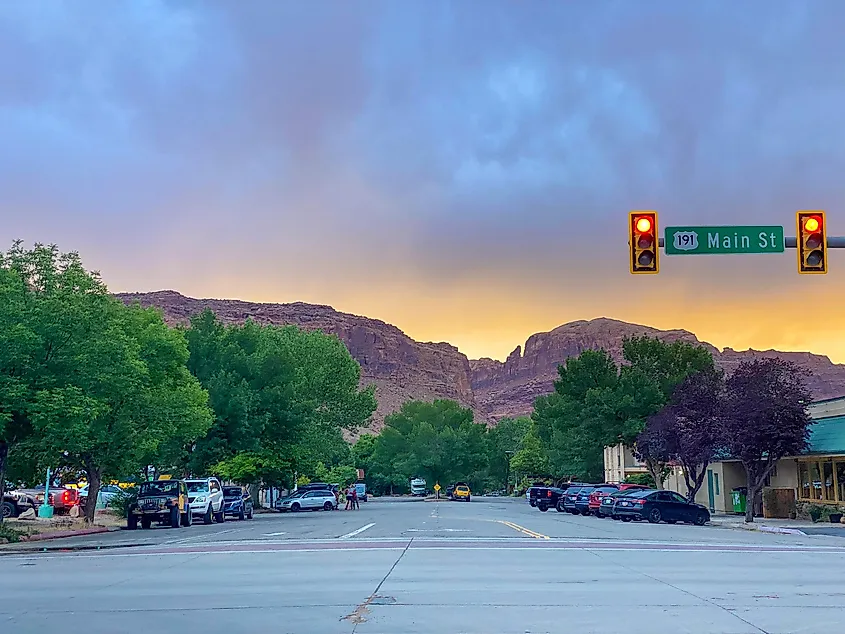 This town promises an unforgettable getaway inside a twisted, buckled sea of sandstone sculpted "artwork" by sun, wind, and storms over millennia in the making! Moab's otherworld-inspired landscape, quiet, and eerie contrasts with the liveliest Main Street, a major hub for outdoor enthusiasts, and blessed locals to be living among such an alien beauty. With all being active mountain bikers, river rafters, or avid skiers, you too can join them for climbing, canyoneering, hiking, or off-road adventures along the varied terrain. Truly a playground for every taste, the wide open spaces offer serenity and views for miles, photo opportunities, as well as nooks and crannies to escape into your own world of wonderment.
Moab, the 10th Best Small Towns to Visit in the USA in 2023, is a great getaway in eastern Utah at the gateway to the otherworldly Arches National Park with rocks that will twist your own mind, while Canyonlands National Park's canyons and buttes delight daredevils to drop, descend, climb, and zip line over! There is whitewater rafting along the infamous Colorado River, Lions Park, and the Bike Path Trailhead just to the north. With a year-round line-up of cultural festivals like the Moab ArtWalk and the Moab Music Festival, the many educational centers and museums on natural history get you hyped on learning about fascinating attractions like Moab Giants and a dinosaur museum.
Montpelier, Vermont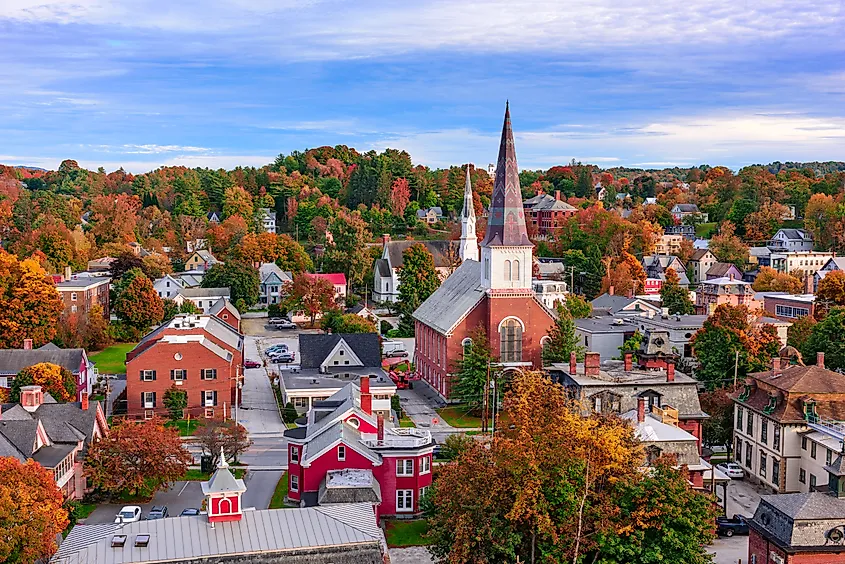 You can let the small-town charm envelop you, and the big-city flavor excite you right here, in America's smallest capital city, in none other than Vermont—the ultimate wintertime destination for an immediate getaway! Being a capital and all, the town dresses in every season, with church steeples peeking out of fall foliage and trails along verdant slopes in the spring to the best overlooks of the small city and just minutes to its downtown! Home to about 8,000 people—no Walmart, McDonald's, or Starbucks—imagine that—Montpelier delights with exquisite historic buildings like state government, world-class restaurants, unique shopping, and art venues!
The crown jewel, the impeccably restored State House from the 1850s, is one of the US's oldest. Along with the Historical Society Museum, these offer enough insights to let the fun part of the getaway begin. The beautiful Hubbard Park is perfect for a serene afternoon stroll before the unique business district captivates you through independent bookshops, clothing boutiques, antiquing, fine crafts, and bakeries. The family-run Bragg Farm Sugar House crafts maple kettle corn, cookies, and candies alongside a slew of outdoor farm-to-table restaurants, craft beer bars, and cafes for the evening and open doors at the highly regarded Capitol Theatre and the Savoy for a Christmas play!
Mystic, Connecticut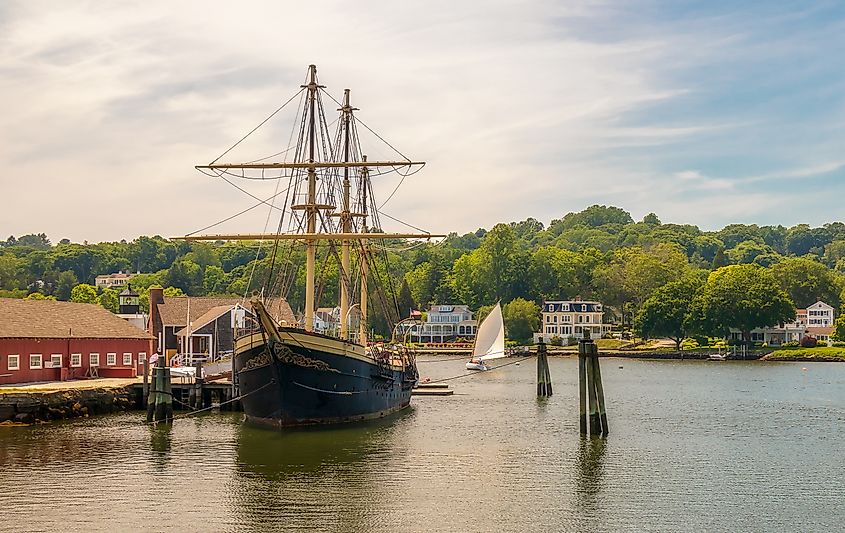 For an all-season getaway that will become your favorite escape from the city, there's no better town than the nostalgic Mystic for foodies, history fans, and moviegoers. A seaside getaway in the state, you can amble along the renowned Mystic waterfront, through the historic downtown district, and taste regional flavors at a local brewery! The unique, laid-back street configuration leading to the water offers diners galore, farm-to-table restaurants, and cheese shops, with only 4,700 friendly residents to share and rejoice. On a riverside stroll, you can visit Mystic Seaport Museum, Lozier Sub Park, and the aptly named Peace Nature Sanctuary, a wildlife sanctuary.
From quaphiles in the summer to all-season pizza lovers in the classic 1988 film Mystic Pizza, Mystic, Connecticut, the package getaway comes with rich maritime history and quintessential New England charm. The delightful town, picturesquely tucked away along the Long Island Sound and Mystic River, is alluring in every way for a respite from life as you know it. With sights and attractions for days, you can do some holiday shopping this season at the outdoor Olde Mistick Village and return for beachy pleasures with coastal public access, a harbor, a marina, and Williams Beach Park.
Oak Bluffs, Massachusetts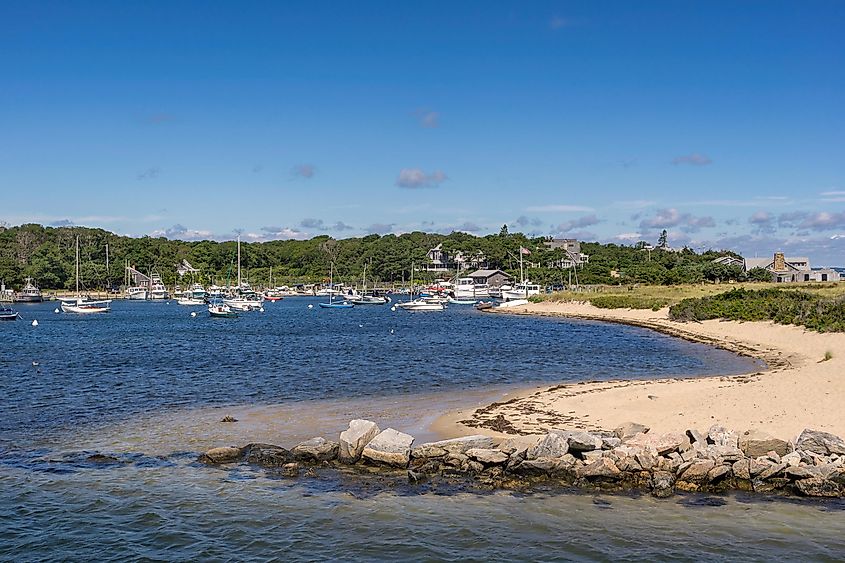 Oak Bluffs, the liveliest of Martha's Vineyard's towns with spirited locals, will get you out of the dumps on a getaway with unforgettable sights and experiences in a remote location. With its colorful gingerbread cottages and the Flying Horses Carousel, it is no wonder that Oak Bluffs is one happy town with enough fun and good vibes to sprinkle on tourists! There is the unmissable Martha's Vineyard Camp Meeting Association, or, informally, The Campground, to stay entertained and relax in the outdoors. The whimsical cottages from the second half of the 1800's are the staple of Martha's Vineyard, with the Cottage City Museum for the whole story.
The picturesque Ocean Park offers fun for the whole gang with a historic gazebo, kite-flying, and the oldest continuously operating carousel in the US! With its slew of bars and restaurants, Oak Bluffs Harbour is the place to gather, mingle, watch the sunset, and set off on cruises, fishing charters, and water sports in the summer! You can hit the beach for swimming and strolls or walk along the North Bluff seawall and the beautiful fishing pier. Inkwell and State Beach are family-friendly and a hop from down-to-earth boutiques, world-class restaurants, cozy cafes, and ice cream shops. Serene and vibrant Oak Bluffs offers the best of both worlds with its Island Alpaca, a silly and interactive herd, and Featherstone Centre for the Arts with concerts and exhibitions.
Pella, Iowa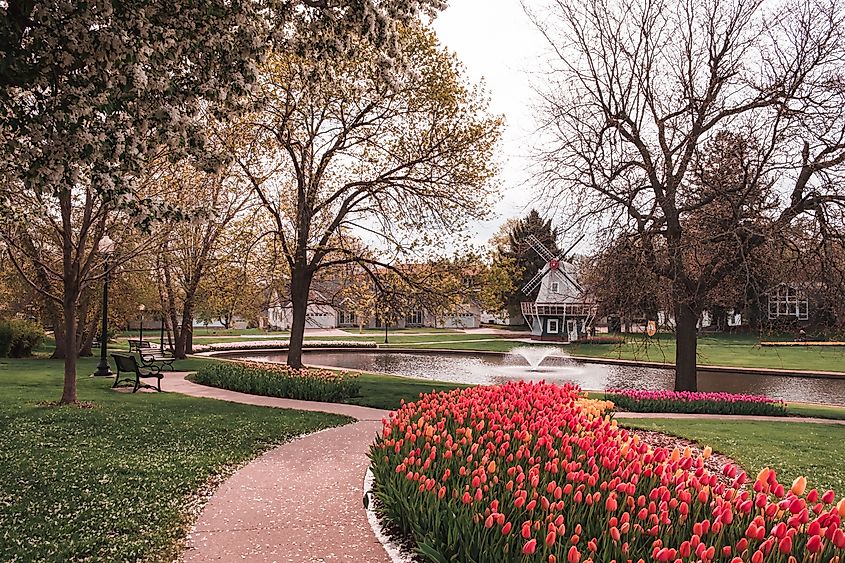 Dutch and naturally bountiful? Welcome to the award-winning town of Pella, with the best outdoor adventures right in the heart of the Midwest along Iowa's largest lake, Lake Red Rock. A bronze medal winner for places to live in the US has a few surprises up its sleeve with Iowa's Best Craft Beer Bar, the Cellar Peanut Pub! Named after an early park enthusiast, the picture-perfect Brinkhoff Park on the west edge of Pella on Washington Street boasts unreplicable landscaping of flower beds, a small windmill, and picnic tables. From the enchanting nature, traditional Midwestern hospitality will have you tucked in for another day of experiences!
Pella, a destination with a deep pocket full of history and a one-of-a-kind festival spirit, is an original Dutch settlement. Upon escaping the Romans in search of religious freedom and independence, they left footprints to walk through the architectural past to the present that still attracts immigrants and tourists from overseas. From Jaarsma Bakery to the Vermeer Windmill, you can keep strolling along the Molengracht Canal for postcard sights on all sides in an authentic atmosphere. The Tulip Festival transports you into a neverland of beauty in a May celebration of the season of growth and blossoming, with tulip bulbs for sale and markets for crafts—what a great idea for unique gifts! 
With many beach destinations, you have a ready-made summer escape but come imminently for the holiest of glows in the friendly atmosphere this holiday season, with art venues to prowl and watch a play. It is also a perfect excuse to do some holiday shopping that even your boss can't resist if you promise a gift upon return! You can even catch the northern lights in the winter in Grand Marais! You can hop over to Oak Bluffs, the liveliest town of Martha's Vineyard, or Moab—another worldly sight amid a twisted landscape in the making by Mother Nature over a millennium. Visit Germany in Hermann or mingle with the Dutch in the charming town of Pella, while Mystic, the stomping grounds for Julia Roberts in the classic Mystic Pizza film, will bring a bout of nostalgia along its staple waterfront with a slew of diners and boutiques!