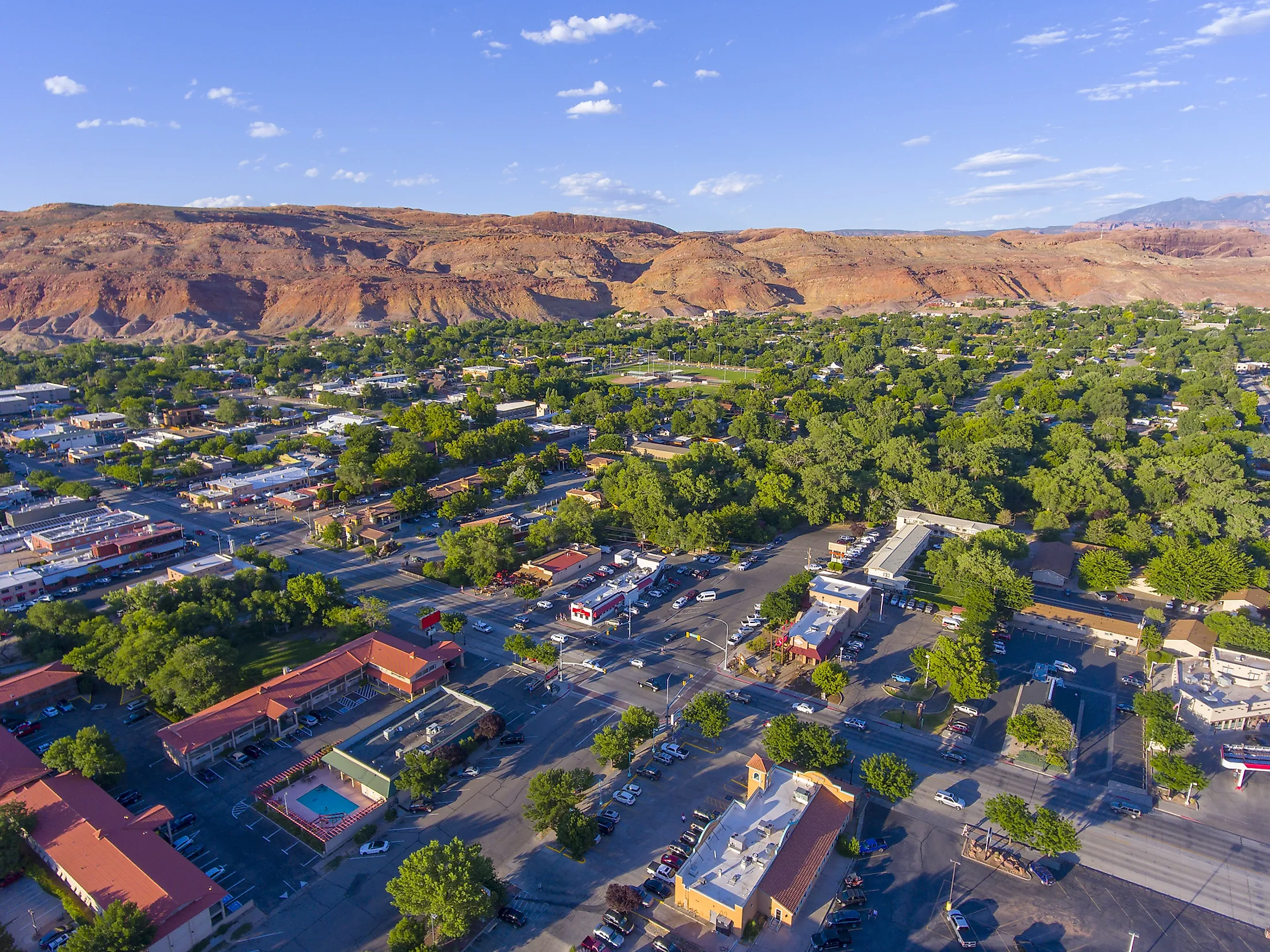 Moab is a city and seat of Gran County, in southeastern Utah, United States. The city was originally established in mid-1855 as a Mormon mission but was later abandoned due to a conflict with local Indian peoples. In the early 1950s, the discovery and uranium-mining boom transformed Moab from a quiet town to a bustling industrial center. The uranium boom and the production of oil and potash faded in the 1960s, giving Moab enough resources and profit to transform itself into a tourist center for the city's scenic region. Today Moab is home to a population of 5,270 people.
Geography And Climate Of Moab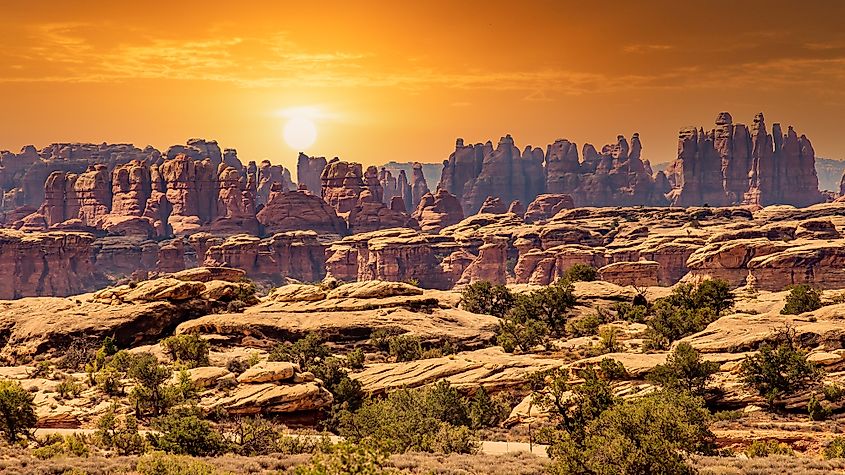 At an elevation of 1,227 m, Moab is situated on the western flank of the La Sal Mountains alongside the Colorado River on the Colorado Plateau. The city is 29 km west of the Utah/Colorado state line. According to the U.S. Census Bureau, Moab has a total area of 12 square km, all land.
Moab has a semi-arid climate. It gets hot summers and chilly winters, precipitation evenly spreads over the year. There are around 41 days with temperatures reaching 38 °C, 109 days reaching 32 °C, and only 3 days per winter during which the temperature remains at or below freezing.
The Population Of Moab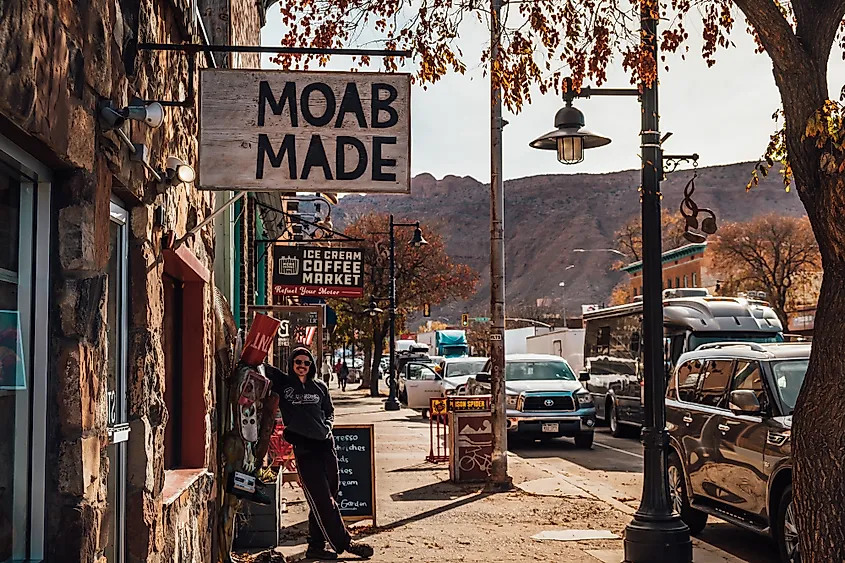 In 2019, Moab in Utah had a population of 5,270 people with a median age of 38.3 and a homeownership rate of 53.8%. The majority of the people in Moab are White, of whom most are considered non-Hispanic, and they represent 73.6% of the city's population. The other ethnic groups in Moab are Hispanic White at 16.6%, American Indian & Alaska Native at 4.92%, Two or more races at 2.41%, and Asian at 1.86%.
As of 2019, around 637 (12.1%) of Moab's population were born outside the country. The most common birthplace for foreign-born residents of Utah is Mexico, followed by India and Canada. All the households in Moab speak English as their primary language, and 90.1% of the residents are U.S. citizens. The median property value in Moab was $237,700, and the average car ownership was two cars per household.
The Economy Of Moab
The median household income in Moab is $51,168. The income inequality in Utah (measured using the Gini index) is 0.482, which is higher than the national average. Moreover, males in Moab tend to earn higher than females. Males have an average income that is 1.53 times higher than the average income of females.
The economy of Moab employs around 52% of the city's residents in multiple industries, including Accommodation & Food Services, Health Care & Social Assistance, and Retail Trade. The highest paying industries in Moab are Agriculture, Forestry, Fishing & Hunting, & Mining, Public Administration, and Educational Services.  
Tourist Attractions In Moab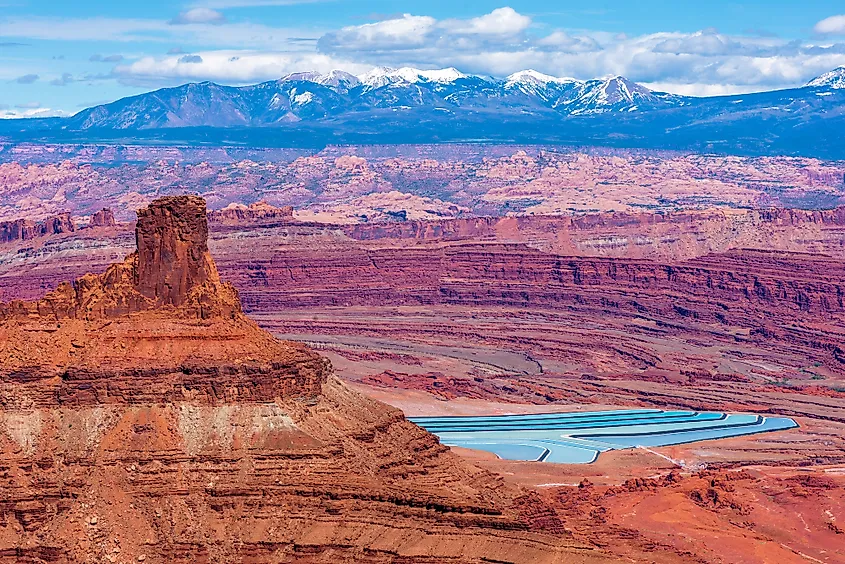 Tourism has always been one of the biggest sectors of Moab's economy. As early as 1906, the Grand Valley Times started promoting tourism possibilities of the area, and the designation of Arches National Monument in 1929 attracted many tourists to the area. Moreover, the establishment of Canyonlands National Park, for which Moab serves as the northern gateway in 1964, was another milepost along the way to Moab's becoming an important recreation and tourist destination.
With hundreds of miles of slickrock trails, Moab gained worldwide fame as a mountain-biking center. Hell's Revenge is a premier slick rock biking, hiking, and 4WD trail that offers visitors views of beautiful scenery, in addition to the steep climbs and descents and cliff edges. 
Dead Horse Point State Park, named after a natural corral by cowboys in the 19th century, is a state park located near Moab and covers more than 2000 ha of breathtaking desert landscapes and vistas of Canyonlands National Park and the Colorado River.  
History Of Moab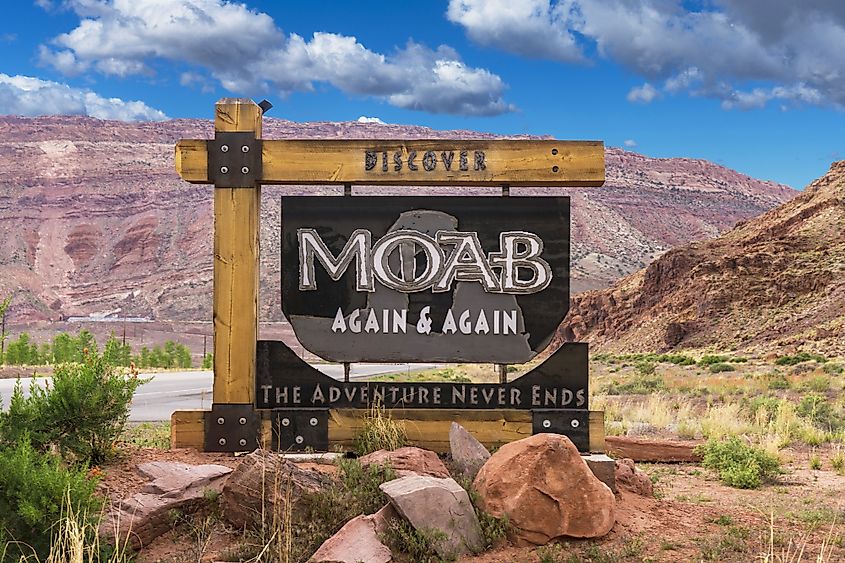 In 1765, Juan Maria Antonio de Rivera came to the Moab region as part of an expedition sent north from New Mexico to explore the land on both sides of the Colorado River. In 1855, around forty-one men were called by the Mormon leaders in an attempt to control the crossing of the Colorado River and carry out missionary among the Indians of southeast Utah. They were called to establish the Elk Mountain Mission at present-day Moab, but the attempt to carry out the missionary work was unsuccessful. The group of men traveled from Sanpete Valley along the Old Spanish Trail, crossed the Colorado River in mid-June, and started constructing a rock fort. They remained in the area until September of 1855, at which time the group returned to Sanpete Valley after an Indian attack that left three men dead and destroyed their crops. 
Two decades later, permanent settlers returned to Moab to establish farms in ranches in 1878. As the community grew, a Mormon ward and a school were established in 1881. Moab benefitted from the construction of Denver and Rio Grande Western Railroad between Denver and Salt Lake City as the railroad became accessible within 56 kilometers of Moab at Thompson Springs and provided a much-desired railroad connection.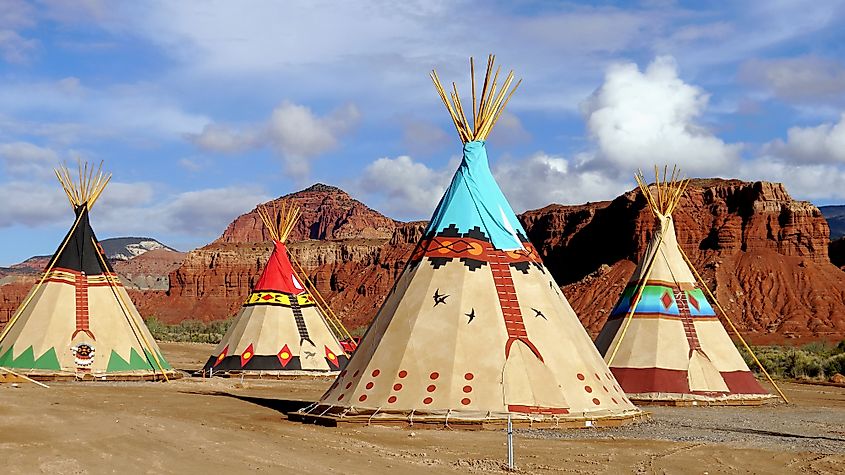 By 1885, a ferry in the Colorado River was in service, and the first bridge across the river was completed in 1912. By the early 20th century, Moab had developed as one of Utah's best fruit-growing areas and produced apples, peaches, and grapes. Moab was selected to be the county seat when Grand County was created from portions of Uintah and Emery counties in 1890. Moab was incorporated as a town in 1903 and became a city in December 1936. 
Although mining was done along the Colorado River, Moab's economy was based on farming and ranching until the uranium boom in the early 1950s. The uranium boom brought a lot of miners, inspectors, workers, and speculators, which increased the population of Moab from 1,275 in 1950 to 4,682 in 1960. Uranium was considered a valuable resource, and the nation's second-largest uranium processing mill was completed just outside Moab in 1956 and employed more than two hundred workers. The boom brought Moab new cafes, motels, schools, stores, and businesses. As the demand for uranium started decreasing in the early 1960s, interest shifted to potash, and a modern potash plant was built in 1963.