The 10 Biggest Airports In The World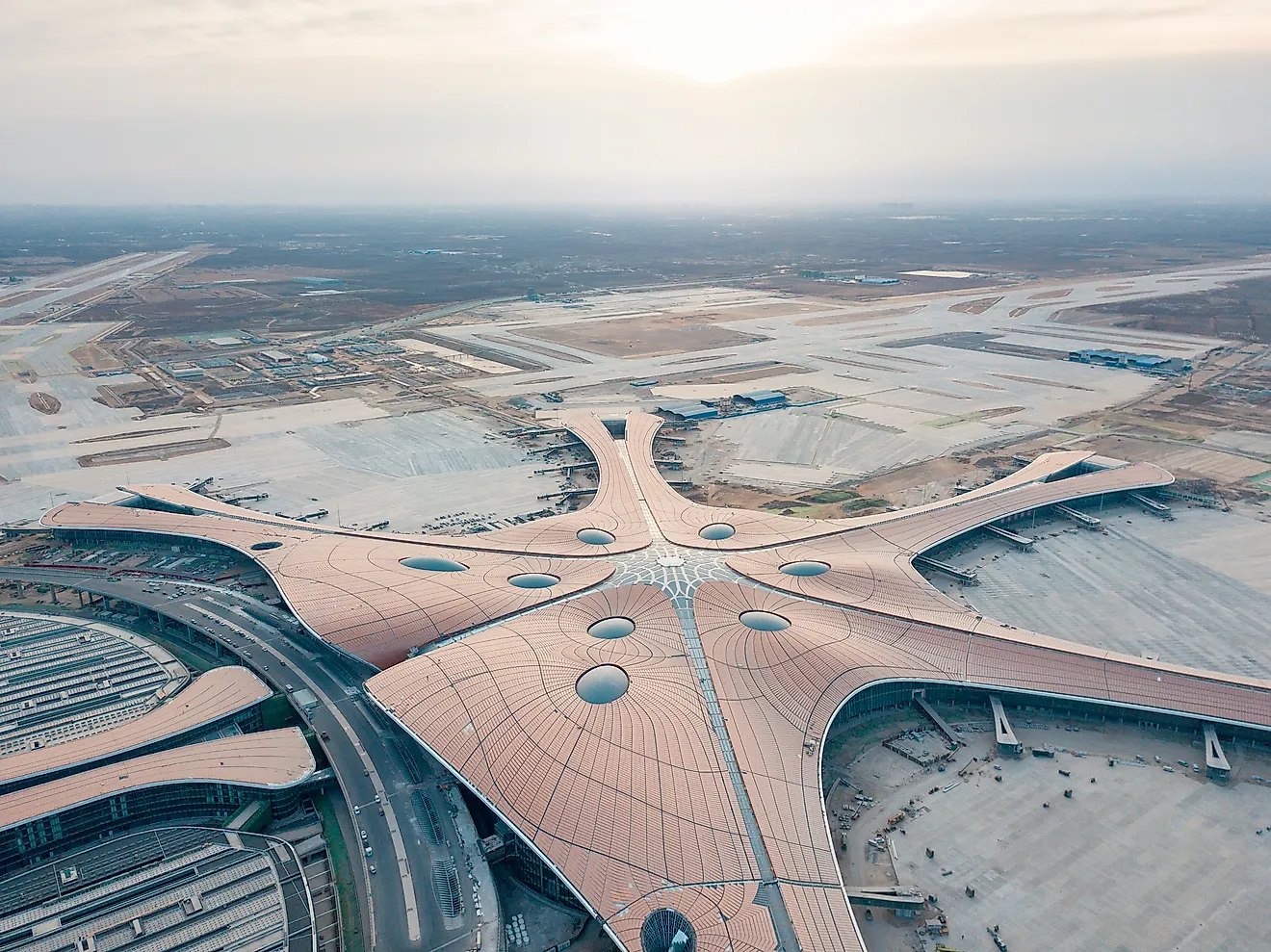 Airlines are increasing fleet sizes and venturing into new routes to meet the high demand for air travel. The biggest airports are becoming busier, with millions of passengers passing through or using them to connect to their destinations. Some airports are expanding to accommodate more passengers and flights. Airports can be ranked by either size or passenger traffic. Passenger traffic is the number of people using the airport in a given period, while the size is the airport's total land area. But, which are the world's biggest airports when ranked by size?
Ten Biggest Airports By Size 
1. King Fahd International Airport (DMM) - 776 km2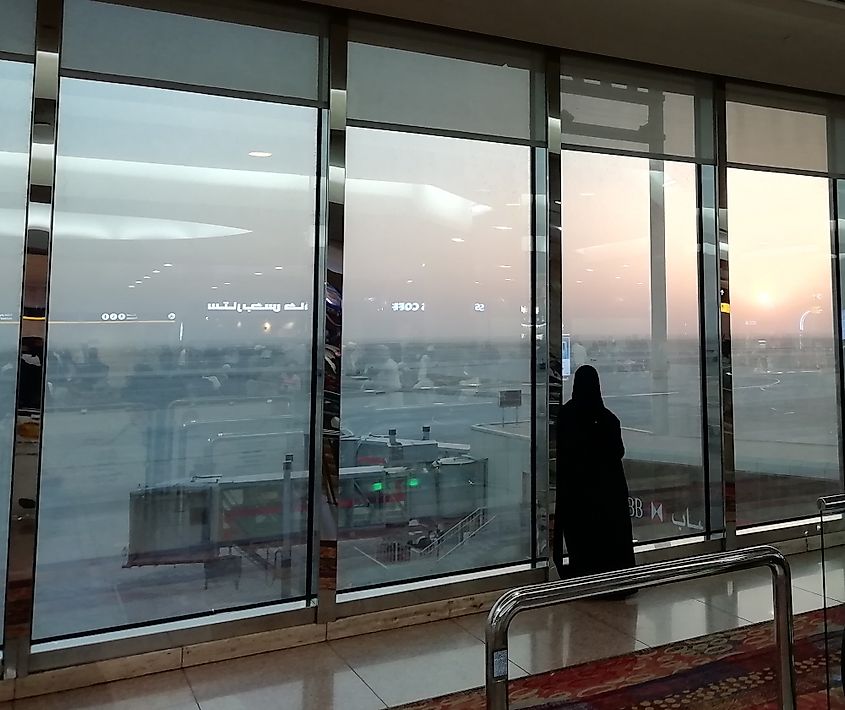 King Fahd Airport, the world's biggest airport by size, is an impressive airport located in Dammam, Saudi Arabia. Although the airport property covers about 776 square kilometers, the airport building sits on 36.8 square kilometers of land. Its construction began in 1983 and was completed on November 28, 1999. It served as a US airbase during the Gulf War. King Fahd Airport has three terminal buildings, with the main terminal sitting on 3.42 million square miles of land. It is used by over 10 million passengers annually, making it Saudi's third-largest airport by passenger traffic.
2. Denver International Airport (DEN) - 135.71 km2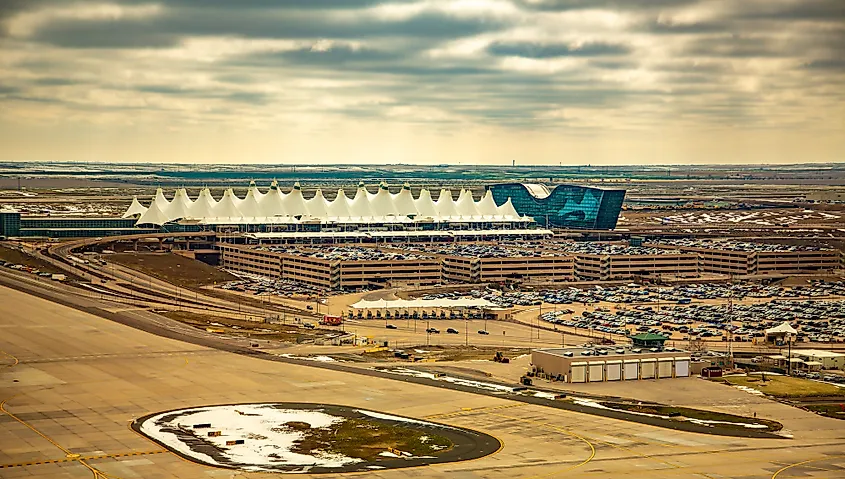 Denver International Airport is North America's largest airport by area, spanning 135.7 square kilometers. DEN was opened officially on February 28, 1995, and serves up to 215 destinations. Its construction cost an equivalent of $8.1 billion today. One of its runways, 16R/34L, is the world's 7th longest and North America's longest runway.
3. Dallas/Fort Worth International Airport (DFW) - 69.63 km2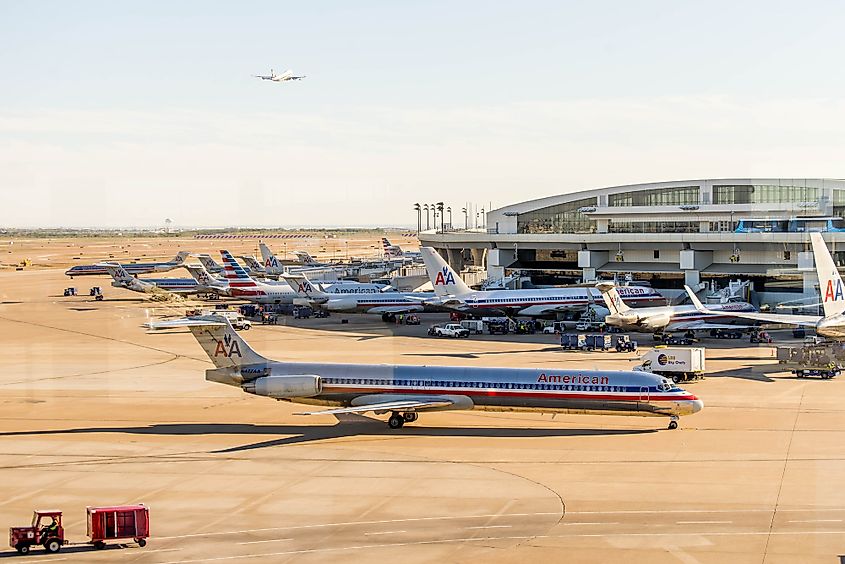 DFW airport is North America's second-largest airport by area and the world's 11th busiest by passenger traffic. It is located between Fort Worth and Dallas and occupies 69.6 square kilometers. Opened in September 1973, DFW Airport has its ZIP Code, emergency services, fire protection unit, and police. It has five terminals but can accommodate eight additional terminals. In 2019, the airport served 75 million passengers, the highest number in its history.
4. Orlando International Airport (MCO) - 53.83 km2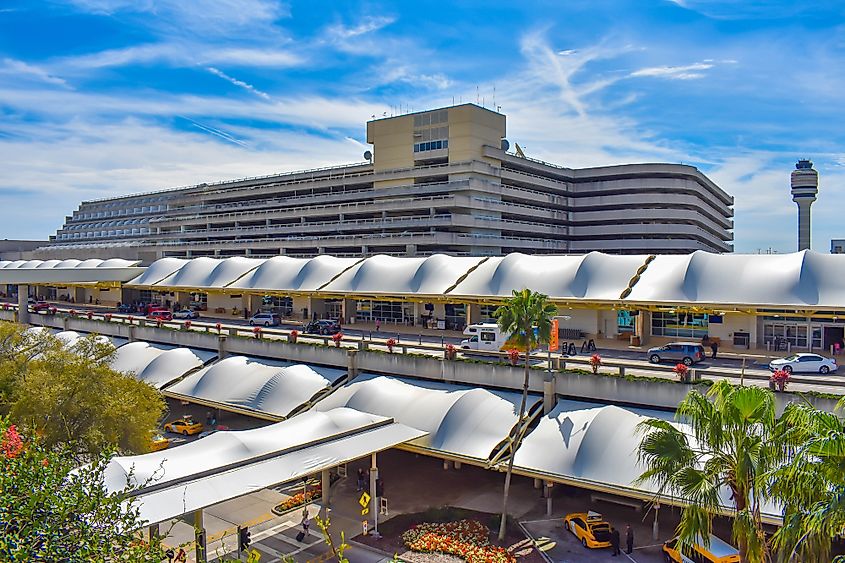 Orlando International Airport is situated about 6 miles away from Orlando, Florida. It is the state's busiest airport, serving over 850 daily flights and 135 destinations. The airport occupies 53.8 square kilometers and started operating in 1942 as a US Army Airforce facility. However, airline flights began using the facility in 1961 after the US and the City of Orland reached an agreement on its use. In 2019, the airport handled 50.6 million passengers.
5. Washington Dulles International Airport - 48.56 km2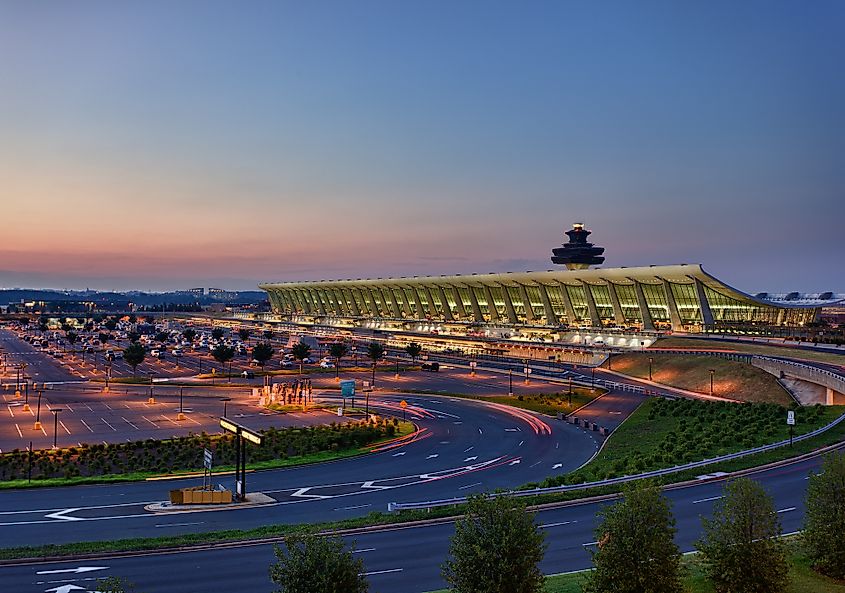 Dulles Airport is one of the major airports in the Washington-Baltimore region. It is located in Fairfax and Loudoun Counties in Virginia and about 42 kilometers from Washington DC. The airport is named after Joh Dulles, the US's 52nd Secretary of State, and was opened officially in 1962. Dulles Airport sits on 52.6 square kilometers of land and serves over 24 million passengers annually and more than 125 destinations.
6. Beijing Daxing International Airport (PKX) - 47 km2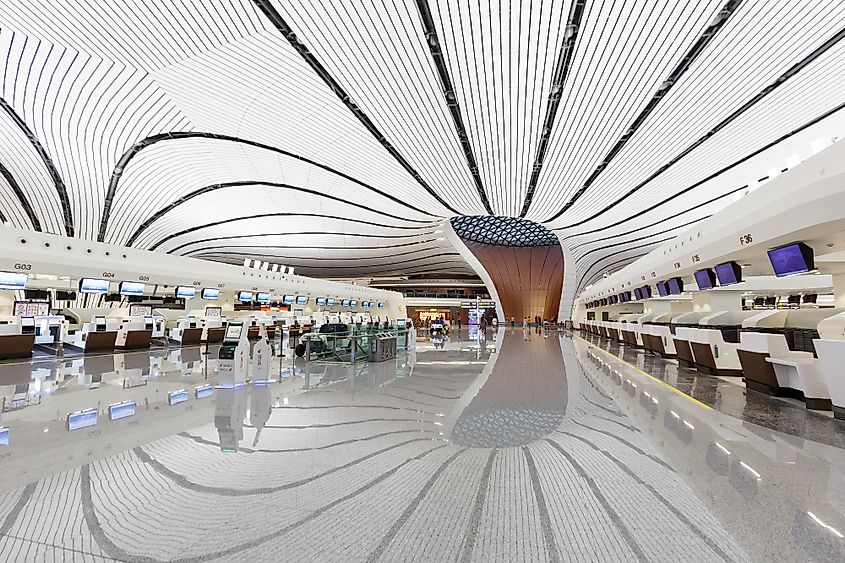 BDIA in China is the world's 6th largest airport by size. The airport, nicknamed "Starfish," is located on the Beijing-Langfang border, 65 km south of the Beijing Capital International Airport. Its construction commenced in December 2014 and was completed on June 30, 2019, with the official opening on September 25, 2019. The airport's construction cost $17 billion. It features a 7.5 million square feet terminal sitting on an 18-square mile of land. The facility can handle over 100 million passengers annually. It will be the world's busiest airport if its capacity is utilized fully.
7. George Bush Intercontinental Airport (IAH) - 44.51 km2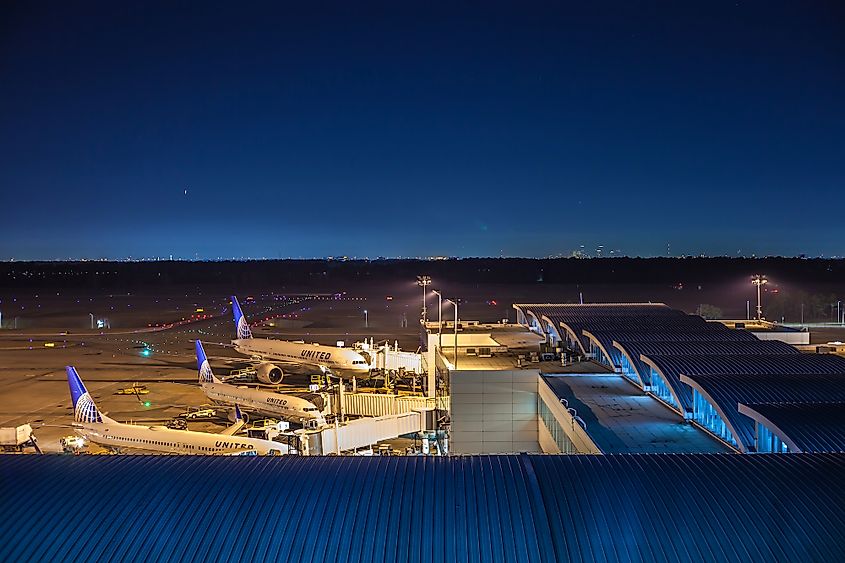 George Bush Intercontinental Airport occupies 44.5 square kilometers. It is located about 37 square kilometers north of Huston, Texas, and is the state's second busiest airport. It served about 45.3 million passengers in 2019, making it the world's 47th busiest airport. IAH was opened in 1969 and has five terminals. Initially known as Houston Intercontinental Airport, It was renamed in honor of George H. W. Bush in 1997.
8. Shanghai Pudong International Airport (PVG) - 39.88 km2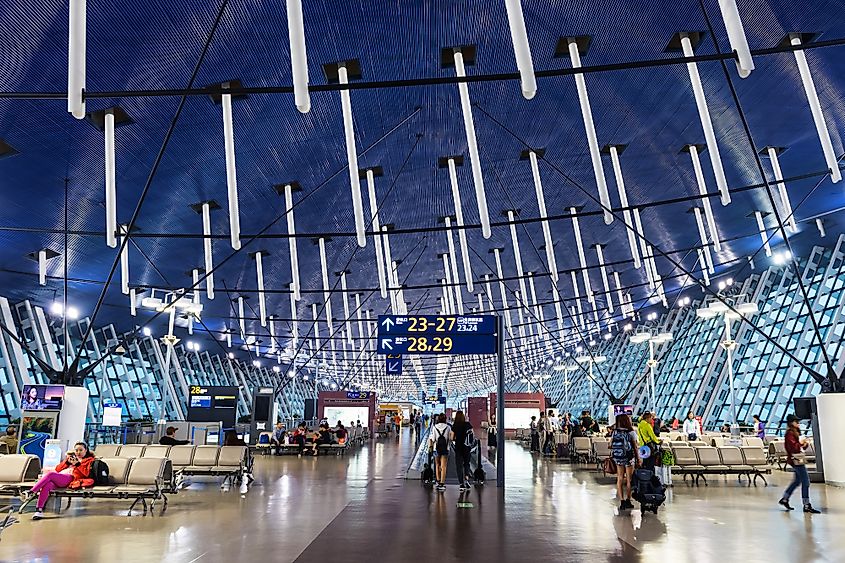 Shanghai Pudong International Airport is located 30 kilometers from Shanghai and occupies 39.9 square kilometers. It is one of two airports in Shanghai and mainly serves international passengers. Opened on October 1, 1999, the airport has two terminals, with plans for an additional one underway. Pudong Airport has an annual capacity of 60 million passengers and serves over 210 destinations.
9. Cairo International Airport (CAI) - 36.25 km2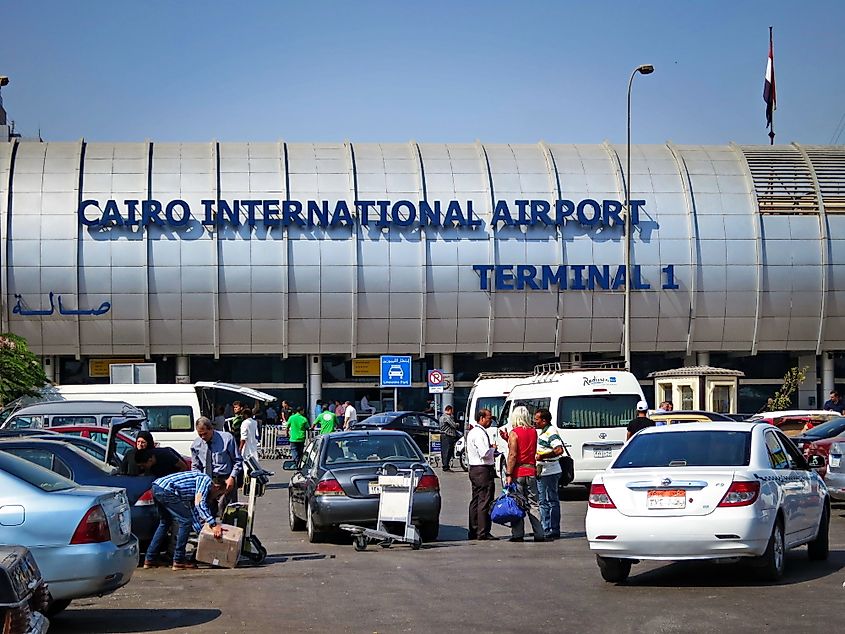 Cairo International Airport is Africa's biggest and second-busiest airport. It is Nile Air's and EgyptAir's primary hub, occupying 37 square kilometers in the Heliopolis. It is located 15 kilometers east of Cairo and has three main terminals and a seasonal flight terminal. It served as US Air Force Base until 1963 when Civil Aviation took over its operations. In 2017, 15 million passengers passed through the airport.
10. Suvarnabhumi Airport (BKK) - 32.4 km2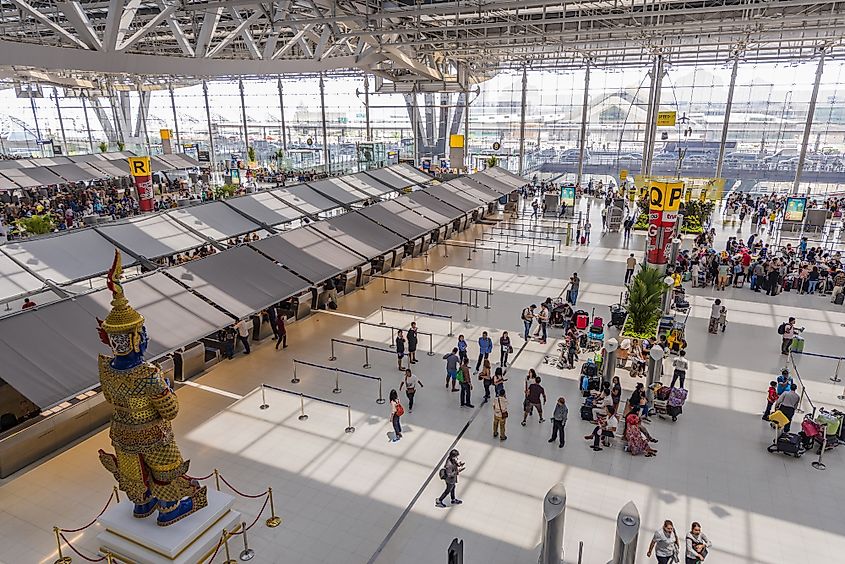 Suvarnabhumi Airport is the biggest airport in Southeast Asia, covering 32.4 square kilometers. The name "Suvarnabhumi" translates to "land of gold." It is located in Bang Phil in Samut Prakan Province, Bangkok, Thailand, and was opened officially on September 28, 2006. The airport, whose construction cost $5 billion, has two runways that can serve 64 flights in one hour. It has a capacity of 45 million passengers per year. 
The US Is Home To Most Of The Biggest Airports
As observed, 5 of the 10 biggest airports in the world are in the United States. Denver International Airport is the country's biggest and world's second-largest airport by area, covering 135.7 square kilometers. Also, the US is home to four of the ten world's busiest airports by passenger traffic, including the world's busiest, Hartsfield–Jackson Atlanta International Airport. 
The 10 Biggest Airports In The World
| Rank | Airport | Area (in sq. km) | Country |
| --- | --- | --- | --- |
| 1 | King Fahd International Airpor | 776 | Saudi Arabia |
| 2 | Denver International Airport | 135.71 | United States |
| 3 | Dallas/Fort Worth International Airport | 69.63 | United States |
| 4 | Orlando International Airport | 53.83 | United States |
| 5 | Washington Dulles International Airport | 48.56 | United States |
| 6 | Beijing Daxing International Airport | 47 | China |
| 7 | George Bush Intercontinental Airport | 44.51 | United States |
| 8 | Shanghai Pudong International Airport | 39.88 | China |
| 9 | Cairo International Airport | 36.25 | Egypt |
| 10 | Suvarnabhumi Airport | 32.4 | Thailand |