The United States is home to some of the world's biggest and busiest airports leading travel through the pandemic and forging at light speed ahead. These 10 US airports were the busiest in 2021 (in terms of total passenger traffic as per data by the Port Authority of New York and New Jersey), taking care of the wanderlust passengers from around the globe. 
The Busiest Airports In the United States
1. Hartsfield-Jackson Atlanta International Airport (ATL) - 75.5 million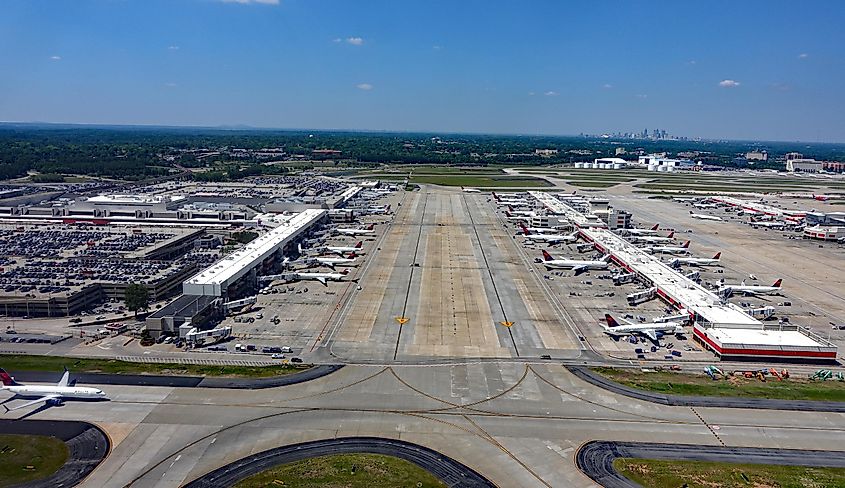 Atlanta Hartsfield-Jackson International, located in Atlanta, Georgia, is the busiest airport in the world. It hosted over 100 million passengers in the pre-pandemic year, with some 2,700 flights per day. Although the number fell to 75.5 million passengers in 2021 and 871 flights on an average day in September of 2022, it is still far ahead of the global runner-up. ATL also held the title of the busiest airport in the world for over 20 years before Covid.ATL's grounds cover only 4,700 acres of land, which is 1,000 acres less than the tenth largest airport in the US. For 18 years and running, it has been renowned as the most efficient airport in the world, according to the Air Transport Research Society. The airport flawlessly orchestrates flights to over 225 global destinations with 18 domestic and foreign carriers and the tallest air traffic control tower in North America.
2. Dallas/Fort Worth International Airport (DFW) - 62.4 million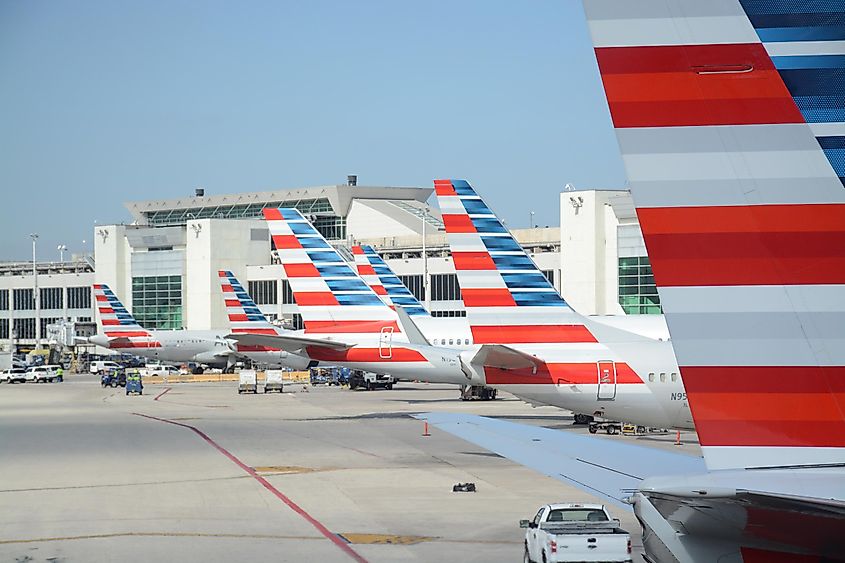 The silver-medalist DFW, located in Dallas, Texas, is also the second biggest airport in the US, with an impressive 17,000-acre breadth and its own postal code. The airport averaged 770 flights per day in September 2022 and was the fourth-busiest airport in the world in October 2021. DFW boasts full-fledged police and fire departments and emergency medical services. Fort Worth's 23 airlines operate from 164 gates to some 260 global destinations. It is also home to the headquarters of the biggest airline operator, the American Airlines, with worldwide destinations. Despite (or due to) its size, DFW is environmentally-conscious, minimizing its ecological footprint as the world's largest carbon-neutral airport.
3. Denver International Airport (DEN) - 58.8 million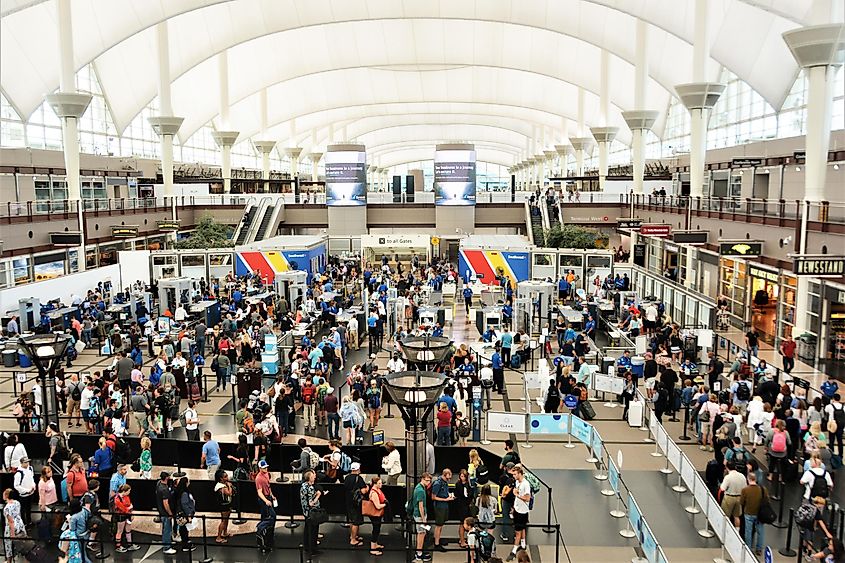 The largest US airport by size gets the bronze in the busiest category, with an average of 751 flights in September this year. Located in Denver, Colorado, DEN rose dramatically in global rankings over the years, placing sixth amongst the busiest airports in the world. DEN is also the world's second-largest airport after King Fahd International Airport in Saudi Arabia. Its staggering size of some 34,000 acres, more-than-doubles US' second largest, Fort Worth.The International Airport is home to 24 airlines flying worldwide to 200 destinations. Travelers through DEN get to enjoy an incredible art collection throughout the airport, as well as countless shops. Other unique experiences include ice skating at Denver Plaza, therapy animals for kids and for calming the nerves before flying. The airport will soon be updated with more gates and new outdoor decks.
4. O'Hare International Airport (ORD) - 54 million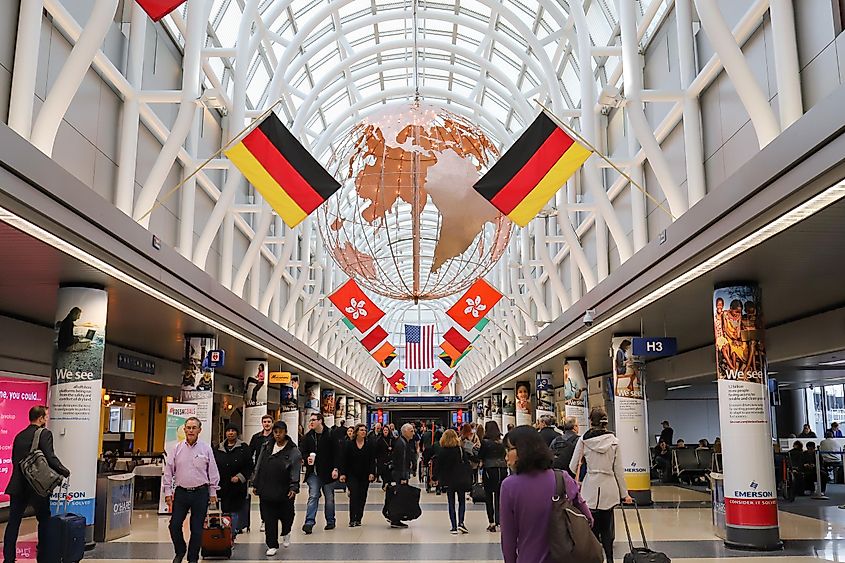 O'Hare International Airport is currently the fourth busiest airport in the US and the seventh largest at over 7,200 acres. It is located in Chicago, Illinois, and has a unique history as an aircraft manufacturing plant during WWII, known as Orchard Field. The location was chosen for the city's second airport after the war and opened commercially in 1955.ORD was the world's busiest airport from 1963 to 1998 and the sixth busiest today. The airport is home to two hub carriers, America Airlines with 71 gates and United Airlines with 82 gates, as well as 230 domestic and international destinations, and constantly growing. 
5. Los Angeles International Airport (LAX) - 48 million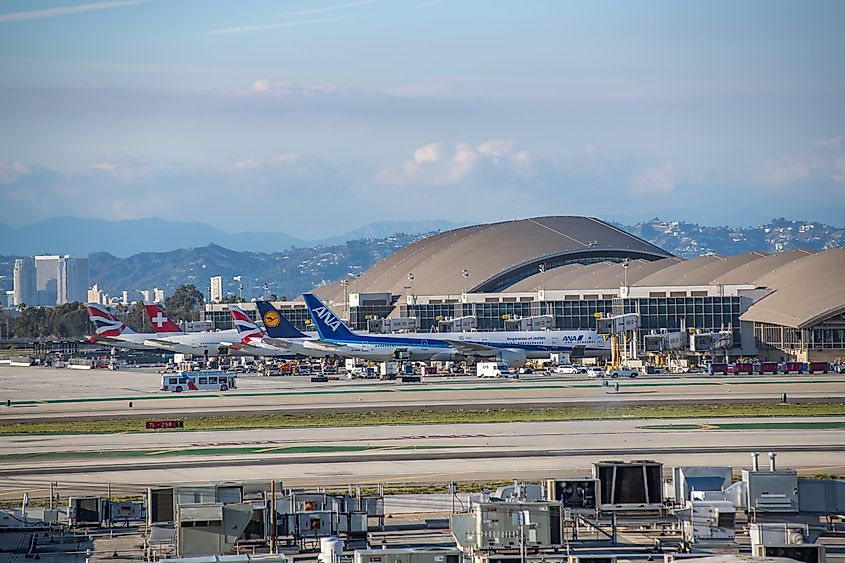 LAX takes fifth among US' busiest airports while hosting a record of four legacy airlines: Alaska Airlines, American Airlines, Delta Air Lines, and United Airlines. The busy airport on the west coast in the City of Angels (Los Angeles), California, is the Pacific gateway to over 150 global cities.It is a widely-beloved airport with plenty of relaxing options, such as terrific restaurants, artwork strewing the terminals, and a petting place with volunteer pooches from the LAX Pets Unstressing Passengers (PUP) Program. 
6. Charlotte Douglas International Airport (CLT) - 43.3 million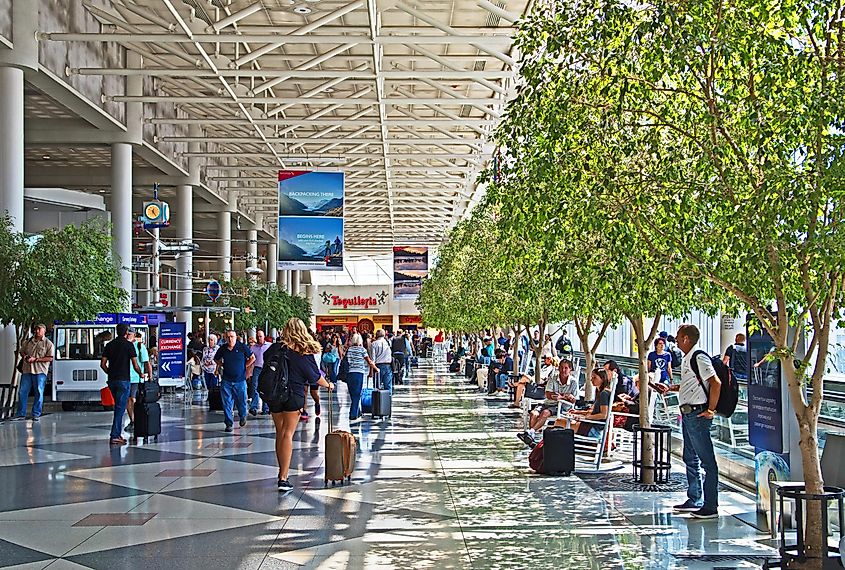 Located in Charlotte, North Carolina, CLT stays busy with an average of 1,424 arrivals and departures and 118,636 travelers daily. In 2021, CLT saw 519,895 aircraft leaving and departing with a total of 43,302,230 passengers, still impressive after its record-breaking 50.2 million in 2019.CLT plays a significant role in the aviation industry, placing fifth for air traffic and hosting the second-largest American Airlines hub. It also boasts nonstop service to 183 worldwide destinations with eight major air carriers and 15 regional and three foreign flag carriers.
7. Orlando International Airport (MCO) - 40.3 million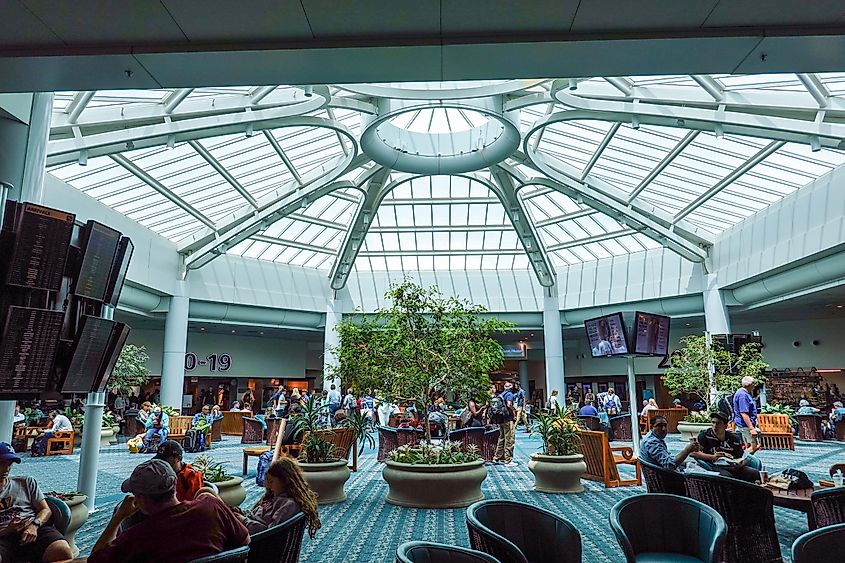 "Home of the most magical place on earth," Orlando, Florida, is also home to an impressive airport. MCO was a former Strategic Air Command installation, McCoy Air Force Base, that opened commercially under its 1942 designation in 1976. Today, MCO is the country's third-largest airport with year-round high foot traffic, which cannot be said for many others.In 2021, the airport saw over 40 million passengers in and out of its 129 gates, four concourses, and an average of 50 million travelers. MCO is a centrally-set "funnel" to many popular Sunshine State destinations and over 150 national and global destinations, including Latin America and the Caribbean. The delightful airport was voted best in the country by USA Today readers and plans to modernize with a third terminal. 
8. Harry Reid International Airport (LAS) - 39.7 million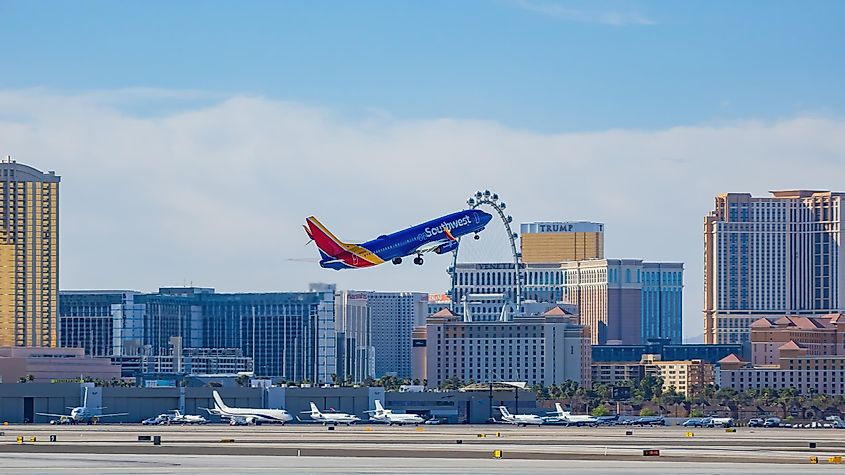 The "Gambling City (Las Vegas)" in Nevada welcomes right off the trap at LAS with slot machines, something that only one other airport in the US boasts. For the more patient, The Strip is only two miles away and a real "beaut" from the air. In 2021, LAS funneled almost 40 million people out of its two terminals and 110 gates to 150 worldwide destinations.Harry Reid is home to big-budget carriers of Southwest Airlines, Spirit Airlines, and Frontier Airlines, among 30 others using the airport. It was rebranded from McCarran International Airport, named in 1968, to Henry Reid International in February 2021 with new recent signage inside.
9. Phoenix Sky Harbor International Airport (PHX) - 38.85 million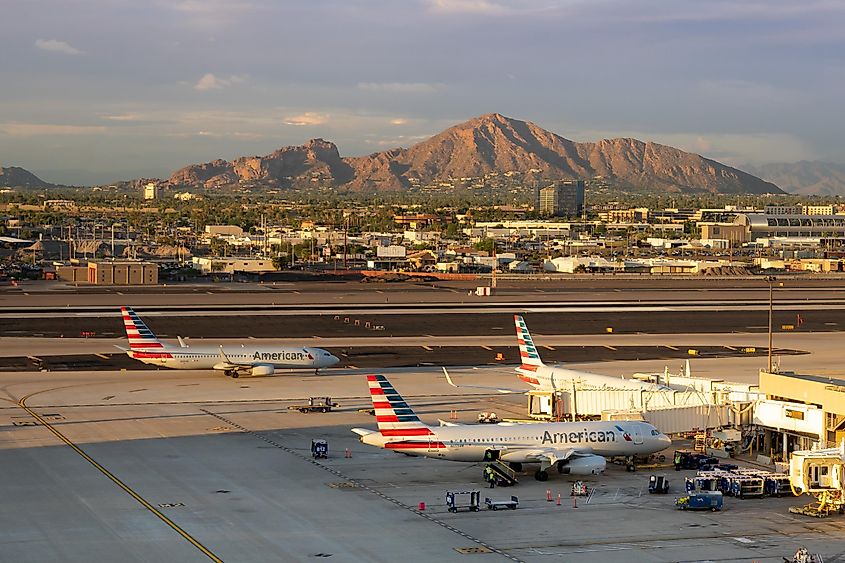 Phoenix International Airport in Phoenix, Arizona, is a hub for the US Airways, as well as a lot of traffic from Southwest Airlines. There are also Hawaiian Airlines, Aeromexico Connect, and British Airways with direct flights to Heathrow, London. Phoenix Sky Harbor is uniquely a joint civil-military airport.The airport has 120-some gates and no "first terminal." Terminal 2, Terminal 3, and Terminal 4 (or the Barry M. Goldwater Terminal), use 75% of the gates. PHX's busiest domestic routes are Denver, Las Vegas, Los Angeles, San Diego, and Seattle/Tacoma, and international destinations to Mexico and London.
10. Miami International Airport (MIA) - 37.3 million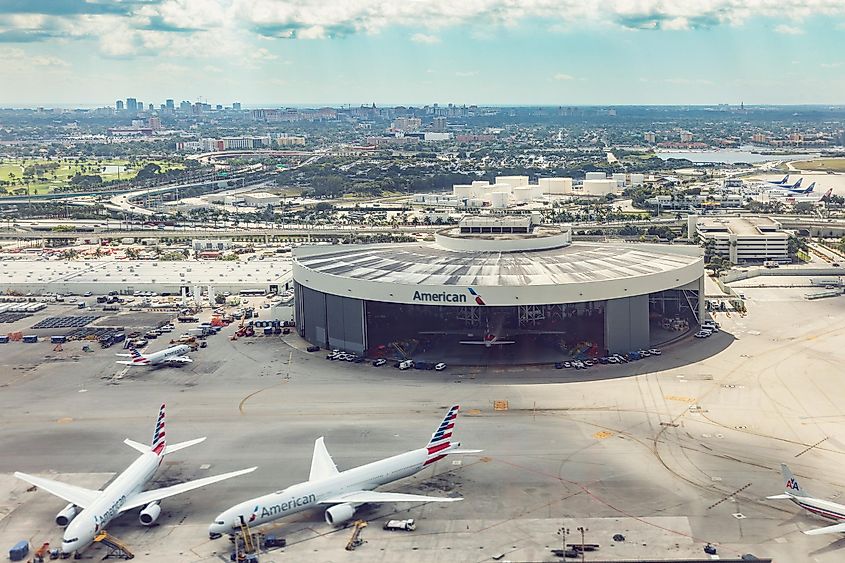 The last on the list, MIA, located in  Miami, Florida,  hosted 13 million international passengers in 2021, which is more than any other airport in the US, and 11th-most in the world. The airport saw a total of 18.6 million passengers in 2020 and doubled in 2021 to 37.2 million passengers. MIA also saw 387,973 takeoffs and landings in 2021, which was more than double from the previous year, and ninth-most in the world.
According to current stats, the US' top eight busiest airports were among the world's top 10 busiest airports. These leading airports meet the high demand and evolve for the future of travel.
20 Busiest US Airports
| Rank | Airport | Location | Passenger traffic (2021) |
| --- | --- | --- | --- |
| 1 |  Hartsfield–Jackson Atlanta International Airport | Atlanta, Georgia | 75,537,213 |
| 2 |  Dallas Fort Worth International Airport | Dallas-Fort Worth, Texas | 62,465,756 |
| 3 |  Denver International Airport | Denver, Colorado | 58,828,552 |
| 4 |  O'Hare International Airport | Chicago, Illinois | 54,020,399 |
| 5 |  Los Angeles International Airport | Los Angeles, California | 48,007,284 |
| 6 |  Charlotte Douglas International Airport | Charlotte, North Carolina | 43,302,230 |
| 7 |  Orlando International Airport | Orlando, Florida | 40,351,068 |
| 8 |  Harry Reid International Airport | Las Vegas, Nevada | 39,710,493 |
| 9 |  Phoenix Sky Harbor International Airport | Phoenix, Arizona | 38,846,713 |
| 10 |  Miami International Airport | Miami-Dade County, Florida | 37,302,456 |
| 11 |  Seattle–Tacoma International Airport | SeaTac, Washington | 36,154,015 |
| 12 |  George Bush Intercontinental Airport | Houston, Texas | 31,866,308 |
| 13 |  John F. Kennedy International Airport | Queens, New York, New York | 30,788,322 |
| 14 |  Newark Liberty International Airport | Newark, New Jersey | 29,049,552 |
| 15 |  Fort Lauderdale–Hollywood International Airport | Broward County, Florida | 28,076,808 |
| 16 |  Minneapolis/St Paul International Airport | St. Paul, Minnesota | 24,429,003 |
| 17 |  San Francisco International Airport | San Mateo County, California | 24,343,627 |
| 18 |  Detroit Metropolitan Airport | Detroit, Michigan | 23,610,765 |
| 19 |  Logan International Airport | East Boston, Massachusetts | 22,695,835 |
| 20 |  Salt Lake City International Airport | Salt Lake City, Utah | 22,383,878 |